Best Fall Road Trips for Social Distancing
Travel Inspiration
September 21st, 2020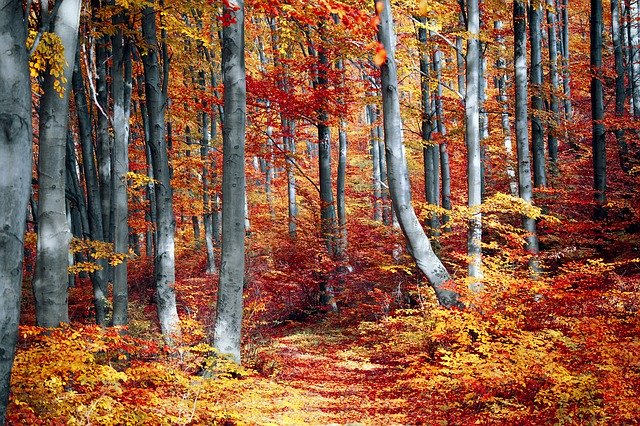 Fall is an excellent time for an RV road trip! Many places that are freezing and snowy in winter aren't that cold yet, and you do not, in general, have to worry about driving your RV through ice or snow. However, many places that are sweltering in summer have cooled off in fall as well, so you'll find you can enjoy adventuring outdoors and you'll be very comfortable.
Best Fall Road Trips for Social Distancing
This fall is an especially nice time for a New England fall road trip, or a road trip elsewhere. The fact that the mild fall weather lets you enjoy the outdoors is a great relief for many of us who have been cooped up or locked down for a while now. RV road trips are especially great if you're social distancing. You're not traveling with large groups of people like on an airplane. You're using your own room and bedding, unlike in a hotel. You're with the same people for your entire trip. You're using the same cooking space and bathroom and other living spaces and your exposure can be pretty low if you're careful.
Many parents are also making the decision to homeschool on the road (or roadschool,) which gives them the flexibility to take a fall road trip…or any other road trip they please!
Finally, because some kids have gone back to school, you may find that the places you choose to visit on your fall travel are less crowded than they would be during the summer.
Best fall vacation spots
There are so many gorgeous spots to enjoy during the fall! Here are a few spots that may be unpleasant in summer but are beautiful spots in fall:
Let's just be honest – Death Valley is miserably hot in summer. It doesn't stop visitors from traveling to the park, but you'll see a lot more of it and you'll be safer if you wait until temperatures cool off. This usually happens around the end of October, and the heat should be mild enough for you to do some hiking and exploring at the park.
Temperatures at the Grand Canyon vary in summer…in many parts of the park they can be in the pleasant 80's, but there are areas that reach 100 degrees or more. The crisp fall weather is cooler and allows you to visit the park and perhaps do more strenuous hiking that you would in summer heat. Areas of the Grand Canyon, especially along the North Rim, also offer stunning views of fall foliage and it's a favorite spot for photographers. Parts of the North Rim begin to close in October, so late September is your best bet for visiting.
You may also want to visit other parts of Arizona and the mild fall is a great time to do that.
Fall foliage
Of course, many people want to travel in fall to see the beautiful changing leaves that dot mountains and forests across the country. There are plenty of great fall vacation ideas on the East Coast, and lots of national parks where you can see fall foliage that has been undisturbed by humans. Here are a few fall vacation ideas for visiting New England national parks.
Acadia National Park is noted for its gorgeous fall foliage. There's a bite in the air and bright colors in the trees that make an Acadia vacation one to remember. Generally speaking, you'll want to plan to see fall colors from October 13-22, but you can check out mainefoliage.com for more detailed information on exactly when the colors will peak. By early November, the locals in Bar Harbor are prepping for winter and you likely won't see much…and may run the risk of not finding places to eat, shop, and visit after that.
Shenandoah National Park in Virginia is another great place for leaf peepers. You can time your visit to be there for the Fall Foliage Bike Festival, or enjoy the colors by hiking part of the Appalachian Trail. You can also drive Skyline Drive to take in the colors, which usually peak in the second half of October.
5.) Appalachian National Scenic Trail
This trail begins in Maine and heads all the way to Georgia. You can pick just about any spot on the trail to hike for a bit and take in the breathtaking views of red, gold, orange, and brown leaves in the trees. The section of the trail that goes through the White Mountains National Forest is especially spectacular and usually peaks in late September.
Fall travel
Along with lovely fall foliage on the East Coast, there are several national parks out west that offer a rainbow of fall color. As a general rule, any area in the west with wonderfully high mountains also has autumn leaves to brag about.
The valley floor is awash in color each fall, and it's no wonder that Yosemite has been photographed so often – both by tourists and amateur photographers as well as by some of the best photographers in the world.
Colorado's signature aspens light up the park with a golden glow every fall. You'll likely see the bright trees on your drive up, winding through mountains covered in evergreen trees with large spots of bright yellow dotting the landscape. And you'll see them throughout the park, bright leaves sparkling in the wind.
Autumn is also the elk rut season, and you'll likely see the gentlemen elk in the national park or in nearby Estes Park strutting their stuff and showing off their impressive antlers to woo the ladies.
Grand Teton National Park is also known for its stunning aspens, and the crystal clear mountain lakes reflect the trees and offer an impressive mirror image of the scenery.
Whether you plan to hike through forests of changing trees, or head to a local town near one of these parks for cider or apple picking or other fall activities, you're sure to find plenty to enjoy in these cooling days as we head into fall.
For more tips on fall RV road trips, check out our article on Why Fall 2020 is the Perfect Time to Try RVing.
Happy trails!