Travel Inspiration
Last updated on December 13th, 2022. Originally published on January 12th, 2018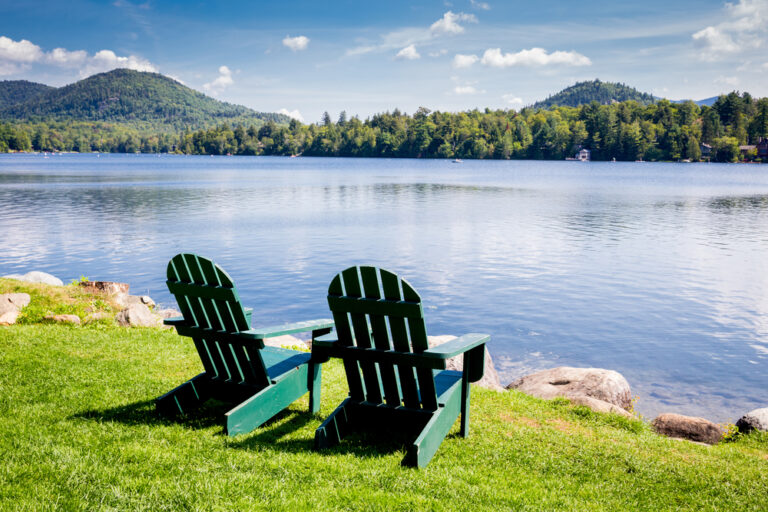 We've all been there.
A long, busy week. A Friday afternoon. Two days of work-free bliss ahead of you… which you'll probably spend curled up on the couch watching Netflix as usual.
Hey, there's nothing wrong with simply relaxing. But sometimes, you just want something more, you know?
So quit watching the clock and grab your best road atlas. (And you do have your Passport America membership paid up in full, right?)
Ready to make some quick decisions? Good. Because instead of heading home and hunkering down on the couch, it's time to get in the RV and get going on a spontaneous, last-minute weekend getaway — and we have tons of ideas to make it as memorable, fun, and effort-free as possible.
Great Weekend Getaways
Once you've decided to take a mini-vacation, the first big question you face is simple, yet profound: where to?
The thing about traveling over a weekend is that your time is severely limited, which means no matter where you go, it's gotta be fairly close by — especially if you're traveling by RV. Even if you could get to some far-off destination after a rigorous ten-hour drive, would you really want to? Think about how little time that would leave you to actually kick back and enjoy your vacation.
Although having to stay close to home might seem like a big limitation at first, it's actually a great thing. After all, you don't have to worry about spending a ton on gas if you're only driving a couple of hours, which is a big cost consideration when you're driving a heavy, gas-guzzling RV. (Hey, we love our motorhomes… but no one's ever going to accuse them of being lean, mean, fuel-efficient machines.)
Plus, if you're lucky enough to live in America, you've got fantastic weekend getaway options nearby, no matter where in the country you call home. Whether you're in the south, along the east coast, in the midwest or over on the Pacific, the United States is full of nature preserves, as well as state and natural parks, home to some of the most beautiful landscapes in the country.
For example, if you call Atlanta home, the picturesque beaches and historic lighthouse at Tybee Island is just four hours away. Hang your hat in Phoenix? A drive to Flagstaff will take you less time than you'd spend watching a movie — and much less time than you'd likely spend binge-watching your favorite show. (No judgment. Really.)
Our best advice for finding destinations you don't already know about in your own backyard is to get a copy of the latest Rand McNally Road Atlas, which features tons of information about off-the-beaten-path adventures to be had all across America. You might be surprised at the hidden gems you've been living right next to all this time!
Relaxing Weekend Getaways
The key to finding the perfect destination for your weekend getaway? Stay fairly close to home, but carefully consider what kind of activities you want to engage in.
Looking to spend some quality time with your hiking boots, wandering local trails for a few miles? Look for a quiet park that boasts loops enough to last you all weekend. What about a romantic beach weekend where you kick back on the sand with your honey, immerse yourself in that novel you've been meaning to get to and forget about every worldly care? Figure out how long it'll take to get to the closest coastline — and keep in mind, it might be a lake rather than an ocean. Either way, you'll want your favorite bathing suit, beach towel, and pair of sunglasses close by.
It truly is totally up to you — and that's the fun part!
Weekend Getaways on a Budget
After figuring out where you're heading, the top concern, for most campers, is how to make your weekend getaways as affordable as possible. The best last-minute vacation is one that doesn't leave a lasting impression on your bank account!
But whether you're planning for a sneaky couples' retreat or a memorable weekend for the whole family, there are lots of ways to make your RV trip inexpensive — in fact, if you get really scrappy, it could be downright cheap!
One great and easy way to save every single time you go camping is to sign up for a Passport America membership, which will instantly save you 50% on your campsite fees every single time you stay at one of its almost 1900 participating campgrounds. There are well-rated, luxurious locations all across the country, and even in Mexico and Canada, so you're sure to find a place to put that $50 annual fee investment to use. (You can save even more by paying for multiple years of membership ahead of time!)
Not afraid to get a little down and dirty? Consider giving dispersed camping, or boondocking, a try. Two days is a totally reasonable amount of time to live without unlimited running water and electricity afforded by hookups, and if you've got a generator on board and you're careful about conserving water, you probably won't even notice that you're not in some all-inclusive — and expensive — resort-style campground.
Best Long Weekend Getaways
If you really want to take a unique and memorable vacation, it doesn't matter how long it lasts. It matters what you do when you get there.
When you've only got a limited amount of time to work with, that means you've got to take advantage of every waking hour — but it doesn't mean you necessarily have to be going, going, going all the time.
Pick a few "must-sees" and things to do to work into your relaxing weekend, but also give yourself ample time to simply sit back and enjoy each other's company. Naps are a totally acceptable weekend getaway activity!
After all, it's your time off. You earned it. You should enjoy it however you want. And besides, this awesome place you found is right around the corner… and there's always next weekend.
This post may contain affiliate links.