Travel Inspiration
Last updated on December 5th, 2022. Originally published on September 19th, 2017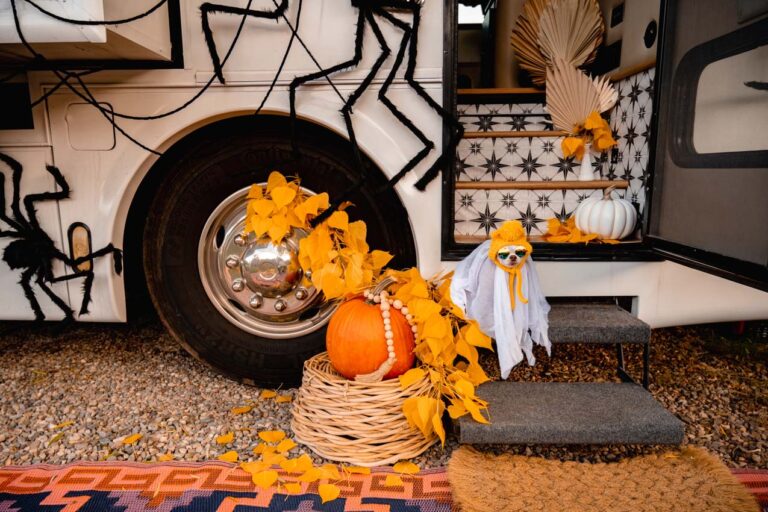 You already know that autumn is a fantastic time to get out and do some exploration in your RV, and there are tons of amazing fall destinations and activities to choose from. Whether you're looking to see some colorful foliage or enjoy the best pumpkin pie you've ever had, harvest season is ripe for adventure — pun definitely intended.
But if you're looking for a little bit of extra excitement, you might want to consider one of the many fall harvest festivals, fairs, and events that take place across the country.
From apple orchards to cranberry bogs, it seems like everything's ready to be picked come September and October. And who doesn't want to use the yield as an excuse for some merry-making, especially before the harsh winter descends?
Fall Festival Travel Destinations
Here are some of the best fall festivals and activities on our radar this year, all of which are perfect to check out in your RV.
Talk about fun things to do at a fall festival — why not add watching hot air balloons to your list of unforgettable life experiences? At the Adirondack Ballon Festival held annually in upstate New York, you can.
And as if seeing these beautiful balloons wasn't enough of a draw, this festival is absolutely free. Most years, RVers are welcome to stay right on site, so long as their rigs are self-contained and they join the Northeast Hot Air RVers club (2022 memberships applications are now open.) However, there will be no camping at the festival this year.
— Rent an RV near Queensbury, NY —
2. Acadia Night Sky Festival, Acadia National Park, Maine: September 29 – October 3, 2021
Between cell phones, laptops, and TV screens, it seems like we've totally lost the art of real darkness. So why not take the opportunity this fall to celebrate just that? Maine's Acadia National Park boasts some of the darkest, most star-strewn skies in the country, and the annual Night Sky Festival boasts events, speakers, and hands-on activities. (Plus, there's ample camping in the park.)
— Rent an RV near Acadia National Park —
You may never have heard of Warrens, Wisconsin, but come cranberry harvest time, it's a hot destination. Along with three miles of shopping, a massive Sunday parade, and a variety of annual contests, the Warrens Cranberry Festival also hosts an annual "royalty" event — and it's no small stakes. The crowned "Queen" and "Princess" receive valuable cash scholarships.
There are many campgrounds to choose from in the area, but be sure to book soon if you want to go: they fill up fast!
— Rent an RV near Warrens, WI —
Fall Festival Schedule
Looking for somewhere to pack up and go this October? Here are a few fantastic options.
4. Trailing of the Sheep Festival, Ketchum, Idaho: October 5-10, 2021
Touted as one of the "Top Ten Festivals in the World" by MSN, The Trailing of the Sheep Festival takes place in early October in Ketchum, ID.
This event aims to preserve the history and culture of sheep herding and ranching in Idaho and the western United States and present these things to the public. They do so through special food, workshops, performances, and a big sheep parade.
Admission to the festival is free, but many events require a ticket. These events do tend to sell out, so be sure to snag your tickets early.
— Rent an RV near Ketchum, ID —
For over half a century, this Pennsylvania event has been one of the largest apple harvest celebrations in the country. Aside from all the delicious fruit you (and baked goods, and cider) you can handle, you'll also experience antique cars, steam engine displays, orchard tours, a petting zoo, and more.
Plus, it's an easy drive from major metros like Washington D.C., Baltimore, and Harrisburg, and you have no one but two beautiful October weekends to choose from.
How do you like them apples?
— Rent an RV near Biglerville, PA —
Think the changing fall colors and festivities are for east coasters only? Think again. This annual fall fete takes place along the scenic Hood River waterfront just an hour or so east of Portland, and with more than a hundred vendors offering crafts, food, and beverages, it's well worth the drive. You can also load up on fresh Oregon produce!
— Rent an RV near Hood River, OR —
Held annually for well over a hundred years now, the Circleville Pumpkin Show attracts over 400,000 people to a town whose usual population hovers around 12,000.
And no wonder! Along with a full schedule of fall-themed events, contests, and shows, this fair features dozens of amusement rides and hundreds of food vendors. So if you're looking to fill up on fall festival foods like apple fritters, warm cider, and (of course) all the pumpkin goodies you can imagine, Circleville's where you want to be.
— Rent an RV near Circleville, OH —
Fall Festival Camping Essentials
So now that your fall festival travel planner is nice and full, what else do you need to know about making the perfect weekend harvest fair getaway?
Well, don't forget to pack your sweatshirts and flannels, and make sure you have your warmest set of sheets on board. After all, temperatures are dropping — and at night, it can get pretty darn chilly!
And keep in mind that even if none of these events will work in your schedule, there are plenty of other fall festivals, carnivals, and fairs to check out, no matter where in the country you call home.
To find out if there's anything going on in your area, you can simply run a Google search for something like "upcoming fall festivals" or "events this weekend near me." It's a beautiful, magical time of year no matter where you experience it — just make sure you take the time to get outside (and hopefully eat something fresh-picked)!