Mount Rainier National Park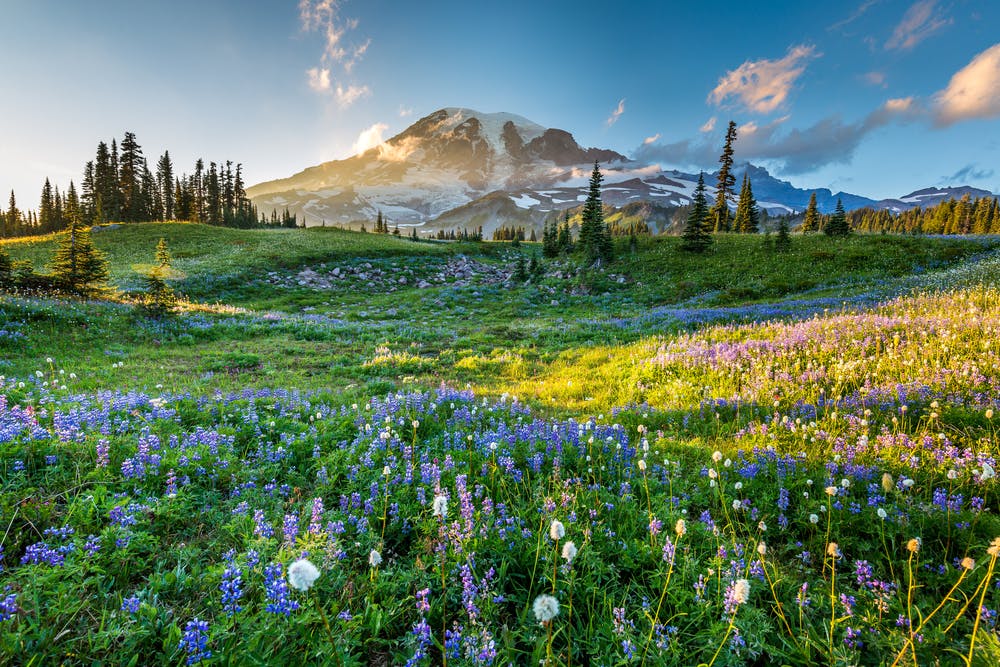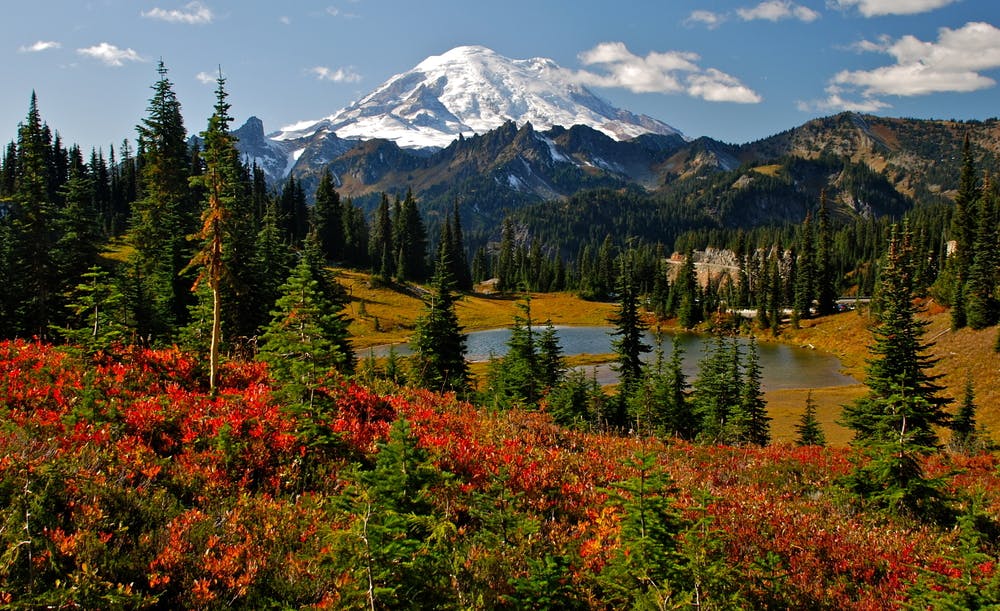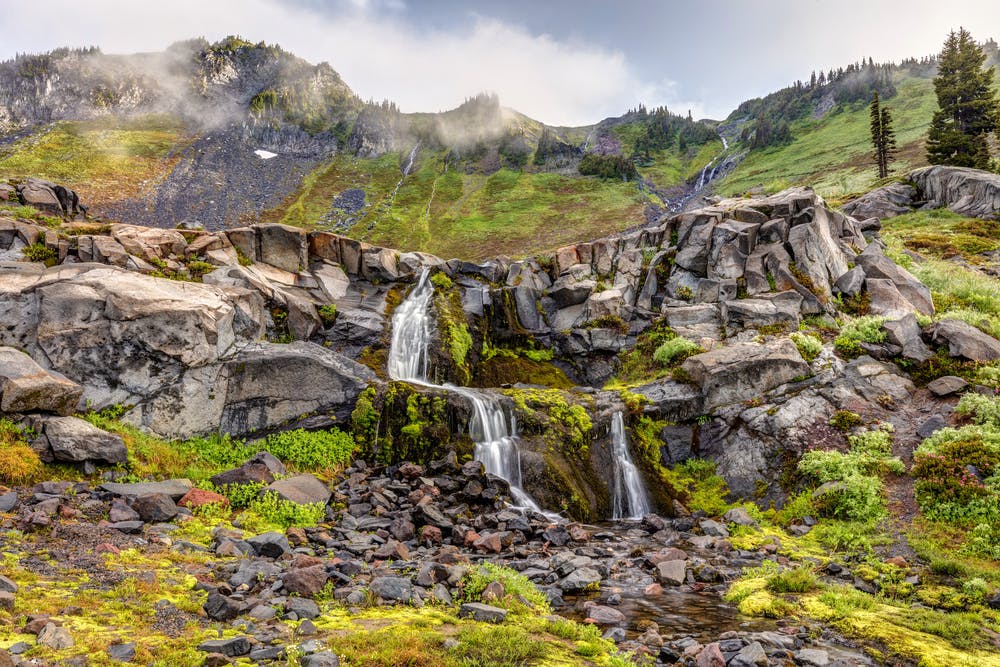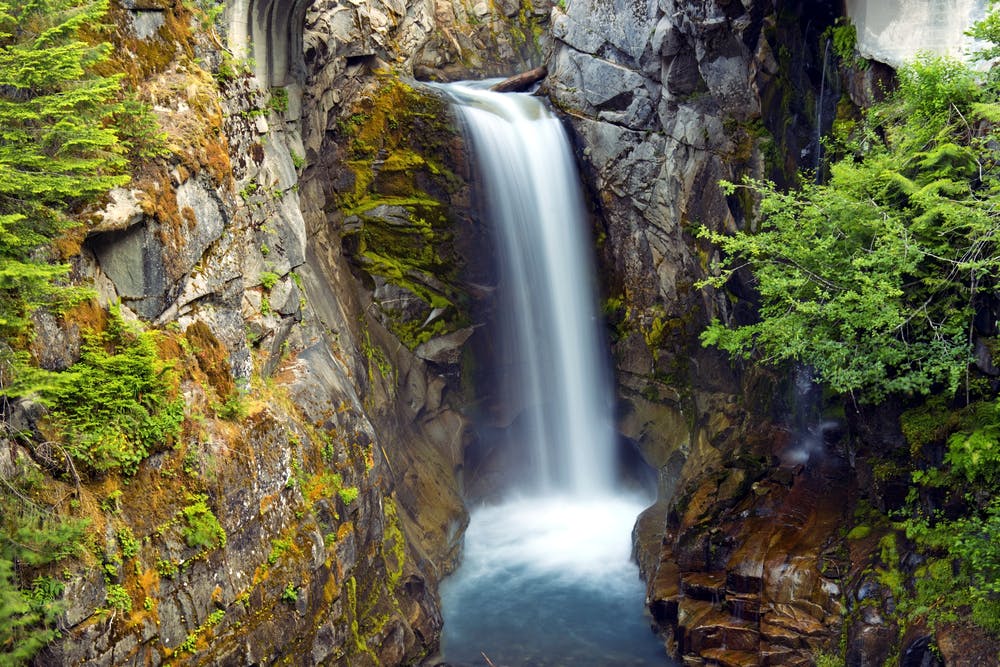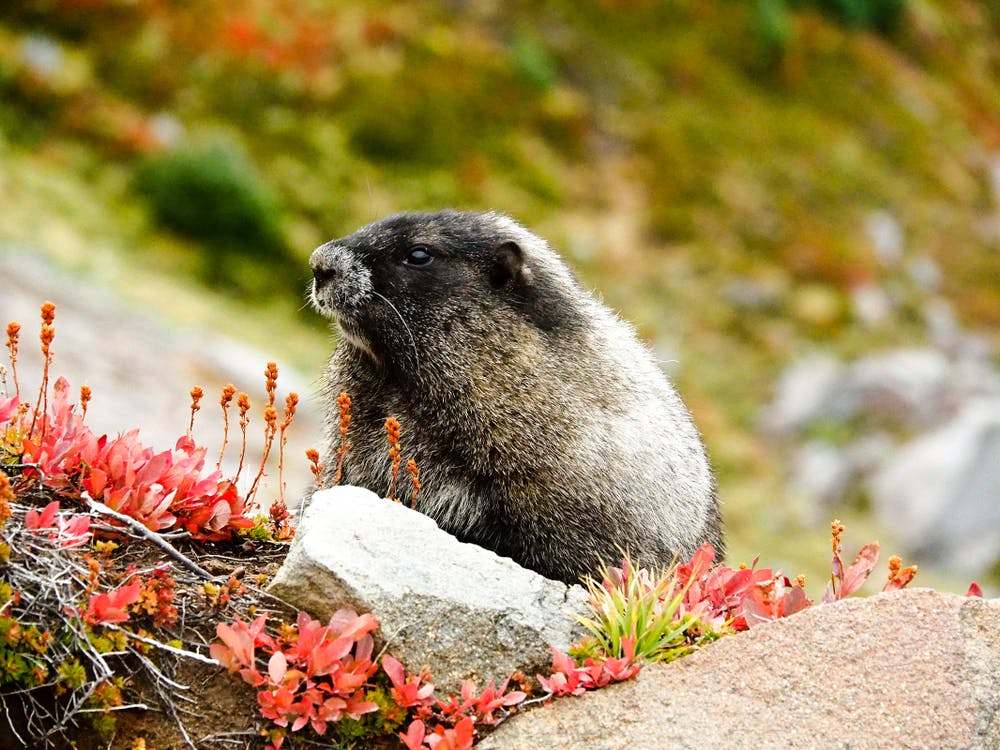 >

Mount Rainier National Park
Looming above the Seattle skyline, Mount Rainier is one of Washington's most iconic landmarks. Standing at 14,410 feet, Mount Rainier is both an active volcano and the most glaciated peak in the continental United States. While Mount Rainier is the centerpiece of Mount Rainier National Park, its lower slopes are filled with old growth forests and meadows filled with wildflowers.
Encompassing over 236,000 acres, Mount Rainier National Park is home to the highest point in the Cascade Range, forests, glaciers, and colorful valleys. Every year, nearly 1.5 million visitors come to see the natural beauty of the mountain and enjoy the numerous outdoor activities the park has to offer.
Mount Rainier National Park, which preserves the mountain known to Native Americans as Tahoma, is the traditional and ancestral land of the Cowlitz, Muckleshoot, Nisqually, Puyallup, Squaxin Island, and Yakama tribes. The descendants of these people still live in the landscapes surrounding Rainier's snowy slopes, and their customs are still alive today, coloring and contextualizing this storied space. Learn more about the indigenous history of the park here.
Mount Rainier National Park is open year-round with temperatures ranging from an average high of 65 (18) degrees to 21 (-6) degrees. The park receives an average of 670 inches of snow throughout the year. Most of the snow at the lowest elevations melt by late spring, but there is always snow on top of Mount Rainier.
You'll find there are several quaint towns just outside the national park entrances with delicious restaurants, shops, and museums. Much of the area is kid-friendly so you can bring the youngsters and they won't get bored. During the winter months, you'll want to hit the slopes at Washington's largest ski resort, Crystal Mountain.
Most of the ranger-led events and programs occur during the summer months, but you can check the calendar of events for the most up-to-date information. Due to the elevation and the diverse ecosystems, you'll want to pack multiple layers and supplies to keep you warm and dry in case the weather changes in a flash. If you're interested in climbing Mount Rainier, you'll need a special permit and mountain guide. Whether you see Mount Rainier from the summit or the base, you'll always have an incredible views of the mountain
Weather
Spring 21-65 F
Summer 21-65 F
Fall 21-65 F
Winter 21-65 F
Nearby Cities
Tacoma, WA
Trip Planner
Use our FREE RV trip planner to begin customizing the perfect RV trip.
Continue
RV Resorts & Campsites in Mount Rainier National Park
Mount Rainier National Park is a bit different than other national parks when it comes to camping. Since much of the park is encompassed by Mount Rainier and remote backcountry, camping within the park is limited, but there is an abundance of private campgrounds just outside the park.
Public Campgrounds Mount Rainier National Park
Private Campgrounds Mount Rainier National Park
RV Rentals Near Mount Rainier National Park
Nearby RV Rentals
Hit the Trails
Every year thousands of people from around the world come to Mount Rainier to climb the 14,410-foot peak of Mount Rainier. Climbing Mount Rainier requires a Climbing Cost Recovery Fee and a Climbing Permit. Mountain guides are highly recommended as the mountain can be dangerous. If climbing an active volcano is not your cup of tea, Mount Rainier National Park is home to hundreds of miles of excellent hiking trails that will get you close to the mountain for incredible views.
Mount Rainier National Park Trails
Carbon Glacier
Distance: 17 miles
Terrain: 1640 feet elevation gain over the course of 17 miles along the Carbon River to Carbon Glacier.
Wonderland
Distance: 93 miles
Terrain: Difficult 93-mile trail that encircles the base of Mount Rainier through forests, valleys, and high alpine areas with incredible views.
Skyline
Distance: 5.5 miles
Terrain: Popular, moderate trails that circumnavigate the Paradise area of the park with incredible views.
Naches Peak Loop
Distance: 3.5 miles
Terrain: Family-friendly moderate loop trail with views of wildflower meadows, Tipsoo Lake, and Dewey Lake.
Burroughs Mountain
Distance: 4.7 miles
Terrain: Located on the northeast side of the park, the moderate trail offers a more barren terrain.
Glacier Basin
Distance: 7 miles
Terrain: Moderate trail with 1,280 feet elevation gain with spectacular views of Emmons Glacier, which is the largest glacier in the continental U.S.
Silver Falls
Distance: 3 miles
Terrain: Family-friendly, relatively flat hike along the Ohanapecosh River through the old growth forests.
Spray Park
Distance: 6 miles
Terrain: Difficult trail with lots of ups and downs through the woods and meadows before coming to Eagle's Cliff for great views of Mount Rainier and Mowich Glacier.
What to Do at
Mount Rainier National Park
While Mount Rainier might be the star of the park, there is lots to do in and around Mount Rainier National Park. From hiking to wildlife spotting, to eating at one of the many delicious restaurants nearby, you'll find plenty to keep you busy from sunup to sundown. If you're heading to the mountain during the winter, stop by Crystal Mountain for a day on the slopes.
Restaurants
From gourmet restaurants at the base of Crystal Mountain Resort to small food trucks on Route 7, you'll find several delicious restaurants to refuel your tired muscles before your next hike.
Type: American-Himalayan Fusion
Location: East Ashford
Type: American
Location: East Ashford
Type: European
Location: Enumclaw
Type: Burgers
Location: Enumclaw
Type: Burgers
Location: Elbe
Shopping
Whether you forgot your gloves or just need to grab some quick snacks for those long hikes, there are plenty of shops just outside the park with everything you need.
Named after Jim and Lou Whittaker, who were the first Americans to summit Mount Everest, Whittaker Mountaineering has everything you need to summit Mount Rainier to Mount Everest and everywhere in between. The shop has a great rental department and runs regular expeditions up Mount Rainier with its world-class mountain guides.
Location: Ashford
You'll want to stop here if you need some snacks, camping supplies, or just a few knick knacks to bring home to your kooky aunt who loves odd gifts.
Location: Longmire
Located at the base of the gondola at Crystal Mountain, this gift shop sells a wide range of items, including clothing, jewelry, hiking supplies, and snacks.
Location: Enumclaw
Rent or buy all the outdoor gear you need for your summer or winter sports, including mountaineer boots, skis, and more.
Location: Enumclaw
Selling gourmet snacks, coffee, artisan gifts and more, you'll quickly fall in love with this old-time grocery store
Location: Elbe
Museums
The Mount Rainier region of Washington is home to some interesting pioneer and natural history, so hit up one of the many museums in the area to learn some fun facts.
The small heritage museum is home to an old steam locomotive that travels 14 miles through the foothills leading up to Mount Rainier. In addition to riding the train, visitors can explore history exhibits of the logging camps of the early 1990s
Jump back in time to the 1880s to the early homesteading days of Washington. Tour the living history museum and learn how to churn cream, grind grain, and even wash laundry.
Located alongside State Route 706 in Ashford, you can't miss Dan Klennert's Recycled Spirits of Iron Sculpture Park filled with animals, motorcycles, and monsters.
Managed by the National Park Service, the Longmire Museum is open daily year-round with exhibits and information about Mount Rainier and the national park.
Sightseeing
If you need a break from hiking and camping in Mount Rainier National Park, head outside the gates of the park and enjoy the many activities from horseback riding to scenic gondola rides.
Open year-round, take a scenic ride up the Mt. Rainier Gondola at Crystal Mountain Resort. You'll fly over 2,000 vertical feet through the air to the summit of Crystal Mountain, which offers incredible views of Mount Rainier and the Cascade Mountains.
Location: Enumclaw
Over 1,200 Yakima elk, including over 90 branched-antlered bulls, are fed daily on the 94,000-acre Oak Creek Wildlife Area. Bring your camera for this unique experience!
Location: Yakima
The 2,600-acre ski area is the largest in the state with nine chair lifts, including the Crystal Mountain Gondola, and 57 trails.
Location: Enumclaw
Home to wildlife park filled with native wildlife, including moose, bison, elk, bears, and more, the park also has a zipline course with five ziplines through the forest.
Location: Eatonville
Discover the beauty of the Cascades Mountain by horseback with a guided trail ride through the foothills of Mount Rainier.
Location: Crystal Mountain Resort
How to Get to
Mount Rainier National Park
Mount Rainier National Park can be easily accessed by several major cities in the Pacific Northwest – Seattle, Yakima, and Portland, Oregon. The closest airport to the park is Seattle-Tacoma International Airport in Seattle. Additionally, the park can be accessed from Portland International Airport and Yakima Air Terminal. Rental cars are available at all airports.
Mount Rainier National Park has three main entrances. The Northwest Entrance is accessed through State Route 165 from Wilkeson and is open year-round. For most visitors coming from Seattle, Yakima, and Portland - you'll enter the park at the Nisqually Entrance in the southwest corner of the park from State Route 706. There are three entrances from the east, including Ohanapecosh on State Route 123, Sunrise and White River on State Route 410 from Enumclaw, and Chinook Pass. Many of the east entrances often close during the winter months due to snow.
By Car
The weather in and around Mount Rainier National Park can vary widely so it's important to pay attention to the weather forecast and the park rangers. Check the road status page for the latest updates and closures. During the summer months, it can be almost impossible to find parking at Paradise, Sunrise, Grove of the Patriarchs, and Longmire. To avoid traffic, visit the most popular areas on the weekdays. Do not park along the road.
Entering Mount Rainier National Park
Vehicle Fee : $30
Use for seven days
Annual Pass : $55
Campsite Fee : $20
Per night
Visiting Mount Rainier National Park by RV is a unique experience. You'll have all the modern amenities that you would have at home with incredible views outside your windows. There are lots of great campgrounds in and around the national park to park your rig and hit the trails.
At RVshare, our mission is getting you outdoors, spending time with your loved ones, and seeing all the natural beauty of our great country. RVing is a great way to have a truly experience that gives you a front row seat to your beautiful destination. Whether you visit Mount Rainier National Park in an RV rental from us, or simply drive in and tent camp, we'd love to hear all about your trip! Send us photos at [email protected], tag us on social media, share amazing details, and anything else you want others to know about your experience for a chance to be featured on our blog or social media channels.