How Tos & Tips
Last updated on November 29th, 2022. Originally published on July 26th, 2017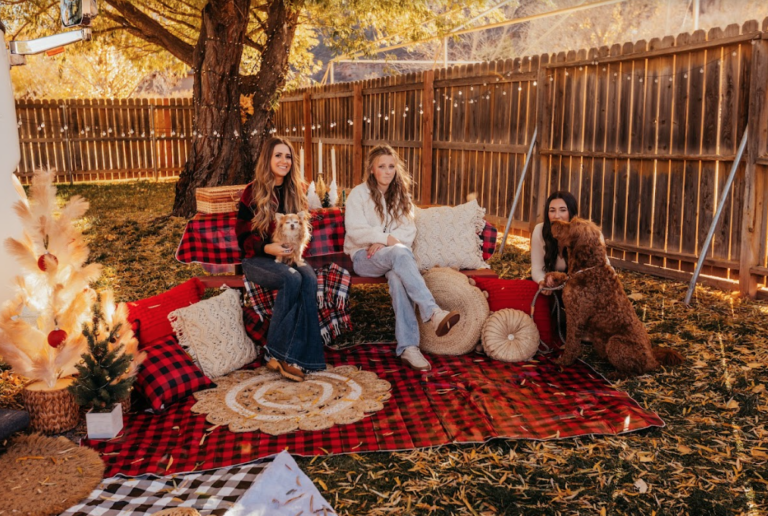 Spending the day in the kitchen, whipping up plates and plates of delicious food… and then watching everyone enjoy them.
Fussing over the little details, from decorations to place settings and even how the napkins are folded.
Circulating through the crowd, catching up with old friends, and getting to know new ones better.
Let's face it: Some people are just born entertainers — and no, we aren't talking about the type who gets up on a stage and sings.
If throwing lavish dinners and get-togethers is your idea of a perfect weekend activity, the RV lifestyle might seem a little daunting at first. After all, even a large rig can be pretty snug for just two people or a small family. How are you supposed to host a party in such a small space?
But whether it's a holiday bash, a birthday, or a just-because shindig, entertaining in small spaces is actually totally doable. In fact, RVing can make your small space party even more fun and exciting than it would be otherwise. It just takes a little bit of planning and a few creative ideas.
Here are our favorite tips and tricks for throwing a killer party in your RV or trailer.
Small Space Entertaining
Freaking out about how you'll fit your huge group of friends and family into your small camper?
Don't start scratching your loved ones' names off the guest list quite yet. Here are some simple ideas for entertaining in a small space.
1. Do as much as you can ahead of time.
This is good advice even if you're throwing a party in a mansion. I mean, who wants to spend their party time busily cooking or crafting?
But if you're already dealing with limited space, it becomes even more imperative that you're not using some of it to prepare food or party favors while the soiree's underway. You need that space to fit more people!
Make sure you have everything set to go before the first guest arrives, so you can use your whole RV as party space — including the kitchen.
2. Don't be afraid to rearrange the furniture.
If your dinette doesn't seat more than four, it might be more of a drawback than a benefit for your party. So if it's got mobile chairs, consider grabbing them and moving them outside — that way, everyone indoors will have more room to move around without bumping into each other.
Don't forget about your RV's cockpit chairs, too; in many models, they swivel, which can create additional comfortable seating!
How to Arrange a Small Living Room
Sure, your rig might have a small living room… but that doesn't mean you can't have a great big bash. In fact, with an RV, this problem might be even easier to mitigate.
3. Don't forget: The outdoors is your living room, too!
Here's one of the reasons RVing is actually great for small-space entertainment: your outdoor living space totally counts!
In fact, it's kind of the best part. I mean, that's where the campfire is, so you know that's where it's lit. (Get it?)
Make your outdoor party zone as comfortable as possible by camping in areas with firepits and picnic tables, and add in some extra outdoor furniture like folding camp chairs, too. Heck, with proper ground covering and towels, guests can even lounge on the ground, essentially making your party space unlimited.
Entertainment Area Design
Outdoor entertaining is a great hack when you're trying to throw a big party in a small space — but there are a few things to consider if you want to do it properly.
4. Be strategic about when you plan your party.
Your outdoor entertainment area won't be very popular if you're throwing your party in Nebraska in the dead of winter.
So be strategic about when (and where) you plan your party. Make sure you're in a place and season that's temperate — that way, you'll be able to make the most use of your outdoor space, and you'll also avoid having to figure out where to put everyone's heavy winter coats!
Seating for Small Spaces
One of the most challenging parts of entertaining in an RV is trying to ensure that everyone has a place to sit. Even when you factor in outdoor furniture, it's hard to have enough surface area for everyone to rest at the same time.
But that doesn't have to be a bad thing! Here are a few tips to help you deal with the limited seating issue.
5. Keep it circulating.
Whether engaging in planned activities or just keeping conversation circles flowing, making sure the party participants don't just sit and stagnate will help keep limited seating arrangements fair. As some folks get up, others can sit down — and everyone will experience more of the party (and each other)!
6. Have finger food.
A standing dinner reception is a whole lot easier if you're serving chips and hummus than if you're eating a full-on turkey dinner.
Not only does finger food allow guests to circulate with plate in hand comfortably… but it also saves you a ton of preparation and cleanup time! So it pays to think strategically when you're planning your party's menu.
7. Caravan.
Want to know how to instantly extend your RV's living space?
Add another rig!
Your neighbor would probably love to get in on your party, so get together with the other people around you and see if you can make it into a multi-camper bash. That way, you'll have that much more space to work with — and that many new friends to add to the party roster!
These are just a few of our favorite small space entertaining ideas, but we'd love to hear about your go-to tricks for campground parties. After all, RVers know that big fun can come in pretty small packages, and everything's better when you share it with a friend… or five.
Or ten. The more, the merrier, right? Just make sure you have enough s'mores supplies for everybody!