Bryce Canyon National Park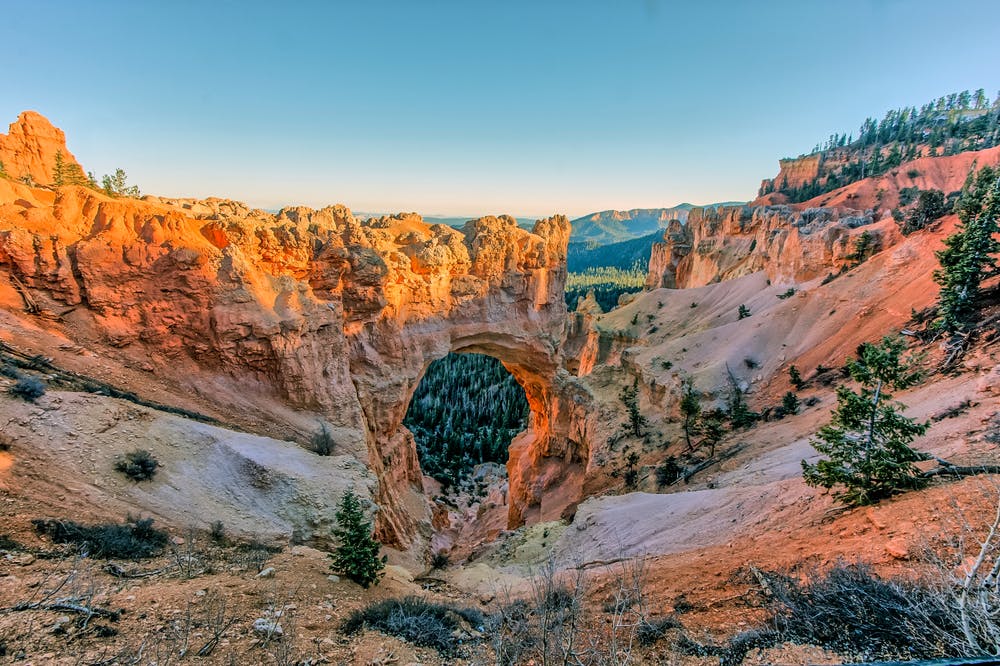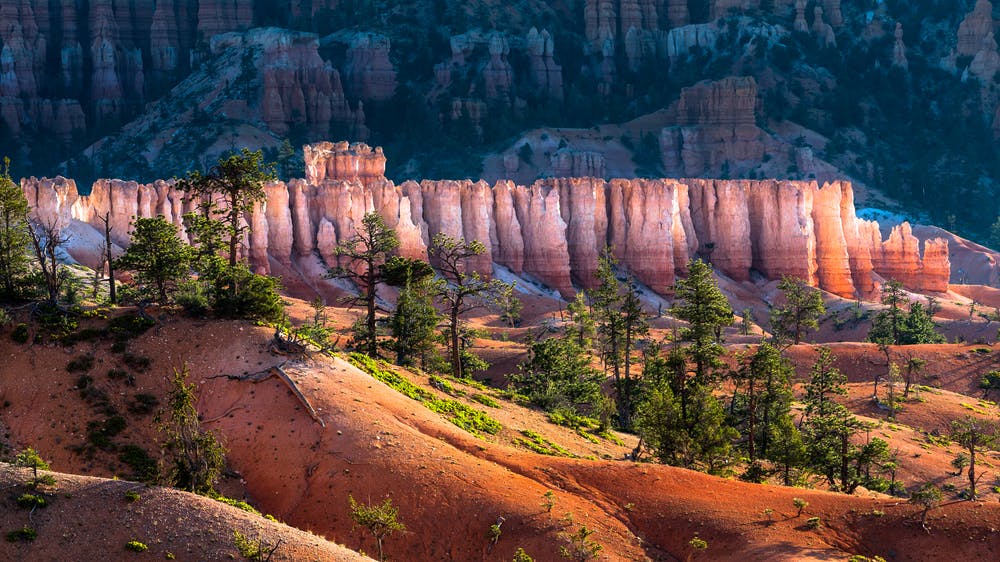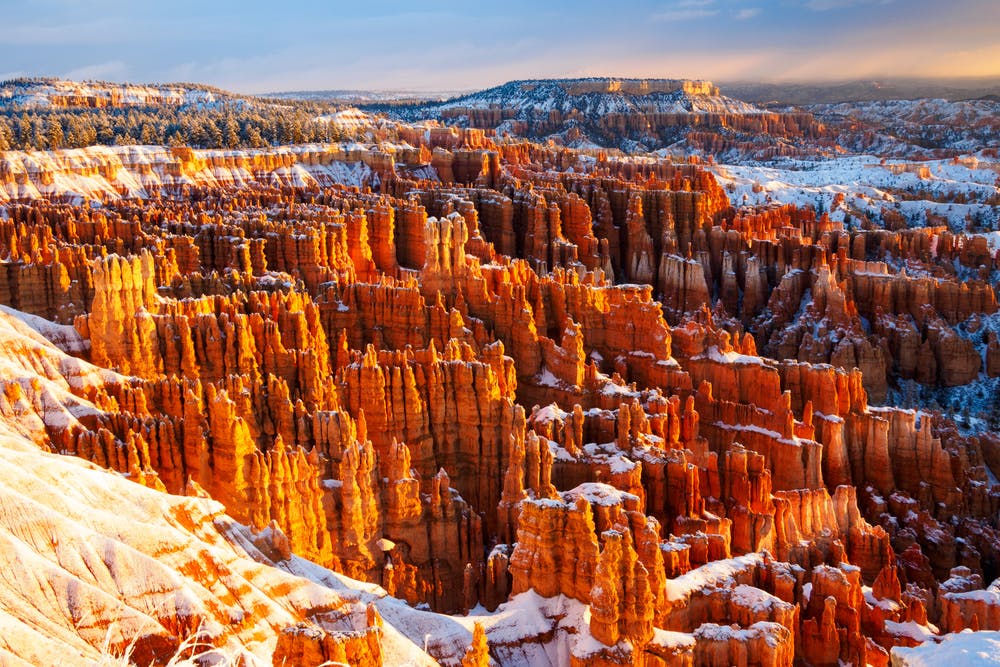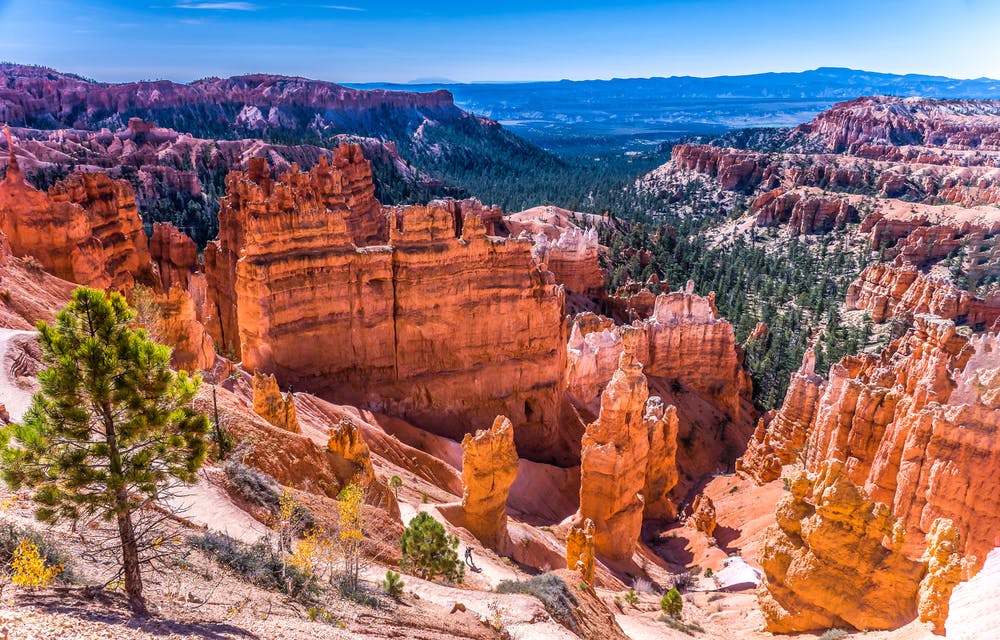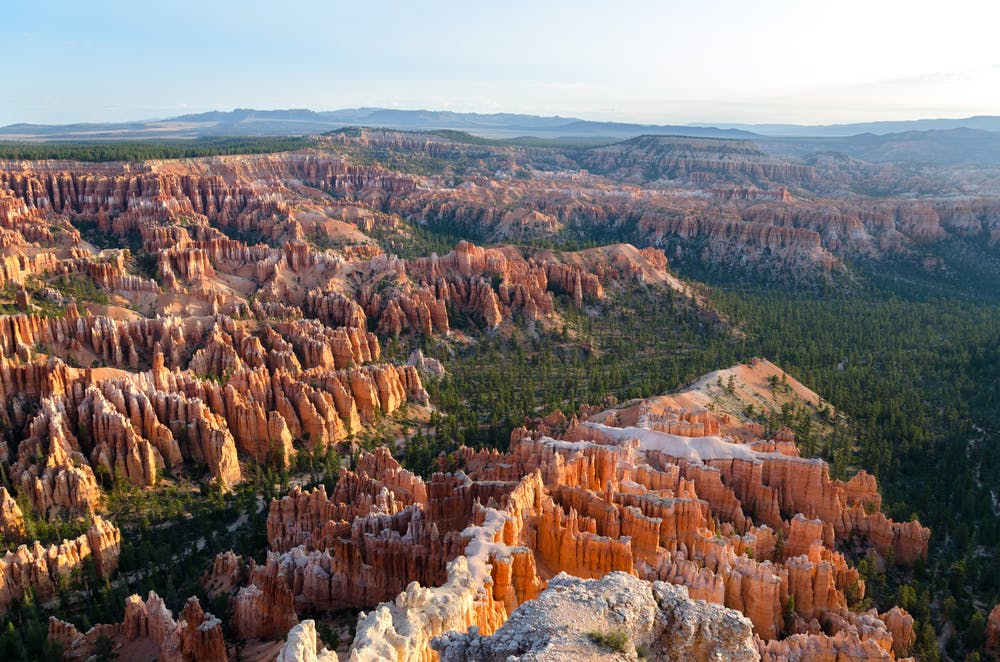 >

Bryce Canyon National Park
Hoodoo? You do, at Bryce Canyon National Park, a southern Utah reserve known for these stunning, spire-shaped rock formations whose name sounds almost as alien as the landscape they inhabit looks. The remains of ancient lake bed sedimentary rocks, Bryce Canyon's iconic hoodoos were formed over thousands of years by frost weathering and erosion, and today, visitors can view them from the park's miles of hiking trails and several scenic vista points. Better yet, due to the park's remote location and relative lack of notoriety, it receives far fewer visitors than its big-name neighbors, like Zion or the Grand Canyon -- which means you won't have to worry so much about crowded trails or stranger-filled Instagram photos.
Nestled in south-central Utah, Bryce Canyon National Park is far from any city with significant population density, though there is a gateway town of the same name with a stable population of 200 or so. Other small towns in the immediate vicinity include Tropic, Hatch, Cannonville, and Escalante.
Although it's a desert, southern Utah does experience extreme temperature swings, including cold winters with some snowfall. From October through May, you can expect sub-freezing nighttime temperatures, with the heaviest snowfall usually occurring from December through April. The summertime brings pleasant, sunny days with temperatures hovering between the high 60s and low 80s, with frequent and furious afternoon thunderstorms in July and August. Because of the landscape's openness, visitors are warned to exercise extreme caution during this time to avoid exposure to lightning. (Check the park's official weather page for the latest updates before you plan your journey.)
Bryce Canyon is a popular spot for hikers and stargazers, and during the winter months draws adventurers for a variety of cold-weather sports like cross-country skiing, snowmobiling, and snowshoeing. The park also hosts a number of ranger-led interpretive and educational programs, including guided hikes, geological lectures, and night-sky viewing parties. Click here to see the official park calendar.
What is today known as Bryce Canyon National Park is the ancestral grounds of the Ute, Southern Paiute, and Pueblo peoples, and figured in the migrational patterns of other Indigenous bands like the Hopi. As you walk amidst these towering rock formations, we hope you'll look back as well as up to appreciate the long line of history this place is steeped in. Learn more here!
Weather
Spring 45-55 F
Summer 60-80 F
Fall 55-65 F
Winter 30-35 F
Nearby Cities
Tropic, UT
Trip Planner
Use our FREE RV trip planner to begin customizing the perfect RV trip.
Continue
RV Resorts & Campsites in Bryce Canyon National Park
Bryce Canyon National Park features two on-site campgrounds, both of which are RV-accessible. The campgrounds don't offer hookups, but there is a fee-for-use dump station available at North Campground. RVers can also choose from a variety of privately-owned area campgrounds, as well as several nearby areas allowing free dispersed camping, or boondocking.
Campsite fees at Bryce Canyon are $20 per night for tents and $30 per night for RVs, with discounts available for certain pass holders. To ensure space is available for all park visitors, Bryce Canyon does not allow RVs and travel trailers over 25 feet in length in most of its parking lots during the busy travel season between April and October. Learn more about camping in Bryce Canyon National Park -- and the restrictions that apply -- by visiting the park's website.
Bryce Canyon National Park On-Site Campgrounds
Bryce Canyon National Park Privately-Owned RV Parks and Resorts
RV Rentals Near Bryce Canyon National Park
Nearby RV Rentals
Hit the Trails
Whether you're looking for a quick, hour-long jaunt or an epic all-day trek, Bryce Canyon's network of hiking trails ensure that everyone can enjoy the park's unique beauty. And since many of the trails are interconnected, you can easily link short walks up into longer adventures.
For trails below the rim, be prepared for a steep climb up and out of the canyon -- and always remember to carry ample water for everyone in your hiking party. (The park recommends one liter of water per 2-hour hike per person.) Given the park's high altitude and sun exposure, it's also important to wear layered clothing and carry extra sunscreen. And, as always, never approach or feed wildlife.
Find below a few of the best-loved hikes in the park for a variety of fitness levels. For full details on day hikes in Bryce Canyon, click here.
Bryce Canyon National Park Trails
Bristlecone Loop
Distance: 1-mile loop
Terrain: This easy, but high-altitude, trail meanders through spruce-fir forests at the park's highest point, with elevations above 9,000 feet. See bristlecone pines up to 1,800 years old along the way.
Fairyland Loop
Distance: 8-mile loop
Terrain: A strenuous, but rewarding, trek that passes by many of the park's most iconic formations, including China Wall and Tower Bridge. Good opportunity for wildlife spotting.
Hat Shop
Distance: 4 miles
Terrain: Descend under the rim to see a cluster of hatted hoodoos. Be prepared for the climb back out!
Mossy Cave
Distance: 0.8 miles
Terrain: This short and easy trail leads explorers along a creek, ending in a mossy overhang and scenic waterfall.
Navajo Loop
Distance: 1.3-mile loop
Terrain: One of the most iconic -- and popular -- trails in the park, Navajo Loop descends below the rim into a slot canyon filled with towering Douglas fir trees. You'll also encounter other quintessential, photo-opp formations, like Thor's Hammer, Silent City, and the Temple of Osiris. Moderate.
Queens Garden
Distance: 1.8 miles
Terrain: The least-difficult trail into the canyon, Queens Garden provides an up-close look at hoodoos.
Rim
Distance: 11 miles
Terrain: It may be lengthy, but the Rim Trail can be divided into easy and accessible segments that provide access to the park's four main overlooks. Wheelchair-accessible, paved path connects Sunrise and Sunset viewpoints.
Swamp Canyon
Distance: 4.3 miles
Terrain: This moderate trail takes explorers into one of the lesser-known areas of the canyon.
What to Do at
Bryce Canyon National Park
When you need a break from all that beauty -- or just a bite to eat -- here's where to head in the Bryce Canyon National Park area.
Restaurants
Bryce Canyon may be remote, but there's plenty of hearty, cowboy-ready fare to be had in its nearby communities. (And also pizza. Because who doesn't love pizza?)
Down-home favorites for every meal of the day, located just minutes from the park gates. Try the elk burger for lunch or indulge in a 16-ounce ribeye for dinner.
Location: Bryce Canyon City
One of the closest eateries to the park entrance, located inside the Best Western Plus Ruby's Inn. Choose fresh favorites from the menu or indulge in the seasonal buffet.
Location: Bryce Canyon City
After a long day of hiking, nothing hits the spot like barbecue -- so if you're just not sure what you want, consider this local fave. Even the cole slaw is awesome!
Location: Tropic
Along with hand-tossed pizzas topped with fresh, whole ingredients, this place also serves up burgers, sandwiches, salads, desserts, and more. Dine al fresco on the patio for epic views of the surrounding landscape
Location: Tropic
Low-key but high-flavor, this seasonal pizza shop also serves a variety of Italian favorites, as well as espresso and dessert.
Location: Bryce Canyon City
Shopping
You know that sinking feeling you get when you arrive at camp and realize you've forgotten something?
Even in the southern Utah wilderness, you don't have to feel that way. Here's where to stock up on supplies (or replace your accidentally-left-behind toothbrush) near Bryce Canyon.
Specializing in both contemporary and traditional Native American jewelry, this one-stop southwestern gift shop also features Navajo rugs, pueblo pottery, kachinas, fetishes, sand paintings, baskets, beadwork, and more.
Location: Panguitch
You've gotta eat -- so when it's time to pick up the groceries, head to this local market which also offers gifts and home decor.
Location: Tropic
Stock up on camping essentials like firewood and s'mores ingredients -- all without leaving the park.
Location: North Campground, inside Bryce Canyon National Park
Whether it's a replacement charging cable for your camera or hand-dipped ice cream you're after, a stroll through this strip of shops is sure to yield everything you need.
Location: Bryce Canyon City
When they say "general," they mean it. This market stocks groceries including fresh meat and produce alongside goods such as batteries and extras like western-style apparel. If you need it, chances are Ruby's got it!
Location: Bryce Canyon City
Museums
Psst: Did you know that, despite its name, Bryce Canyon isn't actually a canyon? It's actually a geological formation known as an amphitheater -- and that's not all you'll learn when you visit these area museums.
See life-sized replicas of ancient Native American dwellings and more at this area museum, which is open year-round, seven days a week. State park day-use fee of $5 gains you access.
Learn about the history of wildlife both in Bryce Canyon and the world over -- and feed live deer, too! Adults $8, children 4-13 $6, and children under 4 free with purchase of adult entry.
Sightseeing
While there are plenty of sights to see inside the park boundaries, there's a lot to do outside the gates, too -- and plenty of tour guides and experts who want to help you make the most of it.
Southern Utah boasts some of the darkest skies in the country -- so where better to take a professional, guided stargazing tour? This locally-owned organization will help you get oriented to the night sky with multimedia presentations and, of course, high-powered telescopes.
If you're ready to get down and dirty (and up close and personal with that red Utah clay), try out a guided ATV tour. This company's based in Bryce Canyon City, right outside the park gates, and provides all the gear you need to try out ATVing safely.
What better way to see the sights than on horseback? Hit the trails for an unforgettable equine experience, whether it's only an hour or an all-day tour.
How to Get to
Bryce Canyon National Park
Though Bryce Canyon may be remote, it is easily accessed via the major highway systems that streak the southwest. For full details on how to approach the park from a variety of orientations, check out the official park directions page, which also offers exact GPS coordinates.
While the closest major airports are Las Vegas and Salt Lake City, both of which are approximately 300 miles away, you can also find flights to the smaller, regional airports that are closer to the park entrance: Cedar City (80 miles away) and St. George, Utah (125 miles away).
Entering Bryce Canyon National Park
The fees to enter the park cover you and your passengers for seven days and are used to maintain and improve the park facilities. Here are the latest entry fees at Bryce Canyon National Park.
Private Vehicle : $35
Private, non-commercial vehicles (15 passenger capacity or less) and all occupants.
Motorcycle : $30
One or two passengers on a private, non-commercial motorcycle.
Per Person : $20
One individual with no car (bicyclist, hiker, pedestrian). Youth 15 and under are admitted for free.
Please keep in mind that park entry fees do not cover campground accommodations or permits you may need to engage in certain activities.
We here at RVshare can't wait to help you create your ultimate Bryce Canyon trip -- both with this helpful guide and by providing access to the thousands of RV rentals in our nationwide listings. But whether you rent a rig, drive your own, or take to the road some other way, we want to hear all the juicy details about your experience once you get there! Tag us in your photos and stories or email the deets directly to [email protected]. We'll share some of the best adventures on our own blog and social media channels.