Bryce Canyon National Park
WIDE-RANGING INVENTORY
From affordable pop-ups to luxury motorhomes
LARGEST RV RENTAL MARKETPLACE
Thousands of 5 star reviews from happy customers
SECURE AND MOST TRUSTED
24/7 Emergency roadside assistance on every booking
>

Bryce Canyon National Park
Hoodoo? You do, at Bryce Canyon National Park, a southern Utah reserve known for these stunning, spire-shaped rock formations whose name sounds almost as alien as the landscape they inhabit looks. The remains of ancient lake bed sedimentary rocks, Bryce Canyon's iconic hoodoos were formed over thousands of years by frost weathering and erosion, and today, visitors can view them from the park's miles of hiking trails and several scenic vista points.
Due to the park's remote location and relative lack of notoriety, it receives fewer visitors than its big-name neighbors, like Zion or the Grand Canyon -- which means you won't have to worry so much about crowded trails or stranger-filled Instagram photos. It is far from any city with significant population density, though there is a gateway town of the same name with a stable population of 200 or so. Other small towns in the immediate vicinity include Tropic, Hatch, Cannonville, and Escalante.
Although it's a desert, southern Utah does experience extreme temperature swings, including cold winters with some snowfall. From October through May, you can expect sub-freezing nighttime temperatures, with the heaviest snowfall usually occurring from December through April. The summertime brings pleasant, sunny days with temperatures hovering between the high 60s and low 80s, with frequent and furious afternoon thunderstorms in July and August. Because of the landscape's openness, visitors are warned to exercise extreme caution during this time to avoid exposure to lightning. (Check the park's official weather page for the latest updates before you plan your journey.)
Bryce Canyon is a popular spot for hikers and stargazers, and during the winter months draws adventurers for a variety of cold-weather sports like cross-country skiing, snowmobiling, and snowshoeing. The park also hosts a number of ranger-led interpretive and educational programs, including guided hikes, geological lectures, and night-sky viewing parties. Click here to see the official park calendar.
Read more
Weather
Spring 45-55 F
Summer 60-80 F
Fall 55-65 F
Winter 30-35 F
Park Info
Bryce Canyon National Park Private Vehicle: $35
Bryce Canyon National Park Motorcycle: $30
Bryce Canyon National Park Per Person: $20
Bryce Canyon National Park Hiking Trails
Whether you're looking for a quick, hour-long jaunt or an epic all-day trek, Bryce Canyon's network of hiking trails ensure that everyone can enjoy the park's unique beauty. And since many of the trails are interconnected, you can easily link short walks up into longer adventures.
For trails below the rim, be prepared for a steep climb up and out of the canyon -- and always remember to carry ample water for everyone in your hiking party. (The park recommends one liter of water per 2-hour hike per person.) Given the park's high altitude and sun exposure, it's also important to wear layered clothing and carry extra sunscreen. And, as always, never approach or feed wildlife.
Find below a few of the best-loved hikes in the park for a variety of fitness levels. For full details on day hikes in Bryce Canyon, click here.
Bryce Canyon National Park Trails
Things to do Outside Bryce Canyon National Park
When you need a break from all that beauty -- or just a bite to eat -- here's where to head in the Bryce Canyon National Park area.
Discover Nearby Towns and Cities
RV Rentals Near Bryce Canyon National Park
Nearby RV Rentals Forest River RV Salem 27TDSS
2019 / Travel Trailer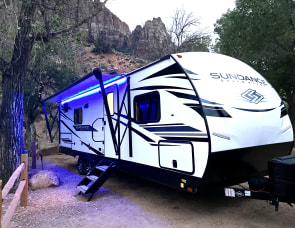 Heartland Sundance Ultra Lite 265 BH
2022 / Travel Trailer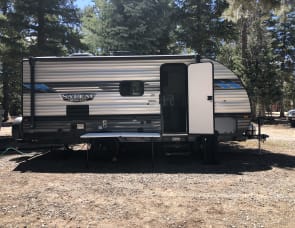 Forest River RV Salem Cruise Lite 177BQ
2021 / Travel Trailer
RV Resorts & Campsites in Bryce Canyon National Park
Bryce Canyon National Park features two on-site campgrounds, both of which are RV-accessible. The campgrounds don't offer hookups, but there is a fee-for-use dump station available at North Campground. RVers can also choose from a variety of privately-owned area campgrounds, as well as several nearby areas allowing free dispersed camping, or boondocking.
Campsite fees at Bryce Canyon are $20 per night for tents and $30 per night for RVs, with discounts available for certain pass holders. To ensure space is available for all park visitors, Bryce Canyon does not allow RVs and travel trailers over 25 feet in length in most of its parking lots during the busy travel season between April and October. Learn more about camping in Bryce Canyon National Park -- and the restrictions that apply -- by visiting the park's website.
Campgrounds Near Bryce Canyon National Park
Find the Best Dumpstations Near Bryce Canyon National Park
An unglamorous but necessary aspect of RVing? Dump stations. Knowing where the best dump stations are near you will allow for more ease and less stress in your travels. Dump stations are an easy and convenient way to clear waste from your RV. Use our guides to find dump stations on your route, so you can get back to the good stuff – exploring, relaxing, and making memories on the road.
Dumpstations Near Bryce Canyon National Park
How to get to Bryce Canyon National Park
Though Bryce Canyon may be remote, it is easily accessed via the major highway systems that streak the southwest. For full details on how to approach the park from a variety of orientations, check out the official park directions page, which also offers exact GPS coordinates.
While the closest major airports are Las Vegas and Salt Lake City, both of which are approximately 300 miles away, you can also find flights to the smaller, regional airports that are closer to the park entrance: Cedar City (80 miles away) and St. George, Utah (125 miles away).
Frequently Asked Questions
What is the best time of year to visit Bryce Canyon National Park?

The best time to visit Bryce Canyon National Park is in the summer, from May through September. The weather is pleasant, so visitors can hike and explore the park in comfort. Bryce Canyon does get snow in winter and temperatures regularly fall below freezing.

Is Bryce Canyon National Park accessible for disabled visitors?

Many parts of Bryce Canyon National Park are accessible including the visitor center, certain restrooms, viewpoints, 1/2 mile of the Rim Trail, and some sites at the Sunset Campground.

Are pets allowed at Bryce Canyon National Park?

Pets are allowed at Bryce Canyon National Park on paved surfaces like park roads and campgrounds. They can be on the shared-use path, paved viewpoints, and a 1/2 mile of the Rim Trail between Sunset Sunrise Points. Do not leave pets unattended in a vehicle.

Do you have to reserve a camping spot at Bryce Canyon National Park?

You have to reserve a camping spot in certain areas of Bryce Canyon National Park. The North Campground requires reservations if you plan to camp between May 27th and October 1st, while the Sunset Campground has first-come, first-serve campsites.

How large is Bryce Canyon National Park?

Bryce Canyon National Park is 35,835 acres large. It includes the famous "hoodoo" spires, slot canyons, fins, and other rock formations along with high elevation meadows and forests.
Related
rv rental rv rental utah rv rental arizona rv rentals cedar city, utah rv rental pleasant grove, ut rv rental springdale, ut rv rental cottonwood heights, ut rv rental eagle mountain, ut rv rental bryce canyon city, ut rv rental saratoga springs, ut rv rental utah rv rental arizona rv rentals cedar city, utah rv rental springdale, ut rv rental pleasant grove, ut rv rental bryce canyon city, ut rv rental rv rental cottonwood heights, ut rv rental eagle mountain, ut rv rental saratoga springs, ut rv rentals near zion south campground rv rentals near campbell cove rv resort rv rentals near zion view rv rv rentals near silver view rv resort rv rentals near zion west rv park coral pink sand dunes state park red rock state park valley of fire state park utah dixie national forest kaibab national forest national sites glen canyon national recreation area canyon de chelly national monument