How Tos & Tips
Last updated on December 1st, 2022. Originally published on July 15th, 2017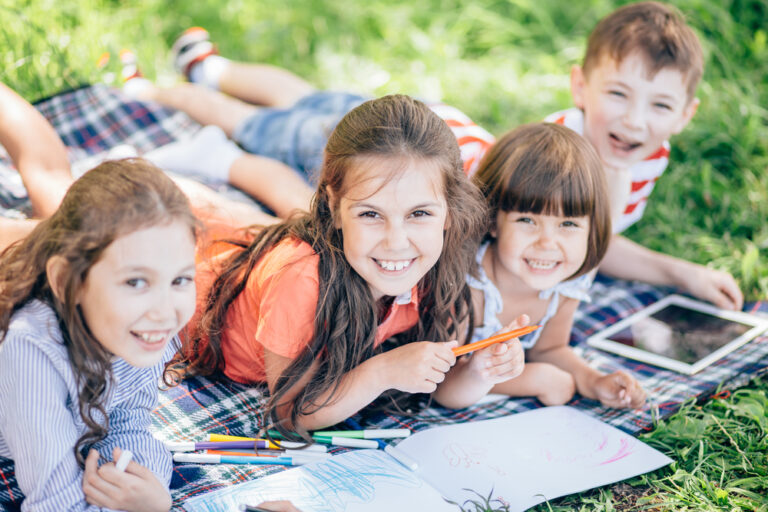 One of the reasons we love RVing is because it's family-friendly. Sure, traveling with young children always has its challenges… but at least in an RV, you skip the TSA line.
Plus, we all know that when you vacation with kids, it means you've got to bring along plenty of gear. But when you're RV camping, you have plenty of room for everyone's favorite toys — and games. And stuffed animals. And sippy cups…
But even if the method of transportation itself is easier than regular road-tripping or flying, parents can still face a conundrum when evening falls and it's time to set up camp. Long story short: Although you might be ready to do nothing but sit back, relax, and enjoy a well-earned glass of wine, for your kids, it may seem as though the day's excitement is just beginning. Now that they've finally stopped asking, "Are we there yet?" the new question is: "What are we going to do?"
Of course, one way to mitigate the I'm-bored effect is to look for an RV park that offers a helpful roster of activities — whether that means organized social events for kids like scavenger hunts or simply the prospect of using a trampoline or pool.
But sometimes, even those options won't do the job. After all, if your kid wants to go swimming, congratulations, mom: You've just been recruited to lifeguard duty.
So what's a road-weary parent to do?
RVing with Kids
Fortunately, there are lots of summer activities for kids that have nothing to do with going outside.
Yup, we're talking about crafting — getting constructive, creative, and maybe just a little bit messy in the name of a quiet few hours of family fun.
Here are a few ideas for kids camping arts and crafts to do while traveling that'll keep your family happily working away all day… or at least long enough for you to catch your breath!
Camping Art Projects
Grab your glue sticks and maybe even some glitter. Here are some fun and easy crafts to do while traveling or on vacation. (In fact, some of them are so cute, you might want to get in on the action yourself!)
What's better than a real-life s'more in all its gooey glory?
Try these adorable popsicle stick s'mores from Glued to My Crafts. Not only are they a cute way to decorate your camper, but chances are they'll stick around a whole lot longer than the actual-marshmallow kind!
2. DIY Glow-in-the-Dark Twister
This portable craft idea from Holidappy is a two-fer. Not only do your kids get to enjoy the process of making the game in the first place… but once the paint dries, they can spend tons of hours playing it, too. (The glow-in-the-dark part makes it super easy to set up outside, even after the sun sets!)
Sometimes, the simplest ideas really are the most brilliant.
Whether you're at a full-on resort or out in the boonies, one thing your campsite is sure to have in spades is rocks. So have your kids gather a few and grab some plain ol' paint. Patterns are fun, but you can also experiment with painting animals, or even inventing stony new characters!
4. Popsicle Stick Playing Cards
Who knew popsicle sticks could be so useful?
If you forgot your deck at home, this couldn't-be-simpler craft idea from Instructables is a great way to keep your kids busy for a few minutes — and then a few hours, while they while away the evening besting each other at Go Fish.
Camping Crafts for Kids
Here are a few simple crafts for kids to make that not only keep them occupied, but also serve a purpose!
When you're camping, you can always use a spare source of illumination. (Psst: Here are a few of our favorite picks!)
But just in case you left your lantern at home, it's super simple to make one, as Flickr user listorama shows here. All you need is a gallon of water and a spare headlamp — or any kind of electric light source you can secure to the jug. Here's a tutorial of a flashlight version from YouTuber floydavila!
Check out this recipe for homemade bug spray from TipNut. It's as simple as mixing together a few different kinds of oil. Then just load it into a spray bottle, and voila: No more no-see-'ems!
Kids' Camping Crafts
Need some ideas for crafting with younger tots and preschoolers? Here are a few activities that even the littlest campers will enjoy.
Who doesn't want to wake up in the morning to the sweet sound of birdsong?
Well, if you've got some breakfast cereal, peanut butter, and pipe cleaners stashed in your RV, you can greatly increase your chances. All three of these DIY bird feeders from East Coast Mommy are easy, cheap, and fun… and totally tacklable even by toddlers, so long as they have adult supervision.
Grab those paper plates you got for dinner and some finger paint. That's just about all you need to make these fun and whimsical decorations by A Pretty Cool Life!
Once they're done, string them along your awning to catch the breeze and the sunlight — and make your kids super proud of their creations.
Here's another one that takes advantage of camping's out-there-with-nature situation. Have your kids gather up some fallen leaves, paying close attention to how many different shapes and sizes they come in. (Bet they didn't realize leaves were so interesting until they paid attention!)
Then, take First Palette's advice and use water-based paint and optionally glitter and other craft materials to transform these natural wonders into a lasting keepsake — and a fun memento to keep around the RV for future trips.
Happy camping — and crafting!