Indiana Dunes National Park
WIDE-RANGING INVENTORY
From affordable pop-ups to luxury motorhomes
LARGEST RV RENTAL MARKETPLACE
Thousands of 5 star reviews from happy customers
SECURE AND MOST TRUSTED
24/7 Emergency roadside assistance on every booking
Indiana Dunes National Park
Long considered a sacred and enchanting site by modern Indiana residents and Native Americans before them, Indiana Sand Dunes was reclassified from a National Lakeshore to a full-blown National Park in February of 2019, making it the 61st national park in the register. Tucked into the northwest quadrant of Indiana along the southern shore of Lake Michigan, the park is home to 15 miles of stunning lakefront as well as over 20 square miles of the adjacent countryside, offering visitors a wide range of diversions including hiking, biking, horseback riding, fishing, water sports, and other activities.
One of the most unique aspects of this brand-new national park is its proximity to major metropolitan areas. The park is located just over an hour outside of downtown Chicago, and is also surrounded by a variety of other mid-sized midwestern towns including Porter, Chesterton, and Gary, Indiana.
Indiana Dunes is characterized by rugged dunes, wetlands, prairies, rivers, and forests. In other words, it's SO much more than a simple beach front. Visitors can find themselves meandering down forest trails amidst towering maple, beech, basswood and oak trees, or kicking back in the sandy shore between water-based adventures. The weather is, obviously, very much affected by Lake Michigan and can change rapidly over a short period of time. In general, summers are warm and humid with temperatures hovering near 85 degrees Fahrenheit, whereas winter weather can easily drop to below freezing.
Now that it enjoys National Park status, Indiana Dunes offers an array of different events and activities for visitors to participate in. You can learn more about the events going on at the park and better plan your visit by viewing the official calendar here.
Read more
Weather
Spring 50-80F
Summer 64-82F
Fall 35-75F
Winter 20-40F
RV Rentals Near Indiana Dunes National Park
Nearby RV Rentals Heartland North Trail 24BHS
2022 / Travel Trailer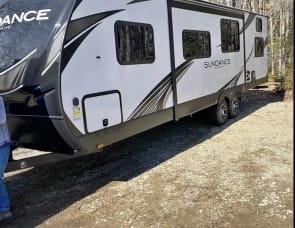 Heartland Sundance Ultra Lite 291 QB
2020 / Travel Trailer
Indiana Dunes National Park Hiking Trails
For many national park goers, hiking is a huge part of the reason to visit in the first place. And although it may be known first as a beach, make no mistake about it: Indiana Dunes offers more than 50 miles of hiking trails, separated into 14 distinct trail "systems." Here are some favorites across a range of environments and ability levels. (See full details on hiking opportunities at Indiana Dunes National Park here.)
Things to do Outside Indiana Dunes National Park
As easy as it would be to spend your entire vacation within the bounds of Indiana Dunes National Park, you can't visit this area of the country without enjoying some of the other exciting things to see, do, and eat on offer -- including Chicago deep-dish pizza. Here's where to get your fill, both physically and mentally.
Discover Nearby Towns and Cities
RV Resorts & Campsites in Indiana Dunes National Park
It's no surprise that there are a variety of places to camp nearby Indiana Dunes, providing  the perfect private home base for your adventures. Here are some RV campground options to choose from.
Campgrounds Near Indiana Dunes National Park
Find the Best Dumpstations Near Indiana Dunes National Park
An unglamorous but necessary aspect of RVing? Dump stations. Knowing where the best dump stations are near you will allow for more ease and less stress in your travels. Dump stations are an easy and convenient way to clear waste from your RV. Use our guides to find dump stations on your route, so you can get back to the good stuff – exploring, relaxing, and making memories on the road.
Dumpstations Near Indiana Dunes National Park
How to get to Indiana Dunes National Park
Indiana Dunes National Park is conveniently located about midway between Gary, Indiana and Elkhart, Indiana, and is accessible via I-90.
If you've yet to experience one of our country's national parks while enjoying the comfort and privacy of an RV, now's the time to try it out! You can search the RV rental listings on RVshare either in your home location or nearby the park, if you'd rather fly in and travel from a closer location. 
You can use your GPS system to navigate to the visitor center at the following address:
1215 N. Indiana 49
Porter, Indiana 46304
Many local public transit systems have stops in and near to the park, including the Chicago and South Shore Train. If you're flying in, the following airports are closest and offer national or regional flights on a regular basis: 
Gary Regional Airport
South Bend Regional Airport
Chicago O'Hare International Airport
Chicago Midway International Airport
Frequently Asked Questions
Is Indiana Dunes National Park accessible for disabled visitors?

Yes, Indiana Dunes National Park is accessible for disabled visitors. Park visitor centers, the Portage Lakefront and Riverwalk, and the Dunewood Campground are all accessible, along with some picnic and beach areas.

Are pets allowed at Indiana Dunes National Park?

Yes, pets are allowed at Indiana Dunes National Park. They are not allowed on the Pinhook Bog Trail, but are allowed on the Pinhook Upland Trail. They may not be on the equestrian portion of the Glenwood Dunes Trail system. Pets must be on a leash no longer than six feet.

What are the top things to do in Indiana Dunes National Park?

Top things to do at Indiana Dunes National Park include hiking the dunes, enjoying views of the lake, and visiting the Century of Progress Homes. The park has lots more hiking, swimming, and other outdoor activities, too!

Are there designated camping spots in Indiana Dunes National Park?

Yes, there are designated camping spots in Indiana Dunes National Park. The Dunewood Campground has 66 campsites, including designated RV camping spots. The campground is closed for the winter.

What is the best time of year to visit Indiana Dunes National Park?

Spring and fall are the best times to visit Indiana Dunes National Park. Visitors won't have the crowds that come with the summer season. Wildflowers in spring and fall colors later in the year also make those special times to visit.