Acadia National Park
WIDE-RANGING INVENTORY
From affordable pop-ups to luxury motorhomes
LARGEST RV RENTAL MARKETPLACE
Thousands of 5 star reviews from happy customers
SECURE AND MOST TRUSTED
24/7 Emergency roadside assistance on every booking
Located on the coast of Maine sits Acadia National Park. The beautiful terrain consists of lakes, ocean shores, forests, and peaks, seven of which are above 1,000 feet tall. The most notable is Cadillac Mountain, the tallest mountain on the Atlantic coast of the United States, at 1,530 feet. Acadia National Park is the oldest national park in the United States east of the Mississippi River. The National Park Service reports that every year, more than 3.3 million people come to explore the mountains, 158 miles of hiking trails, and 45 miles of carriage roads with 16 stone bridges.
Because of its diverse landscape and change of seasons, temperatures vary greatly throughout the year. Wearing layers is definitely best when planning a trip to the park. There's no shortage of things to do once you arrive. There are events throughout the year, especially during the summer months, as well as plenty to do once you've exhausted the hiking trails including bicycling, bird watching, boating, climbing, fishing, horseback riding, swimming, and more! Plus if you're lucky enough to visit in the fall, watching all of those leaves changing colors is pretty magical.
You'll also find quite a few towns and villages woven into Acadia National Park. Depending on your interests, you'll find that different towns may call you during your visit. Whether you prefer a small, picturesque village, Somesville may be worth a visit. If you prefer an area with more to do, you're sure to enjoy time in the town of Bar Harbor.
Read more
Weather
Spring 30-70F
Summer 45-90F
Fall 30-70F
Winter 14-35F
Park Info
Acadia National Park Private Vehicle: $30
Acadia National Park Per Person: $15
Acadia National Park Motorcycle: $25
RV Rentals Near Acadia National Park
Nearby RV Rentals Thor Motor Coach Four Winds 24C
2017 / Class C Motor Home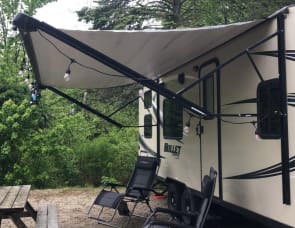 Keystone RV Bullet Crossfire 2510BH
2018 / Travel Trailer Heartland Sundance Ultra Lite 293 RL
2019 / Travel Trailer
Acadia National Park Hiking Trails
Hiking at Acadia National Park means tons of variety. Whether you prefer trails along the coastline, or want to stick to the forest — or a mix of both — there is a trail for you! So pack your camera, a picnic, and plenty of water and hit some of these scenic trails! Here we've chosen a few of our favorites. For all of the trails that Acadia has to offer, click here.
Things to do Outside Acadia National Park
When you've exhausted yourself hiking the lush greenery, ocean-view paths, and rugged cliffs that make up the Acadia National park trails, you might be ready for a different kind of adventure. Whether that's a delicious restaurant, some leisurely shopping, or taking in a museum, here are some of our top recommendations for activities around Acadia after a day of roughing it outdoors.
Discover Nearby Towns and Cities
RV Resorts & Campsites in Acadia National Park
When you visit Acadia National Park you have the option to stay at a private or public campground. It's important to note that park campgrounds fill up quickly, especially during the warmer months. Also, many of the campgrounds are not open year round, running from about May through October. We recommend making your reservation in advance.
Campgrounds Near Acadia National Park
Find the Best Dumpstations Near Acadia National Park
An unglamorous but necessary aspect of RVing? Dump stations. Knowing where the best dump stations are near you will allow for more ease and less stress in your travels. Dump stations are an easy and convenient way to clear waste from your RV. Use our guides to find dump stations on your route, so you can get back to the good stuff – exploring, relaxing, and making memories on the road.
Dumpstations Near Acadia National Park
How to get to Acadia National Park
Renting an RV will not only allow you to travel in comfort and at your own pace, but you will be able to get a front-row seat and actually stay IN the park! Even if you don't own an RV, RV rentals are available across the country. Whether you want to start at your location and drive the whole way, or fly in and pick up an RV closer to the park, there's a perfect option available to you.
Just keep in mind, that while the park is RV friendly, there are restrictions. The National Park Service provides guidelines, here.
If you are planning to stay in your RV at the park, Schoodic Woods Campground is the only public campground that provides water and electric hookups. Blackwoods and Seawall Campgrounds do not have hookups but each has a dump station. Check out the private campgrounds mentioned previously for more options.
I95 from Boston will bring you into Bangor, Maine, then take Route 1A east to Ellsworth. In Ellsworth, Route 3 will get you to Mount Desert Island. If instead, you are heading straight to the Schoodic Peninsula, once you get to Ellsworth, head north on U.S. Route 1 to Hwy 186. Turn right on Hwy 186 and drive 6.5 miles. Turn left at yield sign, continue .5 miles and turn right on Schoodic Loop Road.
Direct flights from Boston's Logan Airport land at the Hancock County Airport, which is only 10 miles from Acadia National Park. National airlines fly into the Bangor International Airport, which is about one hour from the park. Both airports offer car rental options.
Frequently Asked Questions
Is Acadia National Park accessible for disabled visitors?

Acadia National Park has several visitors centers and nature centers that are accessible for disabled visitors. Island Explorer shuttle busses are wheelchair-accessible, along with Blackwoods Campground, Seawall Campground, and Schoodic Woods Campground. The park also has several accessible trails and a beach with wheelchair-accessible restrooms.

Are pets allowed at Acadia National Park?

Acadia National Park allows pets on leashes no longer than 6 feet. You are required to pick up pet waste, and pets can't be left unattended in vehicles or at campsites. Also, be sure to check your pet for ticks after an outing.

What are the top things to do in Acadia National Park?

While at Acadia National Park, be sure to visit Cadillac Mountain. At 1,530 feet tall, it's the tallest mountain on the North Atlantic seaboard. Drive the Park Loop Road to get a beautiful overview of the park, and save plenty of time for stops along the way. The Bass Harbor Head Lighthouse is a quaint Maine lighthouse that's worth a visit as well.

Do you have to reserve a camping spot at Acadia National Park?

Yes, you have to reserve a campsite at Acadia National Park before arriving. You will need to set up an online account to make your reservation, and reservations are available two months in advance.

What is the best time of year to visit Acadia National Park?

Acadia National Park is best visited in mid-October. The park is less-crowded than during the popular summer months. Also, mid-October is peak leaf-peeping season so you'll be treated to a gorgeous show of fall colors at the park.