Biscayne National Park
WIDE-RANGING INVENTORY
From affordable pop-ups to luxury motorhomes
LARGEST RV RENTAL MARKETPLACE
Thousands of 5 star reviews from happy customers
SECURE AND MOST TRUSTED
24/7 Emergency roadside assistance on every booking
Crystal blue oceans, sunshine-filled days, and glittering reefs are just the beginning of what Biscayne National Park has to offer. Encompassing over 172,000 acres of southeastern Florida's pristine lands and waters, the park offers a unique opportunity to explore an untouched tropical landscape just minutes outside the busy metropolis of Miami.
Many of its best-loved features are accessible only by boat, and its southern seagrass ecosystem means visitors can glance at a wide range of unique wildlife, from scuttling crustaceans to leaping bottlenose dolphins. It's no surprise the park is one of the premier snorkeling and SCUBA diving destinations in the country.
Florida's known for its dreamy days of sunshine, but it's important to remember that tropical thunderstorms can make frequent (and sudden) appearances, especially during the high summer months. Always check park conditions before you venture out onto the water. Furthermore, southeastern Florida's extreme humidity can be quite stifling during the summertime -- but you may not mind, since you'll likely spend at least some of your time at Biscayne National Park getting wet.
Biscayne National Park draws thousands of visitors each year, eager to partake of its world-class fishing, boating, and underwater adventures. Divers will be especially excited to explore the multitude of nearby shallow-water shipwrecks. The park is also home to a highly-regarded contemporary art gallery, and many different kinds of guided tours of the park are available -- both on and in the water. To see the park's official calendar of events and plan your own visit, click here.
Read more
Weather
Spring 70-80 F
Summer 85 F
Fall 70-75 F
Winter 60-65 F
RV Rentals Near Biscayne National Park
Nearby RV Rentals Keystone RV Bullet Crossfire 1700BH
2021 / Travel Trailer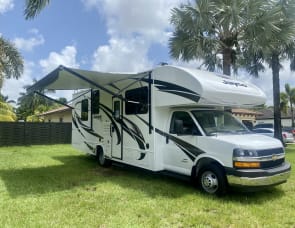 Jayco Redhawk SE 27N
2022 / Class C Motor Home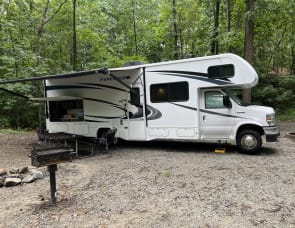 Forest River RV Forester Classic 2861DS Ford
2021 / Class C Motor Home
Biscayne National Park Hiking Trails
Although Biscayne is primarily a place to take on water-based adventures, there are a few easy (and absolutely stunning) strolls in the park you won't want to miss.
For even more exploration opportunities, check out the park's outdoor activities page, where you can learn more about Biscayne's kayaking, canoeing, fishing, snorkeling, and wildlife-watching opportunities.
Biscayne National Park Trails
Things to do Outside Biscayne National Park
Thanks to its proximity to Miami, there's no shortage of spice to add to your relaxing Biscayne getaway -- both culinary and otherwise. Although you could easily spend hours poring over Miami guidebooks and recommendations (and we recommend you do), here are a few can't-miss eating, drinking, and discovering opportunities.
Discover Nearby Towns and Cities
RV Resorts & Campsites in Biscayne National Park
Although there are two campgrounds at Biscayne National Park, located on Boca Chita Key and Elliott Key, both are accessible only by boat -- which makes them a hard sell for RV campers. Fortunately, there are a number of other RV camping options within the vicinity.
Campgrounds Near Biscayne National Park
Find the Best Dumpstations Near Biscayne National Park
An unglamorous but necessary aspect of RVing? Dump stations. Knowing where the best dump stations are near you will allow for more ease and less stress in your travels. Dump stations are an easy and convenient way to clear waste from your RV. Use our guides to find dump stations on your route, so you can get back to the good stuff – exploring, relaxing, and making memories on the road.
Dumpstations Near Biscayne National Park
How to get to Biscayne National Park
Unless you already live in Florida, getting to Biscayne National Park requires a lengthy drive -- just getting that far south from the Georgia border takes about six hours. However, thanks to its proximity to a major city center, Biscayne is easy to reach on major highways, and its Homestead entrance can reliably be found by modern GPS. Check out the park's directions page for full details.
If you're flying in, you have a variety of airport options: Miami International is the largest, but Fort Lauderdale International and Orlando International are also well-serviced hubs.
Whether you fly in and rent on-site or drive down from your hometown, RV camping is the way to go when it comes to experiencing Biscayne National Park in comfort and style. You'll have the perfect private accommodations to kick back in after a long day of exploring, and you'll have the added convenience of traveling at your own pace and on your own schedule. Be sure to check out the RV rental listings in your area to see what vehicles are available for your trip.
Frequently Asked Questions
Is Biscayne National Park accessible for disabled visitors?

Since much of Biscayne National Park is water, access to a lot of the park requires a boat. There are islands to visit, and Boca Chita, Elliott, and Adams Keys have wheelchair-accessible restrooms. Boca Chita Key also has sidewalks in some areas, but much of the island is grassy or rocky. On the mainland, the Dante Fascell Visitor Center is accessible. Audiovisual programs are closed-captioned.

Are pets allowed at Biscayne National Park?

Pets are allowed in certain areas at Biscayne National Park. Pets can go on the grounds at Convoy Point and to Elliott Key. They are not allowed at Bolsa Chita Key, including on boats, or at the visitor center. Pets must be leashed and can't be left unattended.

What are the top things to do in Biscayne National Park?

Top things to do at Biscayne National Park include walking the Convoy Point Jetty Trail, visiting Boca Chita Key, checking out the Dante Fascall Visitor Center, and snorkeling or scuba diving at a number of places in the park.

Are there designated camping spots in Biscayne National Park?

There are two campgrounds at Biscayne National Park. Both are only accessible by boat and there are no services available on either island. There are several RV campgrounds in areas just outside the park.

What is the best time of year to visit Biscayne National Park?

The best time to visit Biscayne National Park is in winter or spring. The months of November through May are ideal because they avoid hurricane season and the more severe rainy months.