Biscayne National Park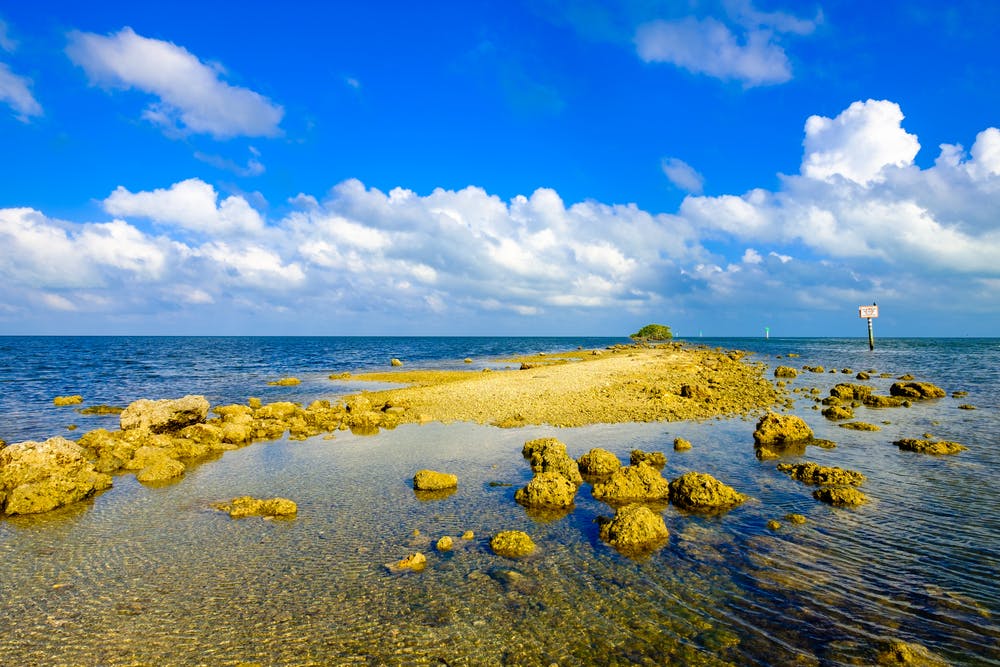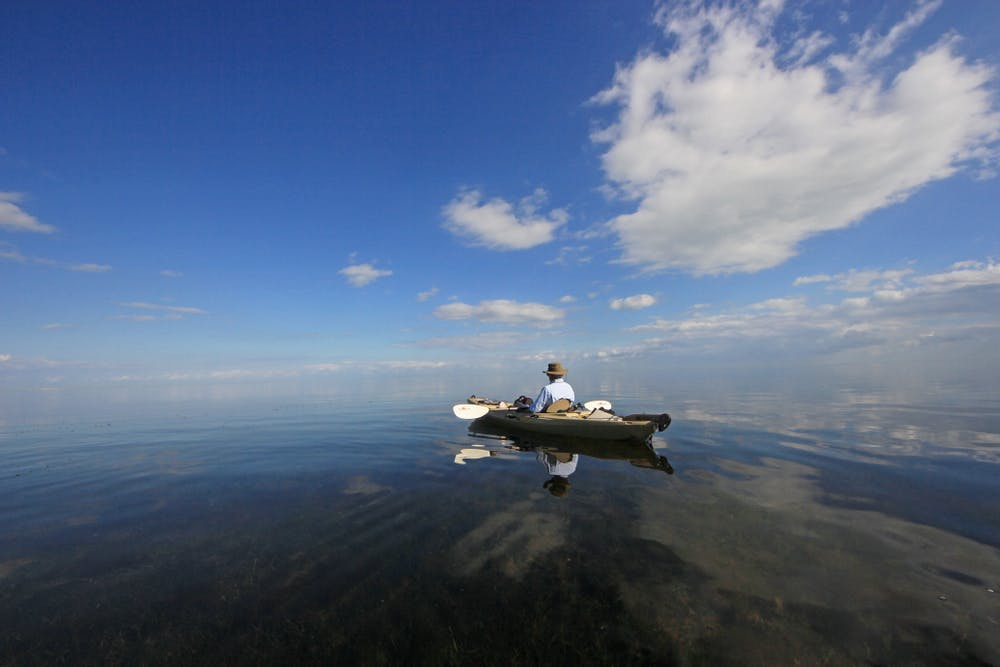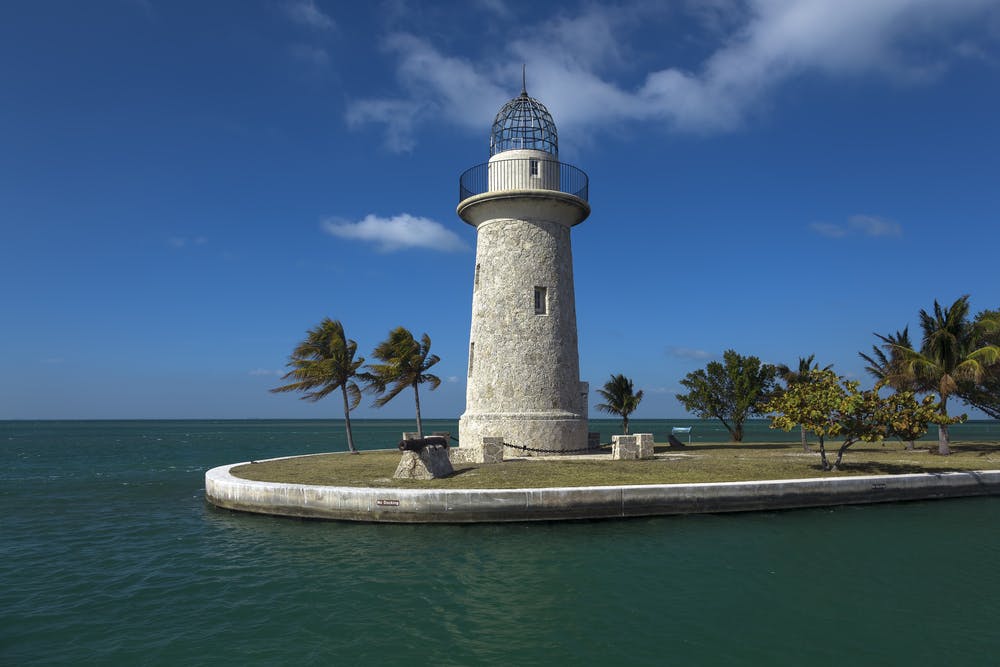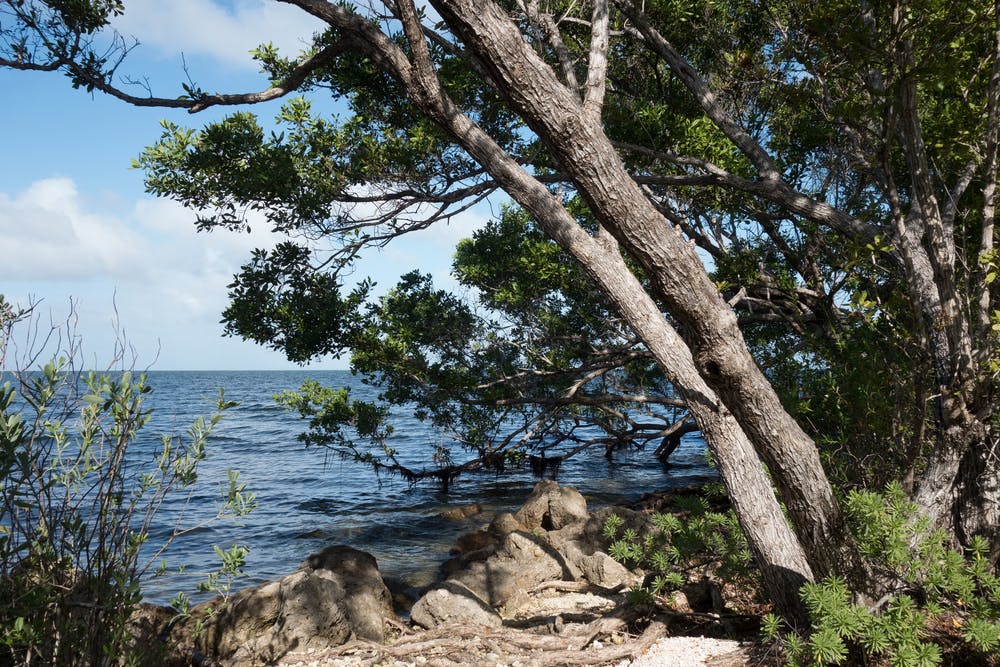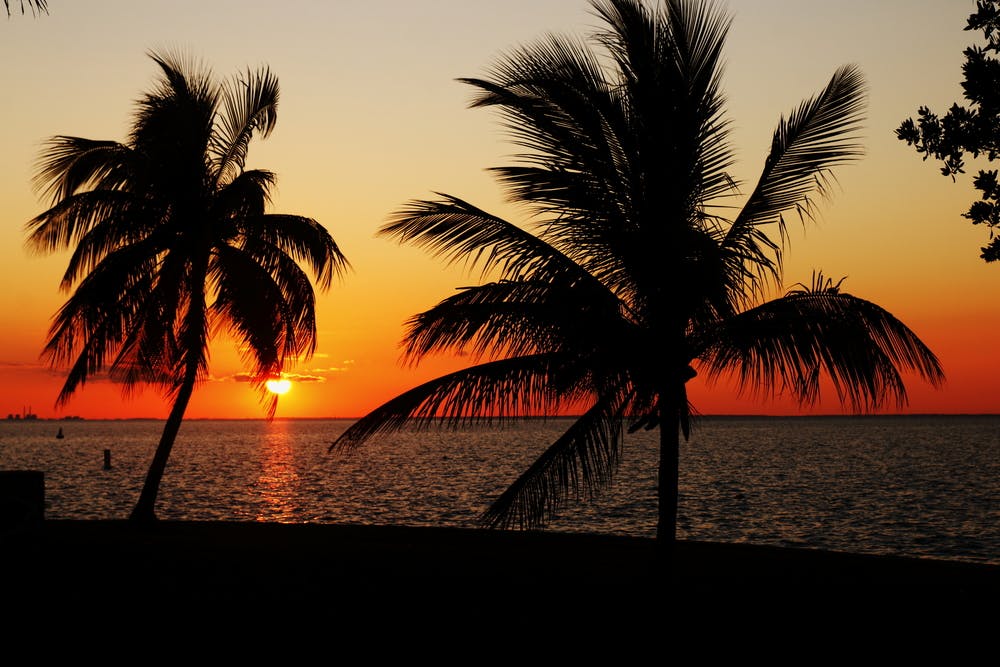 Crystal blue oceans, sunshine-filled days, and glittering reefs are just the beginning of what Biscayne National Park has to offer. Encompassing over 172,000 acres of southeastern Florida's pristine lands and waters, the park offers a unique opportunity to explore an untouched tropical landscape just minutes from one of the busiest metropolitan areas in America. Many of its best-loved features are accessible only by boat, and its southern seagrass ecosystem means visitors can glance a wide range of unique wildlife, from scuttling crustaceans to leaping bottlenose dolphins. It's also one of the premier snorkeling and SCUBA diving destinations in the country.
Florida's known for its dreamy days of sunshine, but it's important to remember that tropical thunderstorms can make frequent (and sudden) appearances, especially during the high summer months. Always check park conditions before you venture out onto the water. Furthermore, southeastern Florida's extreme humidity can be quite stifling during the summertime -- but you may not mind, since you'll likely spend at least some of your time at Biscayne National Park getting wet.
Biscayne is fairly unique amongst U.S. national parks in that it's situated in such a well-populated area; it takes less than an hour to drive from the heart of Miami to the park gates. The so-called "Magic City" offers visitors a stunning array of cultural opportunities and exotic cuisines to enjoy, as do many of the smaller suburban communities that surround it.
Biscayne National Park draws thousands of visitors each year, eager to partake of its world-class fishing, boating, and underwater adventures. Divers will be especially excited to explore the multitude of nearby shallow-water shipwrecks. The park is also home to a highly-regarded contemporary art gallery, and many different kinds of guided tours of the park are available -- both on and in the water. To see the park's official calendar of events and plan your own visit, click here.
As visitors boat, snorkel, and SCUBA dive on and beneath the water's surface, they're hovering over a treasure trove of important ancient stories, the key to understanding a time when the world looked very different. Learn about the history of the land (and sea) known today as Biscayne National Park here.
Weather
Spring 70-80 F
Summer 85 F
Fall 70-75 F
Winter 60-65 F
Nearby Cities
Homestead, FL
Trip Planner
Use our FREE RV trip planner to begin customizing the perfect RV trip.
Continue
RV Resorts & Campsites in Biscayne National Park
Although there are two campgrounds at Biscayne National Park, located on Boca Chita Key and Elliott Key, both are accessible only by boat -- which makes them a hard sell for RV campers. Fortunately, there are a number of other RV camping options within the vicinity.
Biscayne National Park Public RV Campgrounds
Biscayne National Park Private RV Campgrounds
RV Rentals Near Biscayne National Park
Nearby RV Rentals
Hit the Trails
Although Biscayne is primarily a place to take on water-based adventures, there are a few easy (and absolutely stunning) strolls in the park you won't want to miss.
For even more exploration opportunities, check out the park's outdoor activities page, where you can learn more about Biscayne's kayaking, canoeing, fishing, snorkeling, and wildlife-watching opportunities.
Biscayne National Park Trails
Biscayne National Park Walk
Distance: 10 miles (but easily broken down into smaller segments)
Terrain: Including both stone-strewn beaches and elevated wooden boardwalks, this flat walk takes you through most of the park's terrestrial property. (Psst: if you really want to see Biscayne, you've got to get out on the water.)
Black Creek Canal
Distance: 1.7 miles
Terrain: Take this easy stroll amongst the mangroves for the chance to see egrets, herons, pelicans, and other shore birds.
Boca Chita
Distance: 0.8-mile loop
Terrain: Once you boat out to Boca Chita, take the time to walk around the island and get familiarized. Short, easy stroll including a bridge and lots of opportunities to sight fish in the calm nearby waters.
What to Do at
Biscayne National Park
Thanks to its proximity to Miami, there's no shortage of spice to add to your relaxing Biscayne getaway -- both culinary and otherwise. Although you could easily spend hours poring over Miami guidebooks and recommendations (and we recommend you do), here are a few can't-miss eating, drinking, and discovering opportunities.
Restaurants
From a flaky light bite of fresh-caught fish to the dusky sweetness of an authentic Cuban cortado, there's so much amazing food to eat in the greater Miami area that you may have to extend your visit.
If you don't eat seafood at an oceanfront restaurant at least once, did you really go to south Florida? Come discover why the locals never stop talking about Mahi Mahi -- which is locally known as dolphin, but don't worry; it's not the Flipper kind.
Location: Cutler Bay
Whether it's 6 in the morning or 8 at night, there's never a wrong time for authentic Mexican. From mole to tacos and everything in between, this casual joint serves it up fresh, hot, and all day long.
Location: Homestead
Something funny happens when you go as far south as Biscayne… in that you're too far south for it to feel "southern" in the classic sense. It's more like a swamp than a savannah! But that doesn't mean you can't get delicious, authentic barbecue -- along with fried okra, corn nuggets, and all the other comforting fixin's.
Location: Homestead
You may think you know what a Cuban sandwich is, but until you've had one at this Miami institution, you probably don't. Other noteworthy menu items: the stuffed avocado, the yuca croquettes, and the plantain pie with picadillo. You should probably plan to go more than once!
Location: Miami
Full disclosure: the author of this guide never understood the whole chicken and waffles thing… until she went to Yardbird. Served with honey hot sauce, bourbon maple syrup, and spiced watermelon, there's basically no reason to even look at the rest of the menu.
Location: Miami
Shopping
Whether you're looking for outdoor gear and guidance or an indulgent spending spree, these Biscayne-area vendors will keep even the eagerest shopper occupied.
Biscayne National Park Bookstore
Managed by the Florida National Parks association, head to the on-site store for guidebooks and information -- and to get your national parks passport stamped, of course!
Location: Inside the park
Knaus Berry Farm
A south-Miami institution for more than half a century, this bake shop serves up every sweet treat you can imagine, many of which are topped with their namesake farm-fresh berries. Grab a guava or key lime pie for an authentic taste of Florida -- and if you just can't get enough, don't worry. They ship!
Location: Homestead
Miracle Mile and Downtown Coral Gables
From jewelry and shoes to fresh fruit popsicles and sit-down sushi joints, this outdoor mall is one of the hottest shopping destinations in Miami.
Location: Coral Gables
Publix
If you're in need of a grocery run, come see why Publix is consistently rated a favorite among regional grocers. (Hint: the freshly-made deli subs have a lot to do with it.)
Location: Multiple
Sail Fish Scuba
Yes, there are an abundance of options to choose from when it comes to south Florida dive shops… but if you're looking for a low-key, local joint that doesn't draw the overwhelming tourist crowd, check out this Key Largo gem, which has earned TripAdvisor's Certificate of Excellence four years in a row.
Location: Key Largo
Museums
Need to dry out for a second? Fingers getting pruney? Head to one of these area museums and exhibits for equal parts education and entertainment.
It doesn't get much quirkier (or more classically Floridian) than this: a fantasyland limestone structure, single-handedly built almost a century ago by a Latvian-American eccentric.
Location: Homestead
Since 2002, this on-site gallery at Biscayne National Park has displayed the work of prominent contemporary south Florida artists, whose works are inspired by the unique beauty of this subtropical landscape.
Location: Inside the park
The development of the East Coast Railway was an important factor in Florida's evolution from swampland to swanky destination. Learn more about this oft-overlooked piece of southern history at the Gold Coast Railroad Museum, which is home to more than 40 historic railcars.
Location: Miami
One of the most diverse and distinguished communities in the country, Miami's got a lot of history -- and mystery, too. Divulge Magic City's secrets at this Smithsonian-Affiliate exhibit, located in the heart of downtown Miami.
Location: Miami
If you brought the kids along for the ride, you can't miss a visit to this, one of the premier children's museums in the country. Mom and dad can take a quick breather while the little ones interact, explore, and learn.
Location: Miami
At 38 acres, this sprawling oceanarium is one of the largest and best-known in the state -- and it's the perfect place to spot any coastal wildlife that didn't make an appearance during your park trip.
Location: Miami
Situated inside the Miami Executive Airport, this museum serves as a tribute to the aviators and veterans who've kept us safe while perched in the sky -- and offers a wealth of information about the history and development of aircraft.
Location: Miami
Sightseeing
As much adventure, exploration, and blissful seaside living as Biscayne offers, there's plenty more left to see during your south Florida adventure.
The second of Florida's three national parks is so close by, you could reasonably camp there to explore Biscayne -- so if you've already come this far, don't miss it.
Biscayne National Park is just a hair north of Key Largo, which itself is the gateway to the glorious, hundred-mile stretch of isles known as the Florida Keys. Make time to venture all the way down to Key West, or just idle for a while at Islamorada. Either way, you'll soon discover why it's such a hot destination.
This one-of-a-kind outdoor destination draws artists the world over, who let loose with sprawling (and stunning) murals. You absolutely cannot leave Miami without getting at least one Wynwood shot for your Instagram!
How to Get to
Biscayne National Park
Unless you already live in Florida, getting to Biscayne National Park requires a lengthy drive -- just getting that far south from the Georgia border takes about six hours. However, thanks to its proximity to a major city center, Biscayne is easy to reach on major highways, and its Homestead entrance can reliably be found by modern GPS. Check out the park's directions page for full details.
If you're flying in, you have a variety of airport options: Miami International is the largest, but Fort Lauderdale International and Orlando International are also well-serviced hubs.
Whether you fly in and rent on-site or drive down from your hometown, RV camping is the way to go when it comes to experiencing Biscayne National Park in comfort and style. You'll have the perfect private accommodations to kick back in after a long day of exploring, and you'll have the added convenience of traveling at your own pace and on your own schedule. Be sure to check out the RV rental listings in your area to see what vehicles are available for your trip.
Entering Biscayne National Park
Unlike many of the other American national parks, Biscayne does not charge a fee to enter! There is, however, a $25 nightly camping fee for those staying on-site.
Whether you rent a motorhome, haul your own travel trailer, or show up on your motorcycle, we're excited to learn more about your Biscayne National Park experience! Tag us in those drool-worthy photos or send details about your trip to us directly at [email protected]. Who knows? We may just feature your story on our blog or social media channels!