Shenandoah National Park
WIDE-RANGING INVENTORY
From affordable pop-ups to luxury motorhomes
LARGEST RV RENTAL MARKETPLACE
Thousands of 5 star reviews from happy customers
SECURE AND MOST TRUSTED
24/7 Emergency roadside assistance on every booking
>

Shenandoah National Park
A stunning mountain retreat only a few hours' drive from major metros like Washington D.C., Virginia's Shenandoah National Park is one of the most beautiful in the country as well as one of the most convenient. Encompassing an area of about 300 square miles of the state's Blue Ridge Mountains, the park is home to diverse plant- and wildlife, featuring forests, waterfalls, and peaks reaching over 4,000 feet in elevation. It's bisected by the popular Skyline Drive, a scenic route running over 100 miles north and south along the crest of the park's mountains. For those who want a closer look at these captivating landscapes, ample hiking trails throughout the park allow deeper exploration -- including a long stretch of the famous Appalachian Trail.
The weather at Shenandoah can vary markedly, depending on both season and specific location. According to the park's official weather page, the mountains are usually about 10 full degrees cooler than the valley below -- and sudden storms can blanket the lands with rain, snow, and ice with little warning. Always be sure to check the latest forecast before setting out for your day's adventures.
Running a full hundred miles along the northwestern border of the state, Shenandoah National Park is served by a wide variety of neighboring cities and towns, including Harrisonburg, Waynesboro, Sperryville, and Front Royal. The southern end of Skyline Drive is only a short drive away from the relatively big city of Charlottesville.
Visitors are attracted to Shenandoah for a wide range of outdoor recreational opportunities, from hiking and mountain biking to rock climbing, fishing, horseback riding, and more. The park also hosts an array of special events and ranger-led programs which can help you learn more about this area's unique history and landscape. Check the park's official calendar page for full details about what's going on during your stay.
Read more
Weather
Spring 40-79 F
Summer 60-83 F
Fall 41-75 F
Winter 22-44 F
Park Info
Shenandoah National Park Private Vehicle: $30
Shenandoah National Park Motorcycle: $25
Shenandoah National Park Per Person: $15
Shenandoah National Park Hiking Trails
From challenging peaks to serene waterfalls, there's an outdoor adventure for everybody at Shenandoah. Plus, the famous Appalachian trail runs the full 105-mile length of the park from south to north, making it and its surrounding towns a popular destination for through-hikers.
Shenandoah is one of the few national parks that allows pets on its trails, though they must be kept on a leash measuring no more than six feet at all times. Furthermore, pets are prohibited on the following trails: Fox Hollow, Stony Man, Limberlost, Dark Hollow Falls, Story of the Forest, Bearfence Rock Scramble, Frazier Discovery, Old Rag Ridge and Old Rag Saddle. Click here for full details about regulations and important safety precautions to keep in mind while hiking in Shenandoah National Park.
Shenandoah National Park Trails
Things to do Outside Shenandoah National Park
The Shenandoah Valley has been a cultural hotspot in the Appalachian region for hundreds of years, and you can participate in the legacy of that history today. From delicious local eats to fascinating educational opportunities, there's tons to see and do outside of the park proper.
Discover Nearby Towns and Cities
RV Rentals Near Shenandoah National Park
Nearby RV Rentals Forest River RV Salem FSX 178BHSKX
2021 / Travel Trailer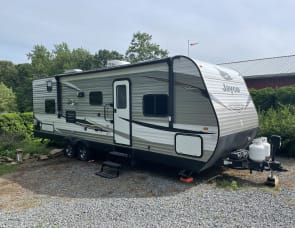 Jayco Jay Flight SLX Western Edition 267BHSW
2019 / Travel Trailer
RV Resorts & Campsites in Shenandoah National Park
Along with several on-site lodges and ample backcountry camping opportunities across its 200,000 acres, Shenandoah National Park also boasts five developed frontcountry campgrounds, four of which are RV friendly. Motorhome and travel trailer drivers can also choose from a variety of privately-owned campgrounds in the surrounding area.
Campgrounds Near Shenandoah National Park
Find the Best Dumpstations Near Shenandoah National Park
An unglamorous but necessary aspect of RVing? Dump stations. Knowing where the best dump stations are near you will allow for more ease and less stress in your travels. Dump stations are an easy and convenient way to clear waste from your RV. Use our guides to find dump stations on your route, so you can get back to the good stuff – exploring, relaxing, and making memories on the road.
Dumpstations Near Shenandoah National Park
How to get to Shenandoah National Park
Thanks to Skyline Drive, Shenandoah National Park is easy to access by road from any direction. However, the park has only four entrance stations, which are located, in order from north to south, at Front Royal, Thornton Gap, Swift Run Gap, and Rockfish Gap. The nearest airports to the park include Washington Dulles International, Reagan National, Charlottesville-Albemarle, and Shenandoah Valley Regional, all of which are less than 100 miles from a park entrance. Click here for full details and driving directions to the park from a variety of orientations.
Frequently Asked Questions
Is Shenandoah National Park accessible for disabled visitors?

Yes, Shenandoah National Park is accessible for disabled visitors. Listening devices are available at park visitor centers and the centers are wheelchair accessible. There is a wheelchair accessible trail, along with several picnic areas and campgrounds. Ranger programs are accessible as well.

Are pets allowed at Shenandoah National Park?

Yes, pets are allowed at Shenandoah National Park. Shenandoah is one of the few national parks that allow pets on trails in the park. Pets are not allowed at ranger programs, and there are certain trails where pets are not allowed. Pets are also allowed at campgrounds in the park.

What are the top things to do in Shenandoah National Park?

Top things to do at Shenandoah National Park include driving Skyline Drive, summiting Old Rag Mountain, and checking out the park visitor centers. There are many hikes and ways to explore the park, but much of it can be seen from vehicles as well.

Do you have to reserve a camping spot at Shenandoah National Park?

It is highly recommended that you reserve a camping spot at Shenandoah National Park. There are several developed campgrounds at the park, which are open from early spring until late fall. Visitors should plan on reserving spots ahead of time, especially on weekends and holidays.

How large is Shenandoah National Park?

Shenandoah National Park is 311.2 square miles, or 196,000 acres large. It encompasses 105 miles of Skyline Drive, plus plenty of wilderness and 101 miles of the Appalachian Trail.