Travel Inspiration
Last updated on January 11th, 2023. Originally published on September 17th, 2018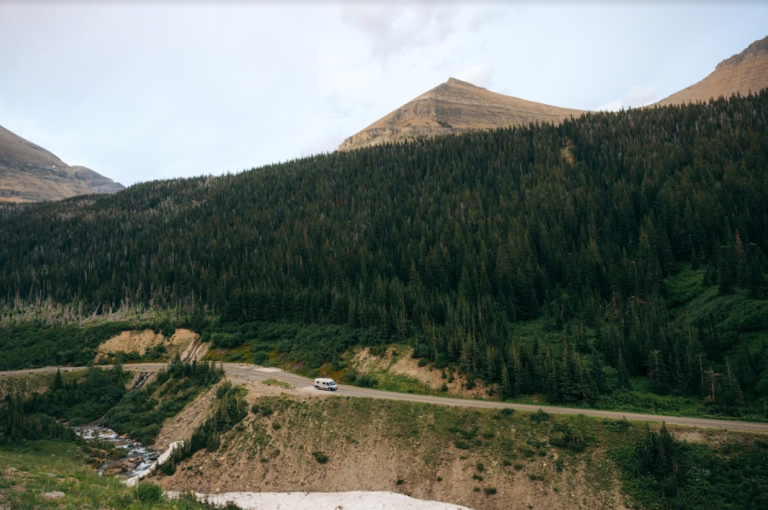 "It's not about the destination, it's about the journey." This little piece of travel wisdom is so well-worn. You've probably heard it thousands of times. But how often do we actually heed that advice? Especially when it comes to RVing, getting there is supposed to be half the fun — if not more. And what better way to enjoy gorgeous scenic drives than in your very own private bungalow on wheels?
In this post, we'll walk you through the most beautiful scenic road trip ideas in America. Including the very best drives from all 50 states. So if you're wondering, "Where are all the scenic drives near me?" — wonder no longer! Here's where to head to find the scenic route.
Why Scenic Drives & Road Trips are Totally Worthwhile
Most of us are subject to some pretty specific limits when it comes to our travel adventures. We can only take so much time off from work, only have so much money to devote to exploring.
With those constraints in mind, it can seem unwise to make a trip longer than it has to be by option for the scenic route.
But especially for RV travelers, a great American road trip is just as much about the journey as the destination. In fact, scenic travel can even make your trip better!
On scenic drives, you can relax and enjoy the journey — and remember why you do this
Sometimes, we can forget why we fell in love with travel in the first place. What with all the itinerary planning, reservation making, and the overall stress of getting where you're going, even the wanderlustiest amongst us can begin to get a bit jaded about our journeys.
But taking a road trip specifically for the scenic view is a great way to circumvent that problem. It's hard to feel rushed or rankled when you're winding your way through some of the most beautiful landscapes in the country. Even if it means it'll be an extra hour or two before you set up camp.
Scenic drives are ideal for RVers.
Scenic drives are all about stopping to smell the roses, right?
Well, when you're traveling by RV, unplanned stops are a whole lot easier. You can simply decide to dally in that quaint town or national wilderness that hadn't been on your original trip-planning radar.
And even on shorter scenic routes, there's no better way to get a panoramic view of the landscape than through your RV's big, beautiful windshield. Which also makes an excellent picture window to wake up to if you do decide to stay a while.
Want to up your travel photography game? Now's your chance.
For many travelers, getting that perfect shot is a huge part of the payoff of visiting an epic destination. And for RVers, nature pictures are a particularly popular art form.
If you've been looking for some fresh fodder to fuel your creativity, a scenic drive could be just what you need to kick your art brain into high gear. Plus, these byways are in some of the most beautiful areas of the country. Which means it's hard to get a bad snap, even if you're a total amateur.
Here are the Best Scenic Drives in the USA
Ready to pack up and hit some of the very best scenic drives in America? These highways and byways are high on our bucket lists.
1. Blue Ridge Parkway, North Carolina and Virginia
Whether you go in the summertime, when the bright sun reflects the vast green-blue forests that give the range its name, or you take the drive in autumn to see some of the most stunning Technicolor foliage in the nation, there's a reason the Blue Ridge Parkway is one of the first names that springs to mind when it comes to scenic drives.
Stretching almost 500 miles from Swain County, North Carolina to Virginia's Rockfish Gap, The Blue Ridge Parkway passes by a huge number of can't-miss attractions. Attractions like Mabry Mill, Linville Falls, Chimney Rock State Park, and Oconaluftee Indian Village. It also runs directly into the hot mountain town destination of Asheville, North Carolina.
2. Covered Bridge Scenic Byway, Ohio
Snaking its way from Marietta to Woodsfield, Ohio, this relatively short scenic byway passes through several covered bridges dating back to the late 19th century. Covered Bridge Scenic Byway is also dotted with general stores, oil wells, and other historic attractions. As well as four campgrounds and, of course, the beautiful scenery of the Ohio countryside.
Do keep in mind that some of these old covered bridges are quite small. They may not have the clearance or weight capacity for very large motorhomes and fifth-wheel travel trailers. Always double-check your numbers before you leave!
3. Enchanted Circle Byway, New Mexico

They don't call New Mexico the "Land of Enchantment" for nothing — and the quickest way to see why is this 83-mile loop starting in Taos, the state's most famous ski corridor.
The Enchanted Circle Byway loop will wind you through stunning mountain passes, sweeping desert vistas, and Native American Pueblo lands where the traditional cultural practices are still enacted. And while it's not actually on the loop itself, you won't want to miss your opportunity to see the Rio Grande Gorge — or even to hike down into it yourself for a refreshing dip or a rejuvenating soak in a natural hot spring.
4. Florida Keys Scenic Highway, Florida
Imagine driving over a seemingly-endless plane of clear blue water, stretching so far on every horizon you can't tell where the ocean ends and the sky begins.
You can make that nautical daydream a reality on the Florida Keys Scenic Highway, which stretches 110 miles through more than 40 distinct islands. Follow it all the way down to find yourself at the southernmost point in the United States — and stay a night or two in Key West to get a real feel for the laid back tropical culture. This is one of the most enticing scenic drives yet! (Psst: the Dry Tortugas, one of the least-visited national parks, is only a 70-mile boat ride away… so you'll definitely want to take the trouble to get that elusive stamp in your national parks passport!)
5. Kancamagus Scenic Byway, New Hampshire
Skirting the flank of the mountain of the same name, New Hampshire's Kancamagus Scenic Byway only takes about an hour to complete — but it's an hour you won't soon forget. Cutting straight through the heart of the epic scenery of the state's White Mountain National Forest, the highway is studded with overlooks, vistas, and picnic areas.
While you're in the area, don't miss a trip to Flume Gorge or Avalanche Falls. The literary camper will want to stop by at The Frost Place, where Robert himself lived and worked for five full years (and spent summers in for decades thereafter). Continue just a bit further north and east to find yourself in Maine's Acadia National Park, a coastal gem covered over in sparkling granite mountains.
6. High Peaks Scenic Byway, New York
You may be only a few hours north of the biggest city in the country… but you certainly wouldn't know it considering the sublime scenery of New York state's High Peaks Scenic Byway.
Although this Adirondack-area treasure is only 30 miles long, it'll take you past sparkling streams, towering peaks, and lakes that shine like gemstones. Stop along the way at quaint New England towns like Keene and North Elba before setting up camp along the banks of Lake Champlain. Outdoorsy? You're in the right place: the High Peaks Wilderness offers endless opportunities for hiking, biking, boating, climbing, and even white water rafting.
7. Independence Pass, Colorado
Running along the continental divide between the mountains the state is famous for, Colorado's Independence Pass is easily one of the most beautiful drives in the country — and at 12,095 feet of elevation, it's one of the highest, too.
Along with the stunning alpine views and winding highway-side rivers, Independence Pass also takes dries through the gorgeous towns of Aspen and Twin Lakes. Take your time and stop at scenic overlooks to really take in the splendor.
Keep in mind, Colorado's weather means this epic drive is impassable in winter; the pass usually closes in early November and doesn't open again until late May. Furthermore, the steep, narrow, winding nature of the highway means it's subject to a 35-foot vehicle length maximum, which includes both tow vehicle and trailer if you're hauling. Check the Colorado Department of Transportation's website for full details.
8. Mesa Falls Scenic Byway, Idaho
Cutting through 28 miles of the most beautiful land in Idaho — a state where beauty already isn't hard to come by — the Mesa Falls Scenic Byway includes not one, but two impressive waterfalls. (And it's a loop, so it's super simple to add to any itinerary.)
Aside from the informative interpretive center, which offers an educational insight into the geological and historical background of the area, visitors to eastern Idaho have endless opportunities when it comes to outdoor recreation. The Caribou-Targhee National Forest covers an immense 3 million acres, making a mountain wonderland for hikers, climbers, campers, and explorers. Hop state lines into Wyoming to knock Yellowstone and Grand Tetons off your must-visit national parks list.
9. Monument Valley/Highway 163 Scenic Drive, Utah
Not only is this drive one of the most beautiful (and well-photographed) in the states, but it terminates in a very worthy destination — the Monument Valley Navajo Tribal Park, where you can get more intimate with this stark but stunning landscape on foot or through a guided tour.
The Monument Valley scenic drive is composed of 45 paved miles through the southern Utah desert, and takes about two hours to complete. Then again, with all the unique geological formations that punctuate this drive, we recommend you allow yourself something closer to half a day or better.
Just when you think the American southwest can't get any more weird or wonderful, it does — in spades. This desert region is home to a slew of American national parks, preserves, and historical sites, which is why many campers turn it into a full-on tour, sometimes referred to as the Grand Circle.
10. Pacific Coast Scenic Byway, Oregon
Yes, California's Highway 1 is on everyone's west-coast travel bucket list — but if you follow the coast a bit further north, it gets even more dramatic. Oregon's coastline is studded with huge boulders, agate-strewn Pacific beaches, and some of the best seafood you've ever encountered… and thanks to a landmark state law, all of it is open and accessible to the public.
Stop for a challenging but rewarding hike at Cape Perpetua, or see the unlikely geological consequences of the sea's relentless pounding at Devil's Churn or Thor's Well. Further north, you might spy some familiar landscapes — the Oregon Coast Scenic Byway terminates in Astoria, the location and filming site of everyone's most beloved 80s film, The Goonies.
11. Rangeley Lakes National Scenic Byway, Maine
The Maine coast gets a lot of press from travel writers — but the state's western mountains hold their own brand of majesty. On the Rangeley Lakes National Scenic Byway, you'll wend your way through countless streams, ponds, lakes, and meadows, a stunning hidden gem of a landscape that's been inhabited since woodsmen first arrived in the early 1800s.
Whether you're looking for hiking opportunities, boating adventures, or cultural exhibits to visit, the Rangeley Lakes area offers a wealth of activities for every kind of explorer. Take to the namesake lake on a canoe or kayak, or choose one of the many wilderness trails to wander — the Appalachian Trail itself meanders through the landscape. The curious but indoorsy will enjoy stops at the Rangeley Lakes Region Logging Museum or the Rangeley Historical Society, which provide entertaining and educational background information.
12. Salt River Canyon Scenic Drive, Arizona
Just two hours east of Phoenix, you can find yourself deep in one of the most pristine and unique wilderness areas in America — Salt River Canyon, whose steep red walls and towering mesas will leave you wondering if you've somehow driven yourself to an alien planet.
Highway 60 is the route you want to wend your way through this strange and stunning landscape with as much scenery as possible. Be aware that the road is narrow and winding, so navigating it in a larger motorhome may be a bit intimidating. Furthermore, the canyon is open to outdoor activities like hiking and white-water rafting, but much of the wilderness falls within tribal lands — which means those pastimes require a permit.
13. Spearfish Canyon Scenic Byway, South Dakota
The Badlands, the Black Hills, the bison that dot the meadows at Custer State Park… just when you think South Dakota couldn't possibly have any more gorgeous scenery to offer, it turns up the dial.
Just over an hour northwest of Rapid City, starting and ending in the charming town of Spearfish, this scenic canyon loop boasts lakes, rivers, waterfalls, and endless South Dakota foliage. Spruce, aspen, and birch are just the beginning — and come fall, they're decked out in full autumnal regalia.
Once you're done with your Spearfish Canyon Scenic Byway drive, stop in the eponymous town for lunch before continuing west to Wyoming. Yellowstone's a day's drive away, but first you've got to swing by Devils Tower.
14. Top of the World Highway, Alaska
If the trek to Alaska is on your RV travel wish list — as it is for many of us — make sure you plan a cruise down this 79-mile drive, which features sweeping panoramas of epic valleys, connecting West Dawson, Yukon and Jack Wade, Alaska.
Of course, given its extreme northerly latitude and super-remote location, you'll want to be sure to prepare yourself ahead of time! Top of the World Highway is still unpaved in some sections, and is obviously impassable during the winter months. You may be without cell signal and you certainly won't run into a plethora of gas stations and resources, so packing what you need is critical.
15. Wisconsin Lake Superior Byway, Wisconsin
This is one of the scenic drives you won't want to miss! Following the southern shoreline of the largest of America's Great Lakes, the Wisconsin Lake Superior Byway has a whole lot more to offer than beautiful coasts… although those are nothing to shake a stick at, either. The 70 mile route does pass through sweeps of white-sand beaches, but you'll also amble through thick forests dotted with quaint towns and historic farmlands.
The highway is also filled with outdoor adventure opportunities for those who are inspired to pull over and stay a while — and chances are you will be. In fact, the town of Bayfield was named one of America's best trail towns by Backpacker magazine, and there's no kayaking destination quite like the sea caves of the Apostle Islands.
USA Road Trip Planner
While some scenic drives and trails top the list, there's beauty no matter where in the country you're coming from. So if you're thinking, "I'm ready to plan my trip… but none of those areas are near me," we've got you covered. Here are the very best scenic places to see in the rest of these United States.
Alabama: Natchez Trace Parkway
Although this 444-mile scenic route technically covers three states, its Alabama portion is the largest. And we'd argue, the prettiest of these scenic drives.
Arkansas: Ozark Highlands Scenic Byway
Ozark is so much more than a mediocre show on Netflix. Along with stunning mountain views and foliage, this Arkansas speedway crosses over five streams: the White, the Buffalo, the Kings, the Mulberry, and Big Piney Creek, each of which offer ample fishing and boating opportunities.
California: Pacific Coast Highway
In a state as big and beautiful as California, it's hard to pick just one scenic route… but the Pacific Coast Highway is a household name for a reason. We've even written a guide post to help you make the most of your epic west coast adventure!
Connecticut: Litchfield Landscapes
Running 75 miles through some of the most quintessential New England countryside, this scenic byway features covered bridges, quaint towns, and immaculate fall foliage if you come at the right time of year.
Delaware: Brandywine Valley National Scenic Byway
It may be less than 13 miles long, but it showcases more than 300 years of New England history — in the most beautiful way you can imagine.
Georgia: Cohutta-Chattahoochee Scenic Byway
Way down yonder on the Chattahoochee… it does get hot, but it also gets downright pretty. This 54-mile drive proves it, skirting the small town of Chatsworth before leading up to beautiful mountain overlooks.
Hawaii: Road to Hana
You may not be driving there from the mainland, but if you find yourself with auto transport on the Aloha State, don't miss the most famous of the many epic drives on the islands.
Country Scenic Drives You Don't Want to Miss
Here are even more gorgeous American road trips.
Illinois: Illinois Route 66 Scenic Byway
Route 66 might first make you think of Oklahoma or New Mexico — but don't forget, it starts in Chicago, which means it cuts right across some of Illinois's most beautiful lands.
Indiana: Lincoln Highway
Named after the most famous of all Hoosiers, this scenic drive actually extends into New York — but the Indiana portion has plenty of historical sites and attractions to explore.
Iowa: Loess Hills National Scenic Byway
If you think Iowa's got nothing to offer but cornfields, you're dead wrong — and this scenic byway will prove it. These gorgeous hills are made up entirely of windblown soil, and their formation dates back to the last ice age!
Kansas: Gypsum Hills Scenic Byway
Rising up out of the grasslands like sentinels, the hills along this central Kansas drive are as stunning as they are surprising. Get a little taste of the desert in the prairie with the appearance of cedars, yucca, and sagebrush.
Kentucky: Red River Gorge Scenic Byway
Stone arches, caves, and ravines are just the beginning when you meander along this heartland drive, which has been named a National Natural Landmark. You'll feel like you've been dropped into a prehistoric wonderland!
Louisiana: Creole Nature Trail
If you want an authentic taste of the swampland south, this 180-mile stretch of Louisiana highway will give it to you. Come see why Louisiana's outback is known by locals as the "Last Great Wilderness."
Maryland: Mason and Dixon Scenic Byway
Want to see where that oft-quoted line actually stands? This Maryland highway stretches 143 miles from Westminster to Appleton, the majority of which is comprised of one-lane country roads.
Massachusetts: Jacob's Ladder Trail
Follow this 33-mile scenic byway through forest-covered hills and marshy wetlands alike. This part of western Massachusetts is an outdoor adventurer's haven, whether you prefer hiking, biking, backcountry camping, or snowshoeing.
Michigan: River Road Scenic Byway
Meandering along the AuSable River, this drive provides valley views and forest-covered river trails. Stop by to get a taste of the region's logging history at Lumberman's Monument.
Minnesota: Lady Slipper Scenic Byway
Want to take a trip "over the river and through the woods" — literally? Lady Slipper Scenic Byway cuts a pretty path through northern Minnesota's Chippewa National Forest, covered over with pine, birch, and aspen.
Mississippi: Great River Road
Sometimes known as "Blues Alley," this Mississippi byway actually starts in Memphis, Tennessee, but wends its way all the way down to the Delta. Along the way, you'll see the bounty of the river's historic floods by means of fields of cotton, rice, and soybeans.
Missouri: Sho-Me Historic Santa Fe Trail
Follow in the footsteps of Lewis and Clark along this 20-mile stretch of Missouri highway, which starts in Waverly and ends in Dover. Orchards abound — as do the fruit markets selling their harvest.
Montana: Blackfoot River Corridor
Follow one of the best fishing rivers in the country for 18 beautiful miles. Rod and reel not included!
Beautiful Scenery
There's even more beautiful, natural scenery to see along these, the best drives in each state.
Nebraska: Gold Rush Byway
There's gold in them-there hills — and you can follow the path of the prospectors who first discovered it along this Nebraska road, which stretches 180 miles in the west of the state from the northern to the southern border.
Nevada: Red Rock Canyon Backcountry Byway
Discover striated red hills that look like they're cut from unearthly cloth along this Nevada byway. We think you'll agree the natural scenery puts Vegas's bright lights to shame!
New Jersey: Upper Freehold Historic Farmland Scenic Byway
Want to see the farmlands where the Garden State's famous produce is… well, produced? This 24-mile drive through Monmouth county is lined with rolling green fields and perfect picket fences.
North Dakota: Sheyenne River Valley National Scenic Byway
Wending its way south from Valley City to Lisbon, this scenic route passes a wide array of informative and interesting stops: Baldhill Dam, Clausen Springs, and Standing Rock Historic Site are just a few of them.
Oklahoma: Wichita Mountains Byway
This 93-mile loop takes you through 550-million-year-old valleys and passes by one of the oldest national wildlife refuges in the books. It's home to a herd of over 600 bison, which Theodore Roosevelt worked to protect by naming the site a Game Preserve back in 1905.
Pennsylvania: Amish Country Scenic Drives
A 102-mile loop through Pennsylvania's Lancaster County, this scenic drive is open all year round and will transport you back in time. See covered bridges, tobacco farms, and horse-drawn carriages in action — hey, at least you won't feel like the slowest rig on the road, for once!
Rhode Island Route 1 Highway Scenic Drives
Rhode Island's section of the east coast Route 1 highway is totally worth getting off I95 for. Follow it for a peek at the Ocean State's craggy coves, inlets, and beaches.
South Carolina: Ashley River National Scenic Byway
The low country will leave you feeling anything but low. What this 20-mile drive lacks in length, it more than makes up for in splendor — and plenty of places to stop along the way, including historic plantations and state parks.
Tennessee: Cades Cove Loop
Seeing as it's the most popular of the 60+ national parks in the country, Great Smoky Mountains is already worth a visit — and when you go, taking a cruise around this 11-mile scenic loop is imperative. Great opportunities for sighting deer, bears, and a whole lot valley-floor beauty.
Texas: Lonesome Highway
Follow Texas Highway 285 until it runs into old 180 to travel toward the Guadalupe Mountains on this haunting and locally-loved byway. Despite its name, it's quite popular — though given the size of Texas, it's still unlikely you'll see any other motorists.
Vermont: Stone Valley Byway
It may only be 30 miles from Manchester to Hubbardton, but given the lake views along the way, you'll probably want to give yourself at least two hours to make the journey.
Washington: Olympic Peninsula Loop
Olympic National Park's more than 1,400 square miles in size — so it's pretty hard to see the whole thing on foot. While this 329-mile loop is no short Sunday amble, a day-long drive around it will show off at least a little bit of all the different ecosystems this unique park has to offer.
West Virginia: Highland Scenic Byway
Cutting a stunning, wandering path through the state's Monongahela National Forest, the Highland Scenic Byway boasts ample hiking opportunities and campgrounds along the way. Some of the road may not be maintained in winter; check the Forest Service website for full details.
Wyoming: Beartooth Highway
Extending into Montana, this north Wyoming road winds past alpine peaks, majestic plateaus, and glass-like lakes. It's been called America's Most Scenic Road — so if you're in the area to visit Yellowstone, you don't want to miss it.
Mountain Driving and Scenic Drives
We hope this post filled with scenic drives and places has inspired you to take your next RV trip on the slower side — whether it's a lazy summer road trip or a quick fall getaway.
One quick word of caution before we leave you to drool over these scenic drives: some of the best scenery is located in mountainous areas, and driving a big, heavy RV on steep slopes takes some preparation!
If you're headed out to a scenic highway, always check your vehicle clearance and weight against the posted limits before you leave, and double-check your brakes are functioning properly. And don't forget to take it slowly… after all, that was the whole point in the first place!