Travel Inspiration
December 10th, 2020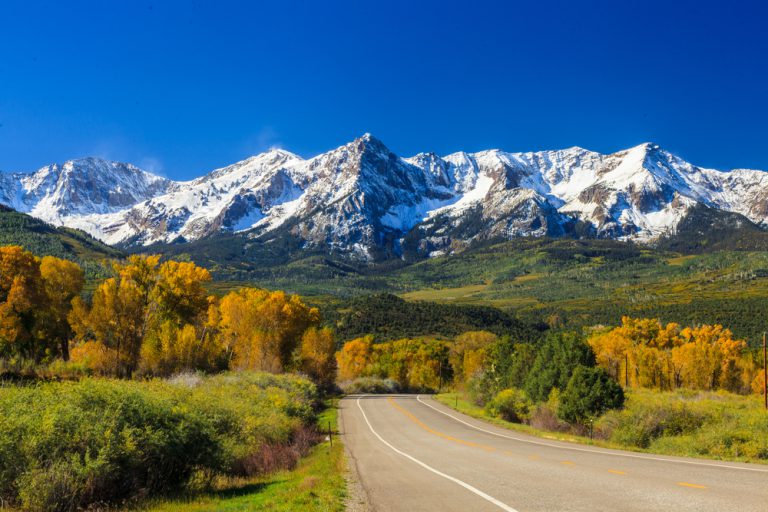 When most people think of an RV road trip, their mind may gravitate to cross-country adventures along flat, country roads. Passing through America's heartland and taking in the open plains can be really calming. But heading out in your RV to the mountains offers its own bit of magic that everyone should experience.
Whether you're hiking up to the tallest peak or taking in the beauty at the base, being in the presence of these grand landscapes almost has a sacred quality. It's hard not to take a moment of reverence when soaking in these formations that are (in some cases) over a billion years old. And if you're not looking to soul-search during a moment in nature – they're just plain pretty to look at! 😉
Did you know there are over 70,000 mountains in the US? While we won't be able to highlight quite that many in this post, we have rounded up a bunch of really breathtaking mountains to add some inspiration for your next RV trip!
What You Need to Hike in the Mountains
Before we dig into gorgeous travel inspo, let's first make sure we're prepared to head into the mountains. For starters, you'll want to check out our tips on driving through the mountains. It's important to be prepared for all kinds of climates, as the weather in the mountains can quickly change. Keeping in mind wildlife safety is also important, as many creatures all the mountains home. For a lowkey hike, the basics should at least include:
Light layers (having a base layer will help regulate temperature)
Proper footwear
Bug spray and sunscreen
First-aid kit
If you intend on going on a more challenging hike, you will want to make sure you are prepared with additional supplies. Here you can find a more comprehensive list of our hiking gear recommendations.
Must See Mountains in the US
There are three major mountain ranges in the United States: Sierra Nevada Mountains mostly throughout California, Rocky Mountains stretching from New Mexico into Canada, and the Appalachian Mountains extending from Alabama to Canada. Today we're walking through must-see landscapes for planning the best mountain road trips.
Sierra Nevada Mountains
Contrary to their name, the Sierra Nevada Mountains are mostly located in California. Amongst this mountain range is Mt. Whitney, the tallest mountain in the lower 48 states at 14,500+ feet. There are also three National Parks within this range and multiple National Park Sites.
Sequoia National Park
In addition to checking out Mt. Whitney, seeing the iconic Sequoia trees at Sequoia National Park is a must-see when traveling along the Sierra Nevada Mountains. There are over 800 miles of hiking trails, as well as plenty of other activities such as skiing, horseback riding, and more.
Kings Canyon National Park
Easily hit up two National Parks in one trip – if you're visiting Sequoia National Park, make sure to travel a bit further north and see Kings Canyon National Park. Here you will also hike amongst the beautiful ancient sequoia trees, fish in Hume Lake and more.
Yosemite National Park
Another National Park located within the Sierra Nevada Mountains is Yosemite National Park. Hike through 1,000+ year old sequoia trees, go rafting on the Tuolumne River, or learn about California's Gold Rush history.
Rocky Mountains
The Rocky Mountains are home to four National Parks and several National Park Sites. Stretching 3,000 miles, this range is the longest in North America and is the second longest mountain range in the world. When planning your Rocky Mountain road trip, be sure to include these stops.
Rocky Mountain National Park
Naturally, Rocky Mountain National Park is located in the Rocky Mountains. The park is located a couple hours outside of Denver, Colorado, and is rich in diverse foliage and wildlife. A popular "must" for this park includes hiking Longs Peak, a mountain that is over 14,000 feet high.
Yellowstone National Park
One of the oldest National Parks established is Yellowstone National Park. Not only does this park offer breathtaking views of the Rocky Mountains, it also has unique attractions such as Old Faithful geyser and many other hot springs.
Grand Teton National Park
The Teton Mountain Range within Grand Teton National Park is also part of the Rockies. This Wyoming national park is popular for its beautiful ranges as well as waterfalls, crystal clear lakes, and ranches. It's also just a couple hours away from Yellowstone, making it a great pair to visit within the same trip.
Glacier National Park
Looking to visit the northern part of the Rocky Mountains? Glacier National Park in Montana is about as north as you can get while still being in the continental US. Being so far north, this park is a bit cooler year-round and offers many of the same opportunities for your favorite activities – hiking, fishing, horseback riding, and more!
Appalachian Mountains
The Appalachian Mountains are on the eastern side of the United States and has several National Parks. There are also a few distinct mountains that are included in this ridge. 
Great Smoky Mountains
The Great Smoky Mountains are part of the Appalachian Mountains and have a national park of the same name. Great Smoky Mountains National Park encompasses over 500,000 acres, making it one of the largest protected areas in the East. With over 800 miles of trails, you can certainly spend a lifetime hiking, biking, and exploring this mountain range.
Related: 9 Things to do at Great Smoky Mountains National Park
Blue Ridge Mountains
The Blue Ridge Mountains touch eight states and include Shenandoah National Park. Shenandoah National Park is in Virginia and is very popular for its Blue Ridge Parkway, a 470 mile drive atop the ridge. If you were to drive the parkway start to finish, you would find it connects Great Smoky Mountains National Park to Shenandoah.
Alaskan Ranges
Alaska is home to over ten mountain ranges as well as many of the country's national parks.
Denali National Park
The highest mountain peak in North America, Denali, can be found at Denali National Park. This magnificent summit reaches over 20,000 feet in elevation. Within the same park is Mount Foraker, the third highest peak in the United States at over 17,000 feet. There are limited marked trails at this park, so it is recommended to consult with the park rangers when planning your excursions.
Katmai National Park
Not too far from Denali is another Alaskan beauty. Katmai National Park is known for Mount Katmai, a stratovolcano with an amazing crater lake, as well as bear-watching at Camp Brooks.
Wrangell-St. Elias National Park
Wrangell-St. Elias National Park is the country's largest national park at 13.2 million acres – the same size as Yellowstone National Park, Yosemite National Park, and Switzerland combined. It's also home to the second tallest mountain in America – Mount Saint Elias. This mountain is over 18,000 feet high.
Glacier Bay National Park
Also part of the Saint Elias Mountains is Glacier Bay National Park. This park is tricky to get to, but is very worth the effort. It's a unique area offering mountains, glaciers, rainforest, coastline, and fjords.
Kenai Fjords National Park
"Where Mountains, Ice, and Ocean Meet"… that perfectly describes what to expect at Kenai Fjords National Park. This beautiful park offers a unique experience with only one road of entry. Similarly to other Alaskan parks, there are a limited number of marked trails in an effort to preserve the natural beauty of the area.
Gates of the Arctic National Park
Another notable mountain range in Alaska is the Brooks Mountain Range. Stretching over 700 miles, this range can be best visited in Gates of the Arctic National Park. Gates of the Arctic is the second-largest national park and is the farthest north park in the United States. Not only is it popular for its mountain beauty, but many travel to see the aurora lights here as well. 
Cascade Mountains
The Cascade Mountains are in the upper Northwest corner of the United States, spanning California, Oregon, Washington, and spans into Canada as well. This mountain range includes both volcanic and non-volcanic mountains.
Mount Rainier National Park
The highest peak in the Cascade Mountains is Mount Rainier at over 14,000 feet. You can visit this mountain range at Mount Rainier National Park just outside Seattle, Washington. Hikes up Mount Rainier are a popular bucket-list item, and the trails around the mountain are just as beautiful, too.
New York Mountain Ranges
There are a couple mountain ranges within the start of New York. Just outside NYC are the Catskills Mountains, making it a popular getaway for those living in the city. In Northern New York, you will find the Adirondacks Mountains.
Ozark Mountains
The Ozarks aren't just the home of the popular Netflix show starring Jason Bateman. This mountain range is one of the largest in the country. The Ozarks are primarily in Missouri, as well as Arkansas, Oklahoma, and Kansas. It is especially popular for its rivers and lakes.
International Mountain Day – December 11
Mountains aren't just for our enjoyment – they actually are home to vital ecosystems all over the world. Due to climate change and overexploitation, the integrity of mountain life is compromised. Mountains are home to a rich variety of biodiversity, as well as 15% of the world's population, which makes maintaining these areas so important. This is why the United Nations has designated December 11 as International Mountain Day to raise awareness and bring attention to this important matter.
Want more mountains? Check out these posts:
Post may contain affiliate links.