Katmai National Park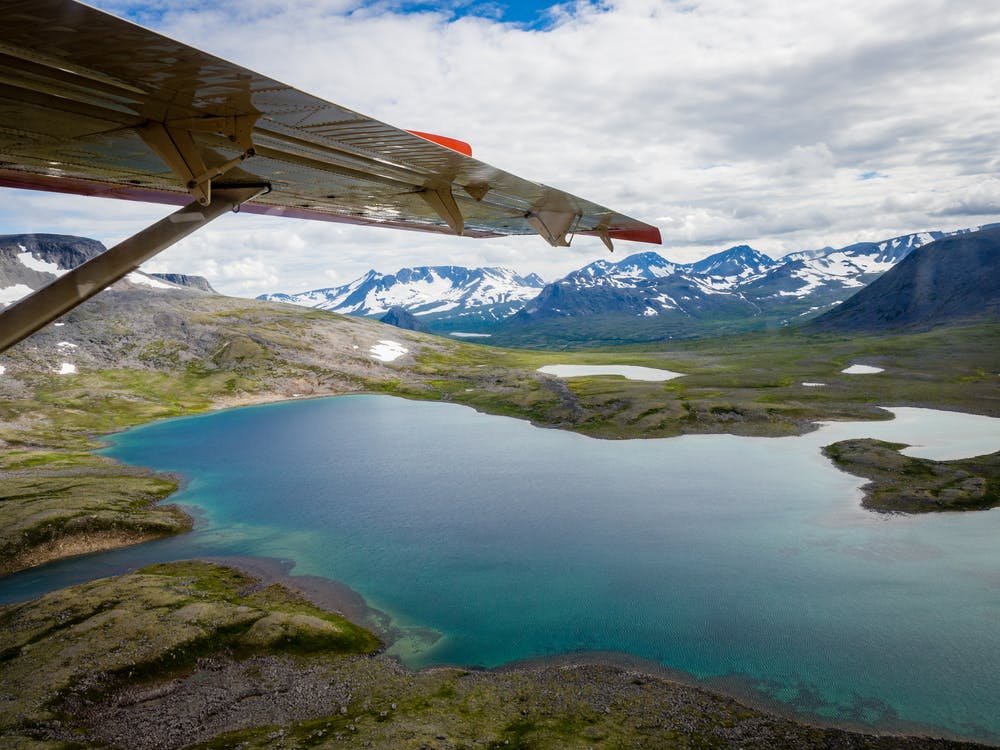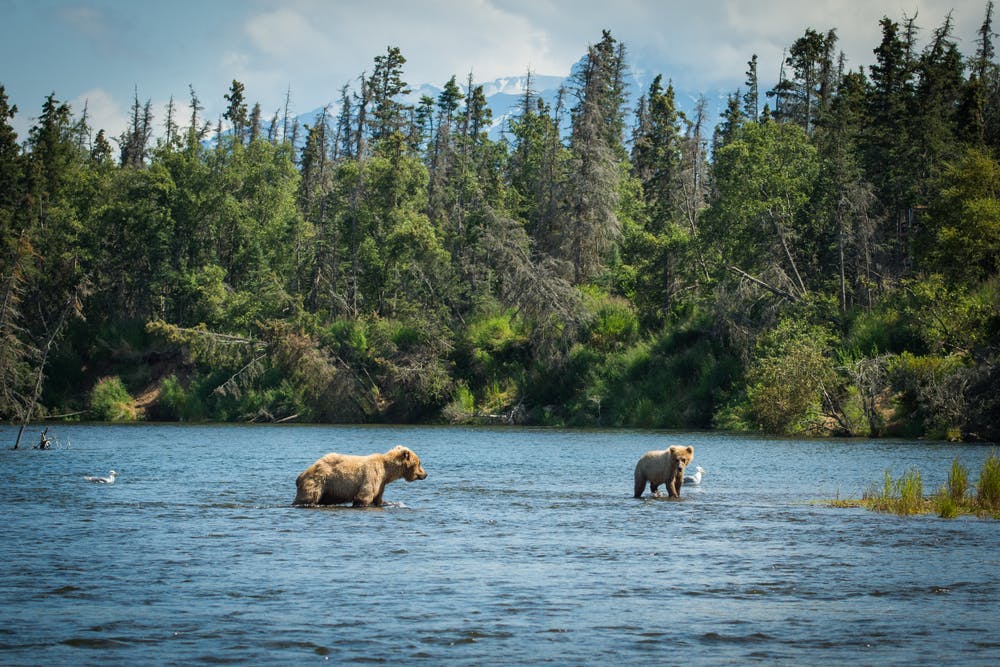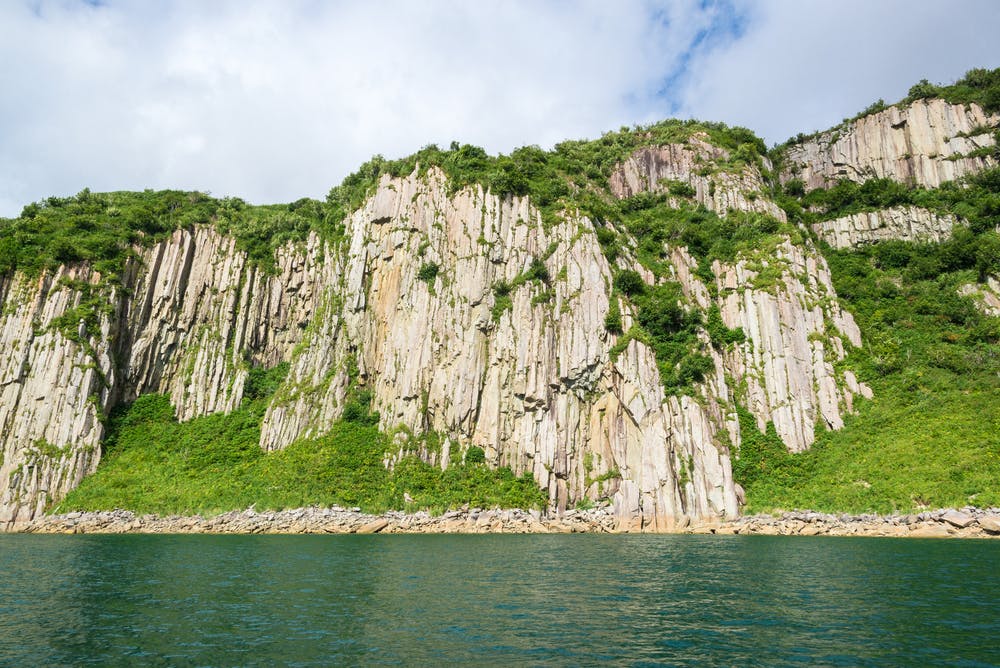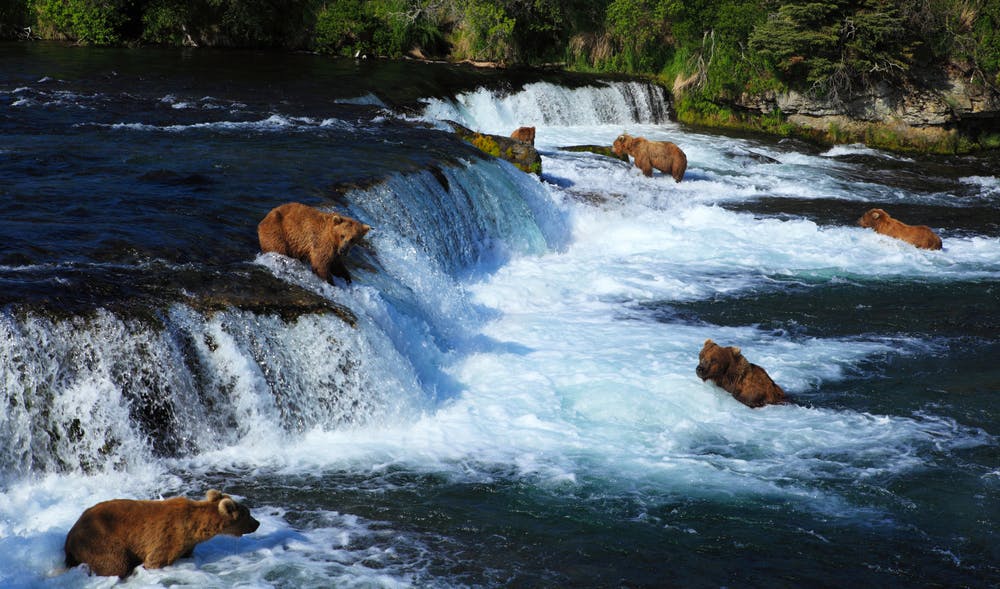 Katmai National Park
in Alaska was established to protect the area around Mount Katmai and the Valley of Ten Thousand Smokes. It's an active volcanic area, but it's also home to 9,000 years of human history, as well as being a habitat for salmon and thousands of brown bears. The primary ways of getting to the park are by plane or by boat. Although most of the park is wild and undeveloped, Brooks Camp offers lodging and hot meals. Many companies provide transportation and guided tours around the park.
Because Katmai is between the North Pacific Ocean and the Bering Sea, storm systems abound and you can encounter all sorts of weather. Spring, summer, and fall are generally wet and cool, with highs up to the 80's and lows in the 20's. Winter is dry and much colder, with temps that range from 50˚F to -35˚F. You can expect to find snow at higher elevations until late May or early June. The coastal areas of the park tend to be wetter and colder than the interior, and strong winds are common year-round. Make sure to bring high-quality waterproof clothing and plenty of layers.
You can travel to the park via plane or boat from several other Alaskan towns - Anchorage, Dillingham, Homer, King Salmon, and Kodiak are the most common. These towns are also home to restaurants, shopping, museums, and other points of interest, and you may want to spend a few days exploring them before or after your trip to the park.
If you're looking for things to do inside Katmai National Park, there are scheduled events throughout the summer. You can find them here. You can also do many activities on your own or with a tour, such as boating, fishing, bear-watching, trapping, and more.
Weather
Spring
Summer 30-80 F
Fall
Winter -35 - 50 F
Nearby Cities
King Salmon, AK
Trip Planner
Use our FREE RV trip planner to begin customizing the perfect RV trip.
Continue
RV Resorts & Campsites in Katmai National Park
Since the park can only be accessed by plane or boat, your options for staying at Katmai are to either pack everything into a campground, or stay at a park lodge. There are RV campgrounds and other accommodations available in the nearby towns that can serve as a hub while you explore the area.
Katmai National Park Public Campgrounds
Katmai National Park Private Campgrounds
RV Rentals Near Katmai National Park
Nearby RV Rentals
Hit the Trails
Along with the more defined trails you'll encounter at Brooks Camp, more experienced hikers can venture into the backcountry wilderness. At Brooks Camp, you'll find everything from a short hike to learn about the area's cultural history, to a potential 46-mile hike through the Valley of Ten Thousand Smokes.
Katmai National Park Brooks Camp Trails
Cultural Site
Distance: 0.2 miles roundtrip
Terrain: An easy, self-guided trail from Brooks Camp Visitor Center through several prehistoric camps to a reconstructed native dwelling. The area has one of the highest concentrations of prehistoric human dwellings in North America, with over 900 depressions indicating remains of semi-subterranean homes and campsites.
Lake Brooks Road
Distance: 2 miles roundtrip
Terrain: The road leads to the glacially carved Lake Brooks, which has a covered picnic area, food cache, and vault toilet. There is good salmon viewing and bears will sometimes fish for salmon at the lake.
Brooks Falls
Distance: 2.4 miles roundtrip
Terrain: The most popular hiking trail in Katmai. Enjoy a quiet walk through the boreal forest...while keeping an eye out for brown bears. At the end of the trail, two raised platforms offer a bird's eye view of bears fishing in the Brooks River.
Dumpling Mountain Road
Distance: 3 miles roundtrip
Terrain: Moderately strenuous hike that climbs 800 feet in 1.5 miles to an overlook above Brooks Camp with views of Naknek Lake, Brooks River, and Lake Brooks. Beyond the overlook, hikers can continue another 2.5 miles to the summit of Dumpling Mountain.
Valley of Ten Thousand Smokes Road
Distance: 46 miles roundtrip
Terrain: The primary access for exploring the Valley of Ten Thousand Smokes. The road stretches for 23 miles, but there are particularly scenic views at Mile 7 ½ and frequently beyond the first stream crossing at Mile 12.
What to Do at
Katmai National Park
There are plenty of things to do in the towns near the park. Learn about the history and unique geology of the state of Alaska, pan for gold, or shop for the unusual ulu knives commonly used by the Inuit and other native Alaskans.
Type: Burgers
Location: King Salmon
Type: Pizza
Location: Naknek
Type: Sushi
Location: Kodiak
Type: Pub
Location: Kodiak
Type: Thai
Location: Kodiak
The Rookery
If you can't imagine a vacation without your knitting (or crocheting) needles, you'll want to pop in The Rookery in Kodiak. The store stocks a variety of yarns, fabrics, books, and patterns from a variety of designers and supplies including Blue Sky Fiber, Debbie Bliss, Juniper Moon Farms, and Rowan.
Location: Kodiak
Alaska Outdoor Gear Rentals
Get outfitted for whatever Alaskan adventure you have planned! This store rents and sells brands they rely on in Alaska's harsh environment. The store has outfitted everyone from tourists and locals to production companies with bikes, kayaks, vehicles, camping gear, winter equipment, and more. They'll even arrange for the gear to be dropped off where you're staying in town.
Chinook Gifts
This family-owned gift shop stocks Alaska-made gifts, t-shirts, and sweatshirts. They also have prints of Alaskan scenery and wildlife for sale.
Location: King Salmon
The ULU Factory
Native Alaskan people invented this unique, curved knife that rocks back and forth while it cuts. See how ulu knives and cutting bowls are made, and learn how to use, sharpen, and care for the tools.
Location: Anchorage
Polar Bear Gifts
This 14,000 sq foot store is Alaska's biggest gift shop, and has apparel, stuffed animals, ULU knives, jewelry, chocolates, and gift packs of salmon.
Location: Anchorage
See Alaska Native dancing and games demonstrations, and hear stories of the past. You can also visit the Hall of Cultures, which has exhibits of Alaska Native artists, and where kids can make crafts. Outside, wander through six life-sized dwellings around Lake Tiulana, and learn the traditional ways of the people who lived there. Don't miss the whale bones at the Inupiaq site.
Visitors can learn about the art, history, ecology, and land of Alaska. Get a look at the impressive photos of the Astronomy Photographer of the Year. See more than 600 objects from the Smithsonian's collections that were selected to show the culture and heritage of the first peoples of Alaska. Browse the Art of the North galleries which present the museum's art collection, and more.
Relive the historic Gold Rush of Alaska by exploring the mine. This is one of Alaska's most renowned hydraulic gold mining operations with an estimated production rate of 700 ounces per month during its heyday. You can see historic buildings, rare mining equipment, gardens, hiking trails including the Historic Iditarod Trail, and access to explore and prospect on the mines' original claims.
In an area as wild and spread out as Alaska, residents and visitors alike have depended on air travel to move about the state for as long as it's been possible. Learn about Alaska's rich aviation history at the museum at the world's largest seaplane base at Anchorage International Airport. Watch volunteers at work restoring vintage aircraft and see the results of their efforts, see the control tower and watch seaplanes land and take off, and try out a flight simulator.
The museum takes guests on a trip from prehistoric times to the present-day...and from the Aleutians to the North Slope to all other parts of Alaska. Learn about Alaska's unique geology, culture, and ecology through hands-on exhibits and demonstrations.
Aleutian World War II National Historic Area
During World War II, the remote Aleutian Islands, home to the Aleut people for more than 8,000 years, was invaded by Japanese forces, occupied on two islands, was subjected to the relocation of the Aleut civilians, had a 15-month air war, and was the site of one of the deadliest battles in the Pacific Theater
Alagnak Wild River
The Alagnak river runs through the Aleutian Range, right next to Katmai National Park. Experience the wildness and wildlife of the Wild River.
Dogsled Tours
Experience Alaska in a way that is uniquely Alaskan! Join three-time Iditarod champion Mitch Seavey at Ididaride, meet the dogs and their puppies, and take a dog sled tour along the beautiful coast of Seward.
Kodiak National Wildlife Refuge
Kodiak is known as "The Island of the Great Bear," where Kodiak bears and their habitat are protected at the national wildlife refuge. Along with bears, you can look for bald eagles, salmon, and a variety of other fish and wildlife at the largest intact island ecosystem in North America. Hike, kayak, fish, camp, and enjoy a bunch of other outdoor adventures at the wildlife refuge.
Flightseeing
Much of Alaska's wild, mountain and water scenery can only be seen from the air or the water. Take a small plane tour and get a new look at the rugged mountains, pristine lakes, and wildlife that thrive in Alaska.
How to Get to
Katmai National Park
To get to Katmai National Park, you need to travel by boat or by plane. Flights and boats are available from many surrounding towns including Anchorage, Dillingham, Homer, King Salmon, and Kodiak.
If you're flying to Alaska for your visit, the nearest large airport is Ted Stevens Anchorage International Airport, about 290 miles from the park. You'd then want to arrange either a plane or boat trip to the park itself.
Another way to travel around Alaska is by renting an RV. You can travel in comfort and explore off the beaten path at your own pace. If you don't own an RV, rentals are available. You can fly into Anchorage and rent an RV after you arrive, or you can rent one near you and drive to Alaska.
There are no RV campgrounds at Katmai National Park, however, there are some in the towns that the boats and planes serve. Consider making one of those your home base, parking your RV there, and heading to the park to explore. Make sure the campground you want to use is open at the time of year you're traveling and see if they allow reservations so you're assured of a spot.
Entering Katmai National Park
Exploring the wild landscape of Katmai National Park with its volcanic history, brown bears and other wildlife that live there is a trip that will stay with you long after it's over! The rich cultural and geologic history of the area and its untouched beauty make it a one-of-a-kind place to visit. At RVshare, we love helping people experience new adventures in the outdoors. RVing is a wonderful way to explore nature with loved ones and to make memories that last a lifetime. Whether you visit Katmai National Park in an RV rental from us or on your own, we want to hear about your trip! Be sure to send us photos at [email protected] and tag us on social media to share details and tips about your visit. You could be featured on our blog or social media channels.