National Parks
October 4th, 2020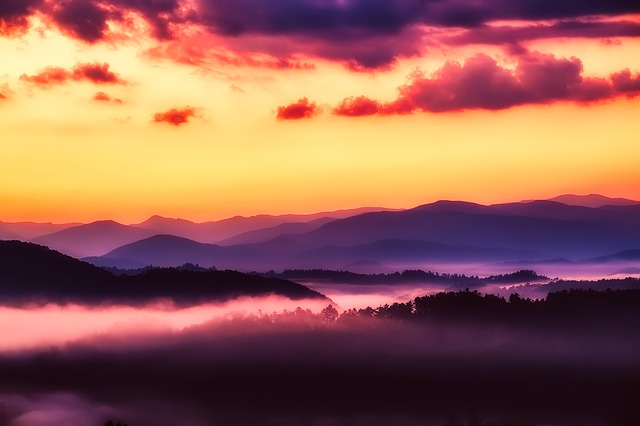 Great Smoky Mountains National Park stretches across two states – Tennessee and North Carolina. It covers more than 500,000 acres of forest, mountains, streams, and plant and animal life. There are plenty of things to do in the area to explore the park, its history, and the natural wonders that live there.
9 of the best things to do at Great Smoky Mountains National Park
There's a lot to do at the park! Whether you're an outdoor enthusiast who loves hiking and biking, a nature lover who wants to learn more about the ecosystem of the area, or a history buff who wants to know more about what has happened in the Great Smoky Mountains' distant past, there's something for everyone here. You can learn more about ways to explore the park on our national parks page here.
1.) Take a car tour
Take in panoramic views, stumble across sparkling mountain streams, stop to cool off near a hardwood forest, or find historic buildings on an auto tour of the park. The 384 miles of roads through the park are all maintained for standard vehicles and most are paved. Those that aren't are gravel roads that can be traveled by car if you are cautious. Most of the roads require you to drive 35 mph, giving you plenty of time to admire the scenery.
You can also pick up a booklet with numbers that correspond to markers or landmarks along the drive, giving you more information on the history and wildlife you're encountering. There are five booklets for various roads, including the Cades Cove Loop Road and the Roaring Fork Motor Nature Trail. There are also plenty of books you can purchase in the visitor center or elsewhere with advice on road tours, and plenty of online websites and blogs share their favorite routes as well.
One tip for motor tourists – the park can get crowded during the daytime from July 1-August 15 and during October when crowds turn out to watch the leaves change. The Newfound Gap and Cades Cove Loop are the most popular routes, and you should avoid those during peak times. Instead, try the Foothills Parkway (East or West), the Blue Ridge Parkway, or the Rich Mountain Road. You can also avoid crowds by driving before 10 a.m. or after 5 p.m. during the summer. During the fall, try to avoid the afternoon and evening hours.
2.) Take a bike ride
There are opportunities for both road bikers throughout the park, and while there are no mountain biking trails in the park bicycles are allowed on a handful of trails. Nearby national forest and recreation lands just outside the park do have mountain biking trails.
Cyclists are allowed on most roads in the park, but narrow roads and heavy traffic mean some roads are better suited to cyclists than others. The Cades Cave Loop Road is a one-way, 11-mile road that is a very popular option for bicyclists. You may see wildlife along the route, and there are some 19th-century homesites to stop and visit as well.
The campground store near Cades Cove campground rents bicycles during the summer and fall. Tennessee state laws require children 16 and under to wear a helmet, although everyone is encouraged to do so. Cyclists are required to obey all traffic laws.
3.) Visit a cemetery
The park is home to historic cemeteries that are an important part of the area's history. You can learn about the religious beliefs and cultures of the many different people who lived in and traveled through the area for hundreds of years.
4.) Go fishing
There are around 2,900 miles of streams throughout the park, and one of the last wild trout habitats in the eastern U.S. is there. This means there are a variety of fishing opportunities throughout the park as well! You can fish year-round in all streams. You are required to have a valid fishing license from either Tennessee or North Carolina and you can use a license from either state throughout the park. Licenses are not sold in the park, but you can find them in nearby towns or online. Make sure you are also aware of the daily limits and that you stick to them.
5.) Take a hike
People hike the Smokies in every month of the year, and each season is different and beautiful in its own way. When trees are bare, the winter months reveal stone walls, foundations, and other evidence of buildings long gone. Autumn brings its own colorful beauty, and spring and summer mean wildflowers and meandering mountain streams and rushing waterfalls. The park also has a list of kid-friendly hikes, and backcountry hikers can take multi-day backpacking trips as well. Try one of these hiking trails to get you started in the park!
6.) Explore historic buildings
The Great Smoky Mountains has one of the best collections of log buildings in the eastern U.S. The park is home to more than 90 houses, barns, churches, schools, and more that have been preserved or restored. Cades Cove, Cataloochee, Oconaluftee, and the Roaring Fork Motor Nature Trail are some of the best places to see these buildings and to learn more about their occupants. Many of these buildings are also listed in the National Register of Historic Places.
7.) Go on a horseback ride
There are four horseback riding stables throughout the park that offer rides to visitors. The stables operate from mid-March through late November, and rides can vary from 45 minutes to several hours. Cades Cove Riding Stables also offers a 1 1/2-2 hour hayride along the Cades Cove Loop Road. Ranger-led hayrides are also offered. Two stables also offer carriage and wagon rides along park trails.
Visitors can also bring their own horse to the park and 550 miles of the park's hiking trails are also open to horses. However, trail riding is not recommended from early December through May because of the weather conditions.
8.) Take in a ranger-led program
Ranger-led programs are available from spring through fall, and there are a variety of talks, events, and hikes guests can attend to learn more about the park from those who work there. Junior Ranger programs include booklets for kids to complete while they explore the park, and which they can then turn in for an official Junior Ranger badge. There is also a Not-So-Junior Ranger program for those thirteen and older.
Several organizations also partner with the Great Smoky Mountains National Park to offer even more programs including guided hikes, summer camps, naturalist workshops, and more.
9.) Watch for wildlife
The dense forest throughout the Smoky Mountains is the perfect environment for many animals and offers them the cover they need from predators. However, it can also be challenging for those of us who want to view those animals on our trip! Look for open areas like Cataloochee and Cades Cove, where you may see white-tailed deer, elk, bears, woodchucks, and other animals. Because Roaring Fork Motor Nature Trail is winding and cars are forced to drive slowly, you may also see animals along that route. Also, you may have better luck glimpsing wildlife during winter when many of the trees have lost their leaves. Early morning and twilight hours are good times to look for animals, and you may want to carry binoculars to help you get a better look.
If you do encounter wild animals, remember that your actions can keep them safe, or be responsible for their demise. Never feed any animals you encounter. Don't approach animals to try and take pictures. Keep in mind that if you approach an animal so closely that it changes its behavior, you're too close. These guidelines help keep you and the animals safe, and not following some of them can also result in you getting fined, ticketed…or possibly even arrested.
A trip through the Great Smoky Mountains can offer you a dose of beauty, history, and calm in this chaotic world! Whether you prefer to spend a quiet day in nature or prefer to explore historic buildings and cemeteries you're sure to find something to interest you on your trip!