Kenai Fjords National Park
WIDE-RANGING INVENTORY
From affordable pop-ups to luxury motorhomes
LARGEST RV RENTAL MARKETPLACE
Thousands of 5 star reviews from happy customers
SECURE AND MOST TRUSTED
24/7 Emergency roadside assistance on every booking
Kenai Fjords National Park
Kenai Fjords National Park, at the edge of the Kenai Peninsula in Alaska, is home to towering glaciers, lush forests, and abundant wildlife. Nearly 40 glaciers flow from Harding Icefield, the 700-square mile crown jewel of the park. The park's only road leads to Exit Glacier, and ensures that the remote, rugged landscape of Alaska remains pristine and almost untouched.
The weather at Kenai Fjords can change rapidly and is hard to predict. Thanks to the Japanese current that flows through the region, the area often enjoys a mild climate with summer daytime temps from the 40s to the 70s. However, winter temperatures can range from the low 30s to -20. The Exit Glacier area receives an average of 200 inches of snow a year, but rainy days are common during winter as well. Be sure to bring plenty of layers for changing weather conditions.
Kenai Fjords is close to the town of Seward, which is a popular cruise ship stop and has plenty of restaurants, shops, and other amenities. If you're interested in booking a plane or boat (or dogsled!) tour, learning more about local history, or sampling seafood caught a few feet away, you'll find something to do in town.
If you want to explore the park, there are many scheduled events, mostly from June through August. You can find a complete calendar here. You can also find plenty of things to do on your own, such as hiking, flightseeing, kayaking, fishing, mountaineering, and more.
Read more
Weather
Spring 40-70s F
Summer 40-70s F
Fall 40-70s F
Winter -20-30 F
RV Rentals Near Kenai Fjords National Park
Nearby RV Rentals Jayco Redhawk 23XM
2015 / Class C Motor Home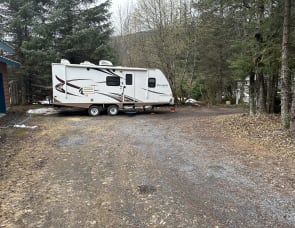 Keystone RV Passport 2300BH Grand Touring
2014 / Travel Trailer
Kenai Fjords National Park Hiking Trails
There are only a few maintained trails in the park itself, though experienced hikers can tackle the backcountry and go mountaineering as well. The city of Seward also has many picturesque hikes with views of the mountains, glaciers, and fjords.
Things to do Outside Kenai Fjords National Park
When you're done exploring the park, the nearby town of Seward offers plenty of attractions. Take a scenic drive, visit a wildlife sanctuary for rescued animals, or sample seafood caught just steps from where you're sitting.
Discover Nearby Towns and Cities
RV Resorts & Campsites in Kenai Fjords National Park
There is one established campground in the park, located near the Exit Glacier area. It has 12 tent sites and no accommodations for RVs. There are also somerustic public use cabins which can be accessed by water only. There are many public and private campgrounds available in the nearby town of Seward, which can accommodate both tents and RVs.
Campgrounds Near Kenai Fjords National Park
Find the Best Dumpstations Near Kenai Fjords National Park
An unglamorous but necessary aspect of RVing? Dump stations. Knowing where the best dump stations are near you will allow for more ease and less stress in your travels. Dump stations are an easy and convenient way to clear waste from your RV. Use our guides to find dump stations on your route, so you can get back to the good stuff – exploring, relaxing, and making memories on the road.
Dumpstations Near Kenai Fjords National Park
How to get to Kenai Fjords National Park
There is one road that leads to Kenai Fjords National Park. The park may be inaccessible during the winter months, so be sure to check road conditions before planning to drive there. However, the town of Seward is accessible year-round via the Seward Highway.
You can also travel to the park by renting an RV. RVing allows you to travel to Seward in comfort and at your own pace. If you don't own an RV, consider an RV rental. You can fly into Anchorage and rent an RV, or rent one in your hometown to drive to Alaska.
While there are no RV campgrounds in Kenai Fjords National Park, there are several just outside the park in the town of Seward. Be sure the campgrounds are open at the time you visit, as some may be seasonal, and make reservations in advance to be sure you have a spot.
To get there from Anchorage, follow the Seward Highway south. It turns into AK-9 around Mile 35, continue on AK-9 to Seward.
If you're flying into Alaska, you'll want to fly to Ted Stevens Anchorage International Airport, then drive or take the train or bus to Seward. You can also book charter flights to Seward.
Frequently Asked Questions
Is Kenai Fjords National Park accessible for disabled visitors?

Yes, parts of Kenai Fjords National Park are accessible to disabled visitors. The Exit Glacier has a path that can be traveled by wheelchair, and the visitor centers are wheelchair accessible. Most tour boats are also wheelchair accessible, along with the coastal public use cabins and the Exit Glacier campground.

Are pets allowed at Kenai Fjords National Park?

Yes, pets are allowed in some areas of Kenai Fjords National Park. Pets can be on the road to Exit Glacier and in the parking lot of the Exit Glacier Nature Center. Pets are not allowed on trails, in the coastal backcountry, or in buildings.

What are the top things to do in Kenai Fjords National Park?

Top things to do at Kenai Fjords National Park include driving the Exit Glacier Road, hiking the Glacier Overlook Trail, and ice climbing on the Exit Glacier. The park has plenty of hiking, scenic overlooks, and other exciting activities!

Do you have to reserve a camping spot at Kenai Fjords National Park?

No, you can not reserve a camping spot at Kenai Fjords National Park. Exit Glacier has a walk-in tent campground where sites are available on a first-come, first-served basis. RV campers can check with the Seward Chamber of Commerce about nearby private campgrounds that may accommodate RVs.

How large is Kenai Fjords National Park?

Kenai Fjords National Park is 607,805 acres or 1,046.9 square miles large. It's west of the town of Seward in south-central Alaska.