Kenai Fjords National Park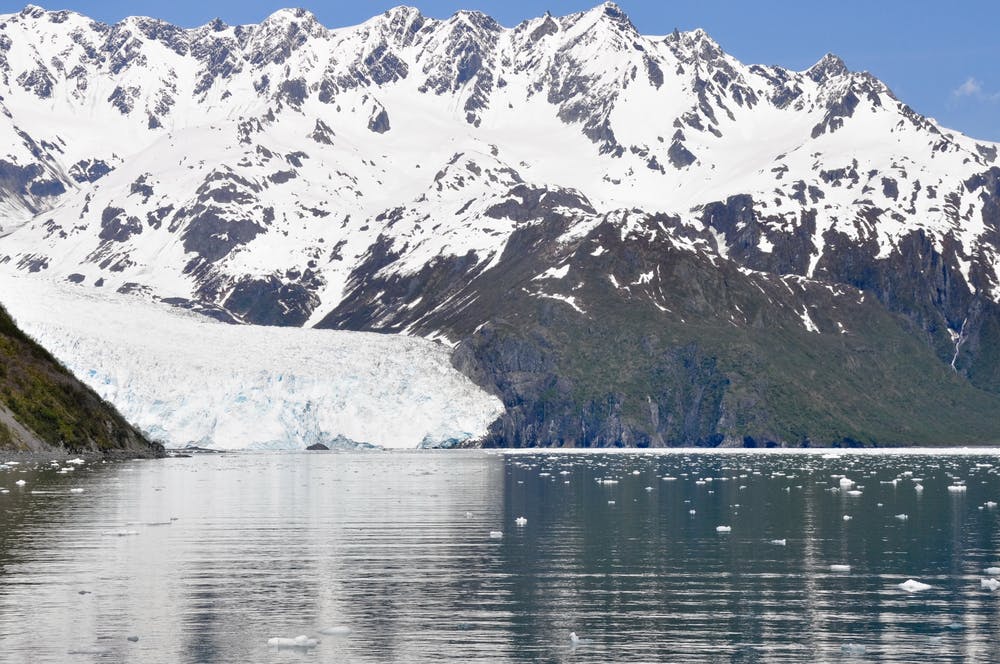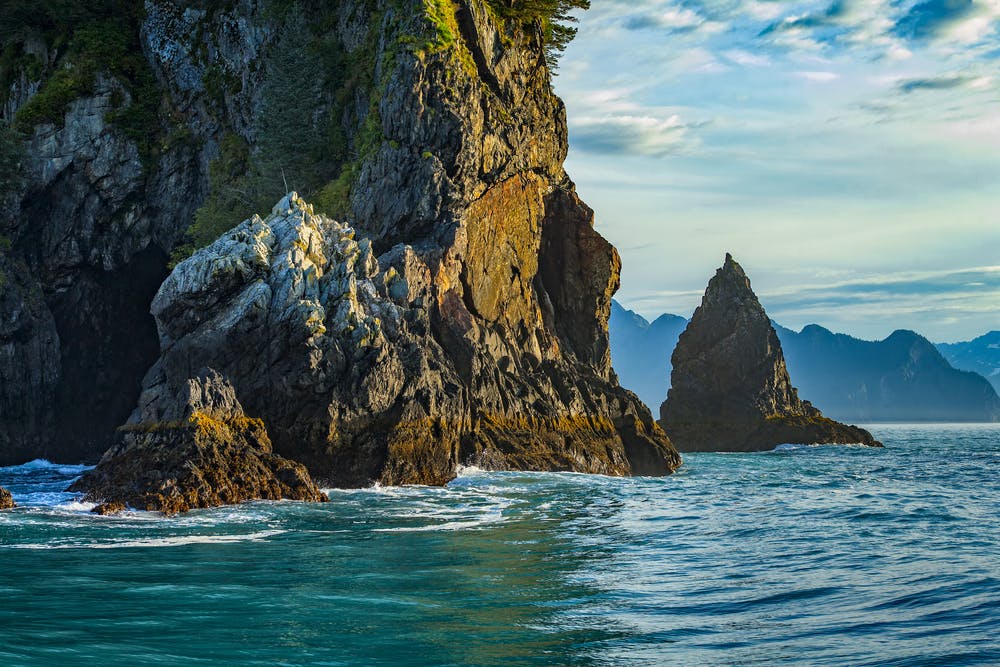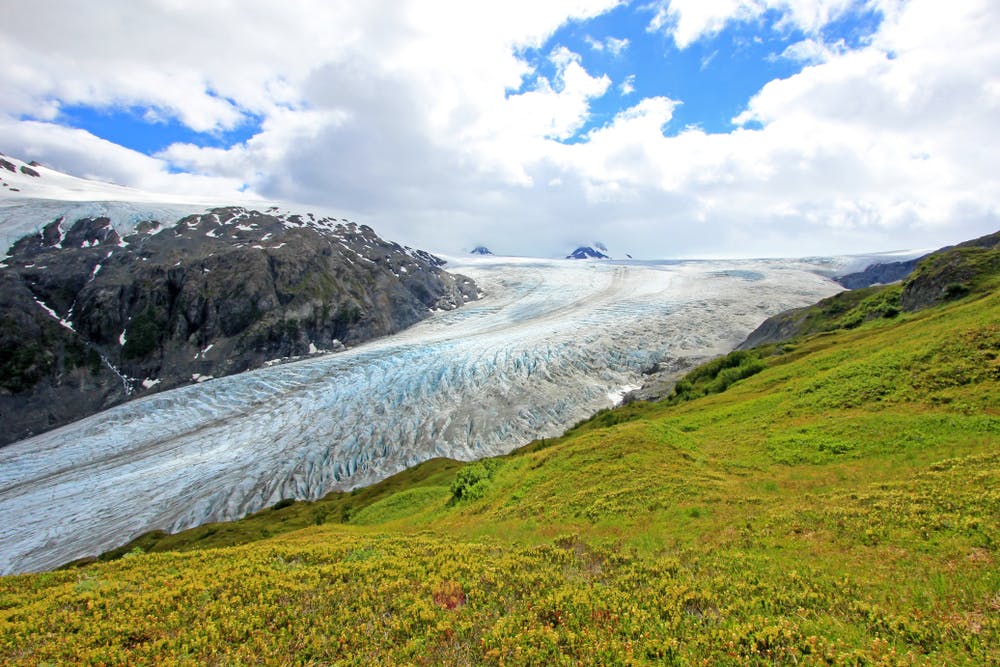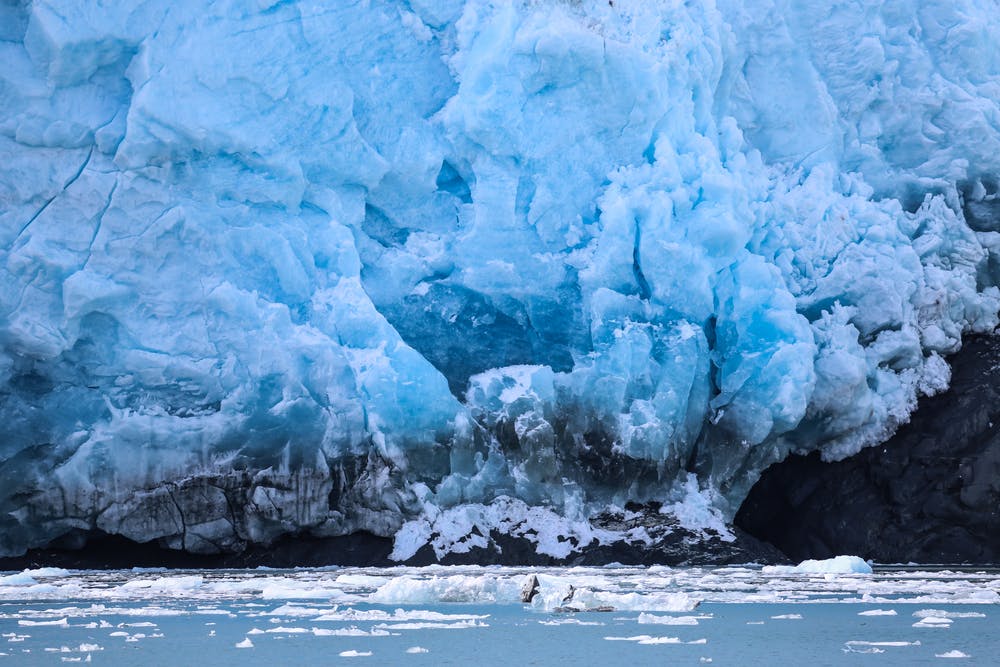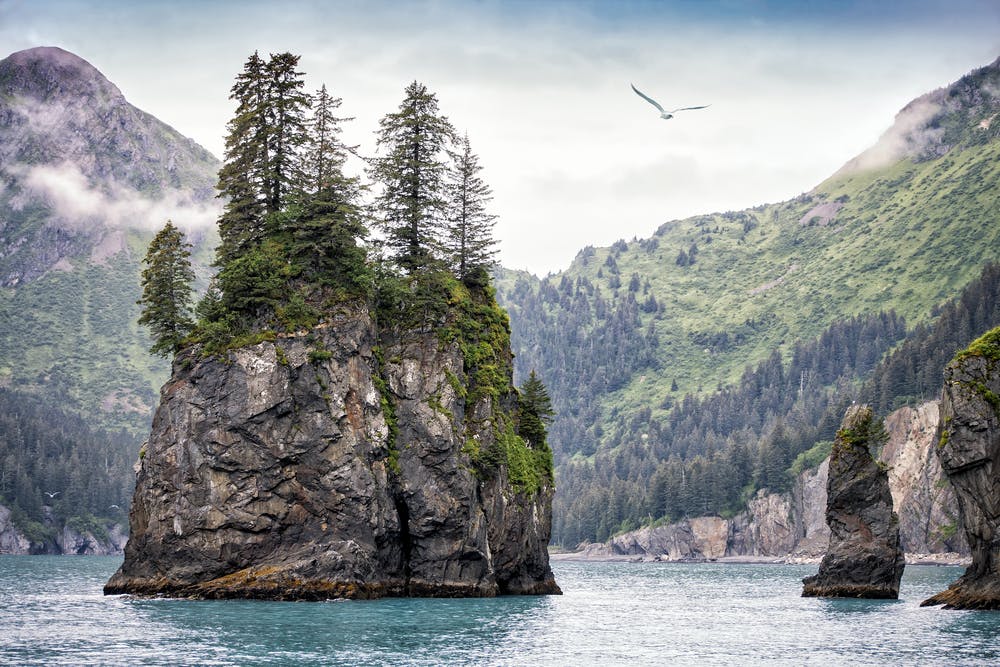 Kenai Fjords National Park
, at the edge of the Kenai Peninsula in Alaska, is home to towering glaciers, lush forests, and abundant wildlife. Nearly 40 glaciers flow from Harding Icefield, the 700-square mile crown jewel of the park. The park's only road leads to Exit Glacier, and ensures that the remote, rugged landscape of Alaska remains pristine and almost untouched.
The weather at Kenai Fjords can change rapidly and is hard to predict. Thanks to the Japanese current that flows through the region, the area often enjoys a mild climate with summer daytime temps from the 40s to the 70s. However, winter temperatures can range from the low 30s to -20. The Exit Glacier area receives an average of 200 inches of snow a year, but rainy days are common during winter as well. Be sure to bring plenty of layers for changing weather conditions.
Kenai Fjords is close to the town of Seward, which is a popular cruise ship stop and has plenty of restaurants, shops, and other amenities. If you're interested in booking a plane or boat (or dogsled!) tour, learning more about local history, or sampling seafood caught a few feet away, you'll find something to do in town.
If you want to explore the park, there are many scheduled events, mostly from June through August. You can find a complete calendar here. You can also find plenty of things to do on your own, such as hiking, flightseeing, kayaking, fishing, mountaineering, and more.
Weather
Spring 40-70s F
Summer 40-70s F
Fall 40-70s F
Winter -20-30 F
Nearby Cities
Seward, AK
Trip Planner
Use our FREE RV trip planner to begin customizing the perfect RV trip.
Continue
RV Resorts & Campsites in Kenai Fjords National Park
There is one established campground in the park, located near the Exit Glacier area. It has 12 tent sites and no accommodations for RVs. There are also some rustic public use cabins which can be accessed by water only. There are many public and private campgrounds available in the nearby town of Seward, which can accommodate both tents and RVs.
Public Campgrounds at Kenai Fjords National Park
Private Campgrounds at Kenai Fjords National Park
RV Rentals Near Kenai Fjords National Park
Nearby RV Rentals
Hit the Trails
There are only a few maintained trails in the park itself, though experienced hikers can tackle the backcountry and go mountaineering as well. The city of Seward also has many picturesque hikes with views of the mountains, glaciers, and fjords.
Exit Glacier Trails
Glacier View
Distance: 1-mile round trip
Terrain: This wheelchair-accessible loop trail is partially paved, partially compressed gravel and leads to views of Exit Glacier traveling down from the Harding Icefield.
Edge of the Glacier
Distance: 1.9 miles round trip
Terrain: The start of the trail is the same as Glacier View, but when that trail turns back toward the parking area, you want to continue to the left, on to the bottom of the glacier (Toe of the Glacier). You cross a rocky outwash, which may be flooded and inaccessible, depending on the time of year. If the water level is low, pick your way across to the toe. Do not get close to the glacier in places where the ice hangs overhead - it can come loose and fall at any time.
Harding Icefield
Distance: 8.4 miles round trip
Terrain: A challenging hike to the top of the icefield, with stunning views of the 700-sq mile Harding Icefield. The icefield is the source of 38 named glaciers including Exit.
Trails in Seward
Meridian and Grayling Lakes
Distance: 3 miles
Terrain: These two popular, easy walks begin on a single trail, then fork and you can choose which lake to visit. Good for hikers of all ages and abilities. Bring gear and fish for trout at Meridian Lake or grayling at the aptly named Grayling Lake.
Tonsina Point
Distance: 3 miles
Terrain: Hike this old logging trail and see dog salmon (also known as chum salmon) coming in, and spot salmon berries growing along the hillside. There is beach access at the end, and you can have a fire or a picnic before heading back.
Troop Lake
Distance: 3 miles round trip
Terrain: This trail begins at the Iditarod Trail, then branches off about a mile from the start and reaches the lake half a mile beyond that. The lake is great fishing for rainbow trout.
Alpine
Distance: 3.8 miles round trip
Terrain: This spur off the main trail connecting the North and South beach trails in Caines Head is a great family hike with beautiful mountain views.
Mount Marathon
Distance: 4.5 miles round trip
Terrain: A hike, steep at times, which passes through rain-drenched forest, with views of Resurrection Bay and the glacier-strewn mountains beyond. More spectacular views await the higher you climb until you reach Race Point, where you can have a snack, look at the view, and head back down the mountain.
Caines Head
Distance: 4.5 miles
Terrain: Follow Tonsina Point Trail for 3 miles before zigzagging down the hillside through ancient rainforest and crossing a salmon-filled creek popular with bald eagles. From the creek, continue hiking through the forest to the beach, then follow Resurrection Bay south to the sign for Caines Head. The trail climbs a forested ridge, and if you continue climbing, leads you to a WWII fort.
South Beach
Distance: 5 miles round trip
Terrain: This trail goes on from the Caine's Head North Beach through rainforests and alpine meadows to several beaches great for picnicking, beachcombing, and wildlife-watching.
Mount Marathon Race Route
Distance: 6 miles round trip with a 3,000 elevation gain
Terrain: This world-famous race route begins fairly easily, but the climb from downtown Seward up Mount Marathon eventually turns very steep and rocky
Resurrection River
Distance: 9 miles round trip
Terrain: A mostly level trail that wanders through spruce forest, along a wild river bottom.
Lost Lake
Distance: 14.6 miles round trip
Terrain: Also known as Primrose trail, this trail begins in a rainforest and passes several sparkling lakes and high meadows, with views of snowy mountains.
What to Do at
Kenai Fjords National Park
When you're done exploring the park, the nearby town of Seward offers plenty of attractions. Take a scenic drive, visit a wildlife sanctuary for rescued animals, or sample seafood caught just steps from where you're sitting.
Type: Seafood
Location: Seward
Type: Steak & Seafood
Location: Seward
Type: Mediterranean
Location: Seward
Type: Cafe
Location: Seward
Type: Barbeque
Location: Seward
Kenai Fjords National Park Bookstore
Learn more about Kenai Fjords National Park at the on-site bookstore. You'll find an extensive collection of books on the area's culture and history, along with information on the geology and ecology of the park. The store stocks books, maps, and films about the park.
Location: Kenai Fjords Visitor Center, Seward
Irbi Knives
This downtown Seward store has been hand making knives and sheaths for over 40 years. Customers can choose their own handle, material, blade shape, engravings, and more. The shop also sells Alaskan Ulu knives, fillet knives, jewelry, and other Alaskan-made gifts.
Location: Seward
J-Dock Seafood
and charters, but also offers fresh-caught seafood for those who want the fish without the fishing. They'll fillet, vacuum pack, and freeze the fish, then sell it in their store or ship it to your house. They also have apparel for sale.
Location: Seward
Alaska Shop
Seward's largest gift shop has a large selection of Alaskan art, carvings, crystal, ulus, jewelry, and more.
Location: Seward
Home Community Library Gift Shop
Local artists and authors are on display and on sale at the Hope Community Library and Gift Shop. They also sell handcrafted jewelry at a very good price. Pop next door to the community library, once the town's schoolhouse.
Location: Hope
The Center combines a public aquarium with marine research, education, and wildlife response. Visitors can have close encounters with puffins, octopus, harbor seals, sea lions, and other marine life and learn about the work researchers are doing both in the field and in the labs.
Learn about the history of the Seward area at the museum, housed in the same building as the community library. The Resurrection Bay Historical Society has a collection of objects, photos, and archives that share the history of the town. You can also view movies on the devastating 1964 earthquake, and on the history of the Iditarod.
Although the Iditarod race has a ceremonial start in Anchorage, the trail begins in Seward at the Founder's Monument. The monument is at the spot where the town's first settlers landed in August of 1903.
You can get to Alaska's only mountaintop museum and interpretive center by ski lift or aerial tram. The octagon-shaped building began as a warming hut and gathering place, and now shares the history of the Girdwood Valley.
The Indian Valley Mine was important during lode mining and to early settlers on the Turnagain Arm and shares the history of early mining during the 1920s and 30s. Visitors can pan for gold, explore the assay building, browse the small museum and gift shop, and relax at the picnic tables while they take in the scenery.
Boat Tours
One of the best ways to see the towering glaciers, abundant marine wildlife, and spectacular scenery is by taking a boat tour of the fjords. Look for sea lions, otters, porpoises, puffins, and other sea life, and take a whale-watching tour if the season is right. Major Marine Tours offers half-day, family friendly cruises, along with full-day adventure cruises.
Dogsled Tours
Celebrate the home of the Iditarod with a dogsled tour, led by three-time Iditarod champion Mitch Seavey. Ididaride allows visitors to become acquainted with the sled dogs and their pups, and to take a ride along the coast.
Alaska Wildlife Conservation Center
This wildlife sanctuary is dedicated to preserving the wildlife of Alaska by taking in injured and orphaned animals. You can see a brown bear cooling off in a pool, a bull moose strutting, or a wood bison roaming the pastures at the Center.  
Turnagain Arm Scenic Drive
The Seward Highway south of Anchorage is known as one of the most beautiful stretches of highway in the country. You can spend a few hours, or a full day, taking the Turnagain Arm Scenic drive past towering mountains and wide open plains.
Anchorage Coastal Wildlife Refuge - Potter Marsh
This freshwater marsh at the base of the Chugach Mountains contains at least 130 species of birds. Boardwalks traverse the wetlands and allow families to stroll along, watching for moose, beavers, muskrats, bald eagles, birds, and spawning salmon.
How to Get to
Kenai Fjords National Park
There is one road that leads to Kenai Fjords National Park. The park may be inaccessible during the winter months, so be sure to check road conditions before planning to drive there. However, the town of Seward is accessible year-round via the Seward Highway.
By Car
To get there from Anchorage, follow the Seward Highway south. It turns into AK-9 around Mile 35, continue on AK-9 to Seward.
By plane
If you're flying into Alaska, you'll want to fly to Ted Stevens Anchorage International Airport, then drive or take the train or bus to Seward. You can also book charter flights to Seward.
By RV
You can also travel to the park by renting an RV. RVing allows you to travel to Seward in comfort and at your own pace. If you don't own an RV, consider an RV rental. You can fly into Anchorage and rent an RV, or rent one in your hometown to drive to Alaska.
While there are no RV campgrounds in Kenai Fjords National Park, there are several just outside the park in the town of Seward. Be sure the campgrounds are open at the time you visit, as some may be seasonal, and make reservations in advance to be sure you have a spot.
View RV Rentals
Entering Kenai Fjords National Park
There is no fee to enter Kenai Fjords National Park
A visit to the spectacular fjords and glaciers of Kenai Fjords National Park will be a trip to remember! The stunning mountains and glaciers, and the abundant wildlife and marine life promise a one-of-a-kind vacation. We here at RVshare love helping people get outside to explore nature with their families and loved ones. RVing is a wonderful way to experience the outdoors and create memories that will last. Whether you visit Kenai Fjords in an RV you rent through us, or in another way, we want to hear about your trip! Be sure to send us photos at [email protected] and tag us on social media to share details and tips about your visit. Your adventures could be featured on our blog or social media channels!