Travel Inspiration
Last updated on June 24th, 2023. Originally published on October 28th, 2018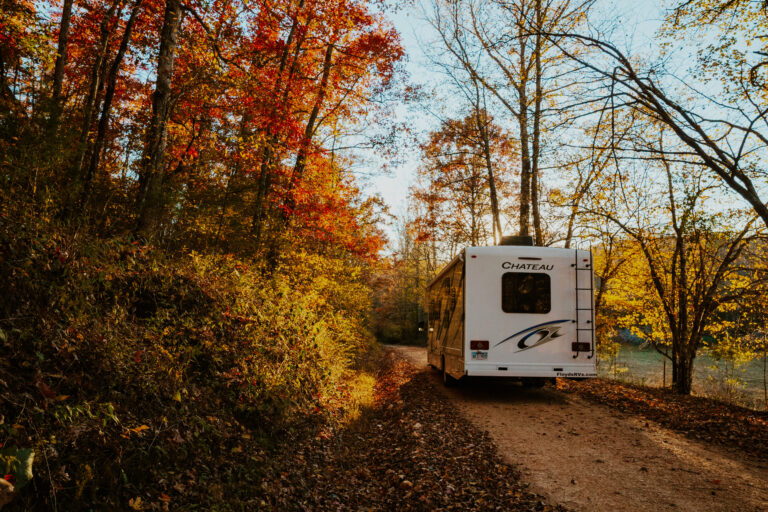 The mountains are calling, and you must go.
Trust us, we get it — especially when the changing autumn colors have your favorite mountain ranges dressed in fall finery. Fall is one of the very best times of year to take a mountain trip, especially if you're into hiking. The weather is cool, but not frigid, and perfect for hiking. But usually there's no snow and ice on the ground yet, which can make winter RV driving truly hazardous.
And, of course, the Technicolor fall scenery simply can't be beat. So if you've been hearing the siren song of the nation's peaks and valleys, read on. In this post, we're going to lay out some of the most impressive mountain ranges in the U.S. for fall travel, plus other destinations to explore during your fall holidays.
Fall Travel: The Best Places to Go in the Fall
Before we dive into the best mountain ranges for fall foliage views, let's talk about why fall is such an awesome time to take an RV road trip in the first place. After all, most of us might first consider long, luxurious summer road trips or festive winter weekend getaways when we think about the ideal times for RV travel.
But even though it's not quite as popular as its more extreme seasonal counterparts, fall offers some amazing travel benefits you just can't find any other time of year. For one thing, you can actually go outside and do things without worrying about sweating through your outfit, even if you're planning a pretty epic hiking venture.
Along with temperate climes and ample outdoor recreational opportunities, fall is also chock-full of fun fall festivals, events, and harvest celebrations. You'll find everything from orchards offering apple picking to downright rowdy fun at one of the country's many Oktoberfests. No matter what part of the country you call home, you can easily find something going on in your area — or at your favorite destination. Events can be a wonderful way to plan an RV trip without doing too much itinerary brainstorming!
Finally, fall brings some of the most beloved family holidays of the entire calendar year, including the epic feast of Thanksgiving as well as Halloween and Veterans Day. Since many people travel for the holidays already, taking an RV is an amazing way to hack your Thanksgiving travel plans — you'll combine all the flexibility and freedom of a road trip with the comfort and privacy of your own home. You can even stay at grandma's house without having to worry about sharing the bathroom!
Beautiful Fall Scenery
Of course, there's another important reason people take fall trips: to see the changing of the leaves that give the season its name in the first place!
Journeying to get a better view of the country's fall colors is a longstanding tradition and a great way to both explore new destinations and revisit favorites. For example, even if you've been to the West's vast national parks multiple times for summer visits, there's something about seeing them decked out in fall colors that simply can't be replicated.
And one of the very best ways to take in the splendor of the fall leaves… is to get as high as possible. (No, not like that!)
Rather, we're talking about the one-of-a-kind experience of seeing the autumn colors from panoramic mountain viewpoints.
The Best Fall Mountains to Visit
If you're looking for beautiful fall mountain scenery, look no further than these gorgeous American mountain ranges, scattered across this big, beautiful country of ours.
The Adirondacks, New York
New York State may be home to the most bustling American city, but it's also a treasure trove of scenic, outdoorsy goodness for those who venture farther north. Upstate's famous Adirondack range boasts some of the most brilliant fall colors in the country, including the full spectrum of reds, oranges, and yellows that slowly extend themselves across the region over the month of October.
One of the best places to experience the height of the Adirondacks' fall splendor is Cascade Mountain, a 4,098-foot peak near the town of Lake Placid. It's only about a 5-mile hike round trip, with a little over 1,000 feet of elevation gain, making it a moderately challenging day hike.
You can learn more about when and where the fall colors are peaking in the Adirondack range, and discover all sorts of fall-themed activities like harvest festivals and corn mazes, by visiting the region's travel information website. It's chock full of helpful information to help you plan and make the most of your trip.
Click here to see RVshare rentals in upstate New York.
The Blue Ridge Mountains, North Carolina and Virginia
What the Appalachian range lacks in height, it more than makes up for in splendor, especially during this special time of year. Virginia's subsection of America's most ancient mountain range is particularly pretty, and the Blue Ridge Parkway makes it one of the most accessible scenic drives for laid-back leaf-peeping.
Depending on where exactly within the range you travel, you might experience peak colors as late as the third week of November. (Sounds like a great excuse for a Thanksgiving getaway to us!)
For full details on the slowly-shifting shades in the Blue Ridge Mountains, visit this website, which has an annual fall colors forecast. If you're planning on making the trip, don't forget that there are tons of adorable destination towns to stop and explore along the way, from quirky Roanoke, Virginia to uber-hip Asheville, North Carolina.
Click here to see RVshare rentals near Roanoke, Virginia.
The Cascades, Oregon
Portland is a hip destination in its own right, and even more so for summit seekers. This Oregon city is positively surrounded by mountain ranges, all of which bloom into spectacular reds and oranges during the fall season.
There's plenty of hiking to do in the area, including the state's highest peak, Mount Hood, which stands at an impressive 11,240 feet. Of course, given that elevation, much of the mountain is covered in snow by the time the colors are making their appearance below, so a full-on climb might not be possible — but it's certainly beautiful to view from a distance!
For a more relaxed fall adventure, you can get a great taste of what Oregon has to offer by driving along the Columbia River Gorge. There is also a wide variety of beautiful and idyllic natural hot springs in the area, which offer the perfect place to relax after a long hike, especially when juxtaposed with the cool weather!
Click here to see RVshare rentals near Portland, Oregon.
Ogden Valley, Utah
With its famous sandstone arches and long, rippling red canyons, Utah might not be the first place that comes to mind when you're thinking of golden-crimson fall forestry. But the state actually has a whole lot to offer eager leaf-peepers as well as canyoneers!
Considering Snowbasin is less than an hour from downtown Salt Lake City, we rank Utah as one of the most accessible places to visit for fall foliage viewing — you could easily fly in and rent an RV once you get there. If you're driving, however, there are plenty of other spots to add to your itinerary while you're in the state. You'll see everything from aspen to evergreen to canyon maple.
Click here to see RVshare rentals near Ogden, Utah.
Mountain RV Destinations You Don't Want to Miss
Here are even more American mountain ranges that are absolutely begging to be discovered by RV travelers this autumn.
Lake Tahoe, California and Nevada
Lake Tahoe is a well-known destination for summer exploring and winter skiing — but it also makes an excellent autumn excursion. With its shimmering shore lined in quaking aspen and cottonwood trees, Tahoe is especially lovely come mid-to-late October. You might even score cheaper prices and smaller crowds since fall is the region's shoulder season.
There are plenty of trails surrounding the lake, allowing you to hike down leaf-strewn paths to your heart's content. Temperatures will be hovering between 30 and 60 degrees Fahrenheit, depending on your elevation, so as long as you bring ample layers, you'll have some crisp and comfortable adventures. And if you're looking for an excuse to get a little indulgent during your fall getaway, you can take advantage of one of the region's many swanky day spas.
Click here to see RVshare rentals near Lake Tahoe, California.
Mount Rainier National Park, Washington
There's never a bad time to visit this Washington state national park or the lovely, looming 14,410-foot peak that is its namesake. But as much as it's always a treat to trek to Mount Rainier National Park, it's especially epic come autumn.
The park is home to a wide variety of trees and shrubs, like vine maple, tamarack, and huckleberry bushes. Starting in late September, these plants start turning all sorts of red-orange-golden hues, gradually flooding the hills and valleys with a rainbow of fall colors.
Some of the best spots to see the display in its full splendor include the area between Sunrise and Chinook Pass, the Paradise Area, Reflection Lakes, Bench and Snow Lakes, and Grove of the Patriarchs. At over 360 square miles, there's enough hiking in the park to do to keep you busy for the entire season, but you can just as easily get an eyeful simply by driving.
Finally, don't forget that this sacred wilderness is only a short drive from Seattle and Tacoma, renowned Pacific Northwest destination cities offering an array of cuisine and culture that almost rival its great outdoors adventures.
Click here to see RVshare rentals near Mount Rainier National Park, Washington.
Mt. Baker-Snoqualmie National Forest, Washington
Don't get us wrong, the Rockies are legendary. But if you haven't seen Washington's Cascade mountain range all dressed out in its fall finest, you really haven't experienced an autumn in the American West. Red and yellow leaves make the perfect backdrop for massive, snow-capped mountains, and there are plenty of developed campgrounds to choose from as well as a generous dispersed camping policy. All of these things make this one of the best places to visit in the fall.
Click here to see RVshare rentals near the Mt. Baker-Snoqualmie National Forest in Washington.
The San Juan Mountains, Colorado
Rocky Mountain National Park may get most of the glory — and we're certainly not knocking it. But this southern Colorado mountain range is hard to beat in terms of beautiful autumn colors. With a late-September-to-mid-October peak, it's decidedly a destination for early fall adventures.
If you're in time, there's plenty of hiking to be done to get up close and personal with those quaking aspens. You can also admire the view from the comfort of your RV cabin by cruising the 236-mile San Juan Skyway, a breathtaking scenic drive at any time of the year (and especially when the leaves are changing). If you want to sit back, relax, and take it all in without worrying about driving, you might consider a ride on the Official Durango and Silverton Narrow Gauge Railroad. You'll get an authentic steam engine experience as well as some of the most unforgettable views you'll ever see. (Don't forget to give the museum a visit once your journey's over!)
Click here to see RVshare rentals near Durango, Colorado.
The Sangre de Cristo Mountains, New Mexico and Colorado
Taos, New Mexico is well-known as a winter destination, offering some of the steepest and powderiest ski slopes in the country. But it's just as stunning before the first snowfall when its ever-present aspen trees have transformed the hillsides into golden-green fairylands.
Kick back and enjoy the landscape on the 83-mile scenic byway known as the Enchanted Circle, or give your legs a serious stretch by summiting Wheeler Peak, which, at just over 13,000 feet in elevation, is the state's highest. Then, stop by one of the many knock-your-socks-off New Mexican eateries in the quaint downtown area, and don't forget to save enough time to visit a few art galleries, too.
Click here to see RVshare rentals near Taos, New Mexico.
The White Mountains, New Hampshire
The White Mountains are hailed as one of the premier autumn foliage destinations in the country. The area's signature bright red sugar maples knock elbows with beeches, conifers, and more. Generally peaking at about the end of September through the second week of October, the famous New Hampshire display of fall finery can last for up to two weeks before the trees begin to look bare and winter-bound.
One of the best sub-ranges to experience the glory of a New England fall is the Presidential Mountain Range, and in particular, Mount Washington Valley. Mount Washington is the highest peak in the northeastern United States at 6,288 feet. It's known for its record-breaking summit wind speeds and unparalleled leaf-peeping opportunities. Everything about the valley is gorgeous, including one of the state's most celebrated scenic drives, the Kancamagus Highway.
Click here to see RVshare rentals near the White Mountain National Forest in New Hampshire.
Baxter State Park, Maine
Home to, among a host of other beautiful sights, the famous Mount Katahdin (Maine's tallest), Baxter State Park is also a prime location to go leaf-peeping. With 215 miles of hiking trails, you'll have plenty of opportunities to get up close and personal with the fall foliage on foot, and you can also take advantage of one of the park's 337 campsites, all of which have access to natural water sources (though hookups are limited).
While you're in Maine, you can also make it a point to swing by the coast, and perhaps even Acadia National Park. With sweeping sea views from majestic granite peaks, it's one of the most beautiful parks, and considering Maine's winters, now's the time to experience it!
Click here to see RVshare rentals near Baxter State Park in Maine.
The Great Smoky Mountains, North Carolina and Tennessee
There's a reason that Great Smoky Mountains National Park is the most-visited national park in the country — and no, it's not (just) because there's no entrance fee. This massive mountain wonderland is well worth a visit any time of year, but Appalachia pulls out all the stops when it comes to autumn splendor.
According to the National Park Service, the park's fall colors peak between mid-October and early November, when sugar maples, scarlet oaks, sweetgums, red maples, and hickories create an unforgettable tapestry. One of the best ways to experience a sweeping panorama of the park (without taking on a serious mountain trek) is to visit Clingmans Dome, a 6,643-foot peak that features the added bonus of a spiraling observation tower.
Click here to see RVshare rentals near Gatlinburg, Tennessee.
Where to Camp in the Great Smoky Mountains
The Great Smoky are a beautiful place for fall colors! You may want to camp there for several days to truly take it all in. Here are some campgrounds in the Great Smoky Mountains where you may want to park your RV for a while.
Abram's Creek Campground
This small campground is tucked on the extreme western end of the national park near Foothills Parkway in Tennessee. Although it has only a few dry sites, they're inexpensive and convenient for sights on the west end, including the popular Cades Cove.
Maximum Length: 12 feet
Open: Between April and October; reservations required
Price: $17.50 per night
Amenities: None
Balsam Mountain
Off a spur road from the Blue Ridge Parkway toward the southern end of the park in North Carolina, the Balsam Mountain campground offers reservations-only campsites.
Maximum Length: 30 feet
Open: Between May and October; reservations required
Price: $17.50 per night
Amenities: None
Cades Cove
This uber-popular park site is a great place to make your home base… if you can get reservations in time. Although it's open year-round and walkups are technically welcome, we wouldn't count on finding a place to stay if you're traveling during the busiest times of the year!
Maximum Length: 35 feet for trailers; 40 feet for motorhomes
Open: Year-round; reservations are not required but HIGHLY recommended
Price: $25 per night
Amenities: Dump station, as well as a campground store offering basic groceries, firewood, hot coffee, etc.
Cataloochee
The Cataloochee campground is at the extreme eastern end of the park, close to its boundary with the Pisgah National Forest. This gives you the opportunity to experience some off-the-beaten-path sights.
Maximum Length: 31 feet
Open: Between May and October; reservations required
Price: $25 per night
Amenities: None
Cosby
On the northeastern end of the park, the Cosby Campground is approximately midway between Mount Guyot and Mount Cammerer.
Maximum Length: 25 feet
Open: Between April and October; reservations NOT required
Price: $17.50 per night
Amenities: None
Deep Creek
On the southern border of the park close to Bryson City, Deep Creek is a good choice for those coming up from North Carolina and the states further south.
Max 26, April to October, strictly first come first served, $21 per night
Maximum Length: 26 feet
Open: Between April and October; strictly first-come, first-served
Price: $21 per night
Amenities: None
Elkmont
One of the most popular campgrounds in the entire park, Elkmont is the closest in-park campground to the Gatlinburg area entrance and the Sugarlands Visitor Center. Reservations are strongly recommended.
Maximum Length: 32 feet for trailers; 35 feet for motorhomes
Open: Year-round; reservations are not required but HIGHLY recommended
Price: $25-$27 per night
Amenities: Dump station and campground store offering basic groceries, firewood, hot coffee, etc.
Look Rock
Unfortunately, this campground is closed until further notice.
Maximum Length: 48 feet
Open: Between May and October; reservations are required and can be made up to 6 months in advance
Price: $30
Amenities: Flush toilets and drinking water, electric and water hookups. No showers.
Smokemont
This horse-friendly campground offers amenities and a developed campground option on the southern end of the park.
Store (at the riding stables), max 35 trailer 40 motorhome, open year-round, dump station, $25 per night.
Maximum Length: 35 feet for trailers; 40 feet for motorhomes
Open: Year-round; reservations are not required but HIGHLY recommended
Price: $25 per night
Amenities: Dump station and campground store offering basic groceries, firewood, hot coffee, etc.
For up-to-date information on Smoky Mountain National Park camping, refer directly to the NPS website.
Smoky Mountain Campgrounds Outside the Park
If you want to camp with hookups or aren't able to snatch up one of the limited on-site camping spots, don't worry: there are plenty of Smoky Mountain RV campgrounds in the surrounding communities. For those who are looking for glamping, check out these campgrounds near the Smoky Mountains.
Smoky Bear Campground and RV Park
Situated in the fun-filled Gatlinburg, Tennessee, Smoky Bear Campground and RV Park offers close proximity to the park as well as a host of amenities including a swimming pool, clubhouse, laundry facilities, and a lending library as well as full-hookup sites. Prices start at a surprisingly affordable $48 per night.
Little River Campground
If you're looking to stay on the Tennessee side but you'd rather avoid the super-popular destination that is Gatlinburg, Little River Campground may be the answer. It's tucked in the quaint village of Townsend, Tennessee, and offers full hookups, WiFi service, and extras like a swimming pool and game room.
Stonebridge RV Resort
Not all the best campgrounds are on the Tennessee side! For those looking to see the park from its North Carolina vantage, the 18-acre Stonebridge RV Resort in Maggie Valley has laundry facilities, a private bath house, and an upgraded, renovated game room — along with full-service hookup sites, of course.
Teaberry Hill RV Campground
Although it's only got 12 sites, you'd be happy to get one of them! Teaberry Hill RV Campground in the small community of Robbinsville, North Carolina is known for its beautiful surroundings and friendly atmosphere and offers full hookups as well as WiFi and other amenities.
The Best National Parks for Leaf Peeping
National parks are another great place for viewing autumn colors! Across the country, there are many parks with beautiful drives and hikes that showcase fall foliage. Here are a few that, along with the parks mentioned above, are great spots for leaf peeping!
Yosemite National Park
California
Yosemite is one of the most stunning places in the entire country. In October and November, this gorgeous park is even more incredible, as the leaves turn to the most vibrant reds and yellows and fill the landscape with gorgeous pops of color. Additionally, many animals in the park become more active during this time, meaning you might just see a local resident or two.
Shenandoah National Park
Virginia
Another wonderful place to visit for leaf peeping is Shenandoah National Park. Here, the winding roads take you around the mountains, and if you visit during the second half of October, they'll take you right through the heart of some of the most beautiful fall foliage you may ever set eyes on.
Cuyahoga Valley National Park
Ohio
You've likely heard of all the parks mentioned so far. This one is less well-known but no less beautiful. In fact, the Cuyahoga Valley National Park fall foliage might be some of the best on our list. Again, you'll want to visit at the end of October and be sure to ride the scenic railroad to get the best experience.
Grand Teton National Park
Wyoming
Grand Teton National Park is on the cooler side. For this reason, you can expect to see some yellows peeking through as early as the beginning of September. That said, you should be able to see pretty fall colors through the end of October most years.
Acadia National Park
Maine
Maine is another chillier spot in the US. Thus, the gorgeous red, orange, and yellow foliage in Acadia National Park is best viewed at the very beginning of fall. By mid-October, most color is gone and the area is too cold for many outdoor activities.
Mount Rainier National Park
Washington
Because it sits at such a high elevation, fall colors can be seen much earlier in Mount Rainier National Park. In fact, many people report seeing lovely leaves as early as August! Late September tends to be the prime time to check out the foliage here, and the park actually starts to shut down in October.
Grand Canyon National Park
Arizona
Most people don't think of fall colors when they think of Grand Canyon National Park, but they are absolutely beautiful. This is especially true when you're sitting up on the rim during one of the canyon's famous sunrises or sunsets and looking down on all the gorgeous colors. The only problem is that much of the park begins to close in October, so late September is the ideal time to catch these fall leaves.
Zion National Park
Utah
Most people choose to visit Zion National Park during the summer months. The funny thing? It's actually much prettier and more pleasant during October and November. This is when the weather cools to a crisp but comfortable temperature, and it's when the reds and yellows appear throughout this already spectacular park.
Guadalupe Mountains National Park
Texas
If you're running late to the leaf peeping this year, you might consider heading down to Guadalupe Mountains National Park. This southern natural paradise boasts what many consider to be the most beautiful fall colors in the entire state of Texas. Best of all, they can be seen as late in the year as mid-November.
Congaree National Park
South Carolina
Finally, there is Congaree National Park. Like, Cuyahoga Valley National Park, this is not a very well-known park, but it is beautiful! It is the perfect escape into nature, and from mid-October through mid-November, it is absolutely brimming with bright yellows and oranges as the leaves fall all around.
Indiana Dunes National Park, Indiana
If you're a Midwesterner who thinks you have to travel far away to enjoy a fall beach vacation, think again. What's more, you can double up by making it into a national park trip by visiting Indiana Sand Dunes, one of the newest national parks in the register.
Tucked on the north border of the state along the shores of Lake Michigan, this sprawling beachfront is beautiful and surprisingly temperate even into October. Daytime highs hover in the 70s through September, though they do start dipping as the end of the year draws closer… but if you're in it more for the view than the swimming, it's definitely a hard view to beat.
Click here to see RVshare rentals near Indiana Dunes National Park in Indiana.
Biscayne National Park, Florida
Biscayne National Park in the Miami area is definitely worth a visit. Keep in mind that a lot of the park is actually underwater! In fact, 95% of its 172,971 acres are aqueous, and those who dare to venture beneath the waves (or snorkel on their surface) will be treated to colorful coral reefs flitting with tropical fish. Of course, you can also paddle on top of the water in a kayak or canoe, or just kick back on the sand and enjoy the stunning horizon.
One of our favorite things about this national park is that it's very close to one of the largest cities in America — Miami — so you can balance your outdoor adventures with a whole host of fun urban amusements. Oh, and you absolutely must have a Cuban sandwich before you leave, or at the very least a cortadito.
Click here to see RVshare rentals near Biscayne National Park in Florida.
Bryce Canyon National Park, Utah
Arches and Canyonlands might get all the glory, but of the five national parks in the state of Utah, Bryce Canyon National Park may just be our favorite — especially for a fall visit. Because while the most popular parks in the state are liable to be overrun no matter when you make your visit, if you plan your Bryce trip at the right time, you may just get a trail to yourself… at least for a few minutes.
Known for its unique rock formations (known as hoodoos), Bryce is just as exciting by night as it is by day, offering some of the darkest skies in the entire United States, perfect for stargazing. Motorhomes and travel trailers are welcome in the park campgrounds, though no hookups are available. Prices for RV campers start at a very reasonable $30 per night.
Click here to see RVshare rentals near Bryce Canyon National Park in Utah.
Beaches that Are Worth a Visit in the Fall
"What?" you may be thinking. beach destinations just scream summer, right?
But when you think about it, fall beach vacations actually make a lot of sense. Some of the very best beaches will be blissfully devoid of crowds, meaning you'll actually get to relax in the sunshine and enjoy the crashing waves without the un-asked-for addition of someone's boom box. Plus, it won't be quite as hot and humid as it is in some Southern beach towns (we're looking at you, Florida!) in July.
Wondering where to toss down your towel or scoop up a sandcastle this fall? If you're looking for an excuse to extend your summer, here are some of the best beaches in America to check out in your RV.
Destin, Florida
This northeastern beach town is perfect: it's got soft sand, emerald waters, and a great balance of city perks and quaint beachside quiet. It's also far enough north that it's fairly easy to get to over a long weekend or short fall break… as opposed to the six-hour drive south to the Keys!
Clearwater, Florida
Having historically beaten out even Hawaiian beaches as visitor favorites in TripAdvisor rankings, Clearwater Beach has a certain special something that stands out in this beach-filled state. Soft Gulf Shore sands and calm, tepid waters make it feel like you're walking into a giant, natural bathtub… and there's also plenty of deliciously fresh seafood to consume!
Clearwater is also close to the cities of Tampa and St. Petersburg, which are two of the most vibrant and diverse places to see what Florida life is all about. From wandering down the party-hearty streets of Ybor City to taking in the largest collection of Dali art in the world down in St. Pete, you've got plenty of options to keep you busy just in case you get rained out.
Click here to see RVshare rentals near Clearwater, Florida.
St. Petersburg, Florida
Soft-sand beaches, too many excellent restaurants to count, and an art scene that rivals Europe? Yup, it's all waiting for you on the west coast of Florida in the gem of a city called St. Petersburg. Oh, and it'll probably still be 80 degrees.
You likely won't be able to camp right downtown, but there are plenty of options along the city's stretch of beaches… and that's what you're really there for anyway, right?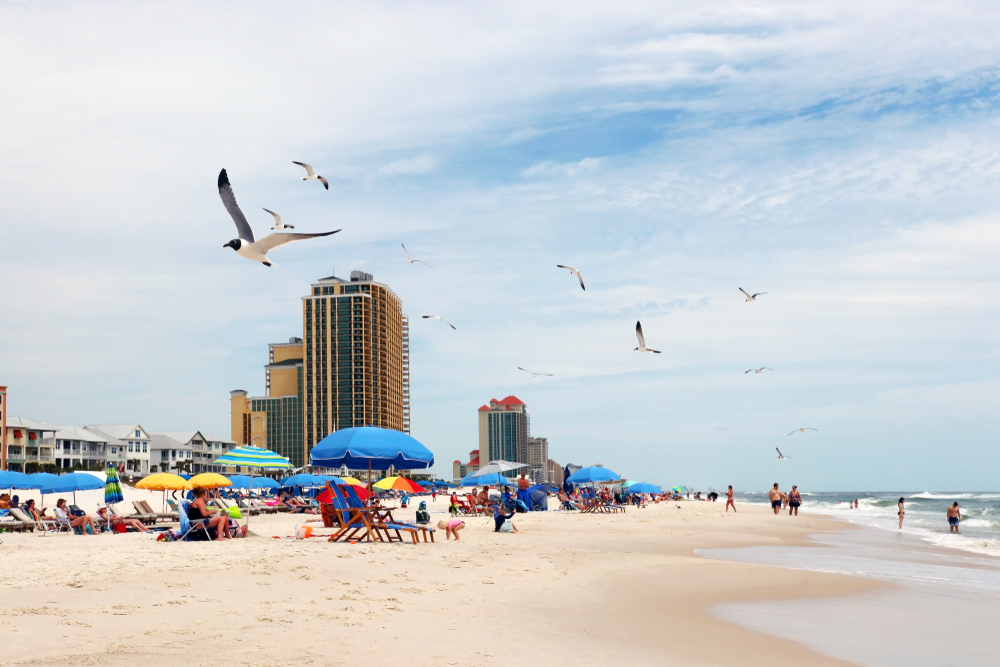 Gulf Shores, Alabama
You'll be sure to understand the inspiration behind "Sweet Home, Alabama" when you head to this Gulf Coast beach town in late fall. The temperatures can still reach 80 degrees in the daytime, and you'll also get to take advantage of the Annual National Shrimp Festival if you time your visit right. (It takes place over the second weekend of October.)
Click here to see RVshare rentals near Gulf Shores, Alabama.
Jekyll Island, Georgia
If you're planning on enjoying some sweet southern charm as part of your Halloween-time excursions — and considering the ghostly history of the area, why wouldn't you? — swinging by Jekyll Island might just be the cherry on top. Nestled between such major ghost-tour attractions as St. Augustine, Florida (the oldest city in the country) and spooky Savannah, Jekyll Island is both stunning and surprisingly convenient.
A bonus for those after the slightly macabre experience: the area's Driftwood Beach is also known as the "tree graveyard," thanks to its multiplicity of striking-looking branches. It's the perfect marriage of all the things we love about fall: slightly creepy, super beautiful, and perfect for exploring. Oh, and it can be as warm as 80 degrees even into November!
Click here to see RVshare rentals near Jekyll Island, Georgia.
Tybee Island, Georgia
Just a few minutes east of Savannah, there's an island paradise waiting, complete with fresh seafood, sandy beaches, and a lighthouse.
The island has been a tourist destination for over a century. Heck, the recent Baywatch movie was even filmed there… although not everyone was thrilled about it!
Regardless, come October and November, this sunny spot's still got temperatures in the 60s and 70s, and the water's beautiful to look at even if you can't quite bring yourself to go in. Plus, you can take an easy day trip to Savannah for excellent southern cooking and a walk around the city's charming squares sans all the high summer humidity.
Galveston, Texas
Looking for the best beaches to visit in October, but not quite ready to hike all the way down to Miami? Try Galveston, Texas: this Gulf Coast gem has all the high-flying boardwalk fun of Santa Monica with the calm waters and soft sands of a West Coast Florida beach. With temperatures hovering in the 70s and 80s all the way through the beginning of November, it's definitely still warm enough for a swim… and hey, you can't beat combining southern comfort dishes with fresh seafood, no matter what time of year it is!
Carmel, California
Clint Eastwood famously chose Carmel-by-the-Sea for his home instead of more popular celebrity options like Los Angeles — and after visiting the area, you'll understand why. Along with its quaint downtown area chock-a-block full of cute shopping and delicious dining, the city is also home to an array of lovely beaches, including a large dog-friendly one… and the temperature hovers just under 70 degrees in October.
Click here to see RVshare rentals near Carmel, California.
Cannon Beach, Oregon
The Pacific Northwest may be best known for its rainy habitat, but the weather patterns are a little different when you're alongside the ocean. Although the rain does pick up as the end of the year draws nearer, daytime highs are still in the comfortable mid-sixties, making it the perfect time to get out and explore the ample hiking options in the area.
Although the water might be too cold for a dip, Pacific Coast beaches are a sight to behold if you're used to the East Coast shore. Stunning rock walls and boulder-strewn shorelines make a visually arresting beach trip, and you'll also be able to enjoy fall foliage after just a short drive inland. Best of both worlds!
Click here to see RVshare rentals near Cannon Beach, Oregon.
Port Townsend, Washington
You might think anything this far north is definitely NOT on the table if you're looking for a temperate fall beach experience — and to be sure, you're looking at daytime highs closer to 58 degrees than 78.
But if you're alright with strolling along the coast with a jacket and are eager to explore the nearby Olympic Peninsula, which is full of hiking, biking, and wildlife-spotting adventures, Port Townsend might just be the perfect place to do so. This quaint island town is just an hour outside of Seattle, and you'll even get to ride a ferry to get there if you're coming from the city side. Once you make it, enjoy not only the beach and nearby mountains, but also shopping, dining, and meandering around the harbor where you can see the results of the nearby boat-building school.
Click here to see RVshare rentals near Port Townsend, Washington.
Montauk, New York
Lighthouses, sandscapes, and temperatures in the 60s all the way into October? You'd never guess you're just a few hours from the biggest metropolitan area in America.
For those in the tri-state area looking for a pre-holiday break, we recommend a trip to Montauk for sun, sand, and seagulls. It's a party town over the summer, to be sure, but after Labor Day, things quiet down, making it a much more attractive destination for most laid-back RVers.
Click here to see RVshare rentals near Montauk, New York.
Maui, Hawaii
It's definitely out there, and you certainly won't be driving all the way from the mainland if you already have your own RV. But if you fly out and rent on-site, October is a wonderful time of year to visit Hawaii: there are fewer tourists than in the high summer months, temperatures still hovering between 70 and 80, and much less rain than you'd experience if you pushed your trip back to Christmastime. Plus, if you're into other natural landscapes as well as beachfront, there's plenty of diversity on the Hawaiian islands. From lush jungles to mysterious volcanoes to all the sights and sounds to discover at inclusive resort swimming pools, everyone is sure to get their fill of fall delight.
Click here to see RVshare rentals near Maui, Hawaii.
Fall Camping Destinations
Of course, people camp for a variety of reasons during the fall. Some like to enjoy the foliage. Others are trying to escape areas where it's already getting cold. Here are a few other fall camping destinations!
Savannah, Georgia
Whether you're looking to fill your fall travel roster with family destinations or romantic getaways, Savannah fits the bill. It's full of history, so it's definitely educational if you're bringing the kids along. However, the Spanish-moss-swathed oaks make a fantastic backdrop for a just-the-two-of-us weekend.
While you won't see quite as much in the way of changing leaves, you'll get to enjoy this city's southern charm while walking from square to square (without sweating through your clothes!)
Besides, who doesn't want a helping of comfort food as temperatures start to dip? From fried chicken to sweet tea to delicious southern barbecue, Savannah's definitely got you covered! They're even home to one of the most famous ice cream parlors in the world, Leopold's.
If you want some more fall foliage destinations, here are a few of those!
Denver, Colorado
If you're looking for a fall destination that combines temperate weather with stunning fall scenery, you can't do much better than the Mile High City.
Plus, you've got lots of time to enjoy the beautiful foliage changes in Denver — according to Denver.org, the city "has one of the longest periods of fall colors of any city in the country." There are lots of fall colors drives you can easily reach from downtown Denver, or you can start in the city and head to one of the many mountain towns for a scenic weekend.
Breckenridge, Colorado
Breckenridge is one of the many Colorado mountain towns boasting beautiful fall colors. The town's Oktoberfest actually hits the streets in early September… but you'll soon be having so much fun, the apparent misnomer won't bother you.
The Breckenridge Wine Classic brings a touch of elegance (and deliciousness) to the city. Good timing, too; with the weather cooling and the days shortening, there's no better time to find your go-to Cab or Merlot for winter.
Click here to see RVshare rentals near Breckenridge, Colorado.
Salem, Massachusetts + Saint Augustine, Florida
If you're an amateur ghost hunter, try these two spooky destinations for October!
Salem is a classic for a reason. The site of the famous witch trials, Salem comes alive each October with ghost tours or tours sharing the history of the area.
Click here to see RVshare rentals near Salem, Massachusetts.
Its name might not have the same spine-chilling power as Salem's, but given that St. Augustine is the oldest city in the country, it probably should. From the Old Jail to the Castillo de San Marcos, many of St. Augustine's buildings have been featured on a variety of ghost-hunting programs. (The verdict: they are, indeed, very haunted.)
Ashland, New Hampshire
Nestled on the southern end of the beautiful White Mountain National Forest, this little burg is the perfect spot to camp if you're looking to see some serious leafage. You can enjoy long days hiking amongst the trees before returning to enjoy the quaint downtown amenities.
Looking for some all-inclusive family fun? Ashland's home to a Jellystone Park Camp Resort — one of dozens spread across the United States. Even after the novelty of brilliant foliage wears off, the kids will be endlessly entertained by Yogi Bear's interactive, themed activities, ranging from heated pools and bocce ball courts to wagon rides and more! They offer some of the best vacation packages at reasonable prices, whether you're traveling in October or July.
(Psst: Like we said, Jellystone Parks are all over the country, so no matter where you're headed this fall, there's bound to be one nearby! Here's the map of all their locations.)
Athens, Ohio
For a fall leaf trip you won't forget anytime soon, head into the heart of it all.
Athens is home to Ohio University, which means it's bustling with culture and excitement despite its tiny size. And if you're looking for some Halloween fun, well, its annual block party is so legendary it actually has its own Wikipedia entry. (Just maybe don't bring the kids for this one!)
But the real treasure at this destination is nearby Hocking Hills State Park, which will be filled to the brim with shimmering golden and crimson leaves — including lining the paths that beckon you to hike in its many nooks and valleys.
Missoula, Montana
Think all the best leaf-peeping is on the East Coast? Think again…and consider Missoula, MT.
This western city boasts some of the most beautiful changing leaves in the country, not to mention access to every kind of outdoor pursuit and sport you can imagine. If you're brave enough to strip down in the rapidly-cooling air, you can enjoy a dip in one of the many nearby hot springs, or simply meander around in any of the nearby national forests or wildernesses. (There are many to choose from!)
The town itself is also home to the University of Montana, so you'll find lots of interesting indoor activities, too, from museums to art galleries.
Don't forget your raincoat and a good pair of boots, though. Things can get a little damp in autumn!
Chickasaw National Recreation Area, Oklahoma
You might not immediately expect Oklahoma to pop up on a list of the best places to visit in the fall, but that's simply an oversight. The Sooner State is chock full of beautiful changing leaves, and that's especially true at the already-scenic Chickasaw National Recreation Area.
Better yet, you'll see those fabulous reds and golds reflected in this natural landscape's variety of streams, rivers, and lakes, all of which offer prime opportunities for outdoor adventuring of all types. Campsites with electric and water hookups are available, too, but we suggest making your reservations as early as possible.
Click here to see RVshare rentals near the Chickasaw National Recreation Area in Oklahoma.
California Wine Country
Although the foliage here will only undergo a partial change, you'll see its apex if you travel to these gorgeous vine-strewn hills in October.
Plus, traveling to wine country in the fall has another important benefit… it's harvest season! Play your cards right, and you'll get to bear witness to some of the excitement and celebration that comes along with creating next year's vintage.
From Halloween to Thanksgiving: Holidays on the Road
Traveling during fall holidays can be a fun way to mix up your regular traditions, and to explore new ways to celebrate the season. If you're after spooky ghost stories rooted in real-life history, ancient towns like Saint Augustine, Florida and Santa Fe, New Mexico might top your Halloween travel list. Or you might venture to pop-culture creep zones, like Estes Park — home of the famous Stanley Hotel, which inspired Stephen King's "The Shining." (It's also the gateway town for Rocky Mountain National Park, so you can't go wrong even if you're not into hauntings.)
November travelers can take advantage of their RV's kitchen facilities to host a fabulous Thanksgiving meal on the road. Yes, it's possible even if you plan to have a lot of guests — here's our guide to motorhome-based entertaining! You might also just enjoy the ability to travel to a distant relative's neck of the woods without worrying about couch-crashing or shelling out for expensive hotel rooms. In our experience, nothing makes a family gathering better than just a little bit of added privacy… so long as you don't pull a Cousin Eddie and dump your holding tanks into the street sewer in front of your loved one's home. Who knows? You may just find yourself creating a brand-new holiday tradition all about getting on the road while still enjoying the comforts of home.
Fall Destinations in Colorado
Allie and Danella of Wander Free and Queer have several tips for visiting Colorado on a fall colors road trip! Here's what they suggest:
Trail Ridge Road
Trail Ridge Road is the name of the stretch of US Highway 34 that crosses Rocky Mountain National Park, from Estes Park to Grand Lake, Colorado. It is a 48-mile scenic drive that is heavily trafficked during the fall months, and for good reason! On this drive, you will see breathtaking views of the Rockies, as well as have the opportunity to see aspen trees as they change from green to yellow along the highway. You should also be sure to watch out for local wildlife such as moose, elk, bighorn sheep, and even bears!
If you are looking for more of an off-road experience, an alternative drive to Trail Ridge Road is Old Fall River Road. This is a one-way dirt road that winds through Rocky Mountain National Park and all the way up to the Alpine Visitor Center. You will see many aspen groves along this drive, as well as roadside waterfalls. Be sure to note road conditions and vehicle restrictions, however. This is a narrow, winding road – not for the faint of heart!
Lodging in RMNP
There are three reservable campgrounds inside of RMNP: Aspenglen Campground, Glacier Basin Campground, and Moraine Park Campground. There are also two first-come, first-served campgrounds: Longs Peak Campground and Timber Creek Campground.
Food near RMNP
Plan to pack plenty of snacks and water for your day-long road trip along Trail Ridge Road, but also know there is one dining option inside the park! We have enjoyed many items off the menu of The Café at Trail Ridge, located next to the Alpine Visitor Center. You'll find something for everyone, from sandwiches and salads to sweets and fairtrade coffee.
Day in Estes Park
Estes Park, CO is worth a visit in the fall, even if you never step foot inside Rocky Mountain National Park. The small town has many shops, restaurants, and lodging options for both the local and traveler communities.
One of the most popular activities in Estes Park is visiting the Stanley Hotel, famous for its link to Stephen King's novel The Shining. The hotel is especially fun to visit during the Halloween season. We went on a guided, spooky tour of the hotel which featured many stories of its paranormal activity, as well as interesting historical information about the building and grounds. The property of the Stanley Hotel is always manicured beautifully during the fall, with pumpkins and autumn floral displays lining the walking paths and gardens.
Leaving the Stanley Hotel you can drive just minutes down the road to gain a new perspective and see the fall foliage from above! Estes Park has an aerial tramway that will take you to the peak of Prospect Mountain. We recommend an early morning ride when crowds are low and the beautiful fall colors pop against a foggy backdrop.
Lodging in Estes Park
We spent one week camping at Elk Meadow Lodge and RV Park. We enjoyed the mountain views as well as its close proximity to multiple entrances to Rocky Mountain National Park.
Food in Estes Park
Bird and Jim is our favorite Estes Park eatery. This modern mountain restaurant is very popular. Reservations are encouraged! For breakfast check out The Egg of Estes. This diner-style chain opens early so that you can fill your belly and still be one of the first vehicles entering Rocky Mountain National Park.
Granby
Granby is on the outskirts of the west side of Rocky Mountain National Park. Since many park visitors stay on the east side near Estes Park, Granby (and neighboring Grand Lake) is often much quieter.
Granby Ranch offers free chairlift rides so that you can have an aerial view of the fall colors. Or you can opt for a scenic horseback ride through crunching leaves.
Our favorite Granby area activity was renting a pontoon boat and exploring Lake Granby. If you putter slowly along the shore and keep your eyes peeled, you can often watch moose in the bushes or even standing in the shallow waters of the lake.
We recommend the folks at Beacon Landing Marina. We found them to have exceptional service and more affordable prices than other boat rental companies in the area.
Lodging in Granby
For lakeside camping, we recommend either Stillwater RV and Campground or Arapaho Bay Campground. If you'd like to be a little closer to the park entrance and the west side visitor centers, then try Elk Creek Campground and RV Park.
Food in Granby
Our favorite coffee shop to hit up on the way to Granby is The Wake Coffee Shop. Sip your espresso right on the water with stunning views of the Rockies beyond the lake.
Fave RMNP Hikes
If you'd prefer to see the autumnal colors on foot, we have some great hiking recommendations for the park.
Bear Lake
This is one of the most popular hikes in the park, no matter the season, but in the autumn it is especially spectacular! Bear Lake is a quick hike in which you can get many views of the yellow aspen reflecting off the lake, with dramatic Longs Peak in the background.
Alberta Falls
If you like chasing waterfalls, take the trail which winds through dense aspen groves and ends at Alberta Falls, which plunges 30 feet down a narrow gorge on Glacier Creek.
Our Biggest Tip…
We could go on and on about the wonders of Colorado in the fall. But the most important advice we could give is to PLAN EARLY! We recommend calling campgrounds 6 months to 1 year in advance to check on availability and cancellation policies.
Not only should you plan your trip as early as you can, but we also recommend waking up early once you are at your destination. Wildlife like moose are more active and visible in the early morning light when they are eating and on the move.
You can't go wrong visiting Colorado any month of the year, but we hope a fall adventure makes it into your travel plans someday!
Best Travel Destinations in November
As you may have noticed, different fall destinations have different peak times when you may want to time your visit! And many of those destinations are at the tail-end of September and into October. But what about November? Yep, there are a few spots that are simply ideal in the second-to-last month of the year. Let's look at a few.
Yosemite National Park, California
While this stunning California national park is on a lot of RVers' to-visit lists, most probably think the best time to go is during the summer. However, it's also one of the best places to travel in November.
To be fair, Yosemite National Park is certainly beautiful at any time of year. But if you'd like to skip out on at least a portion of the crowds (it'll always be somewhat busy), consider checking it out in November, when the daytime temperatures might hover in the 50s.
It is important to point out that due to high elevation and snowfall, some areas of the park may be closed to visitors later in the month. Additionally, the rivers and waterfalls that are a draw for so many sometimes dry up during this season. There's also, of course, the chance of wildfires to consider — but if you can get past all that, you may just get a once-in-a-lifetime view of the park!
Click here to see RVshare rentals near Yosemite National Park in California.
Maui, Hawaii
Whether it's sunbathing on the beach or hiking through the rainforest that's captured your interest, there's a reason Maui is one of the most popular of the Hawaiian islands. And if you want the opportunity to experience everything this beautiful island has to offer, November is a great time to do it.
Temperatures hover between the high 50s and mid-70s, and this island tends to see less of the rain that comes for the island chain during this time of year, especially along the southern beaches.
While you obviously won't be driving an RV to Maui (unless you already live there), you can certainly fly out to the island and pick up your rental upon arrival. There are a variety of camping options around the island in convenient proximity to the activities and attractions you're most drawn to.
Click here to see RVshare rentals on the island of Maui, Hawaii.
San Francisco, California
Talk to a few San Francisco natives for a while, and chances are you'll hear about the area's "reverse" seasons: foggy, cool summers are followed up by surprisingly warm, clear autumns, and November is the perfect time to experience the unseasonable seasons.
The later in the month you go, the more likely it is to be chilly. But considering that you'll be missing out on some of the crowds of tourists you'd find during the high summer travel months, it's more than a fair trade, in our opinion.
On top of all that, if you make your way to the Bay Area after Thanksgiving, you'll be able to participate in some of the local holiday season festivities, including the SF Festival of Light and the Union Square Tree Lighting
Click here to see RVshare rentals near San Francisco, California.
Asheville, North Carolina
One of the best places to go not only in November but literally any time of year, Asheville has been making a splash in the travel industry for good reason. This western North Carolina mountain town is adjacent to the Blue Ridge Parkway, and also has one of the highest numbers of breweries per capita in the entire United States.
From hiking, climbing, and waterfall-chasing to sitting back with a cold one (or a hot cup of single-origin coffee), there's something for everyone in Asheville… especially if you consider yourself just a little bit weird.
Click here to see RVshare rentals near Asheville, North Carolina
Tucson, Arizona
If you're looking for warm places to visit in November, don't think your options are limited to Florida — although there's certainly plenty of great stuff to see there, too.
This southern Arizona city also sees temperatures as high as 75 throughout the month, and the lack of humidity makes it a better time than ever to go out and meander among the cacti that punctuate the hills in Saguaro National Park.
There's plenty more to see and do in this college town, and the ever-present sunshine makes even 40-degree days seem shirt-sleeve mild. Grab a drink or a coffee at one of the downtown bars or discover the fascinating world inside Biosphere 2.
Click here to see RVshare rentals near Tucson, Arizona.
Charleston, South Carolina
If you're looking for the best place to travel in November for warm weather, don't let this southern gem escape your notice. As well-known for its historical attractions as its modern-day food scene, Charleston is also blessed with mild temperatures year-round. This includes November, when temperatures hover between 55-65 degrees.
The area also stays relatively dry during the winter, seeing only four days of rainfall in November on average. You'll have plenty of opportunity to explore all the unique sites and attractions, from the remnants of old plantations to the famous seaside edifice of Fort Sumter.
Click here to see RVshare rentals near Charleston, North Carolina.
Jackson Hole, Wyoming
If you're willing to don a few layers, Jackson Hole is one of our favorite places to go in November. Depending on when you go, you may be treated to a few relatively mild days with temperatures as high as 40 degrees. If you come later on in the month, you can burn off your Thanksgiving Day feast by taking advantage of one of the most celebrated ski bowls in the country.
Even if you're not much for venturing out in the freezing cold, the view alone is worth traveling for. Bison and elk grazing in the shadow of the Tetons doesn't get old, even if the weather is frigid — especially when you've got something warm (or warming) in your cup!
Click here to see RVshare rentals near Jackson Hole, Wyoming.
Camping in the Mountains: What You Need to Know
Mountain views and national parks may be epic, especially during the fall. But there are a few special considerations to keep in mind when it comes to mountain and cold-weather camping. This is definitely true in areas where dipping temperatures and high elevations mean the roadways could become icy overnight. Unlike summertime travels, cool-weather camping takes some preparation if you want to keep yourself safe, happy, and comfortable.
Here are a few brief reminders to help ensure your trip is as successful and simple as possible.
Bring (and wear) lots of layers.
The leaves aren't the only thing that fall during fall — temperatures can also take a dip, especially when you're traveling in high-elevation areas. Mountains are unpredictable, weather-wise; it might be below freezing at dawn but climb as high as the 60s or 70s by noontime.
The best way to prepare for this forecast? You've heard it before, and you're about to hear it again: layers, layers, layers! By wearing layers, you'll trap micro pockets of air that help insulate you and keep you warmer. Just as importantly, you'll be able to gradually shed them once things start heating up. For best results, choose moisture-wicking fabrics and avoid cotton, especially if you're planning on doing any outdoor adventuring. Even in the chilly air, you'll still sweat with exertion… and you don't want to have that clammy fabric stuck to you on the wind-blown top of a mountain.
Be sure to check the weather, and often.
The only thing fall is better known for than its gorgeous leaves is its totally unpredictable weather. That's part of why it's a shoulder season for so many American destinations — the day's adventures can easily be rained out at the last minute!
Of course, that doesn't mean you should cancel your upcoming trip. But it does mean that you'll want to be aware of the latest weather forecast, especially if you're headed to an area known for its rainfall. The good news is, modern technology makes it super simple to have up-to-the-minute forecasts delivered right into the palm of your hand. With the use of apps like Dark Sky, users can get weather-related smartphone push notifications.
Keeping an eye on the weather can help you in your trip planning by helping you steer clear of destinations where getting rained out is likely, but it can also help you tweak your day's plans once you arrive. Even if gray clouds keep you from your original outdoorsy intention, chances are you can still find some fun indoor stuff to do in town, from hitting a museum to catching a movie. (And if not, there are always good ol' arts and crafts to fall back on!)
Make sure you prepare your rig as well as your wardrobe!
Given the weather-related shenanigans we've already covered, chances are you're going to want to bring your rain boots and raincoat as well as your hiking shoes and cute fall scarves and hats. And having an umbrella handy certainly never hurt anyone, either.
But when it comes to wind, rain, and even potential snowfall, preparing your RV for the great outdoors is just as important as preparing your personal closet.
Start by stocking your rig with the amenities that help make fall's chill feel cozy rather than crazy. Bringing a soft, indulgent blanket or favorite mug can make all the difference when an autumn storm's a-brewing. If you're headed somewhere where temperatures could fall below freezing, you'll want to make sure your RV is winterized so those cold nights don't mean frozen pipes or damaged systems. (If you're taking an RV rental, be sure to ask which steps have already been completed and which you're responsible for.)
Winterizing an RV takes some practice to get used to, but once you've done it a couple of times, it's a walk in the park. From adding RV antifreeze to your plumbing system to finding inventive ways to stay insulated and warm, here are some insider secrets for comfortable winter (and late fall) camping.
How to Pack for Fall Travel
You likely already have a few favorite fall outfits, whether you're traveling or holed up at home. I mean, when else do you get to break out the adorable sweaters and boots that are a bit too warm for summer, but not quite cozy enough to keep you safe in winter's snows?
But when you're traveling by RV, your fall clothes have to be about more than just fashion. They have to be functional, too.
Your fall travel essentials list will depend on your destination and planned fall activities. After all, some parts of the country are a lot chillier than others during this transitional season!
At a bare minimum, however, you'll need a jacket or a coat for each camper on board. You don't want a day's outing ruined because you were too cold to enjoy it.
Along those lines, you'll want to ensure that each camper has several days' outfits composed of many layers. In fall, days start out chilly and get warm before cooling down again, so your togs need to transition!
If you're going to be spending ample time outdoors, choose lightweight, moisture-wicking materials that will help keep you warm and dry even if you're sweating. If you're planning on taking a long walk around a city or hiking through a scenic park, you'll also want to make sure you have some sturdy shoes. Hiking boots are wonderful, especially if they're waterproof! If you'll be walking in urban areas, you'll want some comfortable athletic shoes.
You can have extra fun with your fall travel wardrobe because when the temperature's unpredictable, it's all about layers! Spice up outfits that you usually reserve for summer by adding fun accessories. You can totally still wear dresses, for instance… just as long as you pair them with tights, socks, and scarves.
One more thing: Don't forget to pack your trusty travel bag so you have a way to carry around those extra layers once you start shedding them at midday. It might be a backpack, a messenger bag, or even a large purse — but no matter what you choose, you'll be happy you don't have to walk around with your coat and your sweatshirt tied around your waist.
Packing Tips for Fall Travel
Now that we've talked about what to pack for fall travel, let's touch briefly on another issue: Actually packing it!
Unlike during summer travel, the stuff you need to bring for fall is bulky. Sweaters, sweatshirts, coats, and rain boots all take up lots of space, whereas simple cotton dresses and bathing suits don't!
But that's one of the best parts about traveling by RV: You have ample room to bring all you need with you for your journey — and honestly, probably more than a few things that you don't. Overpacking is a common problem for RV campers.
In order to ensure you've got enough, but not too much, fall wear for each camper, check out your planned itinerary and ensure that every member of your party has at least one outfit for each day, with a few backup outfits or extra outfits if special activities are planned. One or two extra pairs of underwear or socks are never a bad idea (and barely take up any room at all) — but there's no reason anyone needs more than one coat or pair of hiking boots!
Take a Fall Drive to Remember
Although these amazing mountain ranges make incredible fall destinations, there are plenty of other places to go and leaves to peep, no matter when in the season you're traveling or where you're starting.
For example, we've written before about some of the best fall destinations, no matter what your travel goals are. Maybe you're looking to thaw out from the dropping temperatures by a southern beachside, or maybe you're looking to find some even chillier days in the mountains. It's all up to you — which is one of the best parts of RVing! Here's how to choose your next destination mindfully.
Fall is also one of the most active seasons for festivals and events, whether you're looking for a family-friendly pumpkin patch or an Oktoberfest romp. Here are a few fall festivals to check out in your RV this year, as well as our long list of exciting Oktoberfest celebrations to put on your travel bucket list.
Finally, we've got plenty of other suggestions if a long and winding fall road trip just isn't in the cards for you this year. You could grab the kids and a few last-minute necessities and pack into the travel trailer for a quick weekend getaway — it can be just as satisfying as a longer trip, we promise. Or, you could just get in the car and go out for a beautiful, scenic drive; a single afternoon of adventuring is way better than no adventuring, after all! Here are the most un-missable scenic routes in every single one of our 50 states, as well as an all-star list of the most gorgeous drives in the country.
Other Ideas for Fall Activities
Along with leaf peeping, here are a few more activities you can enjoy during crisp autumn weather!
Get crafty.
From hand turkeys to pine cone wreaths, there are tons of ways to get creative this fall — and an arts and crafts session makes a perfect rainy day activity for kids of all ages.
Pile the kids into the wagon for a hay ride.
Farms and parks across the US host fun fall festivals, especially in places known for their changing leaves.
While you're at your destination, check for these family-friendly activities in your area… and if hay rides are available, try one out! It's a simple way to feel like you're taking a step back in time, and the whole family is sure to remember it for years to come.
Don't forget to visit the pumpkin patch!
Whether you plan to make it into a pie or carve a Jack-o'-lantern, it isn't really fall if you haven't visited the pumpkin patch. Plus, this is one of the easiest local fall activities to participate in. No matter where you are in the world U.S., you're sure to find a pumpkin patch.
Head to an orchard for the freshest fruit you've ever had.
They don't call autumn harvest season for nothing. All sorts of wonderful produce is just hitting its peak — and if you've never enjoyed your favorite fruits picked fresh from the vine or tree, you're in for a delicious (and healthy!) surprise.
Apple orchards are a favorite, and many make their own cider, apple fritters, and other apple goodies each and every day. Enjoying a fresh, hot treat is the perfect way to wind down after a busy day of fruit picking!
Try your luck — and sense of direction — in a corn maze.
If you're looking for romantic fall activities, it's hard to top getting lost with your sweetheart… without having to worry about being in any real danger.
Autumn is the perfect time to try out a corn maze at a local fall festival or farm. Plus, you can finally decide once and for all which of you has the better sense of direction!
A corn maze is also a great idea if you're looking for fun things to do in the fall with friends. After all, the more people are trying to solve the puzzle, the less likely you are to get completely, hopelessly lost. (At least in theory.)
Happy fall, campers — get out there and see it while you can. Because as beautiful as those changing leaves may be, they never seem to last long enough!
This post may contain affiliate links.