Travel Inspiration
Last updated on January 16th, 2023. Originally published on March 31st, 2019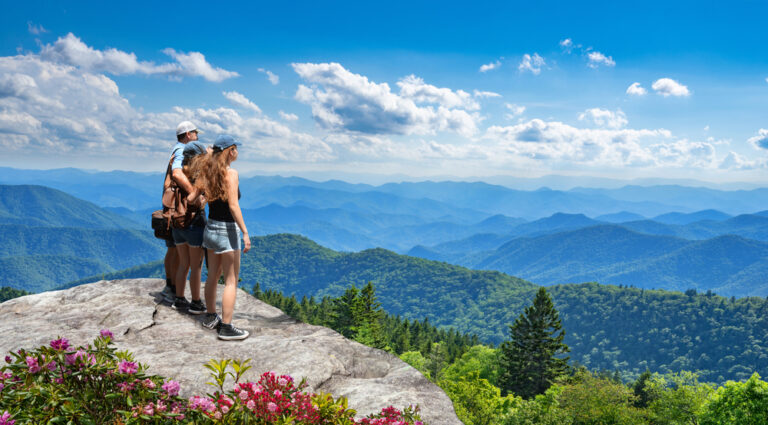 Looking for an amazing destination for your upcoming summer vacation? (Or fall frolic, or winter getaway, for that matter?)
Whether you call the east coast home full-time or you'd have to come from further afield for the experience, there really is nothing like a Great Smoky Mountains camping vacation — especially for RVers.
In fact, this sprawling national park is actually the most popular in the country… not to mention one of the only NPS-managed locations that's totally free to enter. Straddling two states and covering more than 520,000 acres, it's a one-of-a-kind landscape that's full of adventures to be had and camping memories to be made.
Why Great Smoky Mountains National Park Should Top Your Travel List
So, what draws the visitors who make this park the most-trafficked one in America? There are more than 11,000,000 of them each year… so they must be onto something!
Well, for one thing, as mentioned above, there's no entry fee to visit Great Smoky Mountains National Park, which sets it apart from other popular NPS destinations like Yellowstone and Glacier. It's also one of the largest parks in the country at more than 800 square miles, and its east-coast location makes it more convenient for visitors hailing from metropoles like New York and Boston.
But no matter where you're coming from (and even if they one day do decide to implement a gate fee), there are plenty of reasons to put the Great Smoky Mountains towards the top of your to-visit destinations list. The park is home to hundreds of miles of hiking trails, ranging from mellow strolls to challenging climbs, as well as some of the best whitewater boating opportunities in the country. You can swim in a backcountry lake or slip and slide down a waterfall, and observe wildlife ranging from black bear and deer to the south's famous fireflies. Great Smoky Mountains National Park is also a world-class destination for birders, who can observe its more than 240 species, including woodpeckers, owls, chickadees, warblers, and sparrows — just to name a few.
Fishermen (and women) also favor this park, whose streams teem with trout and bass. Fishing is permitted in all the park's streams year-round, from 30 minutes before sunrise until 30 minutes after sunset.
Obviously, the outdoor adventure opportunities here are endless — but that's really just the beginning of this vacation destination's appeal. The nearby gateway towns of Gatlinburg and Pigeon Forge offer an array of entertainment options, from fine dining to rollicking dinner shows and moonshine tastings. Shop, sip, or sit back and enjoy spa treatments, all in the shadow of some of the most beautiful and iconic mountains in America.
7 Can't-Miss Things to Do in the Smoky Mountains
So once you get to this killer national park, what, exactly, should you do there?
We're so glad you asked. Although this list could honestly be endless, here are seven things you absolutely cannot miss when you're traveling in the Smoky Mountains.
1. Take in the view from Clingmans Dome.
Clingmans Dome enjoys several superlatives: not only is it the highest peak in the Smoky Mountain range, but it's also the highest point in the entire state of Tennessee — and the highest point along the entirety of the Appalachian Trail's 2,174 miles.
In other words, you obviously have to see it for yourself. And the good news is, it's relatively accessible. You can drive most of the way up and then hike the short, but steep, paved walkway to the top of the observation tower. However, although there are no stairs, the ramp is still too steep to be wheelchair accessible. It may only be a half-mile "hike," but you'll gain more than 300 feet in elevation, which translates to a grade of almost 13%!
2. Unleash your inner naturalist on the Spring Wildflower Pilgrimage.
All that talk about the smoky mountain rain has at least one favorable effect: every spring, the landscape transforms into a blanket of color, with wildflowers lining every forest-strewn trail. It's way more beautiful in person than we could ever describe it in a blog post… and if you want a front-row seat to all the action (and a little bit more knowledge about that flamboyant flora), there's no better way than to participate in the annual Spring Wildflower Pilgrimage.
Just about to celebrate its 70th birthday, the Spring Wildflower Pilgrimage is a Smoky Mountain National Park tradition — and easily one of the most relaxing "conferences" you'll ever attend. Instead of sitting through lectures, participants take to the trails with knowledgeable guides, who take the time to stop and smell the roses… or at least to identify and photograph the trillium, iris, and orchids that run rampant in this part of the country.
Sign-ups go fast and tickets sell out, however, so it's imperative that you plan your pilgrimage ahead of time. (It looks like you can still register for the 2019 event, which takes place over the last weekend in April, but you might not get first choice for the specific hikes and talks you want to attend!)
3. Hike to the top of Mount LeConte — and reward yourself with an exclusive stay.
Standing at 6,593 feet, Mount LeConte is the third-tallest peak in the park… and hoofing your way to the top is no joke. But it's also super-rewarding, widely regarded as one of the best Smoky Mountain hikes — and the only way to enjoy a stay at the unique Great Smoky Mountains National Park institution that is LeConte Lodge.
Imagine waking up with the dawn, watching the fog the range is named for gradually rolling off the peaks as you sip a fresh cup of coffee. Breakfast is being dished up in the nearby cafe, the scents of eggs and bacon sizzling, and you can hear the birds singing their first, early-morning songs.
Even better: there's no cell phone or laptop to distract you from this serene vista. At LeConte Lodge, the accommodations are comfortable, offering kerosene lamps and propane heaters… but there's no electricity to speak of. So just sit back, relax, and get ready for the hike back down the mountain. (After all, depending on which trail you took, you had to gain almost 3,000 feet in elevation during the hike to get here!)
The most popular way to the top is also the steepest: Alum Cave Trail, which meanders through its namesake rock formations before depositing you at the summit after a 5.5-mile, 2,763-foot climb. Although it's relatively short, it's very challenging, taking a fit hiker approximately four hours for the one-way journey.
Other options include Rainbow Falls and Trillium Gap, each of which measures 6.5 miles; Bullhead at 7.2 miles and about five hours; and Boulevard, 8 miles and about 5 1/2 hours. Parking is available at each trailhead — and no matter which you take, be sure to bring plenty of water!
4. Live it up in Gatlinburg and Pigeon Forge.
It's a well-known fact that most of the national parks have quaint, walkable gateway towns, thriving on the profit of natural tourism. And while, yes, most of these cute little bergs have similar offerings — tourist-town staples like fudge shops and T-shirt stands — these two nearby Tennessee cities really outdo the competition.
Pigeon Forge is a little bit further off from the park gates, and its biggest claim to fame is probably Dollywood — the theme park and entertainment center started by Dolly Parton, who calls this neck of the woods her hometown. There's also a Titanic-themed museum attraction, a Hollywood Wax Museum, the Hatfield & McCoy Dinner Show, and interactive fun for the whole family at WonderWorks. We're not kidding when we say this is just the tip of the iceberg, so be sure to do some Pigeon Forge exploring (…forging?) of your own!
Gatlinburg is immediately adjacent to the park and thus a "gateway town" in the more traditional sense of those words — and it's just as chock-full of things to see, do, and taste. Get a glimpse of the range from a different perspective from the top of the Gatlinburg Space Needle or by riding the Gatlinburg sky lift, or transport the family to a whole different kind of wild wonderland by wandering through Ripley's Aquarium of the Smokies.
All that adventuring takes fuel, of course — and there's no shortage of places to get it in either of these two towns. Some favorites include The Old Mill in Pigeon Forge, which is run out of a legitimate, historic gristmill, and the down-home, no-frills, local Gatlinburgian favorite Delauder's Barbecue. (Oh, and did we mention you can wash down everything with the freshly-distilled moonshine available just about on every street corner? Whether you sip at a tasting flight or split a bottle, you'll certainly get an authentic taste of Appalachia.)
5. Get your ghost town on at Elkmont.
Do you know the reason the Appalachian Mountains — of which the Smoky range is a part — are so much shorter than the Rockies?
It's because they're older. Much, much older, in fact. And that means they're home to all sorts of history, some of which has left decidedly spooky artifacts in its wake.
Take, for instance, the town of Elkmont, Tennessee, which in its time has been home for pioneers and loggers, before turning into a resort escape for the early 20th century's wealthiest elite. Today, it's tucked within the confines of the park itself, and is home to both a ranger station and campground. (Which means, yes, you can stay there if you're brave enough. It's RV friendly, and while it doesn't offer hookups, it does have a dump station on-site.)
Although nothing unseemly happened in Elkmont — at least, nothing that was recorded — the area has a decidedly ghost-town-esque feel today, with its empty cabins and social gathering points, some of which have been restored. And beyond the creepiness factor, it's also fascinating from a historical perspective: Elkmont was actually the place where the idea for Great Smoky Mountains National Park was first born, all the way back in 1920, when Willis P. Davis and his wife Anne, got the idea after a visit to Yellowstone.
6. Sit back and relax (or get really pumped) for the Cades Cove scenic route.
When most people think of the Great Smoky Mountains, it's a very particular image that comes to mind: lush greenery overhanging narrow mountain trails, a babbling brook alongside perhaps leading later to a waterfall.
And to be sure, that's exactly what the Smokies are like in a lot of places. But where there are mountains, so too are there valleys — and Cades Cove is the perfect place to experience this alternative view of Appalachia.
Surrounded by mountains on all sides, Cades Cove opens up into a broad, green valley floor, which you can experience in a variety of ways. But the two most popular are driving its 11-mile scenic loop, a leisurely venture which frequently takes an entire afternoon… or cycling it, instead. (So, yes, you can basically choose between taking a break from hiking or working your legs even harder.)
Whether you sit or spin, you'll want to stop along the way to enjoy the groups of wildlife that frequent this special place, from white-tailed deer to black bears, coyotes, groundhogs, and more. There are also an abundance of hiking trails in the vicinity so you can get even more up close and personal with the landscape on foot.
Interested in taking the cycling route, but didn't bring your own bike along for the journey? You can rent a pair of wheels at the Cades Cove Campground Store. (And yes, the campground is also RV friendly for rigs up to 35 feet in length.)
7. Transport yourself to an alpine wonderland at Ober Gatlinburg.
As many charms as the Appalachian Mountains bring to the table, they're not as well-known as their west-coast brethren for their skiing potential. There's just something to be said about having taller mountains if you're hoping to slide down them on snow!
But that doesn't mean there isn't any skiing in the Smokies. And when you head up to Ober Gatlinburg to try out the east-coast slopes, you can also spend time ice skating, snow tubing, shopping, dining, riding thrilling roller coasters, and more.
Almost as exciting as the slopes themselves: the Aerial Tramway you can take to view them from above. A 2.1-mile ride, it soars a stunning 11,000 feet over the town of Gatlinburg, so hang on tight if you're afraid of heights… and whatever you do, don't forget your camera!
Smoky Mountains Camping: Where to Stay
By now, you're probably convinced that the Smokies deserve a spot on your to-see list. But where will you stay when you get there?
There's no way to experience this amazing mountain range quite like sleeping under its stars — and when it comes to camping in the Smokies, you've got plenty of options. Whether you're looking for a private, resort-style campground with all the amenities or a low-key, affordable spot on public lands to lay your head, here are some RV-friendly accommodation options.
Private Campgrounds Near the Great Smoky Mountains
Cove Creek RV Resort offers impeccable mountain views while providing all the comforts of home, with full-service RV sites you can rent or even purchase. Rates vary depending on your specific options and which season you'll be visiting, but weekly and monthly discounted rates are available — as are discounts for AAA, Good Sam, and AARP members, as well as first responders and active-duty military. Cove Creek also offers daily and monthly RV storage, though it isn't under roof cover.
Smoky Bear Campground and RV Park is located in Gatlinburg, Tennessee, so you'll have a front-row seat for all the goings on both inside and outside of the park proper. Amenities include full-hookup sites as well as a heated pool, bathhouse, and laundry facilities; you can cook a stellar meal in the fully-functional, well-stocked clubhouse kitchen. Rates start at $48 per night for back-in, 30-amp sites, but only go up to $53 for 50-amp pull-thrus (with some surcharges during high-volume travel seasons and holidays). Cabin rentals of a variety of sizes are also available, whether you're traveling solo or bringing the whole family.
Smoky Mountain Premier RV Resort Contact the campground directly for current rates. caters specifically to large rigs, so if you're traveling in a 45-foot diesel pusher, be sure to check them out. Recently acquired by KOA, this campground is in the Pigeon Forge area, and offers playgrounds, corn-hole, horseshoes, laundry facilities, and a fitness room on top of its generous, full-hookup campsites. ()
Jellystone Park Pigeon Forge keeps the whole family busy and smiling from the start of your vacation to its very end — even if, for some reason, you never have a chance to get into the park itself. With tons of fun and family-friendly activities (not to mention the wider range of things to do in the town of Pigeon Forge), there's no end of mountain shenanigans to get into when you stay at Jellystone.
Swim in the on-site pool or reel in some all-but-guaranteed catches from the stocked trout pond. Maybe take a day away from the park to enjoy a themed weekend activity with the kids. Economy, standard, and premium RV sites are available, starting at $39, $49, and $59 per night, respectively. The campground also offers "glamping tents" and cabin for those who aren't traveling by RV.
Yogi in the Smokies is tucked just about in the middle of the park from North to South, in the North Carolina gateway town of Cherokee. It's got many of the amazing activities and amenities you expect every time you stay at a Jellystone family resort, all coupled with the relaxing atmosphere of a town that's not quite as hustlin' and bustlin' as Gatlinburg and Pigeon Forge. And you're still just moments away from the park gates, including many of the most popular in-park attractions, like Clingmans Dome and the Continental Divide.
Park extras include a craft center and game room for when rain clouds keep you off the trails, as well as on-site trout fishing and four-wheel bike rentals for those days you just can't quite make it to the park, but still need some sun. Depending on the options you choose, sites start as low as $45 nightly, and a one-night deposit will be taken when you make your reservation (except during holidays, when the full amount will be immediately due).
On-Site Campgrounds within Great Smoky Mountains National Park
Great Smoky Mountains National Park is home to a plethora of on-site campgrounds, including some backcountry options. Nine of its NPS-managed locations are developed, and of these, eight are at least somewhat RV-friendly, though size restrictions vary — and none of them offer full hookups, though some very limited electric connections are available in certain campgrounds for those with medical needs. In all cases, advanced reservations are highly recommended, and can be made either online or by phone call.
Here are the on-site campgrounds in Great Smoky Mountains National Park that allow travel trailers and motorhomes.
Abrams Creek Campground has 16 available sites, which are open between May and October. The maximum RV length is 12 feet, and the nightly fee is $17.50.
Balsam Mountain Campground offers 43 sites for RVs up to 30 feet in length, and is also open seasonally. The nightly fee is $17.50.
Cades Cove Campground is a great place to create a home base while you explore the park, and welcomes RVs up to 35 feet in length. It offers 159 sites for $21-$25 per night, but they go quickly, so be sure to make your reservations as soon as possible!
Cataloochee Campground is open to RVs up to 31 feet in length, but is accessed by a long and winding gravel road that may prove difficult for certain rigs. The nightly fee is $25, and advanced reservations are not just recommended but required throughout the entire season.
Cosby Campground accommodates RVs up to 25 feet in length between May and October, and its 157 sites can be rented for $17.50 nightly.
Deep Creek Campground sits, despite its name, at 1800 feet of elevation, and RVs up to 26 feet long are welcome. Spots cost $21 per night.
Elkmont Campground is, as discussed above, RV-friendly, accommodating travel trailers of up to 32 feet and motorhomes of up to 35 feet in length. It also features nearby dump station access, and its 220 sites are available from $21-$27 nightly.
Smokemont Campground has the most generous size restrictions, allowing trailers of up to 35 feet and motorhomes up to 40. Its 142 sites go for $21-$25 per night, and it's open year-round.
For even more information on onsite RV camping at Great Smoky Mountains National Park, and for access to links to make reservations, please click here.
RVing to the Smoky Mountains — and Beyond
If you've been researching Smoky Mountain getaways for any amount of time, chances are you've come across a whole lot of advertisements for cabin rentals and other accommodations. And don't get us wrong, those can be an excellent way to enjoy this unique countryside.
But it's our opinion — no shock here! — that an RV is the very best way to experience America's favorite national park.
For one thing, you'll have the opportunity to stay within the park boundaries… and when you're talking about a park that sprawls 800 square miles, that makes a big difference. You want to hit those hiking trails as early as possible, and depending on where you stay, they might be as much as a full hour away from your hotel — or even longer. An RV puts you in the best position to make the most out of your vacation.
What's more, traveling by motorhome is just plain convenient in ways other road trips can't emulate. You don't have to worry about unpacking and repacking your suitcase in multiple hotel rooms (not to mention paying their high prices), and you'll know exactly when your sheets were last changed — which is a pretty nice perk, even if the trade-off is having to do it yourself. 😉
Finally, we know the cost of RV rentals is one of the largest line items on a camper's budget, which is exactly why we're so proud of what we've built here at RVshare: one of the largest peer-to-peer RV rental marketplaces, which connects savvy campers like you with affordable, well-kept, cozy vacation vehicles. Since all monetary and communication transactions take place through our secure platform, you never have to worry about the safety of your sensitive information, and all of our rentals are backed by A-rated insurance coverage from beginning to end. And since you're renting from regular people, just looking to repay themselves and fund their own adventures, you benefit from their passed-down cost savings. (After all, they don't have to worry about keeping the lights on at a big dealership floor or hiring a customer service team.)
Whether you fly in and rent on-site or find a rental near you and make the journey, an RV is a great way to experience Great Smoky Mountains National Park — and any other destination you may be looking forward to.
Enjoy your trip!
This post may contain affiliate links.