Yellowstone National Park
WIDE-RANGING INVENTORY
From affordable pop-ups to luxury motorhomes
LARGEST RV RENTAL MARKETPLACE
Thousands of 5 star reviews from happy customers
SECURE AND MOST TRUSTED
24/7 Emergency roadside assistance on every booking
Yellowstone National Park
Yellowstone National Park has the distinction of being the very first National Park ever formed in the country. It covers almost 3,500 miles, including areas of Wyoming, Montana, and Idaho. Yellowstone sits on top of a dormant volcano and is home to more geysers and hot springs than anywhere else on earth. Those features, along with sweeping views of the Rocky Mountains, and glimpses of a variety of wildlife that call the park home, offer plenty of things to explore within the park.
Since most of Yellowstone is over 6,000 feet above sea level, weather in the park is unpredictable. You can expect rain or snow during every month of the year, so no matter when you visit, bring a warm jacket and rain gear and layer up. Spring and fall temperatures tend to be in the 30s-60sF during the day and drop to the teens and single digits at night. During the summer, temperatures are usually around 70-80F with cool nights that may still drop below freezing. And during the winter, temps can range from 0-20F during the day and dip below zero at night.  
There are several towns outside the park, including the popular vacation destination of Jackson Hole, WY. Whether you want to head out on a horseback ride or fishing trip, or indulge in upscale shopping and dining, you'll find something to suit your tastes in Yellowstone and the nearby towns.
Read more
Weather
Spring 30-60 F
Summer 70-80 F
Fall 30-60 F
Winter 0-20 F
Park Info
Yellowstone National Park Private Vehicle: $35
Yellowstone National Park Motorcycle or snowmobile: $30
Yellowstone National Park Per Person: $20
RV Rentals Near Yellowstone National Park
Nearby RV Rentals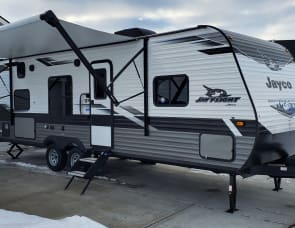 Jayco Jay Flight SLX 8 264BH
2022 / Travel Trailer Thor Motor Coach Four Winds 26B
2019 / Class C Motor Home
Yellowstone National Park Hiking Trails
There are many places in Yellowstone to hike. Get a better look at Old Faithful and surrounding hydrothermal activity, spend a day at the lake, or tackle a mountain peak for a birds-eye view of the park. Be sure to bring plenty of water and check these safety tips before you leave to ensure a great hike!
Lake & Fishing Bridge Trails
Things to do Outside Yellowstone National Park
After you've visited the geysers and hiked the mountains and streams of Yellowstone, you may be ready to try some other adventures nearby. Enjoy a delicious meal, search for unusual souvenirs, or visit a museum to learn more about the area. Here are a few of our recommendations for activities around Yellowstone National Park.
Discover Nearby Towns and Cities
RV Resorts & Campsites in Yellowstone National Park
There are plenty of public and private campgrounds available in and near Yellowstone. Be sure to make reservations well in advance, as campgrounds can fill up quickly. Also, most campgrounds are not open year-round, so check to make sure yours is open when you want to travel.
Campgrounds Near Yellowstone National Park
Find the Best Dumpstations Near Yellowstone National Park
An unglamorous but necessary aspect of RVing? Dump stations. Knowing where the best dump stations are near you will allow for more ease and less stress in your travels. Dump stations are an easy and convenient way to clear waste from your RV. Use our guides to find dump stations on your route, so you can get back to the good stuff – exploring, relaxing, and making memories on the road.
Dumpstations Near Yellowstone National Park
How to get to Yellowstone National Park
There are many options to get to Yellowstone National Park. You can reach the park by plane, car, or RV. Yellowstone has five entrances, depending on which direction you'll coming from. Note that the only road to the park that is open year-round is from the North Entrance at Gardiner, MT, through the park to Cooke City, MT. During the winter, most other park roads switch to oversnow travel and can only be reached by snowmobiles and snowcoaches.
Another way to travel to and through Yellowstone is by renting an RV. RVing allows you to travel in comfort and to move with ease. If you don't own an RV, RV rentals are available. You can fly into town and rent an RV near Yellowstone, or consider renting one in your hometown to drive to the park.
There are plenty of RV campgrounds in and around Yellowstone, just be sure to check that the campground is open at the time of year you're planning your trip. Also, keep in mind that most sites require you to make reservations well in advance.
If you're flying into the area, Jackson Hole, WY has the closest airport and offers flights from a few major airlines. Billings, MT will likely offer cheaper flights and is about 172 miles away. To reach the park, take I-90W to US-89S in Livingston. Drive to US-89 which will take you into the park.
Frequently Asked Questions
Is Yellowstone National Park accessible for disabled visitors?

Yellowstone National Park is accessible for disabled visitors, and the park is continuing to add accessible facilities. Currently, there are accessible visitor centers, boardwalk trails, and a variety of areas in the park that are able to be accessed by wheelchair. Sign language interpreters are available, along with audio descriptions for the visually impaired.

Are pets allowed at Yellowstone National Park ?

Pets are allowed at Yellowstone National Park. Pets can be in developed areas and are required to remain within 100 feet of roads, parking areas, and campgrounds. Pets can not be on boardwalks, hiking trails, or in the backcountry. Pets must be on leashes no more than six feet long.

Do you have to reserve a camping spot at Yellowstone National Park ?

Yes, you have to reserve a camping spot at Yellowstone National Park. Yellowstone has 12 campgrounds and more than 2,000 campsites and almost all campsites must be reserved in advance. Campsites at Mammoth Campground are first-come, first-served from October 15 - April 1. If you arrive at Yellowstone without a reservation, it is very unlikely you will find a campsite at the park.

What are the top things to do in Yellowstone National Park ?

Top things to do at Yellowstone National Park include watching the eruption of Old Faithful, viewing the Grand Canyon of the Yellowstone, and seeing the Grand Prismatic Spring. There are many trails to hike and a variety of outdoor activities throughout the park!

What is the best time of year to visit Yellowstone National Park ?

The best time of year to visit Yellowstone National Park is from late April to May, or from September through early October. These months avoid the busy summer season, but the weather is usually still mild enough that visitors can do plenty of hiking and enjoy other outdoor activities.