How Tos & Tips
May 18th, 2020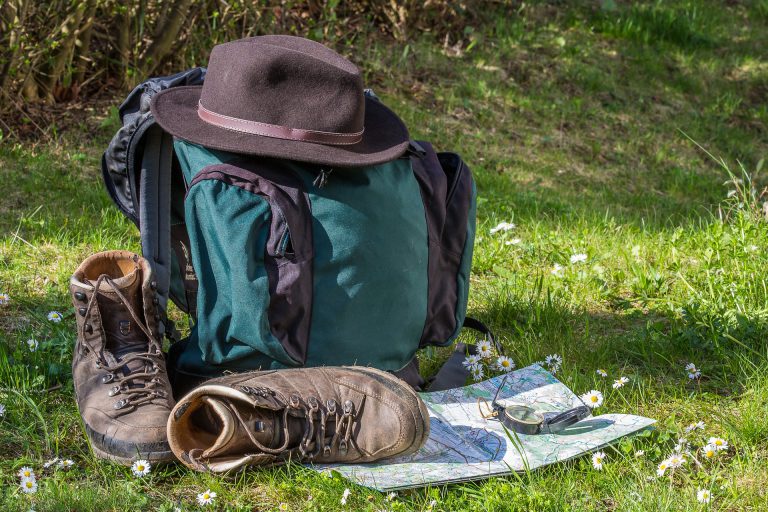 Hiking is a popular camping activity for good reason: It's fun, exciting, and a great way to connect with nature. In fact, we recommend making a point of hiking during each and every camping trip in order to fully enjoy all the area has to offer.
That said, before you head out on any hiking trip, it's important to make sure you are properly equipped. Of course, it's pretty difficult to do this when you aren't sure what to pack. This is where our essential hiking gear list comes into play.
Hiking Gear List
Below we've made a list of day-hiking essentials, so you know exactly what to put into your pack before hitting the trails for the day.
Hiking backpack — Get a good quality bag that will last. A bag that breaks along the trail isn't very useful.
Appropriate attire — Moisture-wicking fabrics are ideal, and wearing layers is good for adjusting to the temperature as the day goes on. Additionally, you will want to ensure you're protected from the sun with a hat and sunglasses.
Hiking boots or shoes — Proper footwear is important for ensuring you have plenty of traction and protection.
Snacks and water — Hydration is incredibly important while hiking. Therefore, water is a must-have item. Packing snack items is also a good idea for keeping energy levels high. Granola bars and trail mixes are ideal for this.
Navigation tools — Getting lost while out hiking would definitely put a damper on things. Avoid this problem by bringing a map, a compass, and any other navigation tools you might need.
First-aid kit — You will want a way to treat minor injuries while you're out exploring. A simple first aid kit is just the thing!
Knife — You never know when you might need a knife. For this reason, a pocket knife or pocket multi-tool is an absolute must-have.
Flashlight — Don't get caught after dark without a light. A simple flashlight could be a lifesaver.
This is just a basic list. You may need to add things based on your needs. Additionally, you may like some suggestions on the best products to purchase to fill these needs. Keep reading to see some of our favorite suggestions.
Dog Hiking Gear
Have a pup you plan to bring along? Your furry friend might need some hiking gear of their own.
Below is the best hiking gear for dogs:
Harness: Ruffwear Front Range Harness
You'll need a way to keep your pooch comfy and contained. The Ruffwear Front Range Harness allows you to do just that.
Leash: Flowfold Trailmate Leash
Of course, a harness is not very useful without a good leash. The Flowfold Trail Leash is the perfect solution. It's made from a recycled climbing rope, meaning it fits right in with your camping gear and is 100% reliable.
Booties: Ruffwear Grip Trex
No pup wants to walk on hot or potentially damaging ground. Ruffwear Grip Trex booties will help protect your pet's feet while also giving them good traction.
Portable Bowl: Outward Hound Port-a-Bowl
Finally, you will want a way to give your dog a drink. A portable bowl such as Outward Hound Port-a-Bowl solves this problem for you.
Luxe Hiking Gear
If you'll be doing more than just day-hiking, your packing list will be a bit longer. You'll need sleeping bags, extra food, a way to purify water, and extra clothes. Additionally, a shelter of some sort will be necessary, and a small stove would be handy to have. We highly recommend Luxe Hiking Gear for both things.
These items are lightweight and high quality, while still remaining totally affordable. We appreciate that the Luxe Hiking Gear company stands behind their products, and love the accessories and hiking rain gear they offer.
Cheap Hiking Gear
There is absolutely no reason you have to spend a fortune to get into hiking. In fact, much of what you truly need can be found at home. Still, you will want a few high-quality tools to get you through your adventures.
Below is a list of the best hiking gear for beginners. These items are affordable yet functional and will ensure you get through your hike safely.
Backpack: Kelty Redwing 50
Coming in at about $125, the Kelty Redwing 50 offers the best bang for your buck. Sure, it is a bit pricier than your typical book bag, but you need something that is going to hold up to your hiking adventures, and this is the cheapest product that will actually do that.
Knife: Mora Companion
The Mora Companion is a surprisingly good knife that will do everything you need it to do for under $20.
Flashlight: J5 Tactical V1-PRO
Simple, super cheap, and completely functional, the J5 Tactical V1-PRO may not be the fanciest flashlight out there, but it gets the job done.
Compass: Brunton TruArc 3 Compass
For a compass that is reliable yet inexpensive, turn to the Brunton TruArc 3 Compass. This thing comes in at around $15 and does the job of navigating quite well.
Ultralite Hiking Gear
If you're planning a longer hike or if you have more to carry, it's important that what you do pack is lightweight.
Here we have listed ultralight hiking and camping gear that works well without adding tons of weight.
Backpack: Zpacks Arc Haul Zip
A lightweight pack that can hold all of your gear and stand up to the abuse of hiking, the Zpacks Arc Haul Zip is an excellent investment. It includes an easy-to-load front pocket, ventilation, and is waterproof.
Jacket: Black Diamond Distance Windshell
The Black Diamond Distance Windshell is completely waterproof, windproof, and incredibly lightweight and easy to pack. While it isn't warm enough for the deep winter months, it should offer enough insulation for most chilly and rainy hikes.
Shoes: Altra Lone Peak 4.5
While bulky hiking boots certainly do have their place, many people prefer a lightweight hiking shoe. This is where Altra Lone's Peak 4.5 shoes come into play. These shoes are ultralight, meaning you won't be carrying any more weight than is necessary.
Water Filter: Sawyer Squeeze Water Filter System
Water is extremely heavy. If you'll be hiking near a water source, you might find it more efficient to pack the Sawyer Squeeze Water Filter and filter water as you go.
Ready to head out on your next hiking adventure? Why not rent an RV and book one of our top 10 campgrounds today? Whether you're looking for expert trails or hiking for beginners, you're sure to find the right adventure for you, so you can make some awesome memories and reconnect with nature.
This post may contain affiliate links.