Drive the Blue Ridge Parkway Between Shenandoah and the Great Smoky Mountains
Travel Inspiration
June 25th, 2019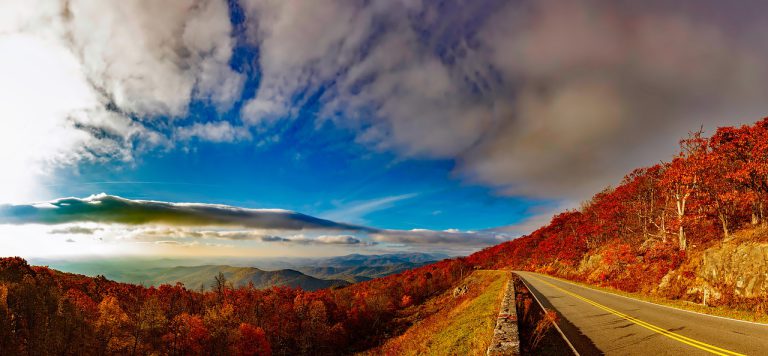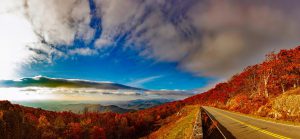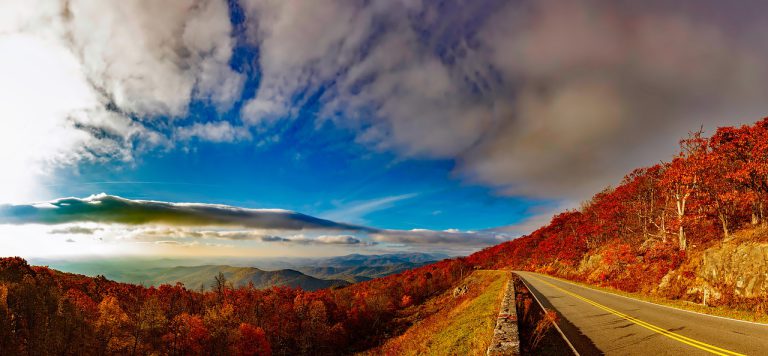 Move over, Colorado — because as high as the Rockies may make you, the east coast mountains have their own special magic. And with a variety of sub-ranges within the Appalachian chain to explore, you could easily spend a lifetime winding your way through them.
In fact, the Appalachian experience is encapsulated in two beautiful national parks: Shenandoah and the Great Smoky Mountains. Both are uber-popular destinations that are absolutely perfect for RV campers, and boast endless miles of forested trails, babbling brooks, and beautiful wildflowers to get lost in. What's more, these two must-see destinations are linked by one of the most iconic scenic routes in the country: the Blue Ridge Parkway, whose sweeping vistas are punctuated by all sorts of fun stops to discover.
But a proper Blue Ridge Parkway road trip is no quick little getaway (although even a leisurely drive with no stops is sure to put a smile on your face). If you want to make the most of your Appalachian Mountain vacation, read on: in this post, we'll talk about all the great stuff to see and do while you're driving the Blue Ridge Parkway, including the most exciting must-sees at each of the national parks.
Blue Ridge Parkway Map
Let's start by outlining your route. Although there are more direct ways to get from the Smokies to Shenandoah, the whole point of this trip is to sit back and enjoy the ride — which is why we assume you'll be taking the Blue Ridge Parkway. Running 469 beautiful miles between Swain County, North Carolina and Rockfish Gap, Virginia, there's a reason it's known as America's favorite drive.
We'll get into all the great stuff to see and do in the national parks this roadway connects in just a second. But first, let's talk about what you won't want to miss along the way.
Asheville, North Carolina
Yes, recommending a whole city is a little bit difficult, because there's so much to see and do within its space. Plus, urban adventures aren't always what RVers are after — but you've gotta trust us when we say Asheville is different. (I mean, the Blue Ridge Parkway does run right alongside it!)
Asheville is a great spot to set up a home base from which to explore the endless beauty in the surrounding countryside. Just about everywhere you turn, there's a waterfall or a whitewater river, and all sorts of expedition guides and adventure tours that are just waiting to help you find them.
The town itself is full of craft breweries, art galleries, and friendly, open-hearted people. And if you really need a dose of fanciness, there's always the Biltmore. Just make sure you clean under your fingernails first!
Click here to see RVshare rentals near Asheville, North Carolina.
Mount Mitchell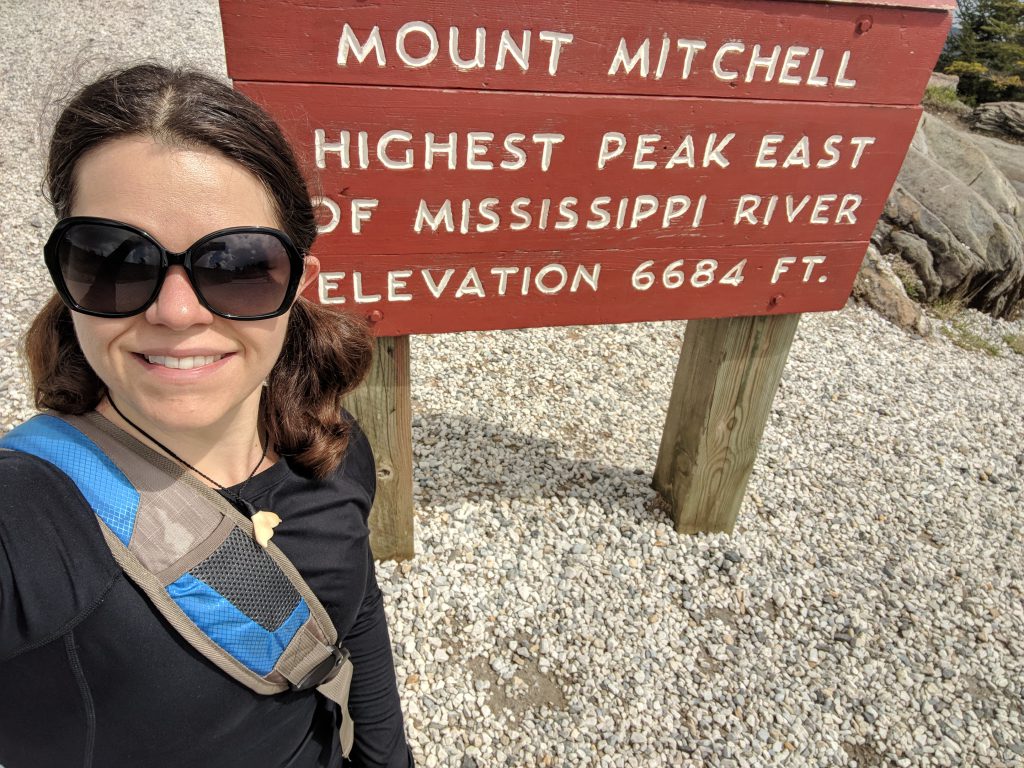 Standing at 6,684 feet, Mount Mitchell is the tallest mountain in the Appalachian range. And if you think that elevation sounds paltry, we challenge you to try the hike from the bottom — which sees more than 3,600 feet of elevation change over the course of 10 round-trip miles. It's definitely a feat of strength, but it's well worth your time and energy. Plus, there's plenty of delicious southern food to fuel your adventures in the nearby communities!
Roanoke, Virginia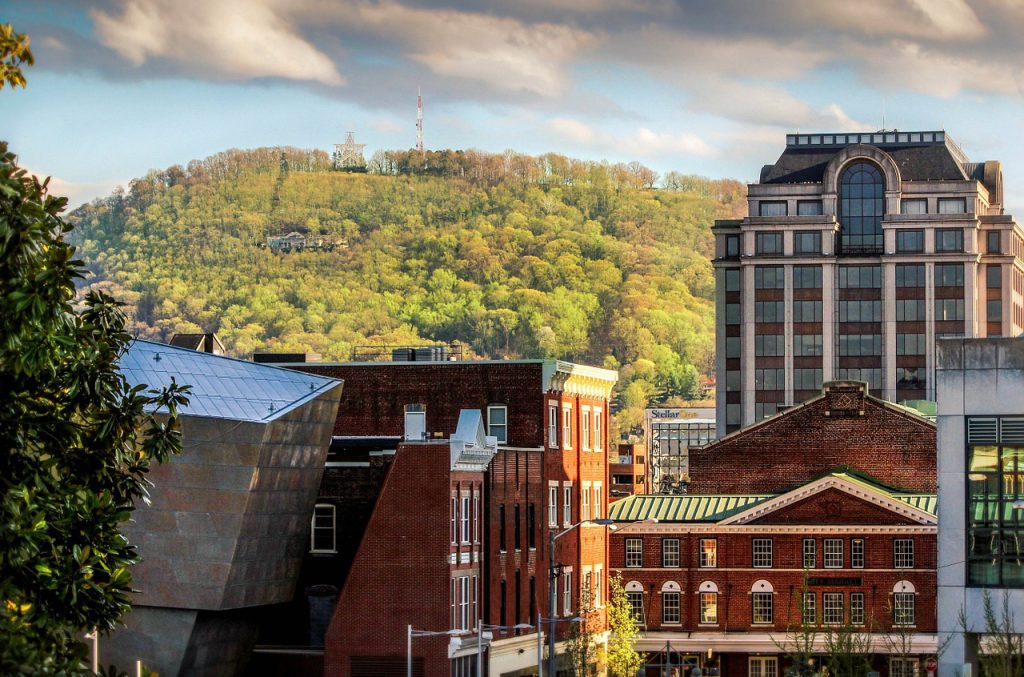 A bustling and artsy town in the heart of the Virginia hills, Roanoke is home to a renowned zoo and a variety of museums, covering everything from vast art collections to the history of transportation. Thanks to its status as a college town, it's safe to say it sees more than its fair share of cultural attractions for a city of its size — just under 100,000 at the last census.
Click here to see RVshare rentals near Roanoke, Virginia.
From outdoor adventures like hiking, kayaking and canoeing to stellar live music venues and ranger-led events, there's no shortage of stuff to get into along the Blue Ridge Parkway. Check out the National Park Service's official website for even more details and an up-to-date calendar.
Great Smoky Mountains
As stunning as the drive is and as much beauty there is to discover along the way, you definitely want to make sure you give yourself ample time to spend in the parks at either end of the drive. And if you have to be stingy with your time, of the two, Great Smoky Mountains probably demands a greater share of your total vacation — after all, at more than 500,000 acres, there's a lot to explore in this national park, which straddles the North Carolina/Tennessee border.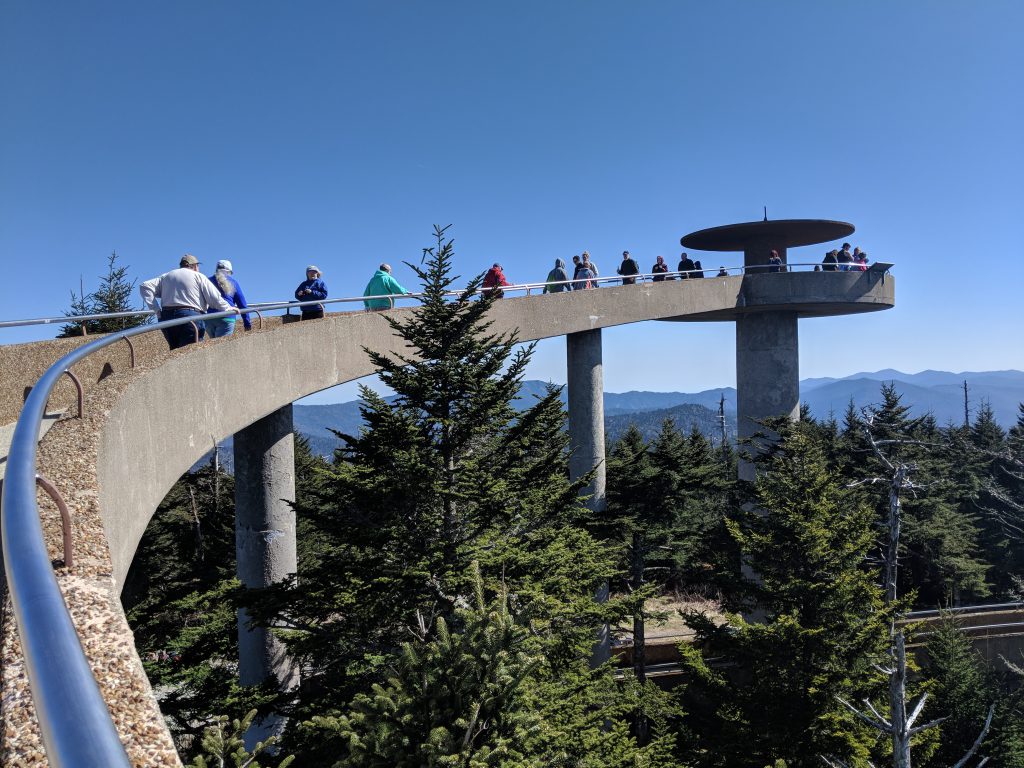 We've put together a whole in-depth guide to Great Smoky Mountains National Park — along with all the other parks in the American roster, come to mention. But here are just a few quick highlights to help get you started:
Enjoy free entry. Although it's one of the largest and easily the most often visited, Great Smoky Mountains is also one of the only parks in the country that doesn't carry an entry fee — so enjoy driving in and out without having to purchase a pass!
Go on foot. With hundreds of miles of hiking trails to choose from, there's a forested footpath for every fitness level. If you're up for a challenge, one of our favorites is the Alum Cave Trail, which you can use to summit Mount LeConte. There's even a lodge up there so you can stay the night before descending — and hiking is the only way to access it.
Gadabout in Gatlinburg. Many of the national parks boast fun-filled gateway towns, but we have to admit, Gatlinburg and it's neighbor Pigeon Forge are on a different level. From moonshine tastings to live shows and all sorts of restaurants, there's plenty of city fun to serve as your wilderness side dish.
Shenandoah Mountains
Although smaller than the Smoky Mountains, Shenandoah National Park also has a lot to offer. Hiking is probably the most popular way to get acquainted with the landscape, and with more than 500 miles of trails, there's no shortage of options whether you're a veteran or a beginner.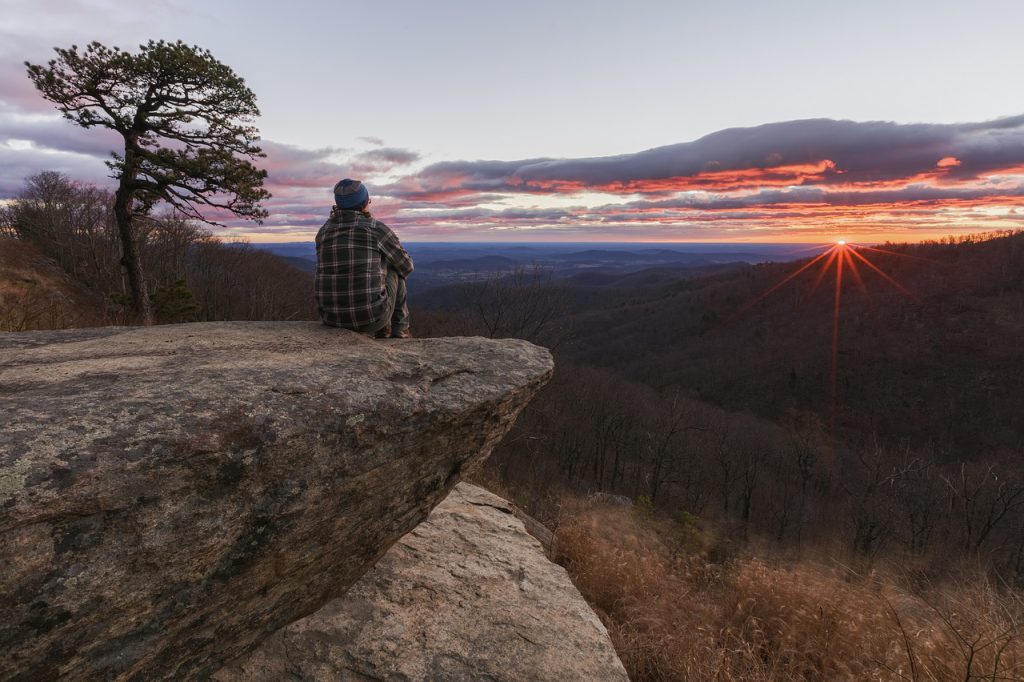 Shenandoah explorers also enjoy horseback riding, backcountry camping, rock climbing and fishing within the park's boundaries — although just driving through it on the Blue Ridge Parkway, which bisects it, is enough to make for a memorable trip. What's more, it's only 75 miles outside of Washington D.C., so if our nation's capital has been on your must-see list, this is a great opportunity to check it off.
For full details on what to see and do at Shenandoah National Park, check out our in-depth guide!
Blue Ridge Parkway Campgrounds
No doubt about it: driving the Blue Ridge Parkway is an RV camping classic. There are few spots in our country as rich with outdoor adventures and city amenities, which combine to make for a once-in-a-lifetime trip.
Of course, if you're going to be tackling the drive in a camper, you'll need to figure out where to camp along the way!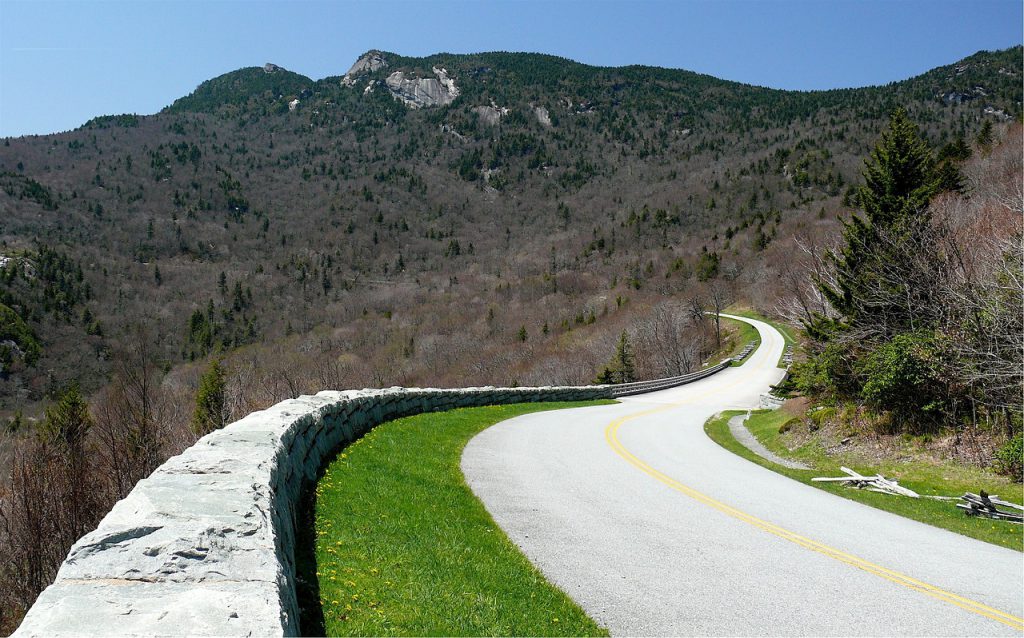 Fortunately, because the Blue Ridge Parkway route is such a popular one, there's no shortage of campground options all along the way. Whether you're in a travel trailer or motorhome — or even just tent camping it — you'll find both public and private spots available, including campgrounds inside each of the parks.
You can learn more about national park campground options by stopping by the Visitors Centers on your way in, or by doing the research online ahead of time. If you do want to stay in the parks, we highly recommend you make reservations as soon as possible, because, again, these are very popular destinations, and sites tend to fill up fast.
Looking for resort-style, privately-owned campgrounds in the Blue Ridge Parkway area? Don't want to spend an arm and a leg on luxury accommodations? Consider purchasing a Passport America membership, which will get you 50% off your campsite accommodations at almost 1900 campgrounds across the country, including many in the Appalachians. Considering these full-hookup sites often fetch as much as $75 per night or even more, this membership can pay for itself in the matter of a single weekend: it costs less than $50 for a whole year!
Finally, don't forget that if you don't already have a rig of your own, RVshare is chock-full of well-maintained, cozy vacation vehicles for rent. No matter which part of the country you call home, there's likely an RVshare listing near you just waiting for you to make it part of your next adventure — and with a drive like the Blue Ridge Parkway, you can't go wrong!
This post may contain affiliate links.