Glacier National Park
Montana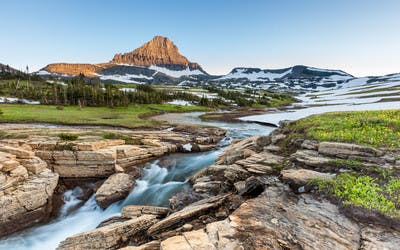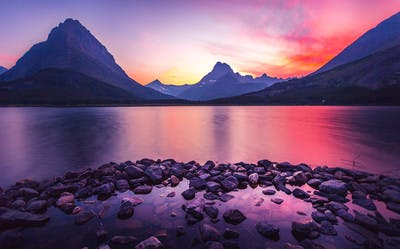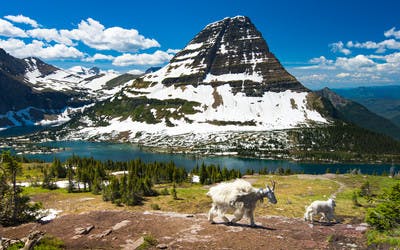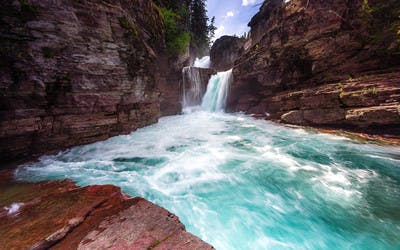 Nicknamed the "Crown of the Continent," Glacier National Park encompasses over one million acres of land straddling the border between Montana and Canada. With over 130 named lakes, more than 1,000 species of plants and animals, 734 miles of park trails and elevations ranging from 3,000 to over 10,000 feet sea level, Glacier exhibits a huge variety of ecosystems and microclimates. Visitors have the opportunity to spot bighorn sheep, elk, bats, mountain lions, and both black and grizzly bears -- just to name a few.
Because of its extreme latitude, the weather in Glacier National Park can be quite severe, with snow and ice preventing access to and operation of many of the park's features during the winter. Spring extends well into June, and snow-related closures may persist into July; however, summer brings long, bright days with sunshine until well past 10 p.m., and daytime temperatures hovering between 60 and 70 degrees Fahrenheit. Although Glacier as a whole is open every day of the year, you should always check the official park website for the latest weather-related updates and potential closures before setting off on your adventure.
On the Montana side, the park lies adjacent to the quaint gateway towns of Columbia Falls and Whitefish, small villages filled with shops, restaurants, adventure tour opportunities, and art galleries. Half an hour south of Whitefish is the larger city of Kalispell, where travelers can stock up on gear and necessities. Like every other national park (and every other landscape, period) in these United States, Glacier National Park's history long outstrips the westernized, settler-filled one most of us are familiar with. These lands have been lived on and stewarded by Native Americans for, archaeological evidence shows, more than 10,000 years. Learn more about the indigenous history of Glacier National Park here.
Glacier hosts a variety of scheduled in-park activities, including star parties, boat tours, guided hikes, and more. You can learn more about these opportunities by checking the official park calendar, as well as exploring the park's Ranger-led Activities.
Even without a park-organized event, there's enough to do at Glacier to keep an adventurer busy for a lifetime. Hiking, mountain biking, rock-climbing, fly fishing, backcountry camping, and skiing are just the tip of the iceberg. And if you're a novice, no problem -- there are plenty of tour guides and outfitters in the area to help you see the park safely, whether you hoof it on horseback or brave the whitewater rivers.
Weather
Spring 45-50 F
Summer 70-75 F
Fall 45-50 F
Winter 30 F
Nearby Cities
Columbia Falls, MT
Trip Planner
Use our FREE RV trip planner to begin customizing the perfect RV trip.
Continue
RV Resorts & Campsites in Glacier National Park
Glacier National Park boasts thirteen campgrounds, seven of which are accessible by RV. The majority of these are available on a first-come, first-served basis, so you'll want to get there early -- or choose a campsite where you can book a reservation. Some of the campgrounds inside the park do offer reservations, and there are also a variety of private RV parks on the outskirts of the park to choose from.
RV-Friendly Campgrounds Inside Glacier National Park
Private Campgrounds
RV Rentals Near Glacier National Park
Nearby RV Rentals
Hit the Trails
With well over 700 miles of trails ranging in length and difficulty level, there's a hike in Glacier for absolutely everyone -- whether you're looking for an easy hour-long stroll or a multi-day backpacking adventure.
As in any hiking situation, it's important to carry lots of water, sunscreen, and high-energy snacks. At Glacier, however, you must also remember that you're in bear country. Always hike in a group and make plenty of noise to avoid surprising a bear in its natural habitat. You might also consider investing in -- and learning how to use -- bear spray.

Here are just a few of the best-known and -loved trails in the park. For a full list, maps, and in-depth details about hiking trails at Glacier National Park, click here.
Glacier National Park Trails
Avalanche Lake via Trail of the Cedars
Distance: 5.7 miles out and back
Terrain: A moderate hike with 700 feet of relatively gradual elevation gain, featuring stunning views of Lake Avalanche at the end.
Highline
Distance: 28.4 miles in total, but can be broken down into smaller segments
Terrain: This is a classic trail which is considered difficult or strenuous and is often taken on by backpackers. It runs along the ridge of the continental divide, offering stunning views of the two colliding ecosystems.
Iceberg Lake
Distance: 9.3 miles
Terrain: A moderate out and back hike on the eastern side of the park, featuring a lake, waterfalls, and numerous wildflowers. Also a good opportunity for those looking to spot birds and wildlife.
Quartz Lake Loop
Distance: 12.7 miles
Terrain: Moderate to difficult, with 2,600 feet of elevation gain over a 12 mile loop bringing hikers from Bowman Lake to Lake Quartz and back. Includes a wooden bridge crossing; can easily be made into a multi-day backpacking trip.
Rainbow Falls
Distance: 1.9 miles
Terrain: An easy, flat trail that's good for all skill levels, which rewards your efforts with a stunning waterfall at the end.
Swiftcurrent Nature
Distance: 2.6 miles
Terrain: An easy, relatively flat trail that's well-known for moose sightings.
Trail of the Cedars
Distance: 0.9 miles
Terrain: An easy loop trail featuring wildflowers, rivers, and a boarded walkway accessible to hikers with disabilities. Don't forget to look up at the tall, historic cedars the trail is named for!
What to Do at
Glacier National Park
Although you could easily spend a lifetime exploring the park, sometimes, you need a slightly more urban adventure. Luckily, the towns surrounding Glacier are chock-full of things to eat, drink, see, and do!
Restaurants
Need a hearty breakfast before you hit the trails? Or ready to round out a day of exploring with a satisfying snack? Here's where to head for great eats in the Glacier area.
After a heaping plate of pancakes and eggs or an onion-ring-topped elk burger, don't forget to swing by the attached gift shop and cannery for some huckleberry goodness to take home.
Location: Hungry Horse
Need a bite while you're already inside the park? Put down that trail mix and head to this dining room with a view, serving bison chili, trout dip, and salad.
Location: Inside Glacier National Park at Many Lake Hotel
Looking for a slice? If there's one thing east-coasters know how to do, it's 'za -- so grab yours from this local joint, where the pies are hand-tossed and topped with fresh produce.
Location: Whitefish
Elevated and yet casual enough for you to keep your hiking boots on, Josephine's pairs all-American favorites with craft cocktails concocted with house-distilled spirits. Locals swear by the buttermilk fried chicken!
Location: Coram
The java's good, but the breakfast is better. Choose from a satisfying scramble or a lighter bite, like granola or quiche.
Location: Whitefish and Columbia Falls
Shopping
Whether it's hiking boots or haute couture you're after, northern Montana delivers.
Spend an hour or two combing through the new and used titles in this downtown Columbia Falls bookshop. Don't forget to pet the cat.
Location: Columbia Falls
Whether it's huckleberry candy or a #Montanamoment T-shirt, if you're looking for souvenirs (or gifts for those unfortunate loved ones you left at home), this is the spot.
Location: West Glacier
Hiking, fishing, camping, hunting -- even if archery's your thing, Sportsman and Ski Haus has got you covered. Stop in for great deals on the apparel and gear you need to get outside in safety and style.
Location: Whitefish and Kalispell
When you go for your grocery run, skip the big box and support this local market, which is chock-full of fresh, local produce and health-oriented goodies. You may even find ground elk in the freezer!
Location: Whitefish
Want to get dressed up after getting down and dirty in the great outdoors? The Village Shop offers high-end women's fashion from designers like Eileen Fischer, Frye, and 7 for All Mankind.
Location: Whitefish
First built in 1895 and fully restored since, your tour of this stunning Montana mansion will be guided by docents in period dress.
Location: Kalispell
It's a bit of a drive north to Chinook, but the state's Wildlife Museum is worth it -- and you can stop at a number of historical sites, like Bear Paw Battlefield, along the way.
Location: Chinook
Learn more about this area's fascinating logging and railroad history. Better yet: admission is free, and it's right in the heart of downtown Whitefish.
Location: Whitefish
We owe a great debt to the people who inhabited these lands long before we did, so why not pay your respects by visiting this eastern Glacier area museum, operated by the U.S. department of interior? Exhibits include "richly varied arts of Northern Plains Tribal peoples including the Blackfeet, Crow, Northern Cheyenne, Sioux, Assiniboine, Arapaho, Shoshone, Nez Perce, Flathead, Chippewa, and Cree."
Location: Browning
Directly east of the park lies the Blackfeet Indian Reservation, home to over one of the largest tribal communities in America. Check the reservation's events page to see if any public goings-on align with your trip.
Only in Montana can you find a stunning lake beach within walking distance of downtown, with all its hustle, bustle, and breweries.
The largest natural freshwater lake west of the Mississippi (and excluding Alaska), Flathead is a sight to behold -- whether you simply drive along the adjacent highway or take a weekend to rent a cabin and a motorboat.
If you have your passport with you, take a few days to go see Canada's answer to Glacier National Park. Even more hiking, biking, kayaking and bear-spotting fun awaits north of the border!
How to Get to
Glacier National Park
By Car
Due to its extreme northern latitude, chances are you'll be arriving at Glacier from the south. From Missoula, take US93/MT200 north to Pablo, then turn right onto MT35 West toward Flathead County. (Enjoy the stunning views of the lake!) Continue through Big Fork and Columbia Falls before turning right on US2, whereupon you'll enter through the parks West Glacier gateway.
By plane
The closest airport to Glacier National Park is the Glacier Park International Airport, which is located in Kalispell. You could also fly into a bigger airport and make a road trip out of it; Glacier's a relatively easy drive from Seattle (10 hours), Calgary, Canada (6 hours), or Spokane (4 hours).
By RV
RVing is one of the most convenient ways to stay at Glacier or any large national park. You'll have the ability to take the road at your own pace, and stop and see every little detail along the way -- all with the comfort of your very own bed along for the ride! If you don't have a motorhome or travel trailer of your own, no worries; RV rentals are available all across the country, whether you fly in and pick up your rental or drive it from your hometown.
View RV Rentals
Entering Glacier National Park
As with many of the National Park Service properties, Glacier National Park is a fee area, and your campsite fees don't cover your cost of admission. Here are the latest entry prices for Glacier:
Private Vehicle, 7-Day Permit : $35
Covers private, non-commercial vehicles (cars, trucks, and vans) and all occupants.
Single Entry : $20
Covers one individual with no car (bicyclist, hiker, pedestrian). Youth 15 and under are admitted for free.
Motorcycle: $35 (Winter Rate: $15 November 1-April 30)
One or two passengers on a private, non-commercial motorcycle.
If you travel to Glacier National Park often, you could also invest in a $70 annual pass -- or the $80 America the Beautiful pass, which gets you, your private vehicle, and up to three other adult occupants into any of the National Park Service-operated properties in the country for a year.
Glacier National Park truly is one of the most exceptional landscapes in North America, and we can't wait for you to experience it -- whether you rent an RV for a weeks-long stay, tent camp for a weekend, or stop only for a quick hike while you're passing through. We'd love to see photos and hear details of your adventure, so feel free to reach out to us at [email protected] or tag us on social media. We may just feature you on our blog!