Top RVs Nearby
Large RV Rental in the USA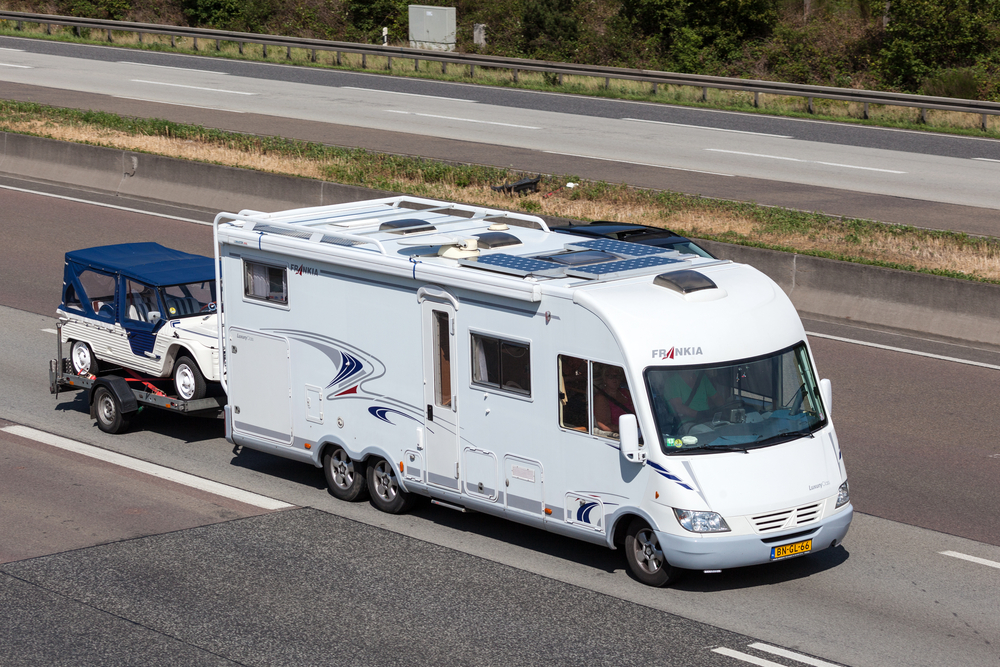 RVing is one of the greatest ways to explore the country. While some people only need the most basic of accommodations when they hit the road, others require a little more size, luxury, and comfort.
If you're going to be traveling with a large group, or you want to experience camping while still feeling like you're at home, a very large RV rental may be the perfect fit for you.
In this article, we're going to learn about big RV rental options, the locations you can find one, and how much it'll cost you.
Full-Size RV Rental
Whether you have a big group or you're just looking for some extra space and amenities, a huge RV rental is a great option. Not only do they accommodate tons of passengers, but they also come with everything you need to enjoy a vacation to the full. Let's learn about which kind of RVs classify as huge.
Class A - Not only are Class A RVs the most popular large units on this list, they're also arguably the most popular RVs in general. They're the ones you see on the road that look like a tour bus. They're built from the chassis of buses, so if you're really looking for a large RV rental, this may be for you. They're roomy enough to carry 8, 12, or more travelers.
These are heavy duty motor homes that only get about 8 to 10 miles per gallon. Class A RVs come equipped with all the bells and whistles that may include a master bedroom, bunk beds, bathroom, kitchen, living area, and dining area.
Class A RVs are don't only have more amenities, they have fancier amenities as well. Many units come with wooden floors and cabinets, backsplashes, stainless steel appliances, leather seats, widescreen TVs, and more.
If you want a huge, luxurious, and convenient RV rental, we recommend looking into Class A units. Keep in mind that these are considered to be the most expensive.
Fifth Wheel - These are massive towable units that are considered to be just as fancy as Class A units, but without the cabin. Because they lack the cabin fifth wheels have even more living and storage space than their motorized counterparts.
Fifth wheels have a unique design with an overhead that sits above the tow vehicle. This design actually helps while driving and so they're considered to be safer and easier to drive and backup than other towable RVs.
The downside to fifth wheels is that unlike Class A RVs, you need a heavy duty tow vehicle to take them anywhere. This also means that you can only access the living area if you're stopped, so you can't make food, use the bathroom, or take anything out of storage until you're at a rest stop.
These are perfect if you've got a good tow vehicle and you want Class A space and luxury, without paying Class A prices.
Class C - Depending on the unit, you may also consider a Class C motorhome for a large luxury RV rental here in the USA. believe it or not, many Class C rigs can accommodate six, eight, or more people comfortably.
They're built on a minimal truck platform, with a cab-over profile, so they feel a lot like driving a regular truck or van. Just like Class A and fifth wheels, Class C RVs may come with the most modern of features. Units come standard with amenities such as a bathroom, kitchenette, dining/living area, and plenty of storage space.
The beauty of Class C RVs is that you get much better fuel economy and have a much easier time getting around with them, while only having to sacrifice some space. Overall though, there is plenty of room for the typical nuclear or extended family.
Class C RVs are typically the least expensive of the three RV classes we went over. So if you're looking for space and luxury, but you're on a budget, consider a luxury Class C RV rental.
Large Family RV Rental
The best place to find RV motorhome rentals is here at RVshare. We're the world's largest peer-to-peer RV sharing marketplace. As such, we've got the biggest selection of luxury RV rental units at the best prices.
Whether you've got six travelers going with you, or 15, we've got a high-quality rental unit that your family will love. Searching through our site is simple and your family can book the rental of their dreams in four easy steps.
Enter the location and date that you want to pick up your RV
Filter your results using our detailed search functions. You can find an RV based on length, class, and number of passengers
When you see you one you like, send the owner a quick email with a request to book
Meet with the owner, get a quick demo, pick up your keys, and have the time of your life
How Much is a Large RV Rental?
Large RV rental cost can vary depending on which class of RV you rent, how many days your rent for, how far you travel, and which dates you choose. But in general, prices look like this:
Class A - $175 to $275 per night
Class C - $125 - $175 per night
Fifth Wheel - $125 to $250 per night
Feel free to negotiate prices with owners as well. At RVshare, our goal is to save you as much as possible! Many units come with free unlimited miles and free generator usage. All rentals are guaranteed free 24/7 roadside assistance.
Large RV for Rent
When traveling with a group of at least six, it's always best to go for a larger RV option, instead of cramming together in a tiny rig or having to rent multiple units. RVshare makes getting your family an extra large RV rental as seamless as possible with our limitless options and industry low prices.
Try us out and see for yourself that with the help of our platform, camping with your family will never be the same again!