Arches National Park
WIDE-RANGING INVENTORY
From affordable pop-ups to luxury motorhomes
LARGEST RV RENTAL MARKETPLACE
Thousands of 5 star reviews from happy customers
SECURE AND MOST TRUSTED
24/7 Emergency roadside assistance on every booking
One of the most recognizable and well-photographed natural areas in the country, Arches National Park encompasses just over 100 square miles of eastern Utah and boasts more than 2,000 natural sandstone arches. Positioned over a massive subterranean salt bed, these graceful rock formations are the result of thousands of years of erosion and geological activity, and today draw legions of curious visitors with their beauty.
Due to its location in the high desert climate of the Colorado Plateau, Arches National Park is subject to extremely variable weather, which can sometimes shift by as much as 40 F in a single day. The seasons with the best daytime weather are spring (April-May) and fall (September-October), with ample sunshine and temperatures hovering between 60 and 80 F. During the high summer months, daytime temperatures frequently reach the triple digits, and violent afternoon thunderstorms are common. In winter, temperatures can dip below freezing, and snow and ice may lead to trail and road closures.
Arches National Park lies directly north of the town of Moab, a bustling and scenic community. Other small towns in the area include Spanish Valley, Green River, and Crescent Junction; the relatively large city of Grand Junction, Colorado is an hour and a half to the east.
The unique and variable landscape of Arches offers an array of outdoor recreational opportunities, from hiking and horseback riding to canyoneering (exploring canyons by repelling into them) and climbing. Arches also hosts a number of organized events and ranger-led programs throughout the year. In order to protect these delicate structures and preserve them for future generations, visitors are asked to abide by park rules and regulations whenever participating in these activities.
Read more
Weather
Spring 60-80 F
Summer 100 F
Fall 60-80 F
Park Info
Arches National Park Private Vehicle: $30
Arches National Park Motorcycle: $25
Arches National Park Per Person: $15
RV Rentals Near Arches National Park
Nearby RV Rentals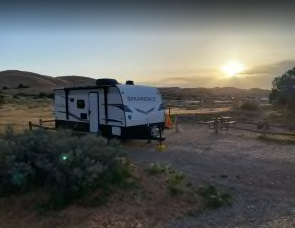 Keystone RV Springdale Mini 1800BH
2022 / Travel Trailer
Braxton Creek Bushwhacker Plus 17 BH
2022 / Travel Trailer Heartland Mallard M26
2021 / Travel Trailer
Arches National Park Hiking Trails
Arches National Park offers visitors the opportunity to get up close and personal with its namesake rock formations with dozens of hiking trails, ranging in difficulty from easy strolls to strenuous treks. Because many of the park's natural features are quite delicate, the park service requests that you stay on designated trails and avoid disturbing wildlife and or any ephemeral pools of water you may encounter. Climbing, scrambling, walking or standing upon, or rappelling off any arch is strictly prohibited.
As with any hiking adventure, always ensure you're prepared for the journey! Stock up on water, snacks, and sunscreen, and be sure to check the latest weather report before you head out. During peak travel seasons, Arches can become quite crowded; for best results, hit the trails early before everyone else shows up.
Arches National Park Trails
Things to do Outside Arches National Park
Nestled in between two of Utah's hottest national park destinations -- Arches and Canyonlands -- Moab offers visitors a wealth of bars, restaurants, shops, museums, and cultural pursuits. Whether you're looking for a delicious dinner to round off a long day of exploring, to learn more about Utah's history at an area museum, or to browse unique, desert-inspired art, you'll find what you're looking for in Moab.
We've pulled out some local favorites below, but be sure to check out Moab's travel council website for complete details.
Discover Nearby Towns and Cities
RV Resorts & Campsites in Arches National Park
While there's only one Arches National Park campground managed by the National Park Service -- Devils Garden -- there are a wide variety of private RV parks to choose from in the area, as well as a few free and low-cost dispersed camping, or boondocking, sites nearby. Click here to learn more about camping in Moab and the immediate Arches National Park vicinity.
Campgrounds Near Arches National Park
Find the Best Dumpstations Near Arches National Park
An unglamorous but necessary aspect of RVing? Dump stations. Knowing where the best dump stations are near you will allow for more ease and less stress in your travels. Dump stations are an easy and convenient way to clear waste from your RV. Use our guides to find dump stations on your route, so you can get back to the good stuff – exploring, relaxing, and making memories on the road.
Dumpstations Near Arches National Park
How to get to Arches National Park
Although Moab offers a huge array of lodging opportunities, RVing gives visitors the best combination of creature comforts and in-park camping convenience, which could put you at the front of a lengthy line of eager hikers. And if you're planning on stringing together multiple national park properties, an RV is an exceptionally comfortable and relatively affordable way to travel. (Psst: if you don't already have a rig of your own, check out the wide variety of RV rentals available in your area.)
Although fairly remote, Arches National Park is located quite close to I70; both eastbound and westbound traffic should take the exit for US191. For full details on how to approach the park by motor vehicle from a variety of different orientations, check the park's official directions page -- and don't rely on your GPS.
The closest major airport to Arches is Salt Lake City, though there is also a much smaller airfield at Moab, which offers daily service to Denver. Both Salt Lake City and Denver are about a half day's drive from Arches.
Frequently Asked Questions
What is the best time of year to visit Arches National Park?

The months of April and May, and September and October are the best times of year to visit Arches National Park. The park can get very hot in summer so visiting in these cooler months means you're more likely to enjoy hiking and exploring the park.

How large is Arches National Park?

Arches National Park is 119.8 square miles, or 76,519 acres large. It encompasses more than 2,000 arches although the exact number is constantly changing as old arches fall and new ones form.

Are pets allowed at Arches National Park?

Pets are allowed at Arches National Park. Leashed pets can walk with owners on established roads, parking areas, campgrounds, and picnic areas. They are not allowed on hiking trails or anywhere off-trail. Pets also aren't allowed in park buildings. Pets cannot be left unattended in vehicles, and the extreme heat at the park makes that a very dangerous practice.

What are the top things to do in Arches National Park?

The top things to do at Arches National Park include visiting Landscape Arch, North America's longest arch. Be sure to check out Balanced Rock, the Windows Section, and the Arches Visitor Center to learn more about the park.

Are there designated camping spots in Arches National Park?

There is one campground in Arches National Park. Devils Garden Campground has drinking water, picnic tables, grills, and flush toilets. There are no RV hookups at the campground. There are many more campgrounds outside the park and in the nearby town of Moab.