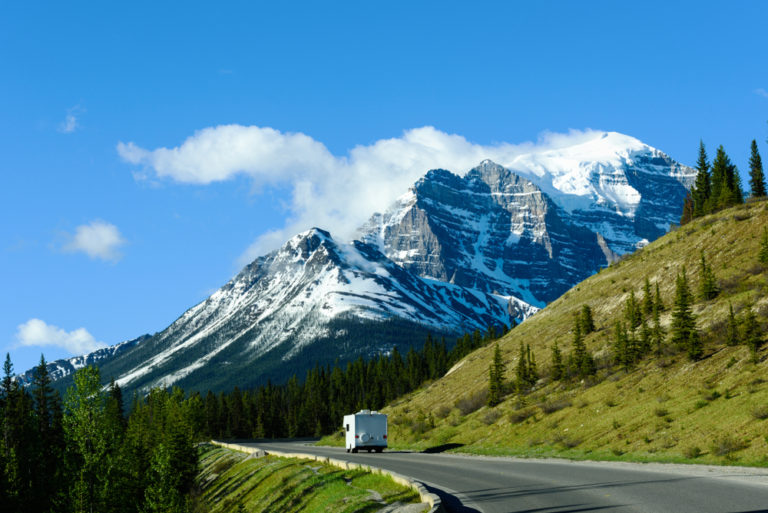 Maybe you're a resolute, Type-A trip planner with color coded agendas and personalized itineraries for everyone in the family. Or maybe the very word planning makes your eyes glaze over in boredom or widen with anxiety.
But at either end of the extreme, one thing's for sure: figuring out how to plan an RV road trip is a bit of an art as well as a science. It just takes one look into your Rand McNally Road Atlas to feel overwhelmed with how many options you have to choose from for your next RV rental vacation.
Fortunately, being a fantastic RV trip planner doesn't mean you have to go full-on spreadsheet crazy. In fact, one of the things people like most about RVing is the ability to fly (er, ride?) by the seat of your pants to some extent. When you have your house along for the ride and don't have to worry about food and shelter, you can leave a lot open to chance and possibility.
So grab those maps and make sure the rig is stocked with a cozy camping chair. We're going to show you how to become an effective, yet relaxed, RV route planner — which means you'll have plenty of time to sit back and kick up your feet by the campfire, no matter along the road you light it!
RV Routes
One thing's for sure: this great big USA of ours is chock-full of fantastic destinations. And while you might not be able to see everything, in an RV, you can see a whole lot.
But that same open-ended potential can make RV trip planning a little difficult, and sometimes even stressful. How on Earth do you pick a spot with so many wonderful options? How do you know the destinations you do pick are the best? And what's the best way to get from Point A to Point B, hitting all the most exciting sites and stops along the way?
RV Camping Trip Planner
If you're the designated family RV road trip planner, here are some of the best RV trip planner tips and resources to help you make your next planning session feel more like making your travel dreams come true — and less like a logistical nightmare.
#1 Pick timely events and go from there
#2 Consult your destination bucket list
#3 Leave lots of wiggle room.
1. Pick timely events and go from there.
Maybe Burning Man has always been on your bucket list, or you promised hubby you'd finally make it to Bonnaroo this year. (Pst: Don't forget your refillable water bottle. Those fests get hot!)
Or maybe you're looking for something a little bit slower paced, like attending an annual fall harvest festival.
Either way, organizing your vacation around a specifically-timed event can help make all the other pieces fall into place effortlessly. After all, you don't have to pick a destination — the event's location is already chosen for you. Same goes for the specific dates. Then, you're free to explore the towns and countrysides along the way at your leisure, depending on how much time you can devote to the trip.
2. Or consult your destination bucket list.
Daydreaming of Santa Fe? Got Georgia on your mind? No matter what part of the country you call home, there's a road that can take you there — so go for it. And be sure to stop at all the neat little towns and roadside attractions along the way!
Strapped for ideas? We've written a ton of posts about great destinations here on the blog. Here are some of our favorite summer spots and a few for fall, too. You can also check out the following road trip route books, available on Amazon:
3. Leave lots of wiggle room.
Alright, this piece of advice might drive you hardcore planner types a bit batty… but one of the best parts of RVing is having the option to turn down that strange-looking road or decide to stay an extra day (or leave a day early!) at the last minute. If you make all your reservations ahead of time, you won't have as much flexibility to do that — at least not without wasting lots of cash.
That said, during the summer and other busy travel seasons, foregoing reservations can sometimes leave you in a bit of a lurch. So it's all about finding a happy medium that keeps you moving, happy, stress-free, and still enjoying lots of roadside serendipity.
RV Road Trip Planner Stops
Once you have a better handle on your basic itinerary and route, you can delve into the nitty gritty (or not) to your heart's desire. That said, there are a few resources that can be really helpful for finding a campsite or exploring everything an area has to offer, whether you use them at the last minute or weeks in advance. The RV Life app, for example, will help you find a safe and route for your RV. Or give RV Trip Wizard a try to save time, plan safe RV routes, find great campgrounds.
To find campsites in your area, check out Freecampsites.net, Campendium, and Ultimate Campgrounds; some of these also feature RV road trip planner apps to download for your Android or IOS devices. Campground Reviews is a great resource for trusted campground reviews.
And if you're looking for a way to save money while still staying in luxurious, resort-style RV campgrounds with all the amenities, be sure to check out Passport America. It's a network of almost 1900 campgrounds nationwide that provide members with premium sites at a 50% discount — and at less than $50 per year to join, it pays for itself in a jiffy. Click here to get your membership now!
RV Trip Ideas
Whether you're looking to take on an epic cross-country road trip or just travel around your region exploring local campgrounds, being a great trip planner is all about maintaining flexibility and open-mindedness while putting in just enough effort to get yourself excited and on the road. The good thing is, you can't lose no matter where you go, especially if you've brought great company. It may be cliche, but it's true when you're RVing: it's really all about the journey. Enjoy!
This post may contain affiliate links.