Congaree National Park
WIDE-RANGING INVENTORY
From affordable pop-ups to luxury motorhomes
LARGEST RV RENTAL MARKETPLACE
Thousands of 5 star reviews from happy customers
SECURE AND MOST TRUSTED
24/7 Emergency roadside assistance on every booking
Just a half-hour outside of the state's capital, Congaree National Park is the only national park in South Carolina. Some of the tallest trees on the east coast are located inside Congaree, which was named after the Native American tribe that used to reside there.
Unlike many hardwood forests, Congaree was largely spared by the lumber industry in the late 1800s and was eventually designated as a national monument and then a national park thanks to the work of preservationists. The terrain includes the forest, the Congaree River, and the swampy floodplain.
The weather in this part of South Carolina can be hot and humid throughout the year. With average highs in the 70s, springtime is one of the park's most popular times for visitors. In the summertime, temperatures can reach up into the 90s with regular thunderstorms and an average monthly rainfall of 4.5 inches. The rain continues into the fall season, but temperatures typically dip back down into the 70s with noticeably less humidity. Winters tend to be mild, with daily highs in the 50s, although snow does occasionally fall in the park. Winter is also the season that Congaree is most likely to flood, which makes it the slowest season for visitors.
The largest city closest to the park is Columbia, where you'll find plenty of restaurants, museums, and other attractions. Congaree is also close to charming suburbs like St. Matthews and old ghost towns like Kingville and Lone Star, which make for a great day trip or afternoon visit.
If you're looking for events inside the park, National Park Service rangers coordinate a number of educational hikes and tours throughout the year. Learn more about owls and other nocturnal animals at the Owl Prowl, or take a wilderness canoe tour through the forest to learn more about the park's flora and fauna. The Audubon Society also leads a birdwatching tour on the second Sunday of every month.
Read more
Weather
Spring 70-80 F
Summer 88-90 F
Fall 70-75 F
Winter 55-60 F
RV Rentals Near Congaree National Park
Nearby RV Rentals Heartland Road Warrior 375
2022 / Fifth Wheel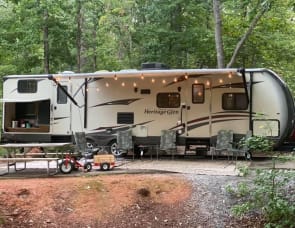 Forest River RV Wildwood Heritage Glen 312QBUD
2013 / Travel Trailer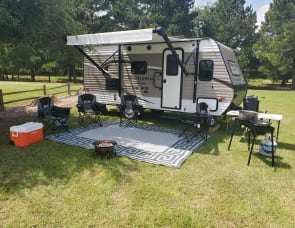 KZ Sportsmen Classic 181BH
2017 / Travel Trailer
Congaree National Park Hiking Trails
With trails that are generally flat, hiking at Congaree National Park is great for visitors of all skill levels. Each of the park's 10 trails start at the Harry Hampton Visitor Center and range in length from 0.3 miles all the way to 11.7 miles. Here's a list to help you choose a few must-do hikes:
Things to do Outside Congaree National Park
Now that you've hit the trails and explored everything Congaree National Park has to offer, what's there to do outside of the park? This charming part of South Carolina is only 30 minutes from the state's capital city of Columbia, giving you plenty of access to great restaurants, shopping, museums, and other sightseeing opportunities. Looking for some suggestions? Here are a few of our favorite things to do around Congaree National Park.
Discover Nearby Towns and Cities
RV Resorts & Campsites in Congaree National Park
Congaree National Park has two campgrounds, although both are meant for tent camping only. Tent campers can also get a permit for backcountry camping, where you can choose a campsite of your liking nearly anywhere in the park.
If you'll be camping in an RV, there are a few nearby state parks that have hookups for campers and trailers. Or you may opt to stay at one of the area's many private RV campgrounds, which tend to have more amenities like laundry facilities and pools.
Campgrounds Near Congaree National Park
Find the Best Dumpstations Near Congaree National Park
An unglamorous but necessary aspect of RVing? Dump stations. Knowing where the best dump stations are near you will allow for more ease and less stress in your travels. Dump stations are an easy and convenient way to clear waste from your RV. Use our guides to find dump stations on your route, so you can get back to the good stuff – exploring, relaxing, and making memories on the road.
Dumpstations Near Congaree National Park
How to get to Congaree National Park
With its convenient location just outside of Columbia, Congaree National Park is fairly easy to access. Most travelers coming to the park choose to arrive by car, RV, or plane.
You may also decide to travel to Congaree by RV. Renting an RV allows you to skip the hotel reservations and bring along all the comforts of home while still experiencing the natural beauty of the outdoors. Whether you plan on renting an RV near Columbia or finding an RV close to home and then driving it to South Carolina, there are plenty of RV rentals available across the country for less than $100 per day. Depending on your needs and the size of your travel group, you can look at large motorhomes, smaller campers, or even a tiny pop-up trailer to tow behind your vehicle.
As a reminder, there are no RV hookups at the campgrounds at Congaree National Park, but you can always camp out at one of the nearby state campgrounds or a private RV park in the area.
If you plan on arriving by car, the National Park Service advises against using GPS apps or devices, which have a tendency to send drivers in the wrong direction. From the Columbia Metropolitan Airport, you'll want to get on I-26 East and then take exit 116 to get on I-77 heading toward Charlotte. Finally, you'll get off at exit 5 to merge onto SC-48 East for 8 miles before taking a slight right onto Old Bluff Road. After 4.5 more miles, you'll reach the park entrance sign.
For more detailed instructions on how to drive to the park from Charleston, Charlotte, Spartanburg, or Augusta, Georgia, check out the National Park Service's website.
If you'll be flying in, the Columbia Metropolitan Airport is the fastest, easiest way to get to Congaree. The midsized airport is serviced by American Airlines, Delta Airlines, and United Airlines and has several car rental companies where you can pick up a vehicle for your trip. From the airport, Congaree National Park is just 30 minutes away. Another major airport is, of course, the Charlotte Douglass International Airport, which is serviced by Air Canada, American Airlines, Delta Airlines, Frontier Airlines, JetBlue Airways, Lufthansa, Southwest Airlines, United Airlines, and ViaAir. As the sixth busiest airport in the world, Charlotte offers more than 700 flights per day. From CLT, the drive to Congaree National Park takes roughly two hours.
Frequently Asked Questions
What is the best time of year to visit Congaree National Park?

Spring is the best time to visit Congaree National Park. From March to May, the weather is in the warm 70s but bugs are not yet a problem. You may encounter rain and thunderstorms, but you should have a pleasant time hiking and exploring the park.

What are the top things to do in Congaree National Park?

Some of the top things to do in Congaree National Park include walking the Boardwalk Loop Trail to see bottomland forest, hiking the Weston Lake Loop Trail, paddling in South Cedar Creek, and checking out the visitor center.

Do you have to reserve a camping spot at Congaree National Park?

Yes, you do need a reservation to camp at the two frontcountry campgrounds at Congaree National Park. Longleaf Campground and Bluff Campground both require reservations, and backcountry camping requires a permit.

How large is Congaree National Park?

Congaree National Park is 35 square miles or just over 20,000 acres. Park visitors can hike, kayak, or canoe to explore the park.

Are pets allowed at Congaree National Park?

Yes, pets are allowed on all trails, the boardwalk, and in the campgrounds. Be sure to check your pet for ticks after they have been hiking, and bring plenty of water for them.