RV Owners
Last updated on March 29th, 2023. Originally published on May 15th, 2020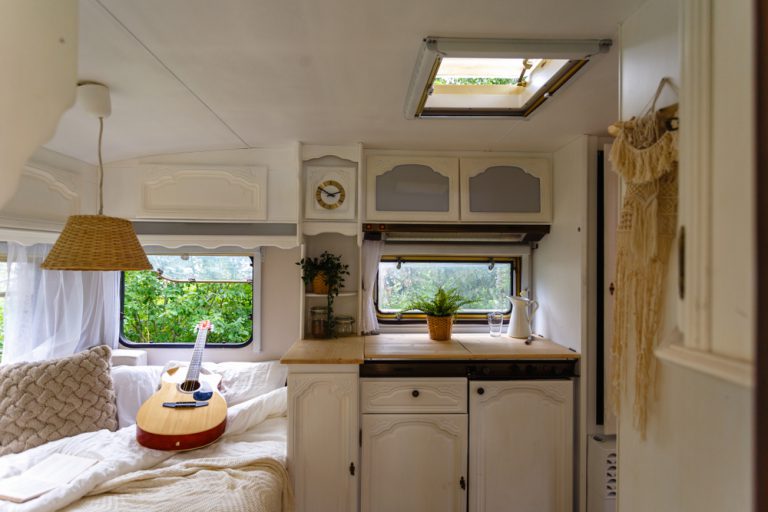 You know we love good organization! Living that #RVLife, you have to keep organization in mind to keep a clean and tidy RV. Small living quarters leave no room for clutter, and clearing it out – and keeping it out! – will give you peace of mind and make it easier to travel.
The great news is, we've shared a lot of handy tips over the years, and today, we're compiling them all in one spot!
Our Top RV Organization Tips
There is not a lot of surface area for clutter to collect in an RV, but you'd be surprised how quickly your rig can get filled! Keeping your space organized is important for peace of mind. "A place for everything and everything in its place" is a motto many RVers live by.
Purge, purge, and then purge some more.

Go through everything you're bringing into your RV initially, and only keep what you absolutely need. After that, make a point of going through things every 6 months or so to pull out anything you no longer use or need. It also helps to be very picky about what you bring in between purges. Make sure each item is truly useful. The less stuff you have, the easier it'll be to remain well organized and clutter-free.

Have an assigned place for everything.

It might feel silly, but every single thing that enters your home-on-wheels must have an assigned place, no matter how small it may be. After all, something with no home can never truly be put away.

Clean daily.

It can be tempting to put cleaning off at the end of a long day of fun. However, this is how clutter begins to build up. If you make a habit of going through the camper at the end of each day and putting everything in its proper place, you'll never have an overwhelming amount to put away.
To really get organization inspiration, check out the posts below!
The Best RV Storage & Space Saving Tips
When it comes to traveling in a house on wheels, storage becomes something of an art form. And it's definitely a fact: the right storage solutions can make all the difference. With stuff spewing out all over the place, even the comfiest RV can begin to feel cramped and claustrophobic.
But with the right attention to detail, a modest trailer or sleeper van can feel clean, cool, and ready for adventure. How, you may ask? We have an idea or two that can help!
See everything as multi-functional:

choose chairs and couches with storage under cushions. Build or invest in under-bed storage.

Clear up space where possible:

consider a murphy bed set up if possible (esp kids' beds). Try a collapsable table that can be put away when not in use. Hang up over-the-door organizers that can be closed away.

Pair down to just the essentials:

limited cookware tools and gadgets. Keep a small wardrobe.
Bottom line: make the most out of every surface in your RV. There are lots of nooks and crannies that can be used for storage! Utilizing them can help keep your RV neat and tidy.
Find out how you can make the most of your RV storage through the posts below:
We hope these RV storage and organization solutions help you create a comfortable, efficient space to serve as a cozy home base for your next great adventure. When everything in your RV is safely in its place, you're free to explore the wide world around you knowing you have an uncluttered home environment to return to and rest in.