How Tos & Tips
Last updated on November 24th, 2022. Originally published on May 15th, 2017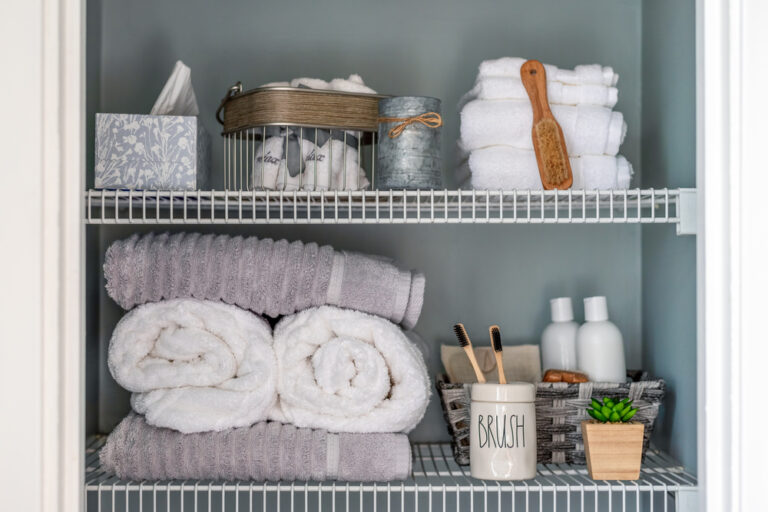 RV camping is a great many wonderful things.
It's liberating — you can go anywhere the road can take you. It's flexible — you decide your route, itinerary, and pace. It can be great family fun or a perfect romantic getaway. It can even be a full-time, year-round lifestyle for some.
But one thing RV camping can't be is disorganized. Even a huge Class A motorcoach has way less space than a traditional house or even an apartment, and that means less room to store all the stuff we accumulate in our lives. And if you've ever decided to haphazardly toss everything in an RV's drawer or cabinet and hope for the best, you know exactly how overwhelming that tiny space can become.
But fortunately, brilliant campers from around the web have come up with excellent RV storage solutions to decrease the clutter and make keeping a tidy interior a cinch. You'll be breathing a sigh of relief and enjoying tons of extra space to stretch out your legs in no time!
Here are 11 clever RV storage solutions to put to use in your own rig… or even at home!
1. Tuck away the garbage.
You've already got a lot of good stuff to store… you don't want to use up more of your precious floor space on trash!
Good thing there are tons of trash cans built specifically to be tucked away in a spare cabinet, hung by over-the-door hooks or other methods. If you're handy, you could probably also build and retrofit your own.
2. Keep plastic bags and aluminum foil wrapped up tight with magazine holders.
You need these quick-fix food-saving items, but there never seems to be an efficient way to store them.
No longer! This brilliant method by TheKitchn uses magazine racks to keep all your bulky cabinet-stored goods snug, which is great for a house in motion… but a pretty good idea in your non-mobile home, too. The brilliant minds over at General RV even found a way to fit the rack to the inside of a cabinet door, to save even more space (number 31 on this list)!
3. While we're on the topic of magazine racks, they can also be used for your extra toilet paper.
Who knew avid magazine readers would have so many advantages on the road?
This cool DIY idea comes from, well, Cool DIY Ideas, and is both simple and aesthetically pleasing. Not bad for TP!
4. Another option for tin foil and plastic wrap: a wall- or cabinet-mounted dispenser system.
This storage solution from Ask Anna is simple, smart, and requires little more than those self-adhesive hooks you can buy almost anywhere.
5. Use shoe organizers to make any surface into storage.
You might not be bringing your prized collection of Louboutins on the road (or maybe you are — no judgments here!), but you might be surprised at how much use you can get out of a regular old closet shoe organizer.
Do It Yourself RV uses a specially-made canvas product by Camping World, but in fact, you can chop up a regular plastic version and install pockets almost anywhere in your RV — here's an example by Motorhome.com. Use them to hold anything and everything, from toiletries and accessories to… well… shoes.
6. Keep your remote controls ready at hand with velcro.
On rainy nights in, there's nothing like movie night at the motorhome. But there's also nothing worse than grabbing your popcorn, settling in, and realizing you have no earthly idea where the remote got off to.
But it's easy to avoid this problem — just strap your remotes down to a convenient surface with some velcro. A great idea from Buzzfeed!
7. Never have another questionable moment with your toothbrush with this easy PVC pipe storage technique.
I don't know about your RV bathroom cabinet, but mine is not the cleanest place in the world. Even when tucked safely into a plastic bag or caddy, I'm not always happy about letting my toothbrush roll around in there while I'm driving.
That's why I absolutely adore this simple solution from Crafting in the Rain. Plus, check out the adorable labeling!
8. Keep produce high, dry, and ready to go with a hammock.
Bananas just don't belong in the fridge — even for just a couple of hours between destinations. (The freezer is a different story, of course.)
And you don't want your apples rolling around in a drawer getting bruised.
Enter this adorable "fruit and veggie hammock" from Camping World, which helps keep your produce well ventilated, ripe, and bruise-free. It's cheap and cute, to boot. Just make sure you treat yourself to some hammock time of your own at your destination!
9. Spice it up with a magnetic spice rack.
You don't have to limit yourself to salt, pepper, and garlic powder while you're on the road in the name of saving space. Check out Mrs. M's magnetic hanging spice rack over at her blog, Living By Faith. Brilliant… and looks like a pretty fun project, too!
10. Save space on your bedside table — if you've got one — with a caddy-style "night stand."
Need quick access to your cell phone, alarm clock, notepad, books, and magazines at bedtime… but just don't have the space?
A hanging caddy-style "night stand" solves the problem, doesn't cost too much, and couldn't be easier to install.
11. Keep notes, photos, ticket stubs, and other keepsakes safe and accessible on a cabinet door-mounted cork board.
We can't get enough of this idea from Love Your RV. You'll never wonder where your grocery list ran off to, or be forced to throw away those little bits of memorabilia for lack of storage space, ever again!
At the end of the day, keeping your RV organized is all about forethought and keeping control of how much stuff you bring with you — and buy — on your trip! It's tempting to buy souvenirs and gadgets, but more often than not they end up doing little besides gathering dust and weighing your rig down.
But for the essentials, these tips should help you feel like an organizational guru in no time. What other RV storage tips and solutions have you come up with?