How to Save Space in Your RV Kitchen
How Tos & Tips
June 2nd, 2019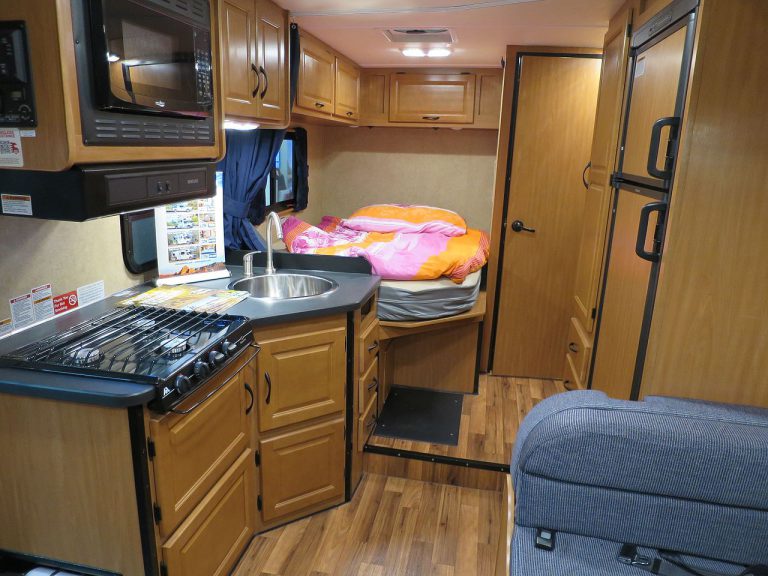 There's nothing quite as awesome as being able to take an entire home with you wherever you go. The freedom an RV offers is amazing, and the fact that it allows you to cook, sleep, and shower wherever you see fit is incredible.
That said, there are definitely some drawbacks to carrying out your day-to-day tasks in an RV. One of the biggest complaints we hear is about lack of space in the RV kitchen.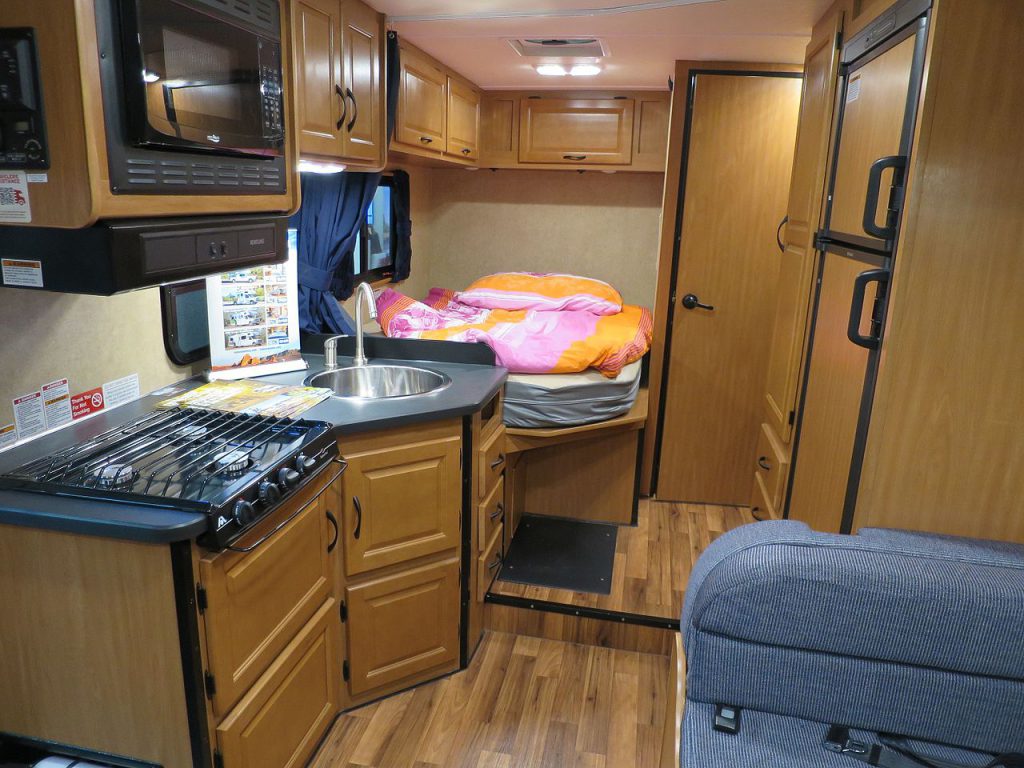 Small Kitchen Problems
It's true, tiny RV kitchens can be hard to work in. Finding enough surface space to prep food can require some serious creativity, and sometimes you may have to wait for one thing to finish cooking before you can start the next.
Fortunately, there are solutions to all of the most common issues, and none of them require a small kitchen remodel. In fact, most of these solutions are quite simple. In this article, we will discuss the best ways to overcome such problems as:
Lack of counter space
Lack of floor space
Lack of cabinet space
Finding the ideal floor plan
Storing cooking items
The Best Small Kitchen Layouts
When it comes to small spaces, having the right floor plan can make all the difference in the world. For this reason, before buying your next rig, you will want to do some shopping around, looking at all small kitchen floor plans and making sure you get the one that is right for you. This will prevent you from incurring an enormous small kitchen remodel cost a few years down the line.
Wondering what to look for in an RV kitchen floor plan? Here are our recommendations:
Look for open floor plans. Floor plans that close the kitchen off from the rest of the space can feel extra tiny.
Check for counter space and make sure the space you're given is useable. Many people like islands in their RV kitchens.
Open all the cabinets to get a feel for what you'd be working with. Try to envision where each of your kitchen items will live in the cabinets and drawers you're given.
Stand in front of the sink and stove and imagine using them. Are they a decent height? Do they feel big enough?
Open the oven and microwave to make sure they are large enough for your tastes. Keep in mind that both will be smaller than what you'd typically find in a house, but should be big enough to be usable.
RV Dishwasher Pros and Cons
Putting a dishwasher in your RV may seem completely counterintuitive when trying to save space in your tiny house kitchen, and in some ways it absolutely is. However, there are some major pros to having an RV dishwasher that may outweigh the cons, and one of these benefits actually helps with the space issue.
Cons of Having an RV Dishwasher:
They're space-consuming, taking up valuable counter space and adding weight.
They use water and electricity, which may be limited depending on your camping situation.
Pros of Having an RV Dishwasher:
Makes dishwashing quick and easy.
Removes dirty dishes from countertops and sink.
As you can see, having an RV dishwasher can actually help with your small kitchen issues by removing dirty dishes from view, reducing clutter and giving you more counter space. However, the appliance will need a place to live. We recommend building a special stand for your RV dishwasher so no counter space is consumed by it.
Making the Most of Your Small Pantry Cabinet
Don't let your small kitchen cabinets keep you from storing everything you need to have to be comfortable in your tiny home-on-wheels. Instead, maximize the space you have. Here are some tips:
Using a can holder increases the number of canned goods you can carry while also keeping things neat.
Dish shelves are perfect for allowing you to stack dishes up and make use of vertical space.
Deep cabinets are best used when drawers (or a Lazy Susan) are involved, allowing you to reach what's in the back.
Other Space-Saving Suggestions
Looking for even more RV kitchen space-saving suggestions? Try these on for size:
Have a custom cutting board made to fit over your sink. This will give you extra counter space to use while cooking.
This IKEA bookshelf makes the perfect RV space rack. It hangs on the wall—using zero counter or pantry space—and can hold containers of various sizes.
A magnetic knife strip mounted inside a cabinet can keep knives away from little fingers and out of your drawers.
Purchasing stacking pots and pans, mixing bowls, measuring cups, and measuring spoons can make a huge difference in how much space you have to work with.
Build a fold-down counter extension onto the end of your counter to add more surface space to work with.
Multifunctional tools and appliances are perfect for RV cooking. For instance, we love the Instant Pot pressure cooker because it offers a wide variety of cooking options while only taking the space of one appliance.
Replacing your RV booth with a small table and stacking stools can add floor space. Getting a table with a leaf is a great option if you think you may need to seat extra people from time to time.