How Tos & Tips
Last updated on February 2nd, 2023. Originally published on April 20th, 2015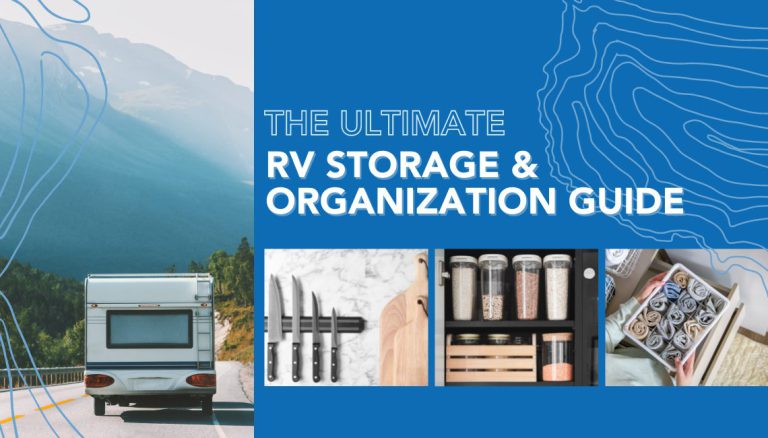 When you're packing for an RV trip, do you ever feel like you have three times more stuff than you do space? Well, you're not alone! Even those with the largest RVs have space issues.
While it's true that you probably have more room for your stuff than you would in your day-to-day vehicle, you also have more things to bring along when you're RV camping — like kitchen goodies, clothes, camp chairs, bath towels, and various hoses. Heck, you've even got full-sized furniture along for the ride! Add some kids into the mix, and you've got toys and childcare accessories to worry about, not to mention the bikes, kayaks, and other adventure gear you may be taking along for your exploration.
Which begs the question: where are you going to store it all? We've put together the ultimate RV storage and organization guide to help you utilize your space, in the best way possible.
So, let's dive right in and learn how to become RV organization pros!
RV Storage & Organization Solutions
When it comes to traveling in a house on wheels, storage becomes something of an art form. And it's definitely a fact: the right storage and organization solutions can make all the difference. With stuff spewing out all over the place, even the comfiest RV can begin to feel cramped and claustrophobic. But with the right attention to detail, a modest trailer or sleeper van can feel clean, cool, and ready for adventure.
It might seem counterintuitive, but sometimes, adding just a few extra items can help you keep the pile of stuff you already have much tidier!
From simple, pre-made organizers to DIY solutions, here's our master list of RV storage and organization solutions that will ensure everything is kept in its rightful place.
RV Bedroom/ Bathroom Storage and Organization
If you're a seasoned RVer, you know that the bedroom and bathroom are usually the first to get cluttered since these spaces are where most of your personal items stay. Between storing clothes, linens, toiletries, and everything in between, your living and storage space can start to morph if you don't have a proper organization system in place. Instead of opting for a bigger rig, consider these ideas to maximize your existing space:
#1 – Increase your closet space with a hanging shelf.
If there's only one thing you take from this post to improve your RVing adventures, we hope it's this: invest in an RV closet organizer. (And considering they're available for less than $20 on Amazon, we use the term "invest" pretty loosely.)
Those traveling with families know all too well the unique frustration of trying to cram everyone's wardrobe into a limited RV closet space. And even if you're journeying solo or with a significant other, all those little pockets and shelves can serve to effectively double your clothing storage and help keep things neat and tidy. In other words, you and your boo will never get your underwear mixed up again.
#2 – Install an Insta-hanger, which expands, from 1 1/4″ when closed, to 12″ when open.
This creative device can hold up to 60 pounds of weight. Hang it in your RV near your washer (if you have one) to dry wet clothing , or install it in your closet for extra storage. If you're using it as a drying rack, simply collapse it down to lay it flat against the wall when not in use.
#3 – Install a toothbrush holder with a toothpaste dispenser.
Toothbrush storage becomes so much more of a conundrum in a camper. Simply throwing your brush inside the bathroom cabinet with no protection is downright gross, and when's the last time you had a toothbrush that actually fit inside those little hanging wall holders they make? Plus, then they're exposed to dust and germs out in the open air… it's like there's no way to win.
This compact accessory is the perfect solution, which keeps your toothbrushes neatly stored and safe while still ensuring they're handy and ready to go. (After all, twice a day is a minimum!) And with two automatic toothpaste dispensers, four mouthwash cups, and five toothbrush holders, you'll find no lack of storage here!
Plus, with the dispenser feature, even stubborn kids will feel a little bit more motivated to brusha-brusha-brusha — and they won't use more toothpaste than they need!
#4 – Clean up bedside clutter with a portable "nightstand."
You've got your cell phone, notebook, reading glasses, whatever it is you're actually reading… and soon, you've got a great big mess right alongside your bed.
At home, you might be able to just stuff it all in the nightstand and forget about it. But depending on the design of your RV, you may not have a convenient nightstand junk drawer… or any nightstand at all!
That's part of the reason we love this portable, caddy-style organizer. Not only does it offer extra room and encourage you to keep things separated and easy to find, but you can also simply pick it up and tote it along with you to the living room, or wherever your wind-down hours take you!
#5 – Use towel bars with hooks and storage buckets in the bathroom.
This easy DIY has become super popular recently. All you'll need is a basic towel bar or two, some metal hooks, and a few storage buckets. You can mix and match your bins and hooks to go with your RV's color scheme — or if you don't have a specific scheme yet, take advantage of this opportunity to add some pops of color.
Use this organizer to hang towels, store items like makeup or other toiletries, or use it as a home for decor pieces like plants. It's functional AND it can really bring a boring bathroom to life.
#6- Use the "file folding" method to organize your clothes and linens.
Thanks to Marie Kondo, we now know that traditional folding is a way of the past! Instead of laying clothes or linens down flat, roll them or fold them tightly, then stand them upright — just like you would in a filing cabinet. Use some simple wire baskets or drawer organizers to keep everything neat and tidy.
Organizing your clothes and linens by rolling and file folding allows you to not only fit more in your RV, but it also allows you to easily see and access everything in your drawers. You'll also save time since you won't be scrambling looking for your other sock before your next outing!
#7- Towing a trailer? Keep the car organized with over-the-seat caddies.
If you're in a travel trailer rather than a motorhome, you spend a lot of time in your tow vehicle — and it can get cluttered just as quickly as your cabin can. That's especially true if you're traveling with kids, who have to bring along their whole playpen in order to endure the long driving hours of a typical camping road trip.
These backseat car organizers can help keep everything you and your family needs within reach, without having it be spread all over the backseat itself. Even if you're not traveling with kids, it's an easy and affordable way to extend your RV's storage space, especially for items that you don't need every single day inside the coach itself.
#8 – Need just a few extra pockets? This storage solution is a shoe-in.
We hope you'll forgive us for the awful pun once you see how useful this ridiculously easy storage solution is. All you need is one of those cheap, commercially-available cloth shoe storage racks, some scissors, and some velcro… and you've got an amazingly versatile storage hack to add anywhere in your RV you see fit. (Some choice spots include along the base of the bed in the master or on the sides of your RV couch.)
RV Kitchen Storage & Organization
If there's one place we could probably all use a little bit of extra room, it's our RV's kitchen. Don't get us wrong, being able to cook your own meals on the road is revolutionary and all… but man, pots, pans, and eating utensils take up a lot of room, not to mention the challenge of packing enough food for your family into those tiny cabinets!
But there are a few relatively simple RV kitchen storage hacks that will help your mobile food prep area stay culinary rather than cluttered. In fact, if the kitchen is the heart of any home, these storage systems may just grow your rig's heart a few sizes larger.
In a good way. Not in a catastrophic heart failure way.
#9 – Install an under-cabinet paper plate dispenser.
Paper plates taking up precious cabinet or countertop space? The Camco Pop-A-Plate dispenser will hold 125 9″ plates, and can be mounted right underneath your cabinet for easy storage. The low-profile design helps it blend in with your kitchen, while also keeping your paper plates within reach — and as an added plus, you'll cut down on doing dishes!
#10 – Install an over-the-cabinet-door trash can.
Garbage is a smelly problem even in the best of circumstances — and that goes double when you're traveling in the tight quarters of an RV. A traditional garbage can not only allows obnoxious odors into your rig's coach but also takes up floor space. Definitely not ideal.
These convenient over the cabinet garbage cans are perfect for RVing; they're fully collapsible and come equipped with hooks to hang right over your cabinet, allowing you to dispose of food waste without bending down. It even has a trash bag storage compartment… double win! They're small, but in a rig, you'll be wanting to take out your garbage pretty frequently anyway.
#11 – Store your cutting boards, frying pans, and lids with a wire organizer
A simple kitchen cabinet organizer can help keep unruly pans, lids, and cutting boards at bay, both increasing your usable storage space and making it way easier to find the piece you're actually looking for.
#12 – Install lightweight, expandable shelves in the cabinets for more efficient use of space
Expandable, stackable shelves are a great option if you find yourself struggling to organize unlike items together. Try putting some of these in your RV cupboards to easily stack things like dishes and condiments, or toiletries and cleaning products.
#13 – Extend your shelf space with under-shelf baskets.
Finding yourself just a little bit short on space, even after getting really creative with how you store things?
Maybe you just need a little bit of extra room — which these easy-to-use, under-shelf baskets can provide in a jiffy. They're great for packing extra dry goods into your kitchen, but you can also use them in the bathroom or bedroom for clothes, towels, and more
#14 – Use curtain tension rods to store flat items vertically.
Here's a way to keep your kitchen goodies separated and secure that's both super-cheap and fully customizable. Instead of buying a wire cabinet organizer, try a pack of tension rods — yup, the kind you might use for window curtains. A pack of six will run you about $15 on Amazon, and you can easily install and reinstall to your heart's content.
#15 – Fresh fruit? Let it all hang out.
Fruit bowls are lovely displays, of course — why else would so many artists immortalize them in still-life paintings?
But when you're on the road, those carefully-arranged apples and bananas can quickly take to flying through the air if you forget to stow them away when you're ready to pick up camp and move on. (All to say nothing of the fact that your beautiful bowl takes up precious kitchen counter space, which you probably don't have too much of to spare.)
Our favorite solution to this potentially-sticky problem? A fruit hammock! Not only does it save you space, but it also helps your fruit last longer by providing gentle ventilation that won't bruise or crush. And yeah, it looks pretty neat, too.
#16 – Keep those rolls from rolling around with a magazine organizer.
Aluminum foil and saran wrap help you keep your food fresher longer… and can be a total pain in the you-know-what to store in your cabinets.
Rather than trying to figure out how to shoehorn those long boxes into your short kitchen drawers — or worse, letting the rolls wander around inside as you drive, getting loose, dirty, and disheveled — try this brilliant and simple hack from The Kitchen. After all, in the digital age, when was the last time you used a magazine file for actual magazines?
#17 – Another idea: mount them!
You can make your quest for food storage accessories like aluminum foil and saran wrap even easier by storing them in an organizer that gets mounted to your wall or cabinet door.
#18 – Store kitchen sink essentials in this compact caddy.
A compact caddy is great for organizing your RV kitchen sink essentials like soap, dish sponges, brushes, and washcloths. The stainless steel material is rust proof and it even comes with a detachable drip tray to keep your countertops dry! You could also buy a second caddy to use in your RV bathroom to organize makeup or shower items.
#19 – Airtight square canisters make the most of small RV cabinets.
Time for some basic geometry. How much more food can you fit into your rig's tiny kitchen, if the storage containers you use all fit neatly together?
Don't worry, we're not actually going to make you do any math. But it's definitely a lot more than you'll be able to pack in if you're using round or otherwise irregularly-shaped containers.
A good set of square airtight food containers can help you keep leftovers and dry goods fresh for longer than they'd stay in a bag or box, as well as allowing you to pack more of it into your RV's kitchen cabinets and refrigerator. You can even look into smaller, single-serving containers made specifically for meal prep — see? Staying fit on the road doesn't have to be a headache!
#20 – Store spices with a compact 24-bottle pull-out spice organizer.
Ever tried to whip up a nice meal in your RV kitchen while every spice tumbles out of the cabinet as you look for the salt and pepper? A pull-out spice drawer organizer is the perfect solution. It comes with three adjustable drawer dividers, as well as removable drawer labels for custom organization and an even faster find while cooking!
#21 – Use magnetic spice jars.
The very best RV storage solutions are both functional and stylish, and that's exactly what these adorable magnetic spice jars offer. Along with being a great way to keep your flavors close at hand and out of the way, it also makes for a really fun, affordable project. The magnetic spice jars will stick to any metal surface like your RV fridge, or you can pick up a magnetized wall plate to stick them on.
#22 – Use the power of magnets to organize your knives.
If you're an avid chef, you know how important it is that the blade matches the purpose. But when you've got several knives on hand, it can be difficult to find a way to fit them all in your RV's kitchen drawers… and a big, clunky knife block is right out of the question.
Magnetic knife strips are a great way to keep your knives handy, out of the way, and also as sharp as possible since they won't be clanging around with other silverware in your drawer. Just make sure they're well-adhered before you take off for a new campsite —you definitely don't want those guys flying around inside your coach!
#23 – …or to hack just about any other RV kitchen storage challenge!
Honestly, using magnetized storage is one of our very favorite space-saving ideas, both in an RV or a sticks-and-bricks home. You can find all kinds of neat magnetic storage solutions, like this all-in-one paper towel and utensil organizer. Just make sure it's good and solid before you put any heavy items into the caddy.
And don't forget, if you don't have room on your RV refrigerator (or if it isn't magnetic), you can always install magnetic strips on your RV's walls!
#24 – Choose your cookware wisely.
One of the simplest ways to maximize the limited space inside your RV kitchen cabinets actually has nothing to do with retrofitting more shelving or finding clever ways to mount magnetic objects.
It's actually as simple as purchasing pots, pans, and other cookware items that were made to fit in as little space as possible, such as this space-saving three-piece set by Calphalon.
The $170 price tag might seem steep, but as long as you take care of them, pots and pans really only need to be purchased once. And by choosing a single, stacking set like this (as opposed to just bringing along whichever pieces from home you feel like), you'll capitalize on your RV's kitchen space and buy yourself more room to store other goodies — like, you know, actual food!
#25 – Opt for a roll-up dish rack — yes, it's a thing!
Cooking in your RV is one thing, but clean-up can be a whole different ballgame. After all, you most likely aren't packing a dishwasher, even in the most luxurious of rigs… and you can only fit so much into even the most generous of kitchen sinks.
Taking up counter space with a traditional drying rack could spell disaster if you forget to put things up before you pull out of camp, and besides, even the folding ones are pretty unwieldy to store. That's why we were so excited to find this roll-up dish rack — it's almost like it was custom-made for RV travel! Just unroll it over your sink to allow your dishes to drip dry, and then curl it back uptight when it's time to store it and move on.
#26 – Got old food storage canisters and boxes? Reuse 'em!
Want to be green and store things more efficiently? You know the drill: reduce, reuse, recycle!
Old lemonade and milk jugs make great pourable containers for cereal or granola and also allow you to buy from the bulk bins, which is more cost-effective than boxes. You can also repurpose coffee creamer bottles and the little canisters the shakable parmesan cheese comes in!
#27 – Use plastic grocery bags for everything? Here's how to store them.
From trash can liners to makeshift shower caddies to tote to the campground bathhouse, there's not much plastic grocery bags can't do… aside from being easy to store, it seems. Get yourself one of these hanging bag dispensers and thank us later. Not only are they functional, they're super cute too, coming in a variety of patterns and colors!
More ideas to try…
#28 – Try a homemade PVC-under-RV storage solution.
Chances are, you have a storage bin somewhere full of sewer items. You don't always need to use these items, but having them on board is important in the event you do need to use them. Instead of lugging that bin back and forth, consider this DIY under-RV storage solution, courtesy of Hula Hut RV Mods. Click here for step-by-step instructions.
#29 – Use reels to organize power cords and water hoses.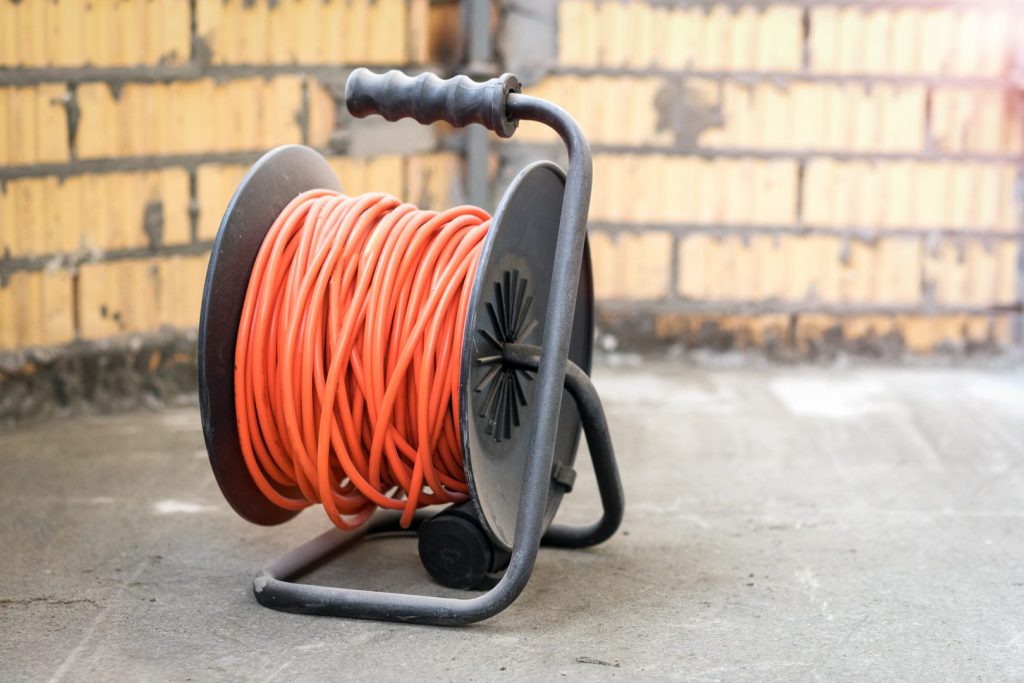 Storage reels will not only keep your hoses and cords organized, but will also help to keep them detangled and easily accessible whenever you may need them!
#30 – Repurpose broom clips to store tools, flashlights, and other items.
Pro RVers know that bringing tools along for the ride is essential. Storing these tools in such a small space though can be quite a challenge. Consider installing some broom clips horizontally in your RV exterior storage area to hold items like shovels and other tools. You could also install one inside your cabinet door or next to your bed to keep a flashlight nearby!
#31 – Store your fresh water hose, black water hose, and electric cords with a mesh bag.
When you're constantly setting up and packing in, it can be tough to keep track of your gear on the road. But one thing to always remember is to never cross-contaminate your black/grey water and freshwater hoses. With a mesh hose bag organizer, you can ensure your hoses and cables stay separated, and most importantly — that you stay safe! The large waterproof rubber tags will help you easily identify the right hose. 
#32 – Don't underestimate the power of velcro.
Got a habit of losing the TV remote? (Or, let's be real — in 2018, it's more like the three TV remotes, all of which you only use for like two functions. How have we put a man on the moon but not come up with a way to control the television with one object? I digress.)
Just a small strip of velcro on an unassuming side of your RV couch can help you keep those zappers close at hand at all times. That way, you won't miss even a minute of your favorite show because you're busy scrambling around searching!
RV Storage & Organization Tip
Rethink Your Space
Start by analyzing your current RV space. Begin by opening a kitchen cupboard and looking for empty space. In most cases over half the cupboard is holding nothing but empty air. For example, look at the space above the dishes or in between them. What about the gap between the door and the cupboard itself? When you start looking for unused space you will be amazed by how much is there.
Keep Your Counters Clear & Use The Walls
Since counter space is at a premium in an RV you want to make sure to keep them clear. Do your best to avoid storing stuff on the counter itself (especially since most of these items will need to be secured when you are driving down the road).
Instead find ways to mount things on the wall, the underside of cabinets, or inside the cabinet doors. If you can move it off the counter and into a different space, do it! You'll immediately notice the improvement.
Boxes & Bins are Your Friends
Custom boxes and bins that can be found at places such as the Container Store or Ikea. You can store batteries, craft supplies, office supplies, tools, and so much more in bins and boxes.
Inside a closet, you can stack storage boxes and pull out the one you need when the time comes. Always put related items in the bins together to save time. Lots of people use simple Sterilite plastic storage boxes throughout their RV. They are lightweight and come in a variety of colors and even prints. They also work for storing just about everything.
If you need to break up the space, consider a wire shelf that fits your boxes and bins to maximize your upper cupboards. Remember, the key is finding ways to use empty space. Storage bins and containers are available at most stores, but for an amazing collection find an Ikea or Container Store. These are the stores that specialize in everything that saves space.
Pro Tip: Label every storage bin! It will make your life a lot easier. You can buy a label maker, or you can print labels out on your printer. Avoid simply writing with a pen on the box. Ink marks usually rub off and make a big mess.
Organization Items to Keep on Hand:
If you're looking for a one size fits all solution, look no further than clips and grips. Here are a few of the supplies that seem to work for just about everything!
Folder Clips
Chip Clips
Tiny cup hooks
Suction hooks
Command Products – Decorative clips, holiday clips, bath clips, and hooks
Cordmate Plastic Covers  – Many uses
Grip Clips by Lehigh
The Bottom Line
Organizing your RV doesn't have to involve going out and buying every item on this list — use it as a guide to determine which items will best suit your rig and your storage needs!
We hope these ideas help you enjoy every moment you spend on the road, not just the ones outside your RV's four walls. After all, the whole point of RVing is to enjoy a home-away-from-home atmosphere, so you might as well go ahead and make your rig homey — which means getting things organized! Give these suggestions a try and let us know what you think in the comments below.
Looking for more? We've written a ton about RV storage and organization here on the blog. Check out these articles for more tips and tricks: