How Tos & Tips
November 12th, 2019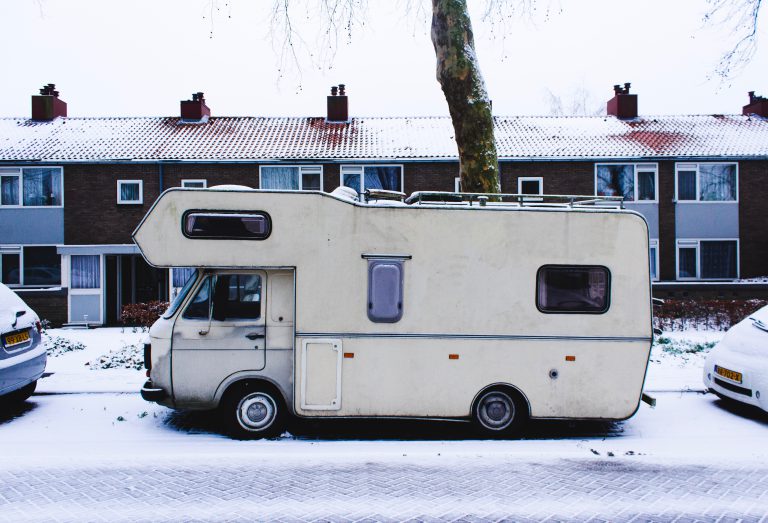 Winter is just around the corner, and unless you plan to be brave by keeping your rig out and RVing in winter, it's time to start thinking about RV storage. RV winter storage is not a chore many people enjoy. After all, who wants to put their home-on-wheels away for months on end?
The thing is, it is a necessary chore that helps keep your rig in tip-top shape so you can use it for years to come.
If you've never stored an RV for winter before, you may be wondering how to go about it. The first step is to stock up on the right RV winter accessories and equipment. Read on to learn exactly what you'll need and why.
Who Needs Motorhome and Travel Trailer Covers for Winter?
Should I cover my RV in the winter? This is a common question asked by many new RVers. The answer? In many cases, yes, you absolutely should.
The elements—especially the ice and snow that so many areas receive in winter—can be hard on an RV. For this reason, an RV winter cover is a must-have when storing an RV outside for winter. A cover will…
Protect the exterior of your rig from sun, ice, and snow.
Help prevent water from making its way inside.
…and even help keep pests from making themselves at home in your motorhome or trailer.
Best RV Cover for Winter
Wondering which is the best RV cover for winter? We love the ADCO brand covers, as well as the Classic Accessories brand.
These covers are well made, meaning they last far longer than most other fabric covers out there. Additionally, both brands carry a variety of fabrics and styles, meaning you can choose the cover that best suits your needs. This means that there is something for…
Those who need well-insulated covers for extreme weather conditions.
Those who require an inexpensive cover to last only a short amount of time.
Those who need mold-proof covers for especially wet conditions.
Whether you're in search of motorhome or travel trailer covers for winter, these two lines of camper covers for winter can help!
RV Organization Accessories
You won't want to put your RV away in disarray. Therefore, it's a good idea to declutter and deep clean before putting it away. Of course, you will still be left with plenty of items to store in your rig after your declutter session. Therefore, investing in some RV organization accessories is not a bad idea.
When it comes to camper organization accessories, we love shopping at IKEA and the Container Store. However, you can also find some awesome solutions in Walmart, Target, and even on Amazon.
Here are some of our favorite RV organization solutions:
RV Winter Accessories for Winterizing Your Rig
Besides having a good cover and some organization solutions, you'll also want to make sure you have the things needed to properly winterize your water system. Clearing your entire water system of water and filling the lines with RV-specific antifreeze will keep your lines and tanks from freezing and bursting, meaning you can jump right into camping again once the frost of winter has melted away.
Here's what you need to get the job done right:
Water Heater Bypass Kit — You may or may not need a bypass kit, depending on if your RV already has one installed. Check to be sure.
RV Antifreeze — This non-toxic solution will keep your lines from freezing.
Blow Out Plug — While some claim this isn't necessary, we prefer to play it safe and use a blow out plug to blow out the water lines before filling them with antifreeze.
Complete Winter RV Storage Checklist
Wondering what else you might need to keep your RV safe and sound during the winter months? Here's a comprehensive checklist of all the camper storage accessories you might want to gather up before the cold weather hits (this includes things already mentioned above, as well as a few additional items):
RV cover
RV organization accessories
RV antifreeze
Water heater bypass kit
Blow out plug
Mouse traps
Ant repellent
Tire covers
Cleaning products (for interior deep clean)
Wash and wax (for exterior cleaning)
Fuel stabilizer
With these RV storage accessories, you should be able to properly prepare your rig and keep it in excellent condition until camping season rolls around again.
Tips for RV Winter Storage
Once you have all of your camper winter storage items gathered, you'll need to go through the process of putting your RV into storage. Here are some of our tips for doing this well:
Repair any leaks and reseal the entire RV.
Replace the air conditioner air filter.
Change oil and oil filter, refill fuel tank, and add fuel stabilizer.
Winterize the water system.
Defrost the refrigerator and wipe it down.
Clean everything and remove all food from the RV.
Leave mouse traps and bug repellent in the rig to fend off pests.
Unhook the battery and store it in a locked compartment to prevent battery drainage and/or theft.
Cover the tires.
Use an RV cover to protect the entire rig.
Not sure where to go to find winter storage for campers? Most cities have multiple options. Simply searching "rv winter storage near me" using your favorite search engine should return plenty of results.
Once you have a list of options, call around and ask questions such as, "How much does it cost to store an RV on your lot?" and, "What kind of security do you have in place?" Soon enough, you should be able to narrow your options down to the one that is best for you.