How Tos & Tips
Last updated on January 11th, 2023. Originally published on October 20th, 2018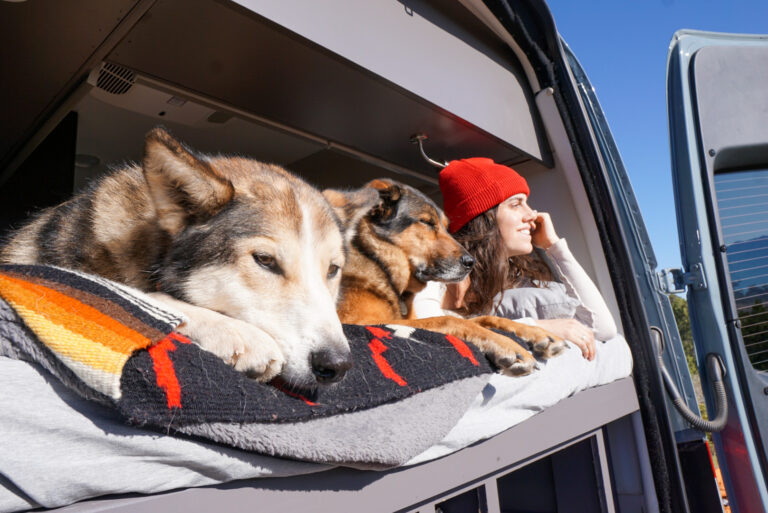 While many RV newbies dream of spontaneous road trips, experienced RVers know how much planning goes into a successful trip. One of the main things you'll have to consider before you leave is how many people can reasonable travel with you. After all, an RV isn't the type of space where you can set up a giant air mattress for guests. So if you only have a couple of RV beds, how can you make the most of your sleeping arrangements?
Although adding another bed to an RV isn't always possible, there are a few DIY fixes that might help you fit an extra person or two for an overnight stay. Read on to learn more about how to maximize the space inside your RV!
RV Mattress
When it comes to RV sleeping arrangements, try to think outside the bed. If you don't already have one, consider installing an RV table bed, which typically converts from a dinette to a double or queen-sized camper mattress. You can also look for an RV couch bed, which is basically the RV equivalent of a pullout sofa. In the tight quarters of an RV, every inch counts, so it makes sense to have furniture that does double duty!
If you're looking for a solution that's a little less permanent than adding more RV beds, try adding a foldable camp bed or hammock. A double bunk cot helps maximize your sleeping arrangements by using the vertical space in your RV, allowing you to sleep two people in a relatively compact area, such as the kitchen or doorway. For a cheaper option, you can even hang a hammock inside your RV (or outdoors, if you're feeling extra adventurous!). There are several YouTube videos that can show you how to do this.
RV Organization Ideas
Finding enough storage space can be a major obstacle to RV life. With more beds, you'll need somewhere to keep your extra RV bedding, pillows, and blankets. That's why staying organized — and limiting yourself to just the essentials — is key.
Large vacuum bags are a must-have for storing bulky bedding in a tiny RV closet or cabinet. All you have to do is put your blankets or sheets in the bag and suction out the air. Just like that, you can reduce the size of your bedding by up to 80 percent!
You can also use a bedside caddy to hold TV remotes, books, jewelry, or anything else you might need to keep close by. Without a nightstand, it's the next-best alternative for RV beds.
RV Mattress Sizes
If you're looking to replace a mattress, your best bet is to look for one that's specifically designed to fit inside an RV. Most of the time, an RV queen mattress is slightly shorter than a standard-sized queen mattress. Likewise, an RV with a twin bed sometimes require a mattress that's more narrow than usual. Be sure to take measurements before you buy to guarantee that you purchase the right size!
RV Furniture
Bunk beds are another great option for anyone traveling with kids or guests because (are you sensing a theme?) they maximize unused vertical space. On a trip when no one will be utilizing the top bunk, you can even use it for extra storage. Adding a piece of plywood on top of the RV bunk mattress and stacking it with bins and boxes is an easy way to turn the top bunk into an extra shelf.
Many newer RVs also come with built-in Murphy beds, which pull down from the wall. During the day, they can do double duty as a breakfast nook or sofa. At night, simply pull the bed down and you've got an extra sleeping space.
No matter how you end up maximizing your RV beds for guests, we hope this guide has given you some ideas to think about! If you come up with a good solution, let us know by tagging us on social media so we can see what you've come up with.
This post may contain affiliate links.