Ready to Start Full-Timing? 5 Tips for Making your RV More Efficient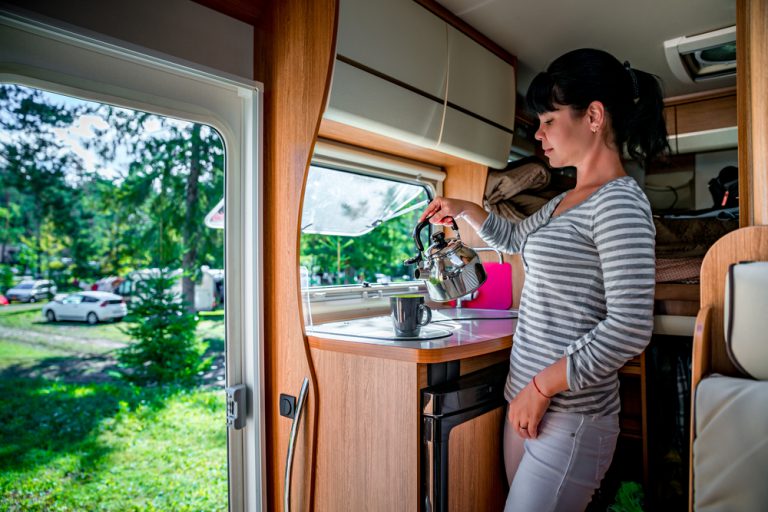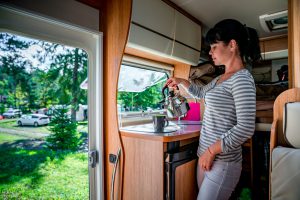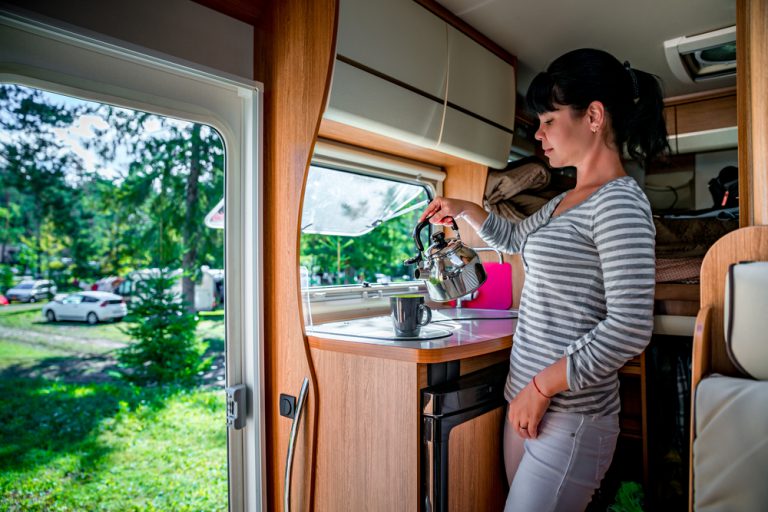 Looking to hit the road on a more permanent basis?
Whether you've taken a cross-country RV trip or have done little more than a weekend getaway, it's no surprise that people fall head over heels in love with living the RV lifestyle. Let's be real: what other mode of travel lets you combine the freedom of the open road with the comfort of your very own bed, topped with your favorite blanket and pillow — and enough storage for the majority of your wardrobe?
Plus, if you play your cards right, living the RV life can be a great way to minimize your cost of living. Yes, that's right: a life of adventure and travel might actually be less expensive than the day-to-day drudgery of regular old city living.
(Psst: one of our best money-saving tips for full-time campers? Invest in a Passport America membership. Yes, there are plenty of camping clubs and discount offers out there, but this is the only one that gets you a full 50% off your campsite accommodation fees at almost 1900 campgrounds across the country. For many RVers, the cost of campsites is one of the largest line-items in the budget after food and fuel, and you get a full year of this membership for less than $50… which means it pays for itself in no time. Definitely worth the small up-front cost, in our opinion!)
Of course, making the shift to full-time RV living isn't generally an easy or quick decision. And there are definitely certain tips, tricks, and hacks that will make your RV experience a lot more efficient, which leaves you more time, money, and energy for enjoying the journey.
So, want to learn more about how to prepare for full-time RV living? Read on for some of our very best advice.
Tips for Long-Term RV Living
When it comes to figuring out which is the best RV to live in full time, it's less about the make and model than about the specific ways you adapt your RV to your lifestyle. So here's our full-timer approved checklist of RV hacks you'll be surprised you didn't already think of.
1. Make specific space for daily must-haves like keys and sunglasses.
If you think it's stressful to lose your keys or wallet at home, just wait until the first time you misplace them on the road.
That's why we love this fun DIY idea from The Shabby Creek Cottage, which has the added bonus of making for a great family craft project on a rainy day.
Using little more than a wooden board, quick-dry wood stain, and some wall hooks, Gina shows you how to create a "Quick Drop Zone" that will make misplacements a thing of the past. And trust us, when you're amped up to explore your latest destination, finding your sunglasses is going to be the last way you want to spend your time.
How to Have a More Efficient RV
Although you can hit the road with your RV as-is, there are certain accessories and supplies that do make these tiny spaces a little bit easier to live in. Here are some we recommend you put on your list!
2. Yes, you totally need an Instant Pot.
If you're a regular RVshare reader, you've doubtless heard us sing the praises of this fine contraption before. But seriously, an Instant Pot is the cheapest, tiniest way to bring your RV kitchen cooking game to the next level.
Don't believe us? Check out this post we wrote about exactly why you need an Instant Pot — and some drool-worthy recipes you can make with it.
3. Next to no kitchen counter space? Here's an easy fix.
When you've got to fit a whole kitchen, bedroom, living room and entertainment center in a tube on wheels, there are inevitably going to be some space-saving sacrifices. One of the first? Kitchen counter space — which, news flash, you need to make those delicious gourmet meals you're after.
But fortunately, there's an easy fix for this common camper problem. This wooden stovetop cover transforms your RV's cooking range to the counter space you need, and is easily stored afterward when it's time to turn the heat on. And for just a little over $30… well, it's a whole lot cheaper (and more feasible) than installing more counters!
RV Storage Ideas
When you're living in a small space, it's all about how you organize it. Here are some helpful hints.
4. Use closet dividers to separate and enlarge your storage space.
Whether you're traveling with a family or even just a significant other, chances are your closet situation is going to get a little tight. Even the loviest lovebirds in the world don't necessarily want to sort through each other's shirts every morning!
An RV closet organizer is a great way to both provide everyone in the camping party their own separate space and also increase the total amount of storage capacity of your RV's closet. Plus, they're pretty darn cheap — you can find them for less than $15 on Amazon!
5. When it comes to garbage, out of sight = out of mind.
Your RV's footprint is small enough without sharing any of the space with garbage. That's why we love this hideaway garbage can, which fits on the inside of your under-sink cabinet. I mean, who wants to stare at their own garbage all day?
Just don't forget to empty it once in a while… although your nose will probably help you steer clear of that mistake!
Cost of Living in an RV
The best thing about RV travel is that it allows you so much control over your cost of living. Got some extra money in the bank this month? Then you can spend a little on gas and head to a new destination. Funds running a little low? Try boondocking on BLM land, where campsite fees are cheap or nonexistent.
A huge part of increasing efficiency is finding cheap ways to enjoy RV living, so check out the following RVshare blog posts about saving money on the road.
This post may contain affiliate links.