Top RVs Nearby
RV Vacation Rentals USA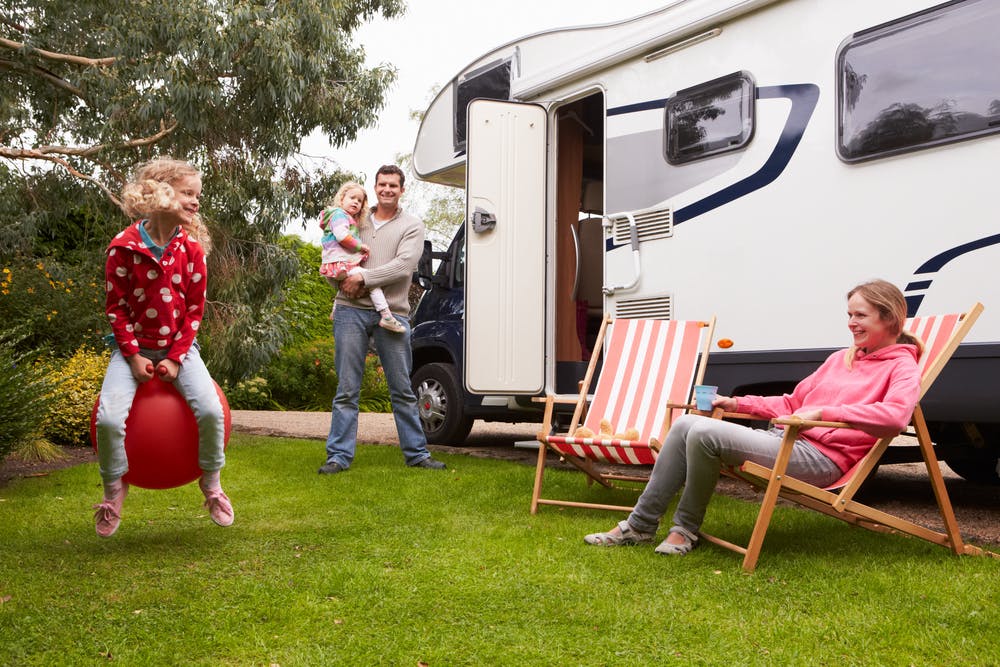 If like most people, you look forward to your family vacation all year, you know how important it is to plan your trip so that everything goes smoothly. But how can you ensure that everyone has a good time without blowing your budget? Traveling in an RV is one way to save money while providing your family with a top notch vacation.
RVs let you experience the freedom of the open road while traveling at your own pace and enjoying the comforts of home, all of which contributes to keeping the entire family happy during your vacation. But how can you find an RV that will fit all of your family's needs without breaking the bank? In this article, we'll delve a little deeper into the RV world, so that you can know what to look for when you decide to take a road trip.
RV Rentals for Vacation
You may not think of an RV right away when looking for affordable ways to travel. But the truth is, RVing is one of the most cost-effective ways to make a family trip. In fact, it can save you up to 57% on vacation costs compared to other forms of travel!
However, buying an RV is a costly investment that many people simply can't afford. Motorhome ownership involves monthly payments, maintenance, and repair, as well as storage costs. So how can RVing be affordable? It's simple-rentals!
Renting let's you avoid paying the high costs of RV ownership for a vehicle you may only use a couple times a year. Instead, you only have to pay for the duration of your trip. It's the perfect way to enjoy the benefits of traveling the open road in a travel trailer!
Luxury RV Vacation Rentals
What's the best kind of RV rental for your vacation? That will depend on what your specific wants and needs are. Your budget, how many people you're traveling with, where you plan on staying, and how far you're going are all thing that can affect your choice in RV vacation rentals.
Let's take a look at a few RV rental vacation ideas to help you decide which type of trailer would best suit you.
A popular choice for families is the largest of the motorized units, the class A motorhome. These luxurious models are perfect for a relaxing road trip, as they're equipped with all the modern amenities to keep you and your family comfortable.
A travel trailer is a more budget friendly option that can still accommodate large families. They might not be quite as luxurious as the Class A unit, but they get the job done. If you don't need as much space, a class B or C trailer may be a sufficient size. These smaller units will help save on gas.
Family Vacation RV Rentals
Now, you may be wondering "If I'm ready to plan my vacation, where can I find a motorhome RV rental near me?" You could always head to your local RV dealership, but they usually don't have a lot of units available for rent, and when they do, they're filled with hidden fees and long, drawn out contracts. Is there a better way?
Online rentals are the way to go! They combine convenience, affordability, and ease. From the comfort of your own home, you're able to search for RV vacation rentals anywhere in the USA listed by owner. RVshare is the world's largest online RV rental marketplace. That means you can find thousands of motorhomes for rent anywhere in the country. In fact, you can start searching for your rental from this very web page!
How? All you have to do is enter the area that you'd like to start your vacation and pick up your rental RV in. You'll be provided with potentially hundreds of campers for rent by owner in that area. It only takes a few seconds to start your search!
Once you've been provided with all the listings in the location of your choice, you can filter the results to help streamline the process of finding your perfect RV. Narrow down the options based on what type of motorhome you're interested in, your price range, the number of people traveling with you, and more. This will make the process of choosing a rental to go even smoother; you'll only have to browse listings that meet your requirements!
Once you've found a listing you like, all it takes is a quick email to the owner to book your RV rental, so you'll be ready to start your vacations in no time at all!
RV Rental Vacation Packages
At RVshare, we offer free 24/7 roadside assistance so that you're never alone in case of an emergency. We also have secure payments that are backed by a $10,000 peace of mind guarantee. Along with that, we provide a rewards program that gives you 5% cash back every time you book a rental through our online RV vacation planner.
There are a few more ways you can save a bit of cash on your rental though. For starters, you may want to look for a listing that offers unlimited generator use as well as unlimited mileage. This will let you avoid getting charged for overages, and will give you complete freedom.
You can also try your hand at negotiating the RV rental weekly price. If you take a longer trip, the owner may give you a deal and lower the RV weekly rental rates. That way, you can get more bang for your buck!
Vacation RV Rentals by Owner
Planning a vacation is an exciting time! But it can be stressful if you're not sure where to start. Trying to stick to a budget when planning your vacation can seem like a nightmare. But it doesn't have to be.
Renting an RV is one of the best ways to reduce stress and save money at the same time. And with RVshare, you'll be able to find an RV rental that fits your wants and your budget. Your vacation in a recreational will be a vacation unlike any other. Happy travels!