Top RVs Nearby
The Best RV Rentals Out West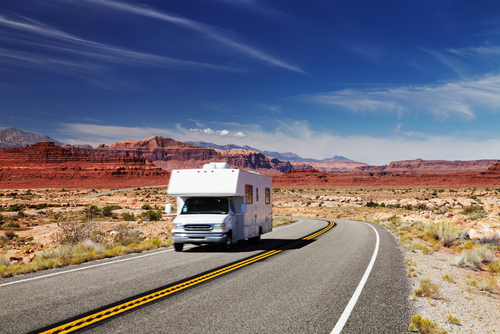 The Western USA is a stunning place to visit, with tons of sights to see, from lush waterfalls to dry deserts. A surefire way to make a trip out west a lasting memory is to make the journey in an RV. You won't be able to help but feel closer to nature after spending a vacation on the open road, visiting natural landmarks, and sleeping under the stars.
Cross country road trips are great, but they can be a little nerve-wracking if you're not sure exactly how to start planning. But fear not, even if you're not the most experienced RV trip planner, your trip to the west coast can still be a hit!
There are three things you need to make your trip a success. If you make sure you have these three things, you're guaranteed to have the time of your life.
An RV suited to your wants and needs
A place to camp that leaves you completely satisfied
An itinerary filled with fun and engaging activities for everyone on the trip
West Coast RV Rentals
The easiest and most stress-free way to take your cross-country RV trip is by renting. It saves you the cost and upkeep of owning your own motorhome, but still gives you all of the advantages of having one.
RVshare is the world's largest peer-to-peer RV rental marketplace. That means you'll be able to rent directly from owners, giving you the power to find exactly what you're looking for. With secure payments, 24/7 roadside assistance, and thousands of options, it's the best place to book an .
Booking your RV is simple and easy enough for anyone to understand. All you need to do is enter the dates and area you want to pick up an RV from, filter the search so you only see units that match your needs, book your ideal unit, pick up the keys, get a short tutorial, and you're on your way!
There are over 1,700 RV motorhome rentals listed in California alone, with prices averaging around $130 per day. With that many listings in just one state, you're guaranteed to find exactly what you want in RV rentals out west.
RV Camping in National Parks
The Western USA is full of natural beauty, and what better way to enjoy that beauty than national park camping? You'll feel closer to nature when you're surrounded by stunning forests, lakes, deserts, and mountains. Pick your favorite, or travel to multiple for the ultimate national parks RV tour.
One of the best places to truly feel at one with nature is Redwood National Park. Park your RV in this forest of giant trees, and you'll be in awe every time you step outside. If you feel like getting a little bit of exercise, there are over 200 miles of trails ranging in difficulty levels from beginner to expert.
Stay in Glacier National Park for amazing hikes and breathtaking mountain views. In over 1,600 square miles of pristine beauty, this national park holds many picture-perfect wonders that you and your family will love every second of.
Yellowstone may be the most recognizable out of the national parks, but for good reason! If you're an all-around outdoorsman, staying at Yellowstone is an absolute must. Spend your stay here hiking, kayaking, bicycling, or just sight seeing.
Holding more than 2,000 unique natural sandstone arches, Arches National Park in Utah is a wonderfully unique place to stay. You'll be surrounded by dazzling red rock at your campsite, which makes for perfect landscape photography. Visit Moab, a nearby desert town that has that small town kind of charm everyone loves.
Planning an RV Trip Out West
You've got your ride, and you've booked your favorite places to camp, but there's an endless amount of attractions in the west. How do you choose what you want to fit into your schedule? Let's look at some of the best things to add to the itinerary for your family trip out west.
If you're the type of person that likes to do things off the beaten path, you might want to consider visiting Carlsbad Caverns. You can take a tour of the deep, dark tunnels with nothing but the light of a lantern. If you stay until dusk, you can watch as thousands of bats leave the caves to hunt for food.
If you feel like getting closer to civilization for a bit, head to Vegas for some fun on the strip. You can test your luck at the casinos, or take a night to indulge yourself at a world renowned restaurant or dinner show. And remember, what happens in Vegas stays in Vegas!
If Vegas isn't quite your scene, but you still want to spend a day in the city, make it a point to travel through the Bay Area in California. Visit the Golden Gate Bridge, explore the many museums of San Francisco, or take a ferry to Alcatraz island.
Finally, all the best RV trips on the west coast include a stop at the Grand Canyon. You may have seen pictures before, but nothing beats seeing this national landmark in the flesh. People of all ages can appreciate the sights, but kids will especially enjoy the junior ranger program.
RV Rental West, USA
There's nothing greater than experiencing the natural beauty of America through traveling on the open road. In one trip to the West Coast, you can find vast forests, awe-inspiring canyons, hair-raising waterfalls, and much, much more.
If you decide to make a journey to the west in an RV, all you have to remember is the three steps to a successful trip. A motorhome that covers all your needs, a campsite that brings you closer to nature and keeps you entertained, and activities and attractions to keep everyone, young and old, having a blast.