Top RVs Nearby
Mini RV Rental USA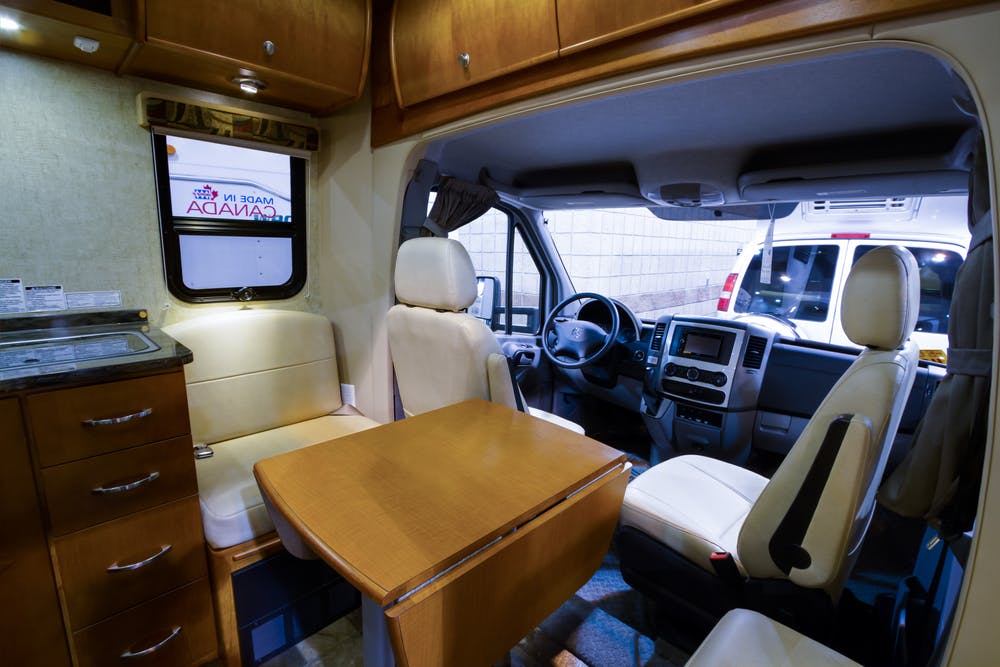 Nothing beats the freedom and fun of seeing the open road behind the wheel of a Recreational Vehicle. Having the flexibility of going anywhere anytime, while having many of the same comforts you would at your own home is a great way to travel.
What if you like the idea of RV travel, but know there's no way you'll ever need the massive space and features that come standard with many of the most popular RV classes? A minivan RV rental may be the perfect fit for your family!
In this article, we're going to learn what tiny RVs are, where you can get a mini camper rental right here in the USA, and much more.
Compact RV Rental
When most people think of RVs they picture huge Class A buses that look more like model homes inside them. Others think of Class C motorhomes that aren't quite as big, but can still be quite daunting. What a lot of folks don't realize is that there are mini RVs for rent as well.
What would classify as a mini RV? Well, really, it depends on who you're asking. But in this post, we're going to learn about a few different models that can make the cut.
Pop Up Camper - First on the list is the many times underestimated pop up camper. These are towed units that can be collapsed for easy transport. They consist of a frame, a box, a hard roof, pull out bunks, and soft walls. When they're set up, they actually have a fairly large interior space compared to what they look like folded down.
Pop up campers usually include features like a fresh water tank, a DC power system, a couple of sleeping bunks, and storage space. High-end models can also come equipped with a fridge, stove, AC, water heater, and a little dinette.
These small RV trailers typically have a very low rental cost. Less than $100 per night.
Class B - Next we have the popular Class B motorhome. These RVs are built from the chassis of vans. In fact, they don't normally take up any more than a single car parking space. They're easy and safe to drive and are very fuel-efficient compared to other RV classes.
Class B RVs are tall enough to stand in but don't have slide outs. They have a living space, dining area, accommodate upwards of two or more people, and can even come in luxury models. They're one of the smallest models of RV with a shower and toilet.
These are probably the least expensive motorized RVs you can rent.
Teardrop Trailer - The last mini camper trailer rental we'll look at is the teardrop trailer. These little trailers get their name from their teardrop like design. They typically only have enough room to accommodate two passengers and come with a mini kitchen.
Teardrop trailers are usually only about four to five feet in height and weigh less than a thousand pounds. The fact that they require a tow vehicle can actually be used to your advantage. You can set up camp and drive around town without the need to pack anything up.
Teardrop campers are also relatively cheap to rent.
Minivan Camper Rental
Those are some of the most popular mini camper rental RVs you can get in the USA. But maybe you're wondering, "Where can I get a small RV rental near me?" Your search is over. RVshare is the world's largest peer-to-peer RV rental marketplace, so you're guaranteed to find something that meets and exceeds your criteria.
Renting a small RV using our platform is the smartest way to rent there is. Not only do we provide more choices, we also provide the best customer service experiences, and we do so while providing the lowest rates in the entire industry!
We have literally thousands of RV options across all 50 states. Searching for your perfect match only takes a matter of minutes.
First, enter your travel dates and pick up location. In the blink of an eye, you'll be directed to our listings page with hundreds of motorhome options located in your area, exactly when you need them.
You can filter your results based on RV class, length, and the number of people traveling with you. Using this detailed search function, you can find a mini RV in no time. When you see one you like, click on it for more info.
You can read a description of the RV you see, along with the information about amenities, features, any rules owners might have, and more. Read mini RV rental reviews left by past renters, and even short owner bios.
Mini RV Rental Rates
As fun and easy as our platform is to use, the best part of RVshare are the prices. Our rates start at only $10 per night! On average, rates for a small RV are $50 to $150 per night. Prices, though, range depending on a few factors.
Avoiding holidays or the high season will get you the lowest rates. Renting for more days at a time will save you money on nightly rates as well. Feel free to negotiate rates with owners as well!
Besides nightly rates, renters are responsible for taxes, a refunded security deposit, and fees for cleaning or bringing pets (if the rate doesn't already include that). Another thing to consider is whether the RV you like comes with unlimited miles and generator use, or if it'll cost extra.
Mini RV Rental Conclusion
Renting an RV is definitely the way to go if you want to vacation on your terms. If you've got a small family or you're traveling with a little group, a mini RV rental may be all you need to have the time of your life.
Feel free to search through our secure platform to find the perfect mini RV rental in no time. In just a few minutes, your future adventures could be changed for the better for years to come.