Top RVs Nearby
Searching Rentals With Go-RV.com
RV rentals are on the rise all over the U.S. Renting an RV is an enjoyable and affordable way to travel. Whether you want to take a short weekend trip or a three-month adventure, you no longer have to buy an RV to travel. Over the years, more and more RV rental services have cropped up, leaving renters with quite a selection. However, each rental service has its pros and cons. We'll take a look at the differences between some of the most popular RV websites.
Go RV.com
GoRV.com will take you to a website for A&M RV Center, a dealership out of Anchorage, Alaska. They've been in the business since 1954 and have received many accolades for their services. Their inventory is small but high-quality; most of their rentals are new model years. They specialize in Class C RVs, which are the easiest to drive and a great for newcomers. You'll find three types of rentals:
A 24-foot Class C RV. It sleeps up to four people and has a full kitchen and bath. It's the perfect size if you've never driven an RV before and are worried about driving a giant rig around!
A 27-foot Class C, which can fit up to six people. It has a taller ceiling height at 7-feet and exterior storage (great for outdoor toys!).
A 31-foot Class C that can accommodate up to eight people. It has a queen bed in the back, a bunk over the cab, and two convertible sleeping areas. It also has an outdoor kitchen for those cozy nights around the campfire.
GoRV.com has affordable rental rates, with discounts if you book for a week or more. However, they have some additional fees, which they make clear on their website. They offer a few significant benefits over other rental services, like unlimited mileage and insurance. They'll also waive the prep fees and accessories fees if you meet certain qualifications.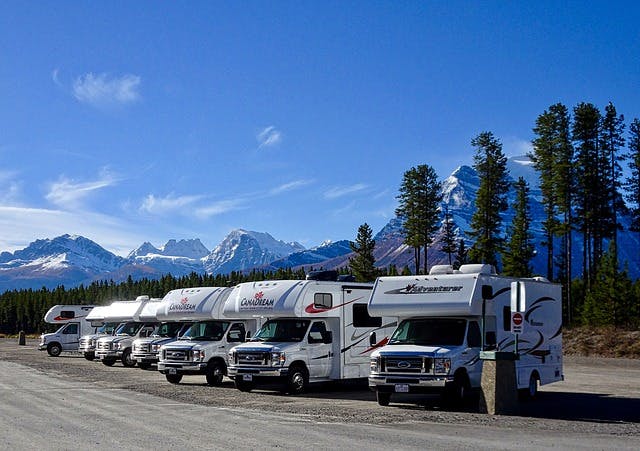 RV Rentals.com
If you type in RVrental.com, you'll be redirected to Camping World, one of the biggest RV dealerships in the country. With more than 100 locations, you'll likely find one that's not far from home. However, not many people realize you can rent from RVrentals.com, and their website doesn't make it clear. In order to rent from them, you'll have to find your nearest location and give them a call.
Because they offer consignment to RV owners, RV rental.com has a huge selection of vehicles. You'll never know what you'll find in their inventory. Whether they'll rent it, however, is more of a mystery. We suggest that you search your local inventory, find an RV that you like, and give them a call. Even if they don't rent that specific RV, they may offer something similar.
RentRV.com
Another common domain name is Rent RV.com. This will bring you to a small RV rental service out of Portland, Oregon. They have a decent selection of RVs, including:
Class A RVs between 32 to 38 feet in length.
Class C's from 22 to 31 feet.
A large, 35-foot Super Class C.
Travel Trailers between 19 to 38 feet.
Small, pop-up campers from 8 to 12 feet.
Aside from their diverse inventory, RentRV.com also has a few other benefits. For example, they offer early reservation discounts and seasonal specials. You'll get 500 free miles with each weeklong rental, and overages are only $0.30 per mile, which is lower than many chain services. Of course, the biggest drawback is that they're small. If you're not in the Portland area, you'll have to fly in (though it's not a bad place to explore!).
Alternatives to Go-RV.com and Other RV Rental Sites
If you're not into the idea of renting from a chain or family-owned rental service, there's another option available to you: peer to peer RV rentals. P2P sites like ours are different than dealerships in that we put the control in the RV owner's hands. They list their RV for free, set their rates and rules, and work with renters one-on-one. Eliminating the middleman makes the process more streamlined, straightforward, and more affordable. Here's what you can expect:
You'll put in your location and travel dates to pull up a list of available RVs in your area. You'll see more RV types than you would with any other rental service.
You'll need to look at the rates and regulations in the listing carefully since each listing is different. Look for differences in mileage and generator limits, insurance coverage, and deposits.
When you've found an RV you like, you'll submit a request to the owner, which gives them time to do a background check. In the meantime, you can message them directly through the site if you have questions or want to negotiate price.
When it comes time to pick up the RV, you'll get a quick tour of the rig and demo of how to use all the systems. Renters find that the owners through our site are friendly and very helpful, so don't worry if you've never driven an RV before.
You'll have liability coverage and roadside assistance when you're on the road. As for auto insurance, you'll either need to get a binder through your provider or purchase coverage through the RV owner if they offer it.
Once you return the RV, you'll get your damage deposit back (provided you didn't cause any damage!). Don't forget to leave a review of the owner and your experience on the listing!
Closing Thoughts
The RV rental business is booming, and thousands of Americans are hitting the roads each year. If you're looking to rent an RV, you'll have no trouble finding a dealership nearby. Whether you want a big chain or a small, family-owned dealership, you won't have to look far. Or, you can use a peer-to-peer site like ours, which offers a handful of benefits over traditional rental services. So what are you waiting for? Get clicking and start the search for your dream RV rental!