Top RVs Nearby
Class C RV Rental Prices in the USA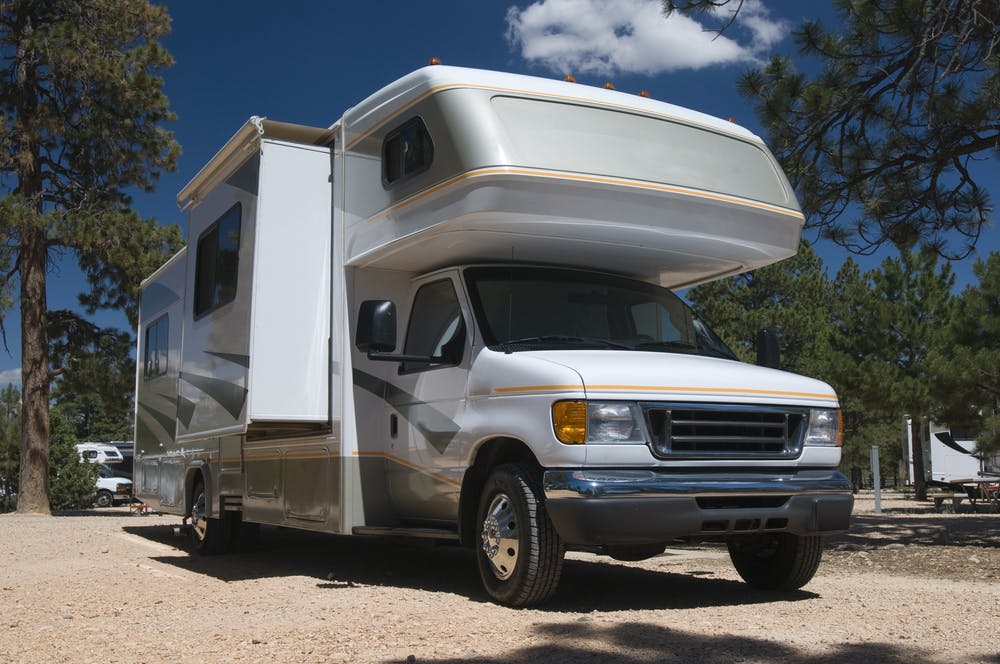 You've been planning your road trip for a while now. Your family is getting anxious to hit the open road and explore the countryside. But there's one big part of your trip that you just haven't been able to make a decision on yet. What type of RV do you want to travel in?
You've briefly gone over all the options, and you're leaning towards a class C motorhome, but you're just not positive yet. You want to know more before making a final decision. So, let's go over everything that an RV class C rental has to offer and look at how you can find the best prices so that you'll be ready to make a choice.
Class C Motorhome Rentals
You probably already know what a class C RV is, but let's take a minute to refresh your memory. Class C motorhomes are built on a minimal truck platform, with a cab-over profile. They're typically the same width as a cargo van, which makes driving one similar to driving a truck or a van.
The cab-over profile is their most distinguishing feature, and it gives an upper sleeping or storage space. Along with this extra sleep space, many class C models have slide outs, which give an even roomier and more luxurious space.
The typical type C RV rental includes all the modern luxuries you could want out of a motorhome. This includes a kitchen and dining area, fully equipped with a stove, sink, and fridge, a toilet and shower, as well as a master bedroom. Most class C campers are also equipped with an AC unit, water heater, and outside canopy.
When it comes to luxury, a class C RV rental seems to have it all! Their size and amenities make them a great family vehicle, and also makes them comfortable for longer trips. However, there a few things that might deter you from renting a class C unit.
Because of its size, it might be difficult, or nearly impossible, to find a parking spot if you want to have a night on the town. If you plan on sightseeing in the city, you may want to tow a separate car behind your RV.
Another disadvantage that comes with the spaciousness, is fuel economy. Although they get better gas mileage than most class A motorhomes, they're not the best choice for saving a lot of money on gas.
Class C RV Rental Rates
Obviously, a big factor in your decision will be class C RV rental prices. When it comes to RVs, bigger usually means more expensive. However, if you want a comfortable, spacious camper with modern amenities, class C is going to give you the best bang for your buck.
The average rental rate for Class C units is around $150 per night. However, that price will go up or down depending on where you're renting, what year or model you're looking for, and how long you're traveling for, among other things.
So, what's the best place to compare motorhome rental prices? Online rental marketplaces are the spot to search! Here at RVshare, we have hundreds of class C motorhomes for rent. With prices starting as low as $10 per night, you'll be able to find exactly what you're looking for.
Along with our low prices, we also offer a rewards program that will give you 5% cash back towards your next rental every single time you book with us. That's not all though; we also provide 24/7 roadside assistance and secure payments backed by a $10,000 peace of mind guarantee.
How does it work? Well, with our easy to use search tool, you'll be able to find a class C RV rental listed by owner in the area of your choice.
The first step is to enter the area you want to find your RV in, and the dates you're planning on picking up and dropping off your rental. Already, you'll have potentially hundreds of listings available.
From there, you can filter your search to closer fit your needs and wants. For example, you can select the RV class you want, your price range, the number of travelers in your group, and the year of RV model you'd like to rent. This will help narrow down your options, so you're only looking through rentals that you would be interested in.
Rent a Class C RV
You've decided that you want to rent a class C RV, and you've started browsing your options on RVshare. What's next?
Well, once you've found an RV you're interested in, you can send the owner a quick email with a request to book. You'll work out the terms of your rental, such as whether or not you're allowed to smoke or bring a pet in the motorhome, the price per day of your rental, and any other concerns that you may have.
Once your RV has been booked, all you have to do is pick up the keys at the time and location that you set with the owner. There, they'll give you a quick tutorial so that you know all the ins and outs of your rental. Then you're ready to hit the road!
Rent a Class C Motorhome Conclusion
Once you've started planning a road trip, you're no doubt excited and ready to hit the road as soon as possible. But you don't want to rush when it comes to choosing which RV is right for your family.
After doing your research, maybe you decided that a class C motorhome is the right choice. It provides luxury, comfort, and is relatively easy to drive. It'll be perfect for a nice family vacation through the country.
RVshare is the perfect place to find Class C campers for rent by owner. You'll be able to get the best prices available on the market, without having to sacrifice any of your needs. After countless hours of planning, you'll finally be ready to enjoy yourself on a well-deserved vacation!