Travel Inspiration
December 4th, 2019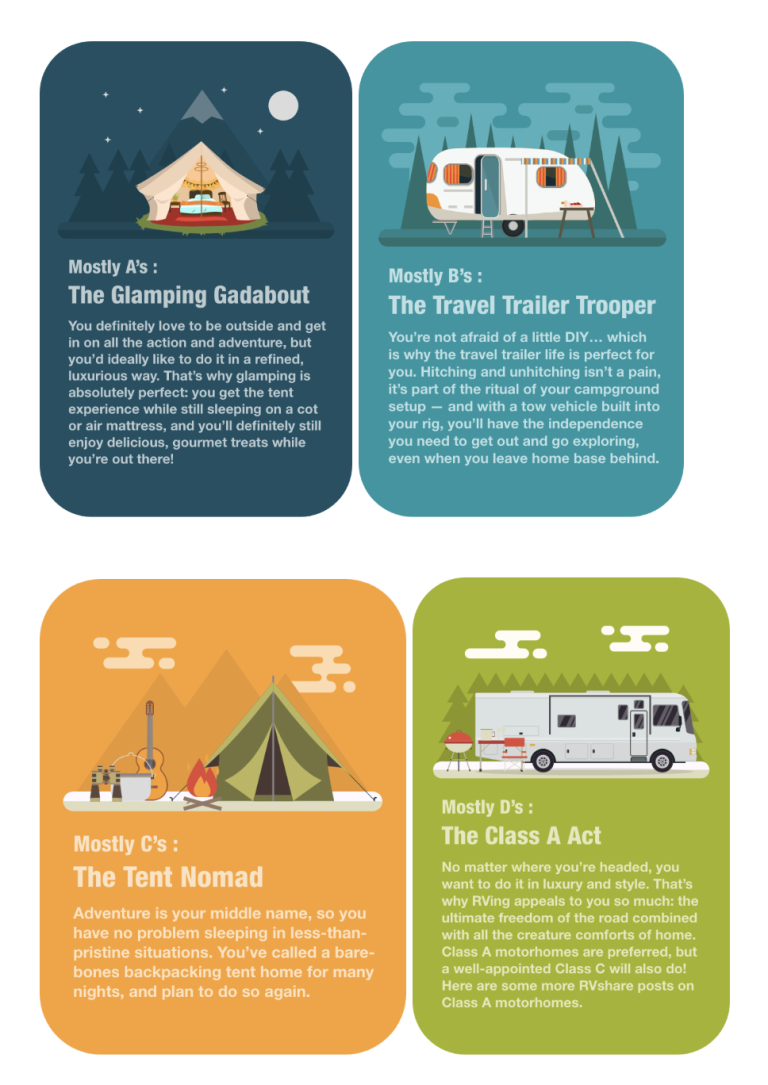 Maybe you love the great outdoors and all its messiness, and can be found in your hiking pants and boots year round. Your tent is your best friend, and you've pitched it in dozens of fascinating, beautiful locales, content to snooze under the stars even if it means getting a little dirty.
Or maybe you're happy to, say, sit under the night sky and stargaze for a while… but when it comes right down to it, you'd much rather sleep in an air-conditioned, non-tent environment. Add a hot shower for bonus points.
Fortunately, one of the most magical parts of RVing is that it makes camping accessible (and comfortable) for people on either end of the spectrum. There are just as many different types of campers as there are types of camping — and in this post, we're going to determine just which kind you are!
From rugged backpackers to upscale tent glampers to all manner of RV camping adventures, this post is all about figuring out your ideal camping scenario.
Take our fun camping quiz below and check out our infographic to determine which type of camper you are!
What Type of Camper Are You?
There are many different types of campers… but all of the camper types can be satisfied by choosing the right adventure. Which works best for you?
1. It's finally Friday! What do your weekend plans entail?
A: You've been working hard all week, which means now, it's time to party! You're planning on hitting some bars and restaurants with your best friends to catch up, watch the big game, and unwind.
B: Just because it's the weekend doesn't mean work is over! You're a freelancer or hustling a side-gig, and you've got entrepreneurial plans over the weekend. No big deal… because your extra resources will make it easy to take time off when the time is right.
C: This is a silly question. When you're not at work, you're outside — hiking, mountain biking, rock climbing, you name it. But one way or another, you're going to be in the woods this weekend!
D: Honestly, nothing sounds more appealing than sitting back and relaxing on the couch in front of your favorite Netflix show, popcorn in one hand and a glass of wine in the other. (Psst: we hear chardonnay pairs especially well.)
2. How would your best friend describe you?
A: As the life of the party… although she might fib a little if she wants to retain that superlative for herself!
B: Fiercely independent — sometimes even to a fault.
C: Adventurous AF.
D: Laid-back and super chill. Your favorite thing to do is grab takeout and play a board game together.
3. What's your sign?
A: Leo, Aries, or Gemini
B: Scorpio, Virgo, or Capricorn
C: Saggitarius, Libra, or Aquarius
D: Pisces, Taurus, or Cancer
4. What's your favorite destination?
A: An exotic beach — sun, sand, and surf all day, and wild dance parties by night
B: Somewhere to wind down, like a cabin in the woods along a babbling brook
C: The mountains, which are perfect for all your favorite outdoor adventures… but honestly, you can make any destination into an adventure if you try.
D: So long as there's someplace comfy to lounge and someone bringing snacks and cocktails, it really doesn't matter where you are when you vacation… although the time off itself is imperative!
5. How do you feel about exercise?
A: It can be kind of a drag… but you've gotta keep your figure somehow!
B: It's a non-negotiable health necessity, and you take pride and comfort in your gym routine.
C: I mean, all of your favorite activities involve physical exertion. There's no need for a gym membership… the world is your gym!
D: Eh. Maybe next January.
6. What's your favorite food?
A: Something low-carb, low-fat, local, GMO-free, and/or locally grown. (Anything left on the menu? ?)
B: You usually eat the basics: chicken and rice, quinoa and steamed veggies. But you wouldn't turn down an ice cream cone or a fancy splurge meal once in a while!
C: You'll pretty much eat everything that comes across your path — gotta fuel all that outdoor activity somehow. And as far as new stuff is concerned, you'll try anything once!
D: Whatever's being brought to the table while you've got your feet kicked up.
7. Do you have any pets?
A: A small (i.e. purse-sized) dog
B: An indoor/outdoor cat — she mostly takes care of herself, but it's nice to have some companionship, not to mention a mouser
C: A Labrador retriever or other large, active breed of dog
D: A freshwater fish tank: relatively low maintenance, and it doesn't get hair all over your house!
8. Where'd you meet your partner?
A: It's really romantic, now that you think about it. You were chilling at the bar with your friends one Saturday night, and your eyes locked across the crowded room…
B: Partner? What partner? You're happily single — and have plenty of projects to keep you occupied in your limited down time.
C: At the rock climbing gym. (It was raining, so you couldn't get outside… and you needed a belay partner. One thing led to another!)
D: On a cruise ship or at a resort in a tropical destination.
Mostly A's: The Glamping Gadabout
You definitely love to be outside and get in on all the action and adventure, but you'd ideally like to do it in a refined, luxurious way. That's why glamping is absolutely perfect: you get the tent experience while still sleeping on a cot or air mattress, and you'll definitely still enjoy delicious, gourmet treats while you're out there!
Here are some more RVshare posts on glamping:
Mostly B's: The Travel Trailer Trooper
You're not afraid of a little DIY… which is why the travel trailer life is perfect for you. Hitching and unhitching isn't a pain, it's part of the ritual of your campground setup — and with a tow vehicle built into your rig, you'll have the independence you need to get out and go exploring, even when you leave home base behind.
Here are some more RVshare posts on travel trailer camping:
Mostly C's: The One Who's Cool with Camping Tents
Adventure is your middle name, so you have no problem sleeping in less-than-pristine situations. You've called a bare-bones backpacking tent home for many nights, and plan to do so again.
Here are some more RVshare posts on tent camping:
Mostly D's: The Class A Act
No matter where you're headed, you want to do it in luxury and style. That's why RVing appeals to you so much: the ultimate freedom of the road combined with all the creature comforts of home. Class A motorhomes are preferred, but a well-appointed Class C will also do!
Here are some more RVshare posts on Class A motorhomes.
How to Plan Your Trip, From Camping Cabins to Boondocking
No matter what kind of camping most appeals to you — or even if your camping method of choice doesn't appear on this list — planning your trip is all about making ample preparations while also giving yourself leeway for spontaneity. After all, that's what road tripping is all about.
If you're interested in trying out the RV life, however, RVshare rentals can be a great way to get a taste of this particular travel lifestyle! Our privately-owned rental rigs come in every shape, size, and footprint imaginable, so you can customize your experience to your particular liking. Plus, your rental dollars will go right back into the camping community, of which you are now a part. Win-win, right?
Happy camping… no matter what type of camper you are!
This post may contain affiliate links.