How Tos & Tips
Last updated on January 12th, 2023. Originally published on November 1st, 2018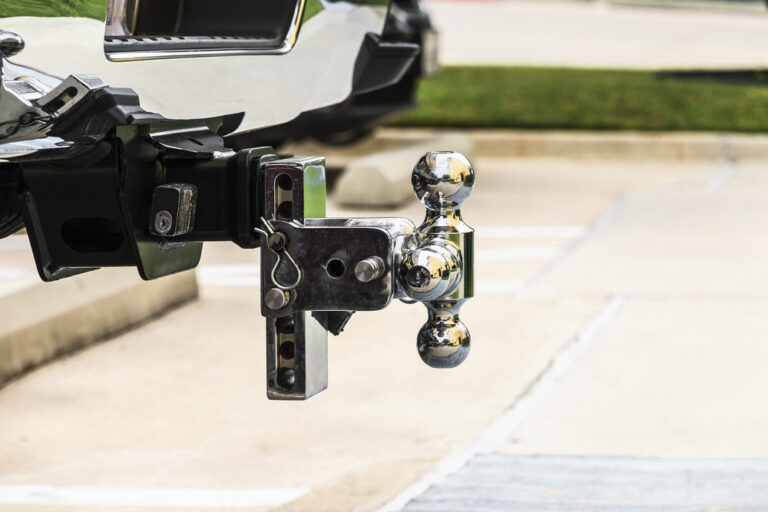 There are many reasons why buying or renting a tow trailer is the ideal RV situation. First of all, you can get behind the wheel of your own vehicle, making it a more comfortable ride down the highway. Then, once you're at your campsite, you can leave the trailer behind and head off to get groceries or go sightseeing in your main vehicle instead of dragging the entire trailer along with you. And when it comes to storage, a small trailer fits more easily into a garage than even the smallest RV.
That said, there are some things you'll need to keep in mind when camping in a travel trailer. To help you learn more, we've put together this short guide with everything you need to know about traveling in a tow trailer.
Buying the appropriate trailer hitch
The most important piece of equipment you'll need to tow a trailer behind your car or truck is the appropriate tow hitch. The hitch on the trailer is known as the receiver hitch.
Typically, this comes already installed on your trailer, but in certain cases, you may need to upgrade your hitch to something more sturdy. A 5th wheel hitch, for example, requires extra attention since fifth-wheel trailers tend to be larger and heavier than something like a teardrop trailer. To learn more about trailer hitches and how to attach them, check out our comprehensive guide here.
Choosing a tow vehicle
When it comes to choosing a vehicle, you'll need to travel with tow truck or SUV that can properly tow your trailer. Remember —the best truck for towing is the one that safely bears the load of your trailer. While some smaller sedans or hatchbacks can tow smaller teardrop trailers, any larger trailers will most likely require the use of a pickup or SUV.
Don't forget to calculate the weight of your trailer once it's full, not just when it's empty. Everything you travel with adds more weight to the load, from your pots and pans to your clothing all the way to your camping grill. Even your own body weight needs to be taken into consideration! A tow trailer is no place for overpacking, so choose wisely when deciding what needs to come with you and what can stay at home.
Knowing your towing capacity
Once you've decided on a towing vehicle, it's essential to double check your towing capacity. In general, a small SUV can tow about 1,500 pounds, while a mid-sized SUV or truck can handle up to 3,000 pounds. Larger SUVs and pickups can normally tow up to 5,000 pounds safely.
Regardless of your instincts, be sure to verify this information with your car dealership or vehicle manual before attempting to travel with a tow trailer. Not every vehicle is equipped with the same towing capacity, so depending on the specs (such as engine size and axle ratio), your Ford F-150 might have a different capacity than a friend's, for example. Before you leave, make sure you have the proper towing capacity for your trailer!
Your RV parts shopping list
Driving with a trailer can be challenging at first if you've never towed another vehicle. When traveling with a tow trailer, many people end up purchasing new mirrors for their towing vehicle so they can better keep an eye on their trailer while out on the road. Extended side-view mirrors that clip on to your SUV or truck are a great investment for anyone nervous about maneuvering a trailer!
If you're driving an older vehicle, you might also consider installing your own backup camera to make parking a bit easier. Your peace of mind is worth the extra cost — trust us.
To be extra safe, get yourself a set of heavy-duty towing chains in case your hitch comes unattached for whatever reason. In many states, these backup chains are not optional but mandatory, so definitely investigate your state's policy before you embark on a road trip.
This post may contain affiliate links.