Travel Inspiration
April 22nd, 2020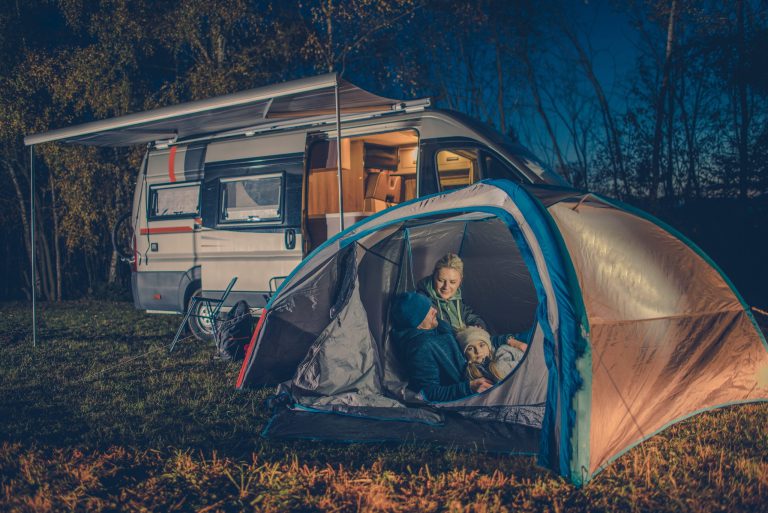 Don't get us wrong, we love nothing more than parking our campers at one of the beloved National Parks as much as anyone, and the amenities and views at many state parks are a dream, but there are other really cool ways to camp as well! So if you are ready to switch things up, we have a few suggestions to share.
Harvest Hosts
If you want a truly unique experience, look no further than Harvest Hosts. Harvest Hosts is a membership network that allows self-contained RVers to stay overnight for free at over 1,000 locations including wineries, breweries, farms and more. The yearly membership fee enables you to stay at interesting places all around North America, and experience new opportunities to explore and enjoy the RVing lifestyle. The company's goal is to provide meaningful experiences for RVers and Hosts alike. Imagine parking in the midst of a winery, and opening your RV door to find a bottle of wine that was prepared right on the property. Or setting up camp in the middle of a lavender field!
Harvest Hosts overnight stays do not require a per night camping fee to the member and offer a variety of off-the-grid experiences. However, members are encouraged to support the business that is hosting them. Putting that cash toward stocking up on delicious wine or produce isn't a bad tradeoff if you ask us!
The price for a yearly membership is $79, but RVshare readers get 15% off with the code RVSHARE.
Hipcamp
Hipcamp's mission is to get more people outside and to inspire the next generation of people who are passionate about exploring and protecting our lands. They know access to land and information about land is key to getting people outside. They want finding your next place to camp to be a breeze, and are committed to making getting outside fun, easy, and simple.
Summer is the busiest time of the year at our national parks and RV-friendly campgrounds. While more people enjoying the great outdoors is a wonderful thing, it can sometimes make finding a peaceful space to camp for the night a lot harder. On Hipcamp you can find RV-friendly campsites on ranches, vineyards, public parks and more. You can use them to see if your favorite national park campground has last minute availability, book a yurt on a camel farm, and find just about anything in between for you and your RV. They've partnered with landowners in all 50 states to help you get outside on your own terms.
Boondocking
Boondocking is a popular topic over here at RVshare. Many of our campers love to unplug completely and camp out in complete solitude. Boondocking is "dry camping" – or camping without gear hookups, like those found in a typical campground – in an undeveloped natural location. You do not have the benefit of hookups while boondocking, so you must be able to operate self-sufficiently using the RV's onboard systems and any other equipment you bring along with you to supplement those systems. All necessary supplies should be stocked beforehand. Boondocking is great for those on a budget, wanting to be a little more green, and looking for more isolation. It's also about as close to nature as you can get!
Check out some of our in-depth articles around how and where to boondock:
Private Campgrounds
Private campgrounds are privately owned by individuals for profit. Since campground owners know you have plenty of camping options to choose from, these locations are usually well-maintained, filled with amenities, and backed up by great customer service. After all, they want to keep your business! Some amenities you may find at a top notch private campground include swimming pools, water slides, playgrounds, organized events, and more. Plus spacious, well-paved RV sites and designated spaces for campfires.
Some of the best private RV campgrounds can be found through user review websites like Yelp or TripAdvisor, and you can always run a Google search for "RV campground near me."
Each of these types of camping offer a unique and special experience. Whether you want to park on a winery, step out of your RV onto an alpaca farm, set up camp with no one around for miles, or enjoy some swanky amenities, there is a camping experience for everyone.