Super-Easy Tips and Tricks for Leveling your RV or Travel Trailer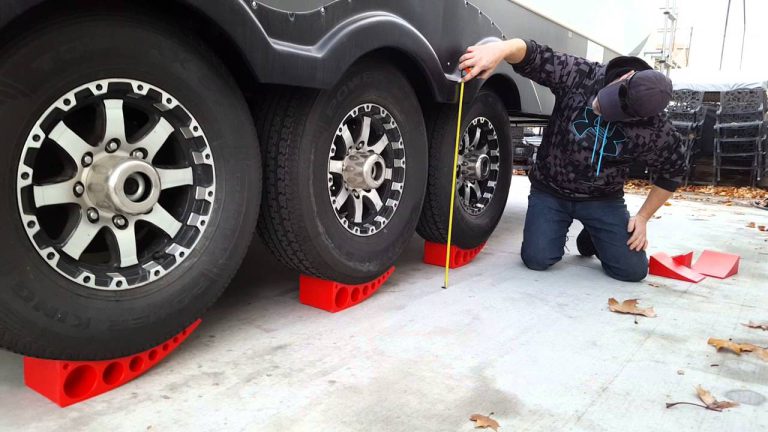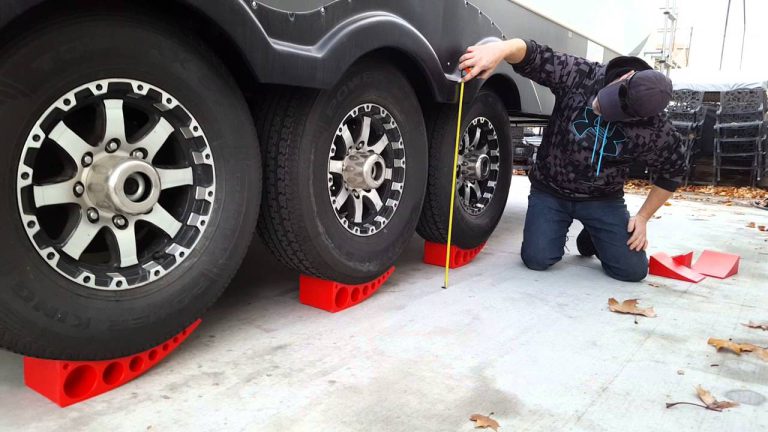 Road maps? Check. Travel planner notebook? Check. Wardrobe full of clothes and pantry full of yummy treats? Check and check.
You even made sure you renewed your Passport America membership so you can save 50% every time you camp in a premium site with hookups. So you may think you're ready to hit the road — but there's just one more thing.
What about your RV levelers?
Leveling a travel trailer is one of those things you don't really think about until it becomes an issue. But once you find yourself trying to enjoy a meal or get a good night's rest in a slanted camper, trust us — you'll want to get the inside scoop on how to fix the problem. Plus, it's a bigger issue than just comfort. Leveling is imperative to keeping important systems working properly, including your RV refrigerator.
But how do you go about setting things straight, especially if you're in a remote boondocking campsite? What equipment do you need, and what are your upgrade options?
In this post, we'll cover all that and more. You're sure to have things straight by the time we're through!
Leveling a Travel Trailer
If you've only camped in industrialized campsites so far, complete with concrete pads, chances are you've never had to worry about leveling your camper. But as soon as you venture off the beaten path, you'll get to put your rig's leveling systems to the test.
Depending on your individual motorhome or travel trailer, your rig likely comes with a set of on-board RV leveling jacks, especially if it's a modern model. These jacks extend down from beneath the vehicle, and are usually used in conjunction with other leveling aids, like blocks, to achieve an even coach. (Some people forego buying commercial products and just use plain old two-by-fours, though your mileage with that may vary depending on the weight of your rig. You want to make sure your levelers aren't going to give out on you!)
Now, some large, high-tech rigs come with automatic leveling systems, a set of hydraulic RV levelers that do most of the work for you just at the press of a button. These motorized systems are also available as aftermarket add-ons, but they can easily run you thousands of dollars. Unless you're willing to foot that bill or you're already driving a souped-up, Class A diesel pusher, chances are you're going to have to do some of the work of leveling your RV yourself.
But don't worry, it's not all that difficult — and once you do it a few times, you'll get the hang of it and become a pro.
RV Levelers
Whether you're driving a travel trailer or a motorhome, RV leveling blocks can provide an extra boost of stability if your jacks aren't quite making it. And that's important, because when you're out on BLM lands in the rolling west, sometimes, the best campsites are sloped!
Using RV leveler pads or blocks is simple. Just place them on the ground and drive your rig over them, or put them under your RV's extendable leveling jacks. In a travel trailer, you may also have to use blocks under the tongue jack or even your tow vehicle's rear tires, especially if you're camping somewhere for just a single night and don't want to disconnect.
If you have electric levelers for your RV, it's even easier. Just send them down and your rig's sensitive equipment should handle the rest. However, in the case of an extreme slope, your jacks likely won't be able to compensate for the grade, in which case you'll need to use leveling blocks to help. Don't forget you can also consider rethinking your campsite arrangement — for instance, pointing your RV in a different direction to help make it as even as possible.
You can also do the reverse: instead of using levelers to bump up your RV's height, get out a shovel and dig a hole or two. Then, simply back your trailer's tires into the ditch and voila, you'll be level. Better yet, it's an even more stable arrangement than using blocks, so the rig won't bounce around while you're walking inside it. Just be sure you have those blocks around for when it's time to get back out again, and avoid using this technique if you're camping in a wet area. I can say from experience: getting stuck in the mud is even less fun in an RV than it is in a regular vehicle, and a whole lot more difficult to get out of!
How to Level an RV Travel Trailer
One of our favorite tips on leveling a travel trailer is to add another piece of affordable equipment to your lineup: RV tire chocks. They'll run you about $100 for a pair, but once you camp with them, you'll see exactly how much they're worth it.
Even the most level RV in the universe can run into some shakin' and rockin' when you're walking around inside. And unless your idea of a fun camping trip is a whole weekend of trying to get your on-land sea legs, you'll quickly tire of doing the shimmy.
RV tire chocks take out the shake and make your RV much more stable, so it basically feels like you're walking around inside a sticks-and-bricks house. This is even more noticable if you're camping with a family of young children, who don't tend to be able to keep still for very long!
RV Stabilizer
Keeping your RV even will help make your home away from home feel much more comfy and cozy — and ensure that you don't run into an expensive RV refrigerator mess. Losing a whole fridge full of food is already a hassle, and that's before you even start thinking about actually fixing the appliance.
Whether you use physical blocks alone, a combination of blocks and chocks, or go all-out and install a fully motorized RV leveling system, leveling your RV makes it possible to camp on some of the wildest, most beautiful lands our nation has to offer.
Here's to seeing it all and enjoying it on an even kilter!
This post may contain affiliate links.