How Tos & Tips
Last updated on January 17th, 2023. Originally published on April 29th, 2019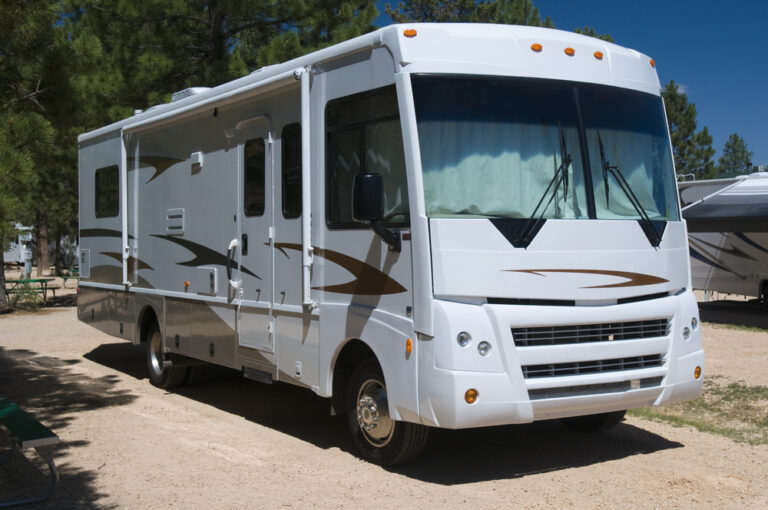 Class A campers. They're big, they're spacious, they're — pardon the pun — classy.
And have we mentioned, also, that they're… big?
Although they offer one of the most luxurious motorhome experiences out there, actually driving a Class A RV can be extremely off-putting and intimidating to some campers, and we totally understand why. If you've gone through your life driving only sedans, or even SUVs and mid-sized trucks, tackling a 40-foot bus can be a bit scary.
But despite their impressive size, length, and weight, there are plenty of amazing Class A drivers out there who started out as total beginners. You don't need to get a special license or take a continuing education course to start driving around your dream motorhome — you just need to get out there and actually do it!
Of course, those assurances don't make you feel any better if you're dealing with the prospect of driving a Class A RV now, before you've had that practice. So in this post, we'll go over what you need to know about driving these large and luxurious beasts so you can take to the highway in confidence.
What Are Class A Motorhomes?
Before we dive into our driving lesson, let's get clear on what we're talking about. What exactly are Class A motorhomes?
For many people, a Class A motorhome is what comes to mind when you first think the word RV. It's a big, straight-bodied vehicle that looks kind of like a bus — and in some cases, it may actually be a bus conversion.
Class A RVs come in a wide range of styles and sizes, and some smaller ones are available, starting as low as 20 feet. But they also range up to 40 or 45 feet in length, and since they're stocked with luxurious amenities, pack a great deal of weight, which can add to the trickiness in learning to drive one.
But just because it's a challenge doesn't mean it's impossible! Next up, let's talk about actually driving that Class A RV you have your eye on.
Driving a Motorhome: It's Not That Scary, We Promise!
Contrary to popular belief, you don't need a fancy license or extra endorsements to drive a Class A RV. If you're licensed to drive a two-door Mustang, you're licensed to drive a Prevost!
But that doesn't mean there aren't some serious differences in how you should approach these two tasks. Even the most skilled and confident drivers will find themselves challenged the first time they sit behind the wheel of one of these monsters! Here's how to master the art of driving a Class A RV.
Take it slow.
It's very common for new RVers to rent a rig without scheduling in any "getting acclimated" time. They think they're simply going to slip behind the wheel of this great, big thing they've never driven before and set off toward their destination, no problem.
This, of course, can be disastrous, leading to failed itineraries, broken plans, and worst of all, a negative camping experience that could keep them from coming back and discovering exactly how awesome this travel lifestyle can be.
If at all possible, make your first Class-A RV driving experience a short, slow, low-stakes one. Rent a rig for a quick weekend "staycation" at a nearby State Park, or even in your own backyard. You'll be a lot less stressed getting accustomed to driving a large vehicle if you aren't trying to do so on top of meeting pre-arranged reservations for your dream trip, and if you decide you hate it, you won't have to face a long journey back.
If that's not possible, then at least build a day or so of slow travel into your schedule so you'll be able to take the time you need to be truly comfortable before you're speeding around.
Get familiar with your new perspective.
If you've ever graduated from a regular sedan to a pick-up truck or SUV, you probably remember suddenly feeling like you'd scaled a small mountain. When it comes to driving, even a few inches more clearance can feel like a totally different perspective on the road — and in an RV, you're sitting significantly higher up than you are in a typical road vehicle.
What's more, your view on the road is different, since you can't just look over your shoulder to figure out what's going on behind you. Depending on your rig, you may have a built-in back-up camera that'll help you keep tabs on your surroundings, but you'll still have to get used to looking down at it instead of wheeling your head around trying to overcome blind spots. (Psst: if your rig doesn't have a back-up camera pre-installed, you can buy one separately for less than $200.)
Re-calibrate your brakes and turns.
Remember: You're a lot bigger now! With more length, width, and — most importantly — weight, you'll need to adjust your ingrained driving habits in order to compensate for your new vehicle's body size.
For instance, that last-minute braking job that might be enough to make the light in your sedan will send you sailing through the intersection, and possibly skidding, in a 40-foot diesel pusher. And as far as turns are concerned, you definitely want to give yourself a nice, wide radius to work with if you're to avoid catching curbs, or worse, nearby cars.
Of course, all of these adjustments will become habitual with time. But when you're first starting out, they're going to take conscious effort. Don't be afraid to practice in a low-traffic area, like a large parking lot, before you take to the busy highway!
When in doubt, stop and get out.
When I was growing up, the catchphrase in my family was, better safe than sorry. And while I'll be the first to tell you my parents take this mantra to extremes — using it, for instance, as a justification to avoid statistically-safe commercial flying — it's true that you always have the option to stop and take a break, or even to ask your spouse to drive in your stead. (That is, given he isn't just as intimidated by the whole thing as you are.)
It's a much better scenario to pull off on a random exit and take an unexpected detour than to drive on to your destination only to be frothing with anxiety by the time you get there — or worse, to work yourself into such a tizzy on the road, you unwittingly cause an accident.
Can You Take RV Classes?
Although it's not required by law, if you're feeling really overwhelmed by the prospect of becoming an RV driver, you can increase your confidence and skill by taking an RV driving course before you hit the road in earnest. Depending on the school you find, you may have to provide your own RV to learn with, which is a bit of a double-edged sword: it's good, because it'll get you the instruction you need for your vehicle, specifically, but it also means you'll need to invest in purchasing or renting a rig before you start taking your lessons.
Of course, renting is a much lower commitment level than purchasing — and, as you may have guessed, we have some great leads on how and where to find a stellar rental vehicle!
Practice Driving a Class A RV: Find an RV Rental Near You!
Just like any other skill, the very best way to increase your aptitude at RV driving… is to drive an RV. And to do that, you've got to get behind the wheel of one!
Renting a rig on the peer-to-peer market can be a great way to try out the lifestyle before you make the commitment to buy into it. And what's more, the diversity of by-owner listings means you can try out a whole slew of different vehicle types, from large Class As to tiny fold-out campers. Maybe you'll start small and work your way up… or, perhaps, you can jump right into Class As and know you'll have other vehicle types to fall back on if you discover it's not for you.
Either way, renting through RVshare is safe, secure, and easy as can be. Thanks to our platform's comprehensive user rating system and easy communication tools, you'll know exactly what you're booking, and who you're booking from, well before you commit to the rental. And each rental period is covered by A-rated insurance policies to keep you totally at ease on the road — even if you're a beginner.
So what are you waiting for? Check out the RVshare rental listings near you today. Your next adventure awaits!
This post may contain affiliate links.
For more tips, check out this RVshare article about 40 foot RV rentals.