Travel Inspiration
Last updated on December 1st, 2022. Originally published on July 9th, 2017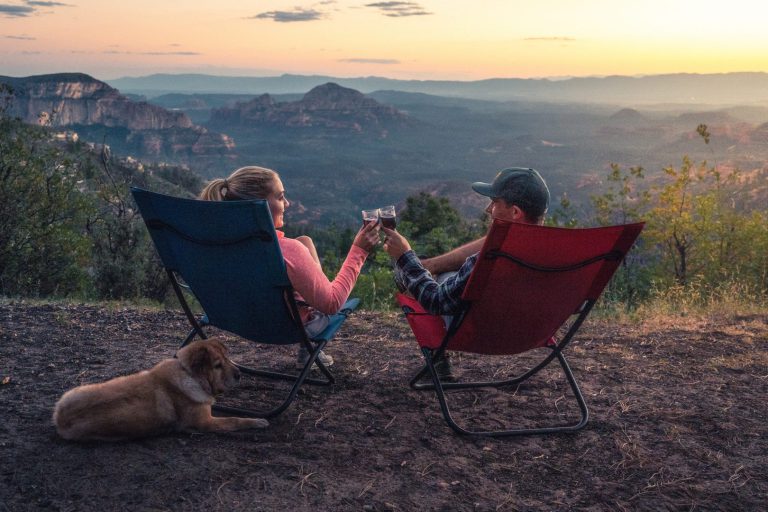 The outdoors are really great… except for all the bugs and dirt and lack of air conditioning, of course.
If you're nodding your head sympathetically, you might be a glamper.
Glamping, which comes from "glamorous camping," is the travel trend that's sweeping the nation (especially now that we have Instagram, where we can share our beautiful glamping pictures!) Glamping allows adventurers all the excitement and serenity of the great outdoors… with none of the inconveniences of, say, having to use the woods instead of a bathroom.
"Whether in a tent, yurt, airstream, pod, igloo, hut, villa, cabin, cube, teepee or treehouse, glamping is a way to experience the great outdoors without sacrificing luxury," according to the movement's official website.
So basically, it's camping for the indoorsy among us. But is it right for you?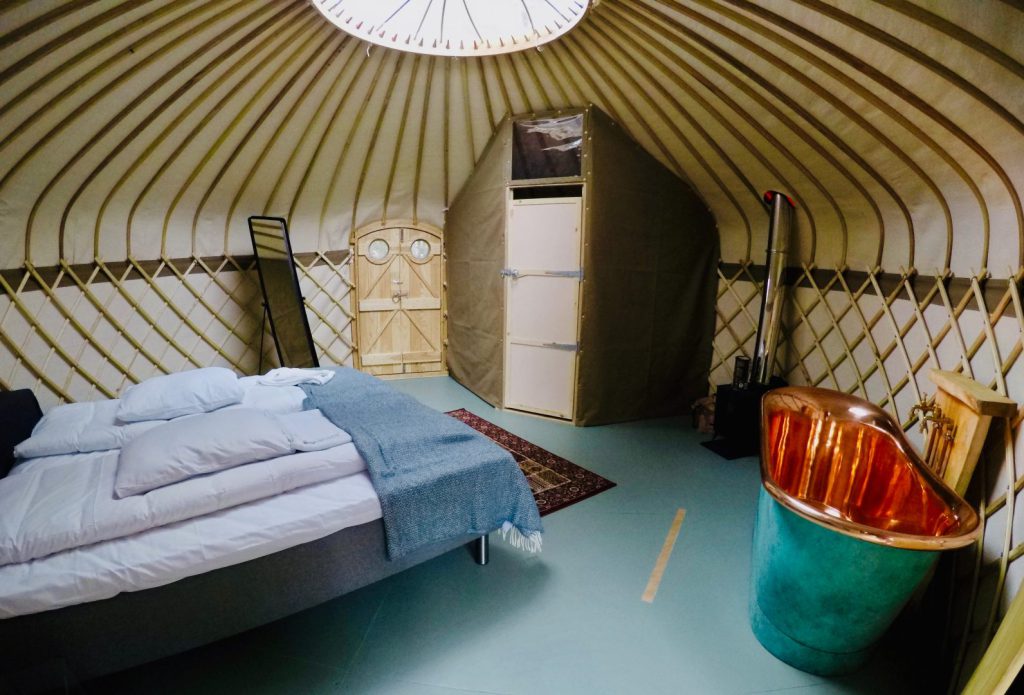 What is the difference between camping and glamping?
For die-hard campers who live for days spent lost in the woods with nothing but a tent for shelter, glamping might actually sound like a total nightmare, not to mention inauthentic. The whole point of camping is to get outdoors and a little bit outside your comfort zone, they could argue.
But others might see glamping as a great opportunity to see and experience nature for people who otherwise might not ever do so. Whatever way you choose to get outside and enjoy the wonders of this earth is a good thing.
What is camping?
Camping can look a lot of different ways, depending on who's taking the trip. It can conjure up images of backpackers carrying nothing but a tent, sleeping bag, and a few lightweight supplies out into the wilderness. Or it could mean a family, with a tent that sleeps ten and comfy air mattresses and sleeping bags to boot.
RVers also refer to taking their motorhomes out on the road and setting up at campgrounds across the country as camping. Just like tent camping, RV camping can be minimal, with campers going off the grid and using only the power and water they bring with them, or it can be an extensive setup with comfortable beds and heated showers and a patio strung with lights for entertaining.
What is glamping?
Glamping allows campers to bring many of the comforts of home, and a lot of decorative touches along with them, too. People have come up with all sorts of creative ways to keep themselves as comfortable as possible while still technically on a "camping" trip.
Common motifs include exposed lightbulbs, rustic-looking decor, and attractive people happily clinking wine glasses in a clearing surrounded by well-manicured woods. The whole thing is an Instagram goldmine.
There are even dedicated glamping resorts and deals cropping up as more and more travelers take to this vacation style.
Glamping is done in "luxury tents," cabins, and trailers with elaborately decorated interiors.
Yurts and treehouses are especially popular glamping sites, and many of them are well-decorated and tricked out with all sorts of extravagant amenities. Campers might even be served posh dinners and enjoy nightly turndown service. Some glamping facilities are nicer than actual hotels.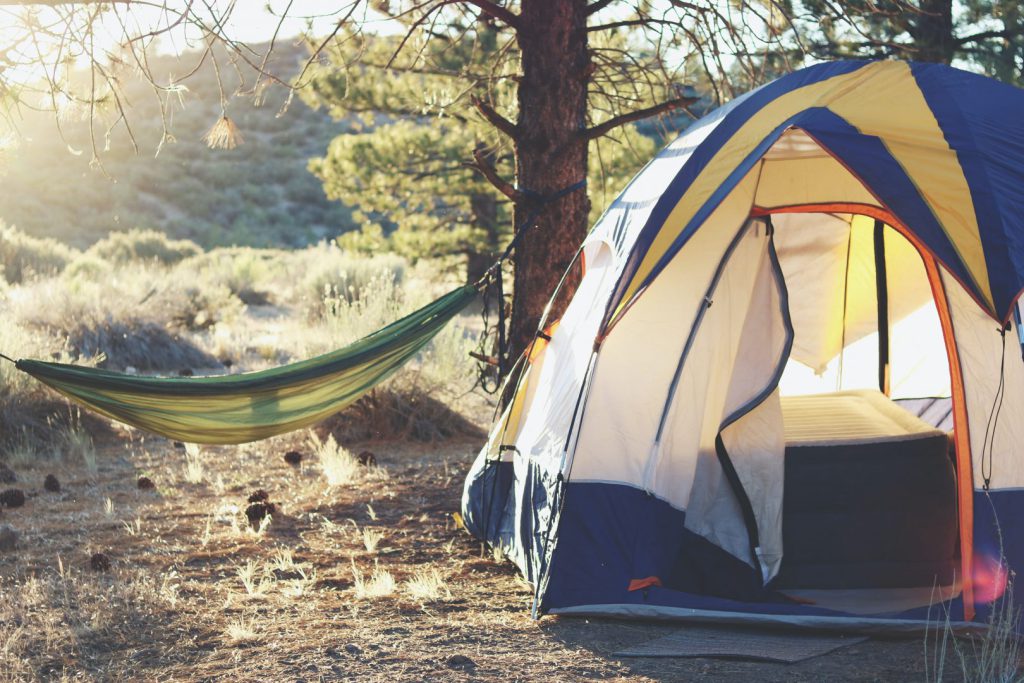 Pros of Camping
There are some obvious pros when it comes to rustic camping over glamping.
Price
The cost of a camping trip can be very cheap. Campsites are inexpensive, and some are even free. After the initial cost of purchasing equipment, you can camp often for very little money. The cost also doesn't tend to go up much as you increase the number of people. It's one of the best ways to enjoy the outdoors for a family keeping an eye on their budget.
Pride
When you return from a trip where you set up your own tent, cooked your own food over a tiny stove or campfire, and matched wits with the wilderness and won…that's a great feeling. Teaching kids – either your own, or scouts or other kids you mentor – outdoor skills also builds up their confidence and helps them realize they're strong and independent. For some kids, the confidence they build on a camping trip can be life-changing.
Proximity to nature
You feel really close to the wilderness when the only thing separating you from the outdoors is a thin layer of tent cloth. You grow attuned to the noises outside (which is good and bad!) and you're more likely to live by the rhythms of the sun. Camping brings us back to a way of life that's almost entirely gone when we're home with our electric lights and entertainment centers and plumbing (ok, that last one is hard to give up!)
Pros of Glamping
It's easy
If you didn't grow up going camping, and don't know anyone who does it, it can be intimidating to head out into the woods on your own. Glamping allows you the feeling of being in nature, but in a controlled way and with all your necessities provided for. You just need to pack as though you're going to a hotel – no worrying about messing with a camp stove or water filter or bear box.
It's comfy
I don't think even the most dedicated camper would argue that it's more fun going to the bathroom in the woods than in a proper bathroom with a flush toilet. And as you get older, the idea of sleeping on the hard ground with a sadly thin air mattress (that always deflates! Why do they always deflate?) is less and less tempting. Even for adventurous types, after a day of hard exploring, the idea of taking a hot shower and falling into bed covered by a fluffy comforter while surrounded by charming twinkle lights is enchanting.
Glamping Tips
If you're interested in glamping, here are some tips for booking a glamping getaway, or to put a few touches in your own RV to make it feel more luxurious.
Book a getaway to a fancy yurt, a grown-up treehouse, a safari tent, or in a vintage RV and stay in style!
2.) Spruce up your RV with throw pillows
Not everything in your motorhome needs to be strictly functional – have a few festive throw pillows tossed around on your dinette set or bed! Because throw pillows are small and inexpensive, you can swap them out with the seasons or whenever you tire of your old ones.
3.) Hang things with Command Strips
Command Strips fasten your pictures or other collectibles tightly to the wall and keep them much more secure than by using a nail or picture hanger. You can hang pictures from your adventures, or trinkets you've discovered along the way.
4.) Lay down some rugs
You can brighten an entire room with a small rug in the center. It also helps keep the chill off your feet when you're walking around in your motorhome!
5.) Paint
Yes, you can paint in your motorhome! Browse Pinterest for ideas, or look online for motorhome color schemes and pick some charming colors to brighten your own motorhome. You can find more ideas on how to outfit your RV for glamping here on RVshare.
Where to go glamping
There are plenty of places to go glamping around the country! Here are a few suggestions for places to consider if you want to plan a glamping trip.
How Much Does Glamping Cost?
One reason RVing might make more sense than glamping for families is the crazy cost of some of these extravagant setups. I mean, check out some of the prices for accommodations at this resort in Montana. The least expensive options are more than $500 per night… per person!
Don't get me wrong: RVing can get expensive. They take a lot of fuel to run, and some campgrounds charge as much as $100 per night for full-hookup sites with added conveniences.
But even factoring in a $200-a-day RV rental, food costs, and entertainment, it would be pretty tough to match those insane glamping prices.
Plus, with RVing, you already know what to expect and what to bring along. Your nightly retreat will feel more familiar and homey than overblown and expensive… which can actually be a lot more comfortable and enjoyable.
Best of all, unlike yurts, igloos, "pods" and "cubes," RVs are built to move. That means you can bring your luxurious glamping experience anywhere that strikes your fancy. You could spend a few nights by the beach only to retreat into the mountains for the weekend, or even transform your very own backyard into a decadent glamping getaway. And when your vacation's all done, you can park your rig in the driveway, knowing it's always there waiting for your next big adventure.
Show me a yurt that can do that!
So don't pay $500 just to camp with a real bed to sleep in. You'll be roped into the glamping resort's prices and regulations, not to mention stuck in one place.
Instead, grab an RV – either your own, or one you rent through RVshare – and make the open road your glampground.