RV Owners
Last updated on April 13th, 2023. Originally published on December 23rd, 2018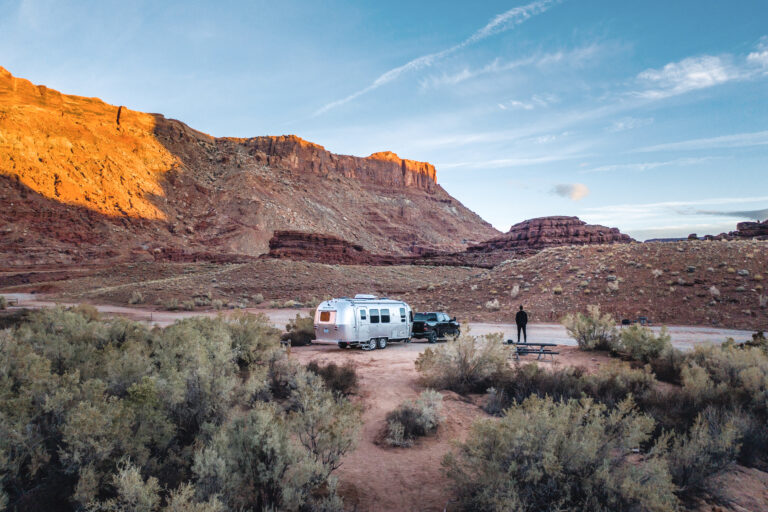 The words "recreational vehicle" are pretty open-ended. They encompass a wide range of motorhomes, including both tiny sleeper vans and huge Class A diesel pushers, along with all the mid-sized options in between.
But travel trailers are also RVs — and, in fact, are one of the most popular, accessible, and affordable options for those considering making a foray into the RVing lifestyle. Although towable trailers differ significantly from their self-powered cousins in a number of important ways, traveling in a towable RV can be just as fun and fulfilling as taking a motorhome trip. In fact, in many ways, travel trailers offer a significant improvement over motorcoaches. (For one thing, you certainly won't have to worry about the hassle of towing a vehicle behind an already-massive motorhome!)
Along with the convenience of having a built-in getaway car, travel trailers also offer superior living space and affordability (since they don't have to devote any room or manufacturing expense to installing an engine). Plus, they come in a huge array of shapes and body styles, including minuscule options for adventurous getaways as well as large, luxurious campers that'll make you forget there are wheels under your feet in the first place!
So, ready to go where you're towed?
Keep reading to learn all you need to know about the versatile, capable world of towable RVs and travel trailers.
Travel Trailers: The Basics
Let's start at the beginning. What makes travel trailers different from motorhomes? How many different shapes and styles of camper trailers are available on the market, and which are best suited for which needs?
Travel trailers are defined by their need to be towed by a secondary vehicle, referred to as a tow vehicle (which is distinct from a towed vehicle, or "toad," which many motorhome owners tow behind their self-powered motorcoaches). Because travel trailers don't have engines of their own, without something strong around to pull them, they won't be going anywhere fast!
The most common travel trailers tend to be between about 18 and 30 feet in length, and are generally fairly rectangular in their construction. However, under the large umbrella of travel trailers exists a huge array of subtypes, such as teardrop trailers, pop-up campers, fifth wheels, and toy haulers. (We'll go into lots more depth on these special types of trailers in future articles, so sit tight if you want to learn more!)
One of the biggest advantages of travel trailers is their superior amount of living space as compared to similarly-sized motorhomes. Even small, compact travel trailers provide more usable space per square foot, since they don't have to devote any of their footprint to a drive shaft or an engine. On the other end of the spectrum, RV trailers can be some of the largest and most luxurious vacation vehicles on the market. Some fifth wheels with multiple slide outs, for instance, can extend to upwards of 500 square feet of living space when in camp mode — which is definitely bigger than some studio apartments we've seen!
Although they don't have engines of their own, travel trailers are still often just as luxurious and amenity-filled as their motorhome counterparts. In fact, since the producers don't have to spend money on an engine, they can often outfit travel trailers with comparatively high-end appliances and features without sending the final price tag sky high. They often include slide outs, full-sized kitchens, cozy queen-sized beds, genuine leather couches, and all the other posh extras you'd expect from a high-end rig… without a price tag in the multiple hundreds of thousands of dollars.
For all of these reasons, travel trailers are one of the most attractive options to campers looking to explore RVing for the first time. If you already have a tow-capable vehicle at your disposal, the initial investment to purchase your own travel trailer is relatively small and affordable. However, if you do need to source a tow vehicle, you should consider this (potentially significant) expense while you're figuring out your budget. Large RVs often require full-sized, one-ton trucks to tow, or very large SUVs — which can often be even more expensive!
Of course, there are also small travel trailers like pop-ups and teardrops which can be towed behind smaller vehicles, and occasionally even sedans. The important thing to remember is to check your vehicle's overall tow capacity against the maximum weight, or GVWR, of your travel trailer. Driving an overweight trailer is dangerous, for one thing, and illegal for another… and depending on your policy, it might even void your insurance coverage. So be careful!
How a Travel Trailer Road Trip is Different
Whether you're looking at large travel trailers or teeny-tiny pop-ups, one thing's for sure: road tripping in a travel trailer is significantly different than other RVing adventures. Learning how to haul a load safely and effectively does take a little bit of time and practice, particularly when it comes to breaking, backing up, and figuring out your turn radius.
Travel trailers also have certain parts and accessories that motorhomes do not, each of which is important to understand in order to enjoy a safe and comfortable trip. Finally, we'll talk in a little bit more depth about travel trailer weight, and why that figure is so dang important.
Travel Trailer Driving Tips
If you've never hauled a load before, you may be intimidated by the prospect of driving a travel trailer — even if it's a relatively small one. And to be sure, there are some significant differences in how to safely approach your driving tasks when you've got several thousand pounds of extra weight on your tail!
Although there's no substitute for good, old practice, keeping a few tips in mind will help you pick up on the particularities of travel trailer driving more quickly, and give you the confidence you need to get started on working up your skill.
The most important thing to remember when towing: brake early and often. Your travel trailer adds significant weight to your vehicle, making it much more difficult to stop. Even the best brakes in the world will take longer to stop your motion than they would without that extra weight behind them. So our very best piece of advice is to use your brakes well ahead of time, and to avoid building up to extravagant speeds in the first place. Slamming on the brakes can be disastrous when you're towing, so taking it slow is a much better option.
This goes double when you're towing in the hills or mountains, when the gravity associated with coming down a slope will make your rig effectively even heavier. This issue is also why paying attention to your vehicle weight is so darn important — you want to make sure your tow vehicle has the power to stop that freight train of weight you've got dragging along behind you. (We'll get more into the weight issue in a moment.)
Finally, don't forget: learning to drive a travel trailer will take time and practice, and it'll likely never be as simple as getting into your day-to-day vehicle and hitting the road. If you encounter inclement weather or are simply uncomfortable for any other reason, don't hesitate to pull off the road and stop the vehicle. It's way better to get to your destination late and safe than early and injured!
For more in-depth tips on driving a towable rig, check out this RVshare post: How to Safely Tow a Travel Trailer
Travel Trailer Accessories
Whether you hit the road in a Class A motorhome, a converted sleeper van, or even a plain, old car, certain accessories can really make the difference between a so-so trip and a smooth, stellar vacation. Travel trailers have a few specific items you'll definitely want to add to your packing list.
Leveling Blocks and Wheel Chocks
Depending on its size and luxury level, a motorhome might have an automatic leveling system in place — so all you have to do when it's time to set up camp is hit a button and let your rig figure its footing out on its own.
But travel trailers usually require some extra help in the leveling department, especially during those quick one-night campouts where you don't really want to disconnect from your main vehicle. If you're staying for longer, you may find yourself bouncing and wiggling as you move inside your trailer, even if the land you're camped on is relatively flat.
That's why you always want to travel with two simple (yet important!) pieces of gear when you're in a towable rig: a good set of leveling blocks and some wheel chocks.
Leveling blocks are imperative to helping you get your rig aligned, and you can easily customize your specific setup based on the natural slope of the campsite and any additional raise due to the vehicle hitch. Chocks add an extra layer of structural support at the level of your tires, which can significantly reduce the annoying shaking that otherwise occurs with every step.
It may not seem like a big deal now, but trust us — when you're ready to set up camp, the last thing you want to have to deal with is an unsteady, unstable trailer. Plus, if you're not leveled out correctly, certain sensitive RV features might not function, including your refrigerator. These simple tools are well worth the investment!
Electronic Brake Controllers
Know how we were talking above about the fact that braking with all that weight behind you is kind of a whole different animal?
Enter electronic brake controllers, a special device you install in the cab of your tow vehicle and connect through to your trailer which will help you brake more effectively and efficiently. In fact, depending on the size and weight of your rig and which state(s) you're driving it in, an electronic brake controller may just be a legal requirement — so don't overlook this important piece of gear!
Brake controllers come in two main varieties: proportional and time-delayed. They work in slightly different ways and each offers a unique set of pros and cons, which you can learn more about here.
Choosing an electronic brake controller is a fairly sizable investment, and with the many different models that are available on the market, talking to a professional is your best option. Just be sure you have them installed before you head out on the road to ensure your trip is safe and full of nice, smooth stops.
Travel Trailer Weight
Even if you're a seasoned RVer, you might not have given serious thought to your rig's overall weight or what kind of effects it might have. But in a travel trailer, knowing your total weight is non-optional. You have to know how much your tow vehicle is capable of hauling and how much cargo your trailer can carry. The safety of your experience depends on it!
You'll see several different alphabet-soup-style stats listed on your travel trailer's documentation, including GVW (Gross Vehicle Weight), GVWR (Gross Vehicle Weight Rating), GCWR (Gross Combined Weight Rating), and more. Basically, you need to ensure that your tow vehicle is capable of pulling not just the "dry" or "curb" weight of your rig, but the entire weight including all the appliances and the stuff you bring along. That's known as a vehicle's max tow capacity, and it should match up with or outweigh the trailer's GVWR.
You'll also need to be sure you don't overload your trailer with stuff, forcing the weight higher than the rated maximum. You can utilize truck scales to be sure you're making weight, but one good suggestion is to avoid traveling with full water tanks on board. Water is shockingly heavy — about eight pounds a gallon! You'll save weight and also increase your fuel efficiency if you fill up once you arrive at your destination.
How Hitches Work
A tow hitch might just be the most important "accessory" your rig has. In fact, it's arguably not so much an accessory as it is a necessary component!
There are a variety of different types and styles of tow hitches, each of which have their own drawbacks and benefits. You want to be sure you have the right one for your travel trailer's overall weight and size, so the load is evenly distributed and safely towable. Click here to learn more about travel trailer tow hitches.
Looking for more helpful travel trailer accessories? Check out this RVshare post, which lists eight of 'em!
Travel Trailer Maintenance
Just like any other vehicle, your travel trailer will require some regular preventative maintenance to keep it in good, working order and ensure it'll be there for your family camping trips for many years to come. Fortunately, because they don't have engines of their own, travel trailers don't need some of the regular automotive maintenance motorhomes do, like oil changes — but you'll still want to rotate your tires and perform general checks on your travel trailer's interior and exterior systems.
Creating a preventative maintenance schedule is one of the most important things you can do to ensure your rig will keep up with your adventures for as long as possible. Below, find some of the specific maintenance items you'll want to address with a towable rig.
Be on the lookout for water damage.
In all RVs, water damage is one of the most common and serious sources of systemic problems — and travel trailers are no exceptions. Once the seams along your rig's roof, windows, doors, or other moving parts start to leak, the interior damage can quickly spiral out of control, becoming excessively expensive or even impossible to fix.
Although no RV will stay watertight forever, getting a leg up on any small leaks that may spring up can help you fix them while they're still, well, fixable. That's why it's important to keep an eye out for any discolorations or soft spots along the seams of your trailer's interior — you should perform a thorough water damage check every single time you head out to go camping, as well as maintaining a regular schedule of checks during the times your rig is sitting empty and unused. (Here's a post on how to check for water damage.)
Don't neglect the generator, plumbing system, or tires.
Although your travel trailer doesn't have a motor of its own, it still has vehicular and utility systems that require regular maintenance and cleaning. For example, you still need to pay attention to your tires and rotate them on a regular basis, and your onboard generator and plumbing systems all need to be regularly checked and maintained. Your trailer might also come with a built-in HVAC system, which will occasionally need new filters and general upkeep. Check your user's manual for full details on what needs to be serviced when, and if you're not comfortable performing these household tasks on your own, click here to learn more about how to find and hire a trustworthy mechanic.
Clean and maintain the household.
A huge part of what makes your travel trailer your home away from home is the "home" part. A broken refrigerator or unusable couch can make your next trip a whole lot less enjoyable, and the longer you leave things unmaintained, the harder and more expensive they are to fix.
Every time you camp, you should end the trip by doing a thorough interior cleaning of your rig, being sure to remove any and all food items so as to avoid infestation by unwanted visitors. You can also take the opportunity to deep-clean kitchen appliances like the microwave oven, and to ensure each piece of your travel trailer furniture is in good, working order. By being proactive about maintaining and cleaning your rig's interior, you'll be aware of problems that do occur as quickly as possible — which means you'll be able to fix them in a flash. Here are more tips on how to take care of your RV after a trip and before storage.
RV Manufacturers Who Make Travel Trailers
Many, many different RV manufacturers produce travel trailers alongside their line of motorhomes, but there are also some travel trailer manufacturers who deal with towables exclusively. In fact, some of the best-known and most-coveted trailers in the industry are made by these kinds of brands, such as Airstream and Casita.
As with any other vehicle purchase — or any manufactured item more generally — brand name can only account for so much. While you're in the process of shopping for your travel trailer, chances are you'll encounter different campers with different feedback about all sorts of different makes and models. really, the best way to figure out which is the best one for you is to shop around, do as many walkthroughs as possible, and ask lots of questions on the dealership floor. Not sure what to ask? Here are some suggestions!
For a full list of the industry's top RV manufacturers, including many who produce travel trailers, click here.
Luxury Travel Trailers
Although towable rigs exist along the spectrum of price points, some of the highest-rated travel trailers can be quite pricey. It's not unheard of to see trailers available for more than $50,000 — and even into the six figures — depending on what you buy.
For example, Airstream trailers are particularly beloved, both for their iconic looks and historic legacy. (Plus, their aluminum construction makes them pretty darn durable. It's not at all uncommon to see decades-old Airstream trailers on the road, still being used for comfortable camping trips all these years later.)
Of course, what makes for the "best" camper trailer varies widely depending on your personal preferences and the activities you're planning on taking on at your destination. And although it might be tempting to purchase a super high-end trailer brand-new off the lot, it might not be the best financial move — or even the wisest purchase.
The Best Travel Trailers Aren't Always New
While we're not saying you want to look exclusively for cheap travel trailers that already have tens of thousands of miles logged, as with any other vehicle, buying pre-owned can save you a whole lot of cash — and in the case of used travel trailers, you also benefit from the experiences of the previous owners.
For example, sometimes, rigs come off the manufacturer lot with inbuilt issues, whether it be a minor problem (a cabinet doesn't latch quite right) or something more serious (the generator fails). Either way, when you buy used, you're getting an RV that has already been "vetted," so to speak, by the previous owner's road experience. Those minor bugs have probably been sussed out… and it may even have some cool, custom upgrades and features!
To look for affordable travel trailers near you, both new and used, keep your eye on RV Trader as well as the local classified ads. And since an RV is such a large purchase, don't be afraid to travel a bit to see a vehicle that looks especially promising. It's totally worth your time and effort to find your dream rig!
Travel Trailer Rental Near Me
The very best way to gauge whether or not a travel trailer is right for your camping experience… is to go camping in one, of course! But when you're searching on the traditional rental market, it can be difficult to find towable rigs available. (They're not as easy for new campers to simply start up and go, so lots of the large, national dealerships exclusively rent motorcoaches.)
But that doesn't mean you won't be able to find a travel trailer rental through the peer-to-peer market! From sprawling fifth wheels to cute, compact pop-ups, chances are you'll be able to find just about any vehicle you can imagine available for rent in your area through RVshare.
Renting a travel trailer on RVshare is super simple and secure. All you have to do is specify that you're looking for towable vehicles when you start your search — and that's what the platform will populate. You'll be able to compare photos, descriptions, and user ratings across listings, and every communication and monetary transaction will take place through our secure system, so you won't have to worry about compromising any sensitive information.
Plus, each RVshare rental comes with 24/7 roadside assistance as well as comprehensive insurance coverage, so you can take peace of mind along with you for your trip. And, hey, if you're still intimidated by the prospect of actually driving the thing, guess what? Some owners will even take the trailer to your destination and set it up for you — so all you have to do is show up, unpack your stuff, and start relaxing.
Travel trailers offer one of the best mixes of convenience, affordability, and versatility on the RV market, and they can be an incredible way to see the world at your own pace. Whether it's a tiny pop-up or teardrop camper or a large and lavish fifth wheel, towable vehicles will make the old saying true: home is where you park it!
This post may contain affiliate links.