7 Hacks to Make your Camping Trip a Little More Luxurious
How Tos & Tips
May 30th, 2019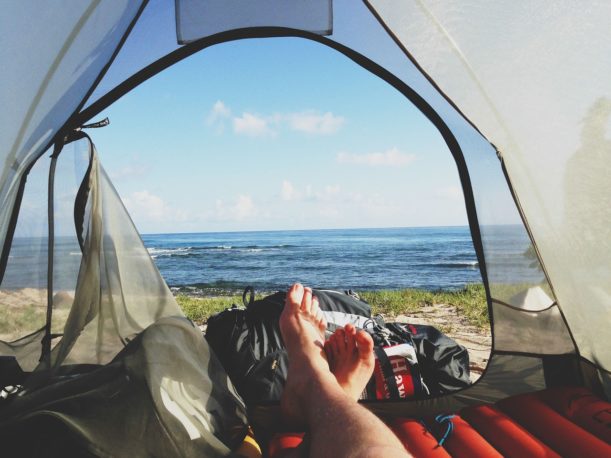 Most RVers know that camping doesn't have to mean roughing it. Motorhomes and travel trailers make it easy to reconnect with nature without skipping out on the creature comforts of home — yes, including a fully functional kitchen, a cozy couch, and air conditioning. (Why settle?)
But if you really want to up your luxury camping quotient, there are a few tricks and hacks savvy campers know about. And in this post, we're going to let you in on those insider secrets!
By the way, it's totally possible to enjoy an indulgent camping experience even if you're in a tent. It's called "glamping," and we're going to go into that, too.
Without further ado, here's everything you need to know to get your luxury camping trip on in style — because being outdoorsy doesn't mean you have to let go of what you love about being indoors.
Upgrading Your Camping Trip to a Glamping Trip
Camping with a mind for a luxury experience may seem counterintuitive, but it's actually so popular these days, it has its own moniker: glamping.
What exactly is glamping, you ask? Well, the word itself is derived from the combination of "glamour" and "camping," or "glam camping," and describes the experience sought out by people who are adventurous, but still like to be comfortable.
RVing might seem like the only way to glamp, since when you travel in a rig you're already set up with all the comforts of home. But increasingly, campgrounds and travel companies are offering pre-arranged tents stocked with all sorts of amenities and extra features, including catered meals and beds with real mattresses. (If you're interested in finding out more about those experiences, try running a Google search for "glamping near me"!)
Luxury Tents: Yes, They're a Thing
Now that we've gotten an overview of what glamping is, let's talk about getting you out there and doing some glamping of your own! Whether you're planning your first RV trip or are still devoted to tenting it, here are some easy tips for upgrading your next camping trip into a glamping extravaganza.
1. No matter how you're camping, it's all about the little things.
Tent or RV, pop-up camper or Class A diesel pusher, one thing's for sure: when it comes to luxury, it's all about the little things.
Bringing along delicious food, wearing comfortable clothing, remembering your favorite non-greasy sunscreen — these seemingly-small touches can make any camping trip into a luxurious getaway, whether you're staying in a tent or a trailer. Of course, when you camp in an RV, you have a lot more room to work with (not to mention a kitchen worthy of your favorite gourmet recipes)… but we digress. 😉
2. If it separates you from the ground, it's worth spending some money on.
A friend gave me this sage advice years ago when I was bemoaning the expense of a new set of tires. "Anything that separates you from the ground is worth spending your money on," she said, wisely, specifically mentioning tires, shoes, and mattresses. But her point stands in the camping world, as well.
If you're going to be sleeping on the ground, you definitely want to ensure you have a high-quality sleeping bag and an insulated, inflatable sleeping pad to keep you nice and comfortable (and away from the creepy-crawlies who also call the forest their home). It's also worth investing in a luxury camping tent that'll stay watertight and wind-proof no matter what's happening with the weather. Because as you know, even if the forecast is pristine, things change once you're on the road.
3. If it's gotta be a tent, try upgrading to a yurt.
Listen, we won't lie: we're pretty partial to RV camping. That probably isn't surprising.
But we know that many RVers started as tent-camping aficionados, and if that's you, we have a suggestion: consider switching your tent, on your next trip, for a yurt!
Yurts, while traditionally made to be moved, are sturdier than most backpacking and car-camping tents available on the market today, and many places have them set up ahead of time and decked out with all sorts of amenities. If you're interested in finding out more, search for "yurts near me" — or check out these amazing yurts we've dug up in a few prime corners of the country!
Go to the Next Level with Luxury Motorhomes
Taking tent camping up a notch is one thing. But if you really want to live in the lap of luxury, an RV is the way to go. It's basically like camping except with indoors plumbing — best of both worlds, right?
Here's how to make your travel trailer trek even more luxurious.
4. Up your comfort quotient with fun and cozy extras.
Having a couch is way better than tent camping. But having a couch with cozy blankets and fun decorative throw pillows is better still, especially if you can enjoy a hot cup of tea or coffee out of your favorite mug while you kick back in your comfortable cabin. Bringing along those little extras might seem unnecessary, especially if you're planning to spend most of your vacation adventuring outside. but they can make a big difference in the overall ambiance of your motorhome — trust us!
5. Set your patio up for success.
One of the most appealing parts of RVing is the chance to get outside and enjoy nature. But if you're what might be called "indoorsy," Mother Nature needs a little bit of tempering — the kind provided by comfortable camp chairs and a high-quality ground mat that'll keep the dirt off your shoes.
If you want to spend time outside, make it more inviting by investing in the outdoor furniture that'll keep you way cozier than a picnic table. Here's our post on everything you need to set up a killer outdoor patio!
6. Enjoy the modern amenities provided by innovative RV manufacturers.
Outdoor entertainment systems, built-in USB charging stations, automatic leveling systems… RVing in 2019 isn't what it was ten years ago, or even two. So if glamping is what you're after, take advantage of those innovations by getting your hands on the most modern, up-to-date rig possible. (Hint: it doesn't have to be crazy expensive to do so!)
Ready to Rent a Luxe RV Near You?
Had enough of reading about glamping and ready to do some of your own? Taking to the road in a motorhome or travel trailer is one of the easiest ways to upgrade your camping experience… and you don't have to be made of money to be able to afford it.
7. Don't forget: an RV rental doesn't have to be expensive to be luxurious!
If you don't already have a rig of your own and have been shopping the big box rental agencies, you might be suffering from some sticker shock. Although nationwide franchises might be convenient and accessible, their rigs frequently fetch more than $300 a night… and that's before you start going into the luxury upgrades. Or those luxury extras like, you know, mileage and gas.
But the most expensive RV doesn't necessarily make it the most comfortable, and vice versa is true, too. When you rent on the peer-to-peer market here at RVshare, you can find amazing, well-maintained, high-end rigs for a fraction of the big box store prices, and you'll have a way more diverse pool to pick from, too. (Looking for a luxury fifth wheel or sleeper van? At RVshare, you might just find one — but the task would be a whole lot harder at one of the major agencies!)
RVshare's easy-to-use platform takes all the stress and hassle out of the RV rental process, making it easy to see exactly what you'll get well before you ever click the "book" button. And with A-rated insurance coverage on each rental period and a secure communications and financial transactions system, you never have to worry about the safety of your sensitive information or wonder, "What if…" while you're cruising down the road.
Best of all, renting on the peer-to-peer market means your money is going right back into the camping community, funding future adventures for globetrotters just like you. Who knows? If and when you fall in love with the luxury camping experience brought by motorhomes and travel trailers, you might just end up with one of your own… which you can then, in turn, also list for rent on the peer-to-peer market. Full circle!
This post may contain affiliate links.