The Most Amazing Yurts You Have to See to Believe
How Tos & Tips
April 18th, 2019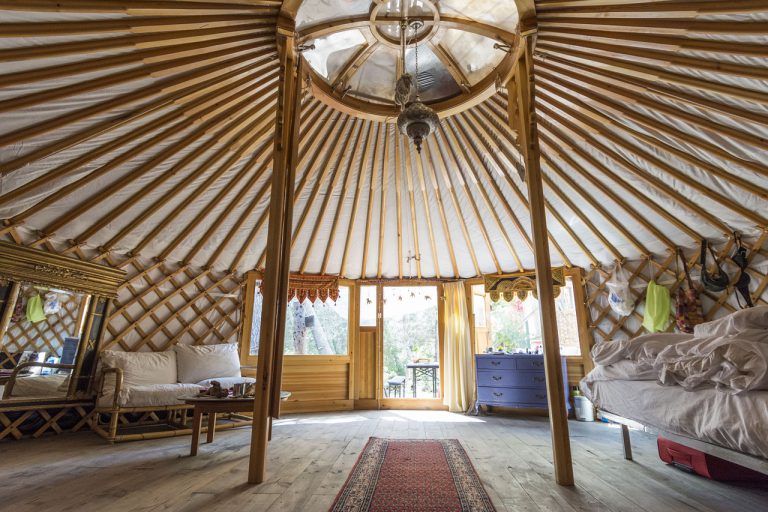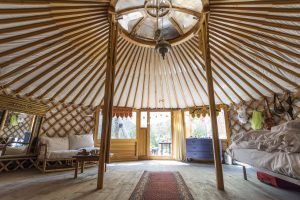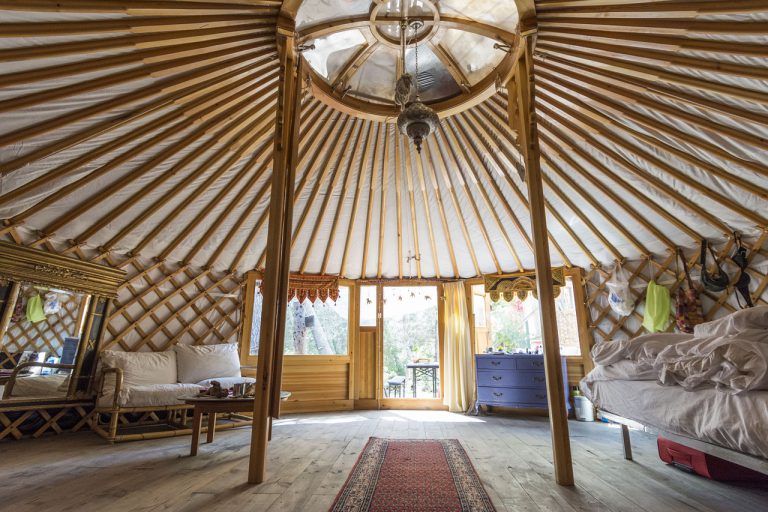 Many RVers started their camping journeys as tent campers before moving on to the luxury of a motorhome or travel trailer.
But there's another way to get outside you might not have tried yet, or even be familiar with: yurt camping!
Yurts are sturdy, spacious round tents, constructed of solid materials and not generally meant to be taken down and put up as often as the foldable tents you might stuff into a backpacking backpack. As such, they're becoming a popular option for people who want to experience the great outdoors without sacrificing too much in the way of creature comforts. Ranging from bring-your-own-bed situations to fully-furnished, temperature-controlled living spaces, yurts give campers a wide range of options as to how much they're willing to "rough it."
In this post, we've gathered together some of the most beautiful yurt homes from across the country, so you can get a sense of what yurt living is really all about. We'll also talk a little bit about the history of yurt houses, as well as how to set one up of your very own.
Yurt Tents: A History
So what exactly are yurts, and where did they come from? How do they differ from regular old tents?
Well, yurts actually started out as dwellings for nomadic peoples in Central Asia, and were crafted out of steam-bent wood or bamboo covered with animal skins or felt. The word "yurt" is derived from a Turkish word referring, interestingly enough, to the imprint a yurt would leave on the ground once it'd been moved. But our use of the word comes from the Russian word "yurta," which is how the dwellings are named in that language.
Yurts have been a part of Central Asian life for at least three thousand years, and they're even mentioned in some ancient Greek texts. And, of course, they're still in wide use today, both with traditional and modern construction — and represent an amazing opportunity for a unique camping experience!
Yurts for Rent
Want to try out the yurt life for yourself? There are many yurt listings on Airbnb, nestled into beautiful, forested landscapes across the country. Whether you want an all-out wilderness experience, eschewing even electricity, or you'd prefer a more upscale glamping experience, here are some beautiful yurts you just have to see to believe.
Geo Dome in the Catskills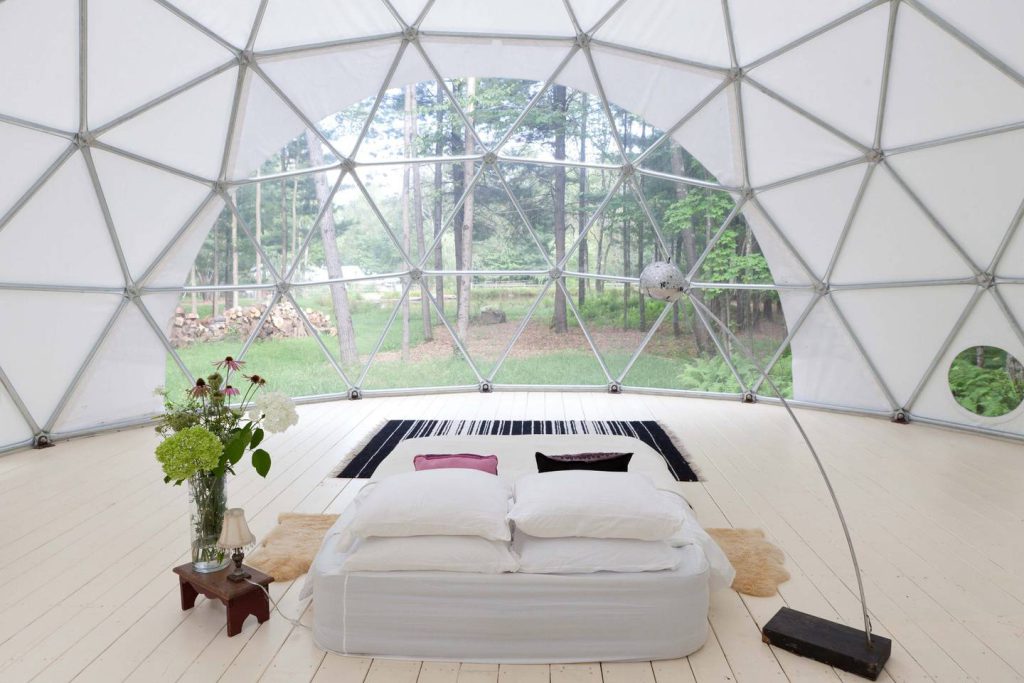 If you're a New Yorker or other big-city dweller who's been dreaming of an upstate getaway, look no further than this beautiful Geo Dome nestled in the Catskills, available for $350 per night. You can spend your time on the property hiking, fishing, swimming, and basking in the presence of the local wildlife — and for an additional fee, the yurt can also be used as a workshop, rehearsal space, or photo shoot set. (I mean, talk about a photogenic backdrop!)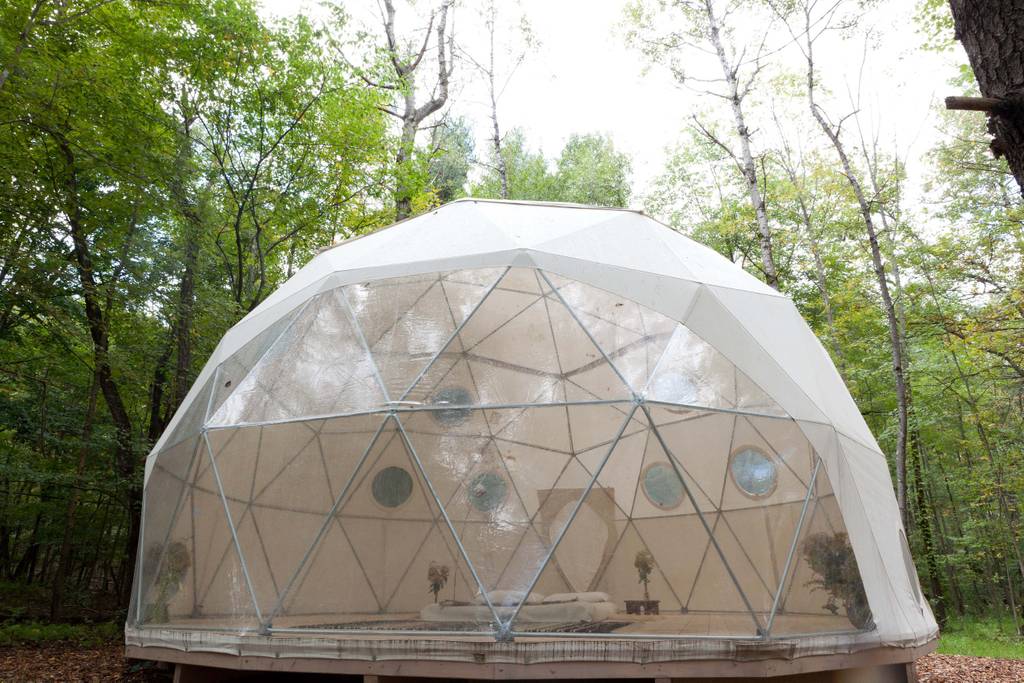 Given its farm locale, visitors will also get to interact with a host of on-site animals, including Merino sheep, Angora goats and rabbits, Oberhasli dairy goats, and chickens. There's a working greenhouse and vegetable garden, too, as well as a full-service recording studio and fiber art workshop on the premises. Oh, and there's a donation-based yoga class weekly on Sundays at 12:30, so be sure to bring your mat!
Zion Backcountry Yurt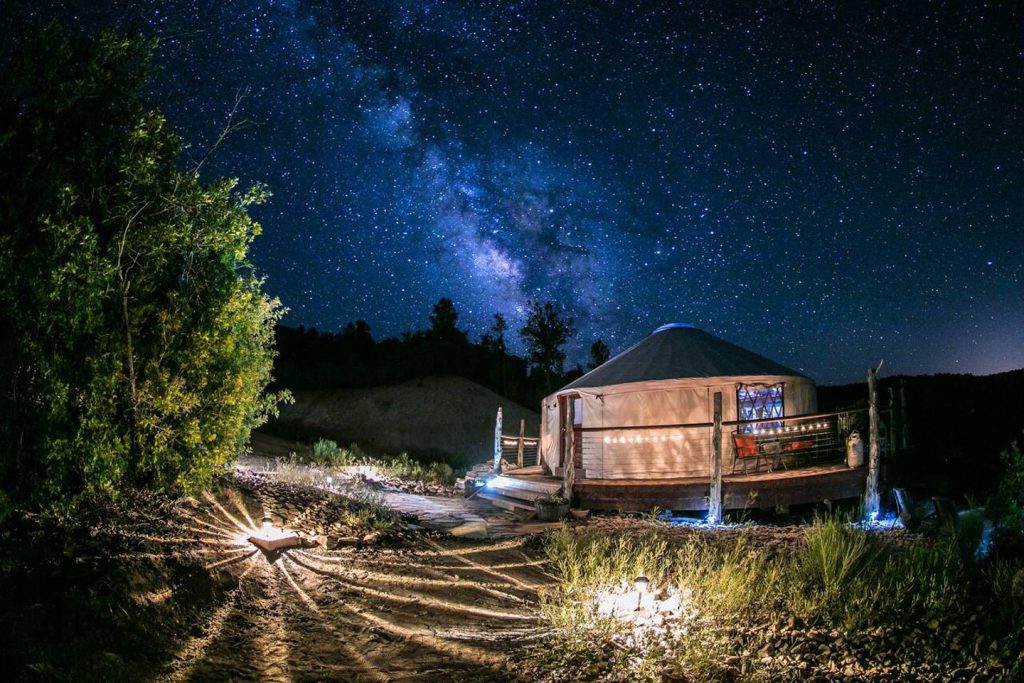 Is hiking the world-famous Narrows on your outdoorsy to-do list? Or just meandering through one of the many other beautiful hiking paths in Zion National Park?
If so, there's no better place to set up camp — or should we say glamp — than this beautiful backcountry yurt, just 45 minutes from the park's eastern gateway.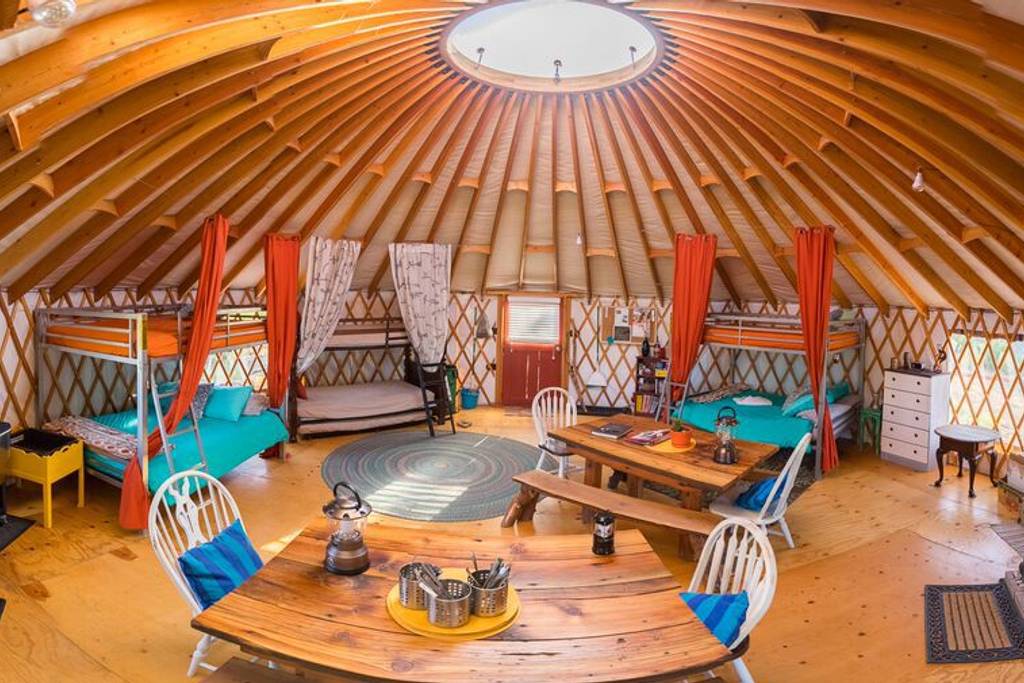 Whether you're just looking for a scenic place to lay your head after a long day of exploring, or you're planning to kick back and relax in the on-site hammock or over a game of horseshoes, this backcountry yurt is sure to help you unplug from the go-go-go of everyday life. Its primitive location means it's out of cell signal, and nor does it offer any electricity. It's just you, the broad night sky, and the ability to finally disconnect from our screens and reconnect with nature. (And, of course, the loved ones you bring along for the journey.)
Luxury Yurts
Looking for the woodsy experience… without sacrificing the city-life comforts? Luxury yurts make it all possible. Here are a few of our favorites.
Mountain Octagon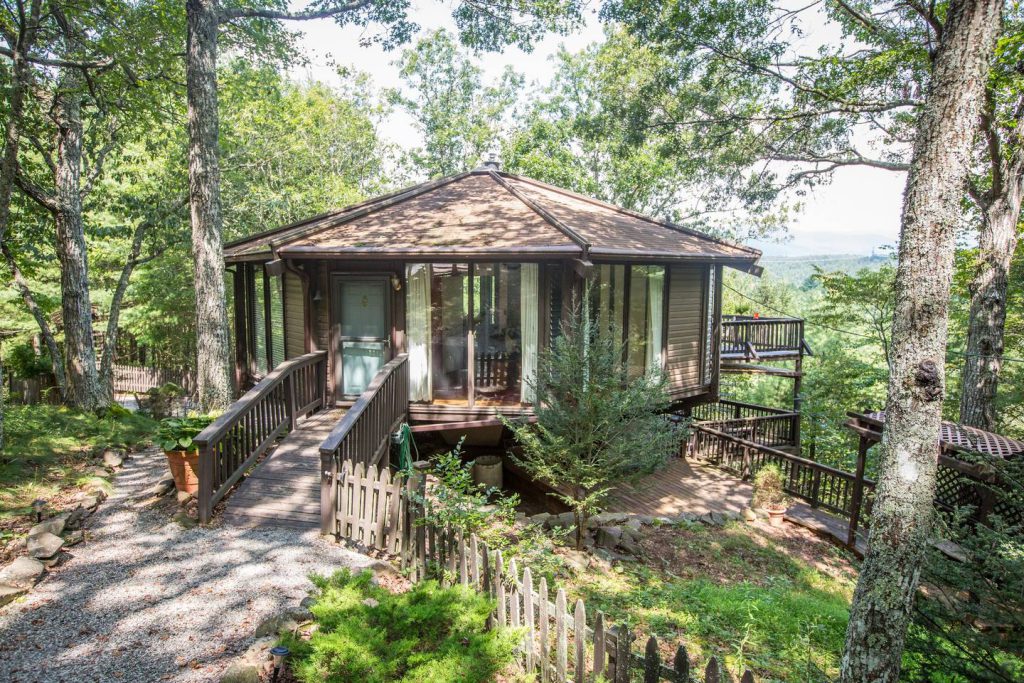 You'd never guess you're less than three hours from the hustle and bustle of our nation's capital in this beautiful, tree-ensconced yurt, which features floor-to-ceiling windows and a two-level deck so you can make the most out of the beautiful surrounding landscape. And with modern amenities including electricity, heating, two bathrooms, and even a Wifi connection, you don't have to sacrifice any of your favorite creature comforts to take a rustic mountain getaway.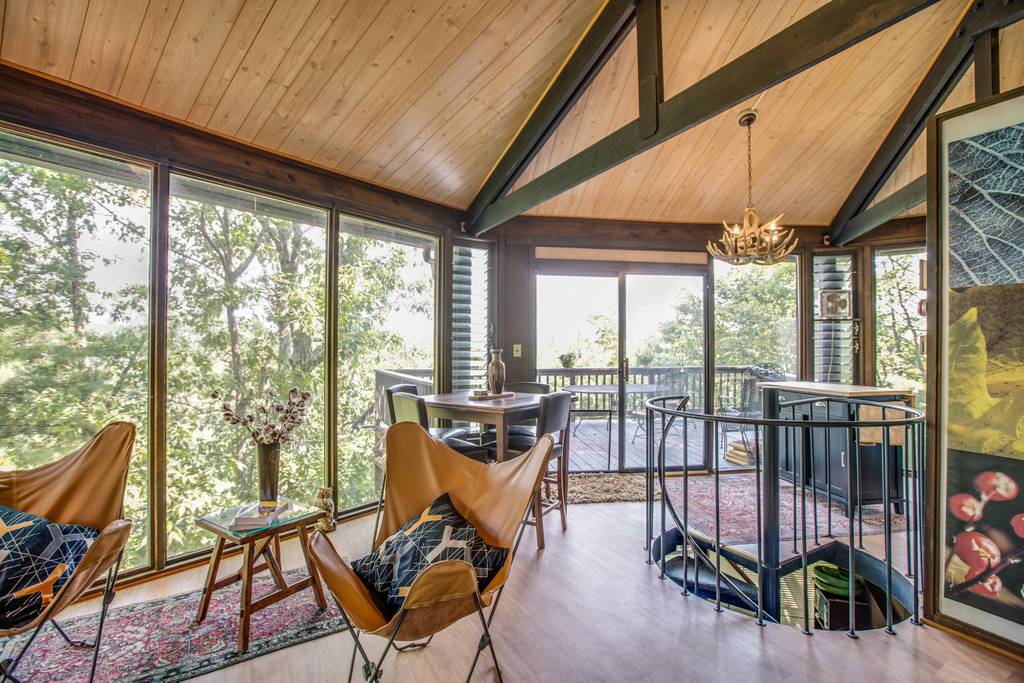 Get your fill of the countryside, either by hiking in the surrounding wilderness or simply enjoying the view from the yurt's generous and sparkling-clean windows. Once you've worked up an appetite, you can cook a delicious dinner in the full-sized kitchen or take advantage of the grilling area outside. All of its just minutes from major metropolitan areas like Charlottesville and Staunton, making it a dreamy, yet accessible, chance to get away from it all.
Yurt Kits
Already tried out the yurt life, and ready to create one of your own? Looking for yurts for sale isn't quite as simple as finding a regularly-constructed house — and they may not always be located in the place you need to live in. You may have a job, a family, and other commitments that keep you in a certain city, and no matter how beautiful a yurt may be, it might not be enough reason to up and defect to a primitive countryside.
But that's why it's so great that yurts are, after all, tents! You can buy a yurt kit and assemble one wherever you choose. You'll get to select from a wide range of styles, construction materials, and decorate the interior to your personal liking.
One great yurt kit company to check out is Smiling Woods Yurts, based in the small town of Twisp, Washington. They've been crafting custom yurts for years, and offer a great range of sturdy, simple-to-assemble yurts at affordable prices, delivered right to your door.
Of course, if you're looking to get on the road as quickly as possible and enjoy the great outdoors in style, we suggest you check out the RVshare listings in your area. Although yurts aren't RVs, there are lots of other non-traditional housing options available on the peer-to-peer market, all of which will bring the same closeness with nature and reconnection with what matters. At the end of the day, it's all about who you're traveling with and how you spend your time together — that's what really makes camping as magical as it is.
When you rent with RVshare, you'll be getting all of the benefits of renting a rig (rather than purchasing one) with the added bonus of enjoying the coziness and unique comfort of a privately-owned vehicle. After all, the big box dealerships might have a lot of RVs in stock… but chances are they're all brand new, fresh-from-the-factory-floor motorhome models, which may be nice but can lack in character. And if you've ever been curious about camping in a non-traditional RV, like a fairy wagon or a fold-out camper, you may be able to find one on the peer-to-peer market (whereas they'd be much more difficult to source from traditional rental agencies).
What's more, each RVshare rental is covered with A-rated insurance backage for the entire rental period, and 24/7 roadside assistance is also available. That means you don't have to spend any of your precious vacation time wondering, what if… — you can just kick back, relax, and enjoy the journey!
RVshare rigs come in all shapes, sizes, and styles, and they're generally available for a fraction of the price of the big nationwide franchise rentals. And now, RVshare even offers one-way rentals and sometimes on-site delivery, so all you have to do is show up, unpack, and enjoy your stay, just like you would if you were renting one of the yurts in this post!
Whether it's in a yurt, travel trailer, motorhome, or just a sleeping bag under the stars, happy camping!
This post may contain affiliate links.