RV Owners
June 22nd, 2020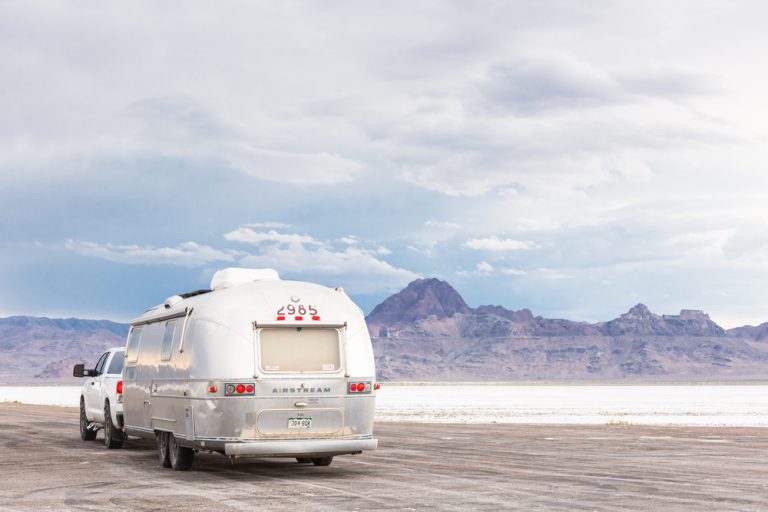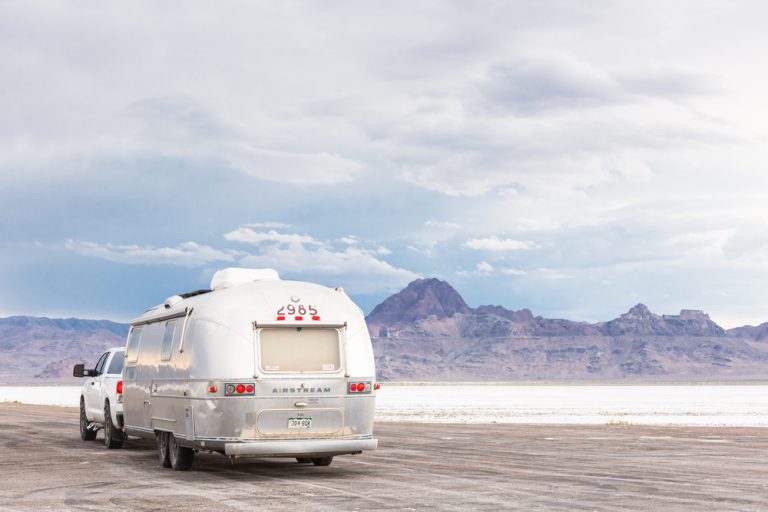 Congratulations!
If you just purchased a travel trailer, chances are you're super excited for all the amazing adventures you're about to take. But before you dive headlong into your Rand McNally Road Atlas and start eagerly filling out your road trip planner, hold up — because there are just a few more purchases you absolutely need to make if you want to ensure you have the best possible RVing experience.
Fortunately, some of the most important travel trailer accessories aren't very expensive. But they go a long way toward ensuring you stay comfortable and happy on the road!
So without further ado, here are some of the best gizmos and gadgets to check off your list if you've just purchased a new travel trailer.
Travel Trailer Exterior Accessories
Some of the most important devices are designed to keep your travel trailer's essential systems working their best. Here are a few of them.
1. Water Pressure Regulator
When you hook your RV up to city water, you don't know how strong the pressure is going to be from the hookup site. Too much too fast could damage your rig's sensitive plumbing system.
That's why a water pressure regulator is one of the best cheap travel trailer accessories to buy soon after you make your big purchase. You can get one for less than $10, but even regulators with gauges are only about $30 — and it's well worth the extra cash to ensure your pipes stay in good working order!
2. Potable Water Drinking Hose
Unless you want your drinking water to taste and smell like rubber, investing in a certified potable water drinking hose is a must. You can buy the Camco TastePURE for less than $10 on Amazon, or look for one in your local camping supply store. Potable water hoses are always white in color!
3. Sewer Hose
When you've gotta go, you've gotta go — and that goes for your new travel trailer, too.
When it comes time to dump your wastewater holding tanks, you definitely want to have a high-quality sewer hose on board to handle the dirty work. Otherwise, you may find yourself up you-know-where creek… literally.
4. Leveling Blocks
There's nothing worse than trying to camp in a slanted trailer. Depending on your campsite, your in-built jacks might not cut it. Placing leveling blocks under your tires can go a long way toward keeping things even, and they don't cost too much at all.
Travel Trailer Interior Accessories
Now that you've got the exterior taken care of, let's look at some accessories that'll help keep you comfortable and cozy while you're inside your trailer's four walls.
5. High-Pressure Shower Head
As far as travel trailer bathroom accessories are concerned, a shower head should be your top priority. As in, even before you buy bath towels. More than likely, the one that came with your RV offers little more than a sad trickle.
The PIH High Pressure RV Handheld Shower Head Unit has an almost-perfect rating on Amazon, and comes with a "pause" setting to help you conserve water — which can increase your camping time significantly if you're boondocking!
6. Mattress Topper
Ready to drift off to dreamland after a long day of exploring the great outdoors?
Well, if you leave your travel trailer mattress as is, tough chance. Granite-level hardness seems to be industry standard.
You can certainly purchase a whole new mattress for your rig, but finicky RV sizing means it'll probably have to be custom made — and thus very, very expensive. So if you want to go the more affordable route, consider buying a mattress topper. They do make them specifically for RV mattress sizes, but if you want to get comfy as cheap as possible, you can purchase a standard memory foam topper and cut it to fit.
Travel Trailer Organization Accessories
Here are a couple more small gadgets that can really help keep your trailer organized and neat. Trust us, that's important — even a large fifth wheel doesn't have that much living space, after all. You can quickly get overrun with clutter!
7. Mounting Putty
If you're like most of us, you likely have some decorations or small knick-knacks you want to display. And you likely don't want to have to take them down every single time you need to move your trailer.
Enter the magical substance known as mounting putty, which will allow you to have your cake and eat it too. So long as your objects aren't too heavy, a good dab of the goo will keep them in place while you're driving, so when you're ready to set up camp again, you open your trailer door to what's already dressed up like home, sweet home.
8. Hanging Closet Organizers
If you're traveling with a family — or even just your significant other — chances are you're going to run into a little bit of trouble when it comes time to stow your stuff. Even the most spacious trailers can't keep up with a standard closet's wardrobe, let alone two or three.
A quick and easy way to increase your space and make sure everyone has a separate nook for their favorite clothing items is to purchase hanging closet organizers. You may have to fold a few items you'd normally hang, but these cheap gadgets are still totally worth it. They increase your storage space exponentially!
Travel Trailer Essential Supplies
By adding these travel trailer camping supplies to your list, you're sure to enjoy a comfortable, convenient camping trip — without having to make any unnecessary stops that take away from your vacation.
Looking for even more travel trailer and camping accessories? Check out the following posts for ideas.
Happy camping — and congratulations again on your purchase!
This post may contain affiliate links.