Travel Inspiration
September 8th, 2015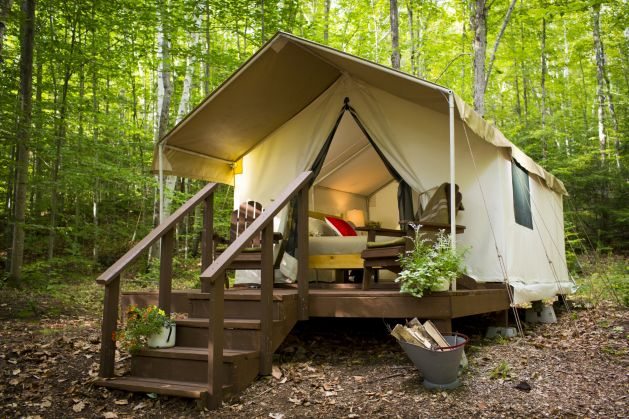 If glamping is your idea of exploring the great outdoors, life just got a whole lot better. Upstate New York, known for its rustic camping, is now becoming a glamping mecca. You can enjoy the exciting parts of the outdoors without having to haul all the equipment and sleep on the ground.
There are 7 main regions of upstate New York: North Country, Adirondacks, Capital Region, Central New York, Catskills, Finger Lakes and Western New York. Each of these areas offers its own set of outdoor explorations along with camping, glamping and traditional lodging options. To help your plan your next trip to the area be sure to check out this great break down of the regions.
Along with the traditional camping style activities, upstate New York also offers wineries, breweries, casinos, amusement parks, historic sites and lots of shopping. New York upstate makes an awesome day-cation, stay-cation or full vacation. You choose!
Now, let's check out seven amazing 'glampgrounds'!
Picture this! Custom log style canvas wall tents with elegant timber beds, luxury linens and a wood stove. Need to use the facilities? Enjoy a large bathhouse with three showers and hot running water. During the day you can spend your time rafting, fishing or even caving and when night fall enjoy farm fresh meals grown and cooked on site.
This glamping ground offers luxurious tents with hardwood flooring, bug screens and king size beds. Each tent offers a private balcony and an oh so peaceful rocking chair. The bathrooms feel like you have gone to a spa. There is plenty of hot water along with a sauna and steam room. Glamping activities include hikes, campfires and a complimentary wine hour. Breakfast is served to you in farm to table style. For dessert, order one of the Firelight's famous s'more kits with homemade marshmallows in a variety of gourmet flavors!
Imagine enjoying the rustic safari canvas cabin filled with an oversized bed piled with luxurious linens. Wood arrives at your door each day, split and ready to fuel your wood burning stove. Each cabin has lights, outlets and everything a modern camper needs. Charming open air outdoor showers are combined with indoor bathrooms and all the Kiss My Face products you could ever want. During the day, enjoy kayaking, archery, swimming or even yoga. Open flame, gourmet delicacies are made for you each and every day. Sit down to a panini, fresh salad or a cup of fire-brewed coffee. YUM!
This is a glamper's dream. Cabins include two bedrooms with full bathrooms, air conditioning, flat screen TVs, and you even get your own golf cart. During the day you can experience their 400 foot zip line, or their paddleboats and 20 acre lake. Meals are served in a dining room overlooking the lake. The Woods At Bear Creek has spared no expense to make your  glamping experience one of a kind. Their slogan is "roughing it doesn't get more decadent than this!" I agree.
Explore the Catskill and Pocono mountains while glamping in an elegant canvas tent or a real log cabin. The nearby village offers plenty of shopping and restaurant choices along with the Tusten Theater or the Bethel Woods performing arts center. Rather fish, canoe or hike? No problem. This area is teeming with outdoor activities that every glamper will enjoy. At Blue Hills Farm, the best part of the day is breakfast because it's served to guests in a log cabin tree house. It doesn't get much better than that.
Darien Lake is called destination fun. This water park offers every type of ride you can imagine, along with events and concerts for the entire family. While the amusement park has a variety of lodging options, their latest and greatest is glamping vacation packages. These large waterproof tents include a queen size bed and your own private patio. Simply bring along your linens and food. Choose a stay and play package and including unlimited park admission. The glamp sites are only 5 minutes from the park and offer a large picnic table, fire ring and a restroom/shower house. This is glamping that mom will love and the kids will remember forever.
Harmony Hill Retreat is the perfect getaway for the busy heart and mind. Upscale yurts and treehouse yurts are available to glamping guests. Yurts include a king bed, your own indoor shower and a full kitchen. A peaceful deck can be accessed through the french doors and overlook the beautiful green grounds. During the day, spend time exploring the healing garden, enjoying the views of the Catskill Mountains and walking the labyrinth circle of serenity.  Bring your own food to prepare, or order a farm to table meal delivered to your door. This is the kind of place you could get used to staying!
Have you ever camped, glamped or RVed in upstate New York? Where do you recommend exploring? Add your thoughts and suggestions in the comment box below. When you share your knowledge, it helps everyone enjoy the great outdoors.  Like this article? Please share it with your friends. Pin it, Post it or Tweet it out! Thanks.
Source: New York Upstate.com