Travel Inspiration
March 31st, 2021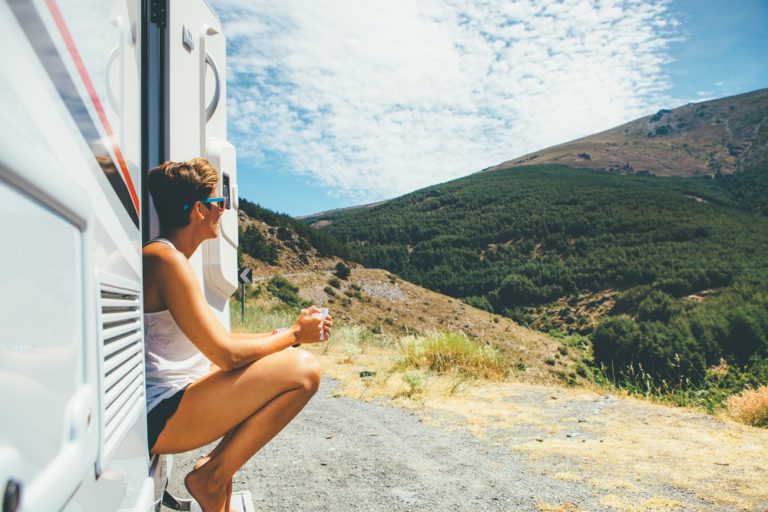 An annual road trip is the staple for many families across the country. Whether it's plans for visiting relatives, exploring new destinations, or revisiting favorite vacation spots, loading up the car and getting behind the wheel is second nature.
Some people, though, may scratch their heads or get overwhelmed at the idea of a road trip. They may think: what could we possibly do in the car for hours at a time? How do you decide where to go?
But that's the beauty of road tripping – your plans can be as detailed or flexible as you want them to be! And when you hit the road in an RV, you're sure to have the most comfortable ride. Whether you're hoping to take your first one or are a seasoned pro, we've rounded up our favorite activities and tips to make your next road trip the best one ever.
Basic Road Trip Planning Tips
While part of the fun of road trips includes the spontaneous stop at roadside attractions or hidden gems you find along the route, it's a good idea to at least know where you hope to end up. Some considerations when deciding could include how far you're willing to drive and who you're traveling with (ex small children who may need more stops). Be sure to check out our amazing road trip guides – these handy tools are perfect for choosing the best route for you. Simply click on the state you are beginning your journey and go from there!
Types of Road Trips
At RVshare, we believe the journey is the destination. What we mean is, the memories you create happen along the way, not only at your final stop. When deciding where you want to go, consider the types of road trips you can take.
Long, Cross-Country Trip
If you have a lot of time blocked off to take a trip or if you can work remotely from the road, why not see as much of the country as you can? One of our favorite trips is to see all the National Parks in the lower 48 states. This trip could be a pretty awesome experience to take over the summer when the kids are out of school. (Or hey, if they have remote schooling, you can go whenever!)
Quick, Local Trip
A road trip is a road trip, no matter how long! If your road trip looks like hopping in the RV and staying close to home, that's all good. Oftentimes, our own areas get neglected for exploration because we're not seeing it with fresh eyes. You may think there is nothing to see that hasn't been seen before. But there are new things popping up all the time! This is why we love local travel – you get to be a tourist in your own backyard!
Fly Then Drive
Maybe you want to explore the opposite coast but don't have the time or desire to make the trek there and back home. Why not fly then drive around once you get there? With RVshare, we offer delivery, which is the perfect solution. It's as easy as filtering your search to include delivery rentals then agreeing on a location for the RV owner to meet you.
What to Do on a Road Trip
You may also ask yourself what you want to get out of your road trip. Are you seeking adventure or solitude; picturesque scenery or historical landmarks? We've rounded up our best sources of road trip inspiration:
The Best Road Trips for Scenery
For picture-perfect destinations, you're bound to find an awesome trip amongst these favorites of ours.
Road Trips for Adventure
If you love being active on your vacations, you're going to love these ideas for road trips.
Relaxing Coastal Road Trips
When deciding the best beach to travel to, we think you'll find what you're looking for with these posts.
Road Trips for Couples
Experiencing something new together is a great way to become closer as a couple. And with road tripping, you will be guaranteed to never have the same trip twice!
Educational Road Trips
With so many schools now offering remote learning or families taking up homeschooling, educational road trips are awesome ways to bring the classroom to life.
To see where other RVshare travels like to head and planning tips, check out these posts:
Save Money on the Road
Save money on gas, groceries, and more while on the road with GetUpside. This easy-to-use app actually gives you cash back on your purchases – no points or coupons, real cash! With GetUpside, you can earn up to $0.25/gal cash back on gas, up to 45% cash back at restaurants, up to 30% cash back on groceries, up to 22% cash back at convenience stores. Download the app to start earning cash today. (Don't forget to use our exclusive code – RVSHARE20 – to earn an additional $0.20 per gallon on your first gas purchase!)
Road Trip Activities
Now that you have your trip planned, it's time to go on it! Pack up using our tips then hit the road. Along the way, soak in the scenery or stop at intriguing attractions. In between, you can play road games as a family, listen to podcasts, or read a good book. Remember, the journey is just as much the destination – enjoy making memories to last a lifetime, mile after mile!
May contain affiliate links.